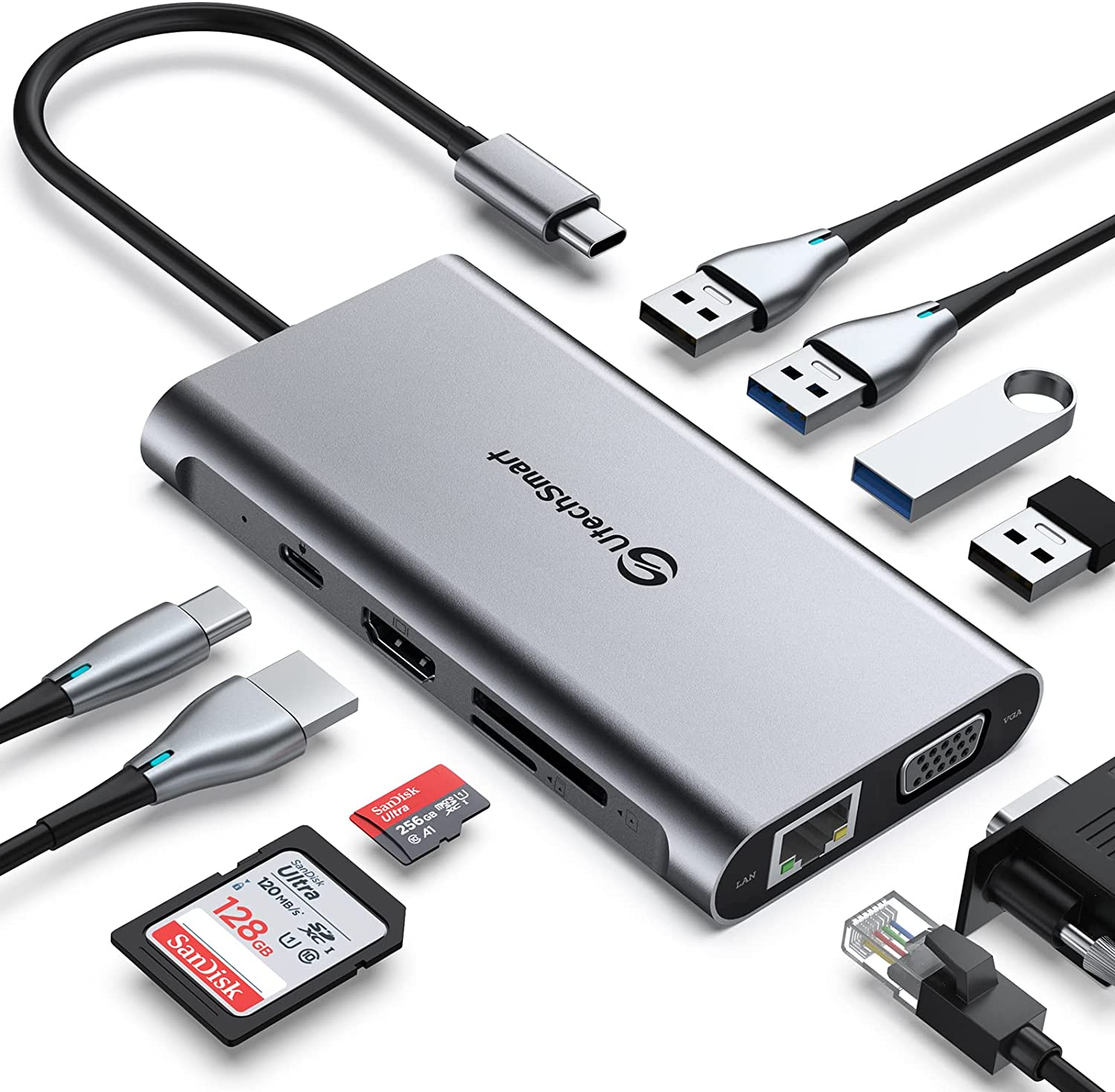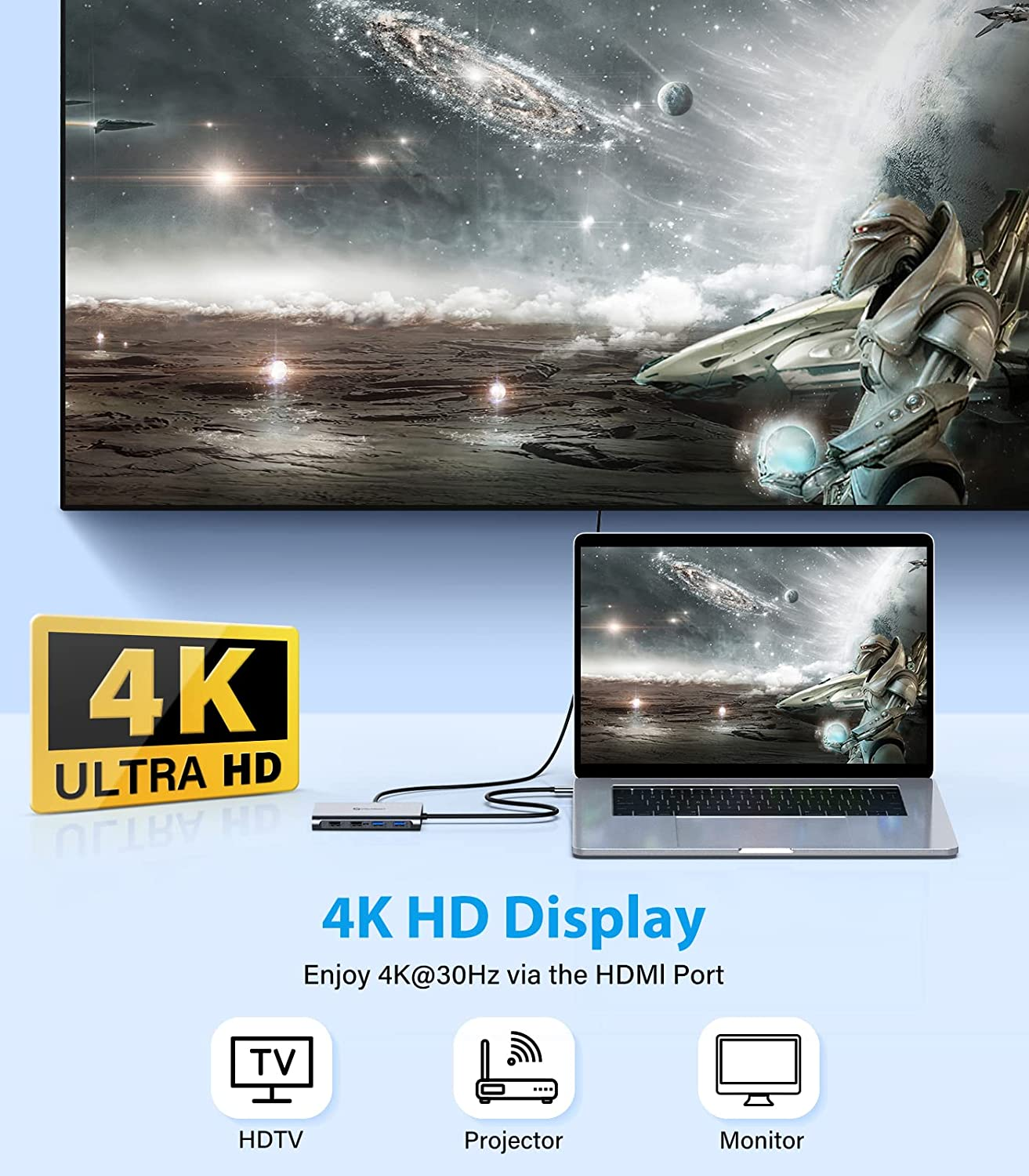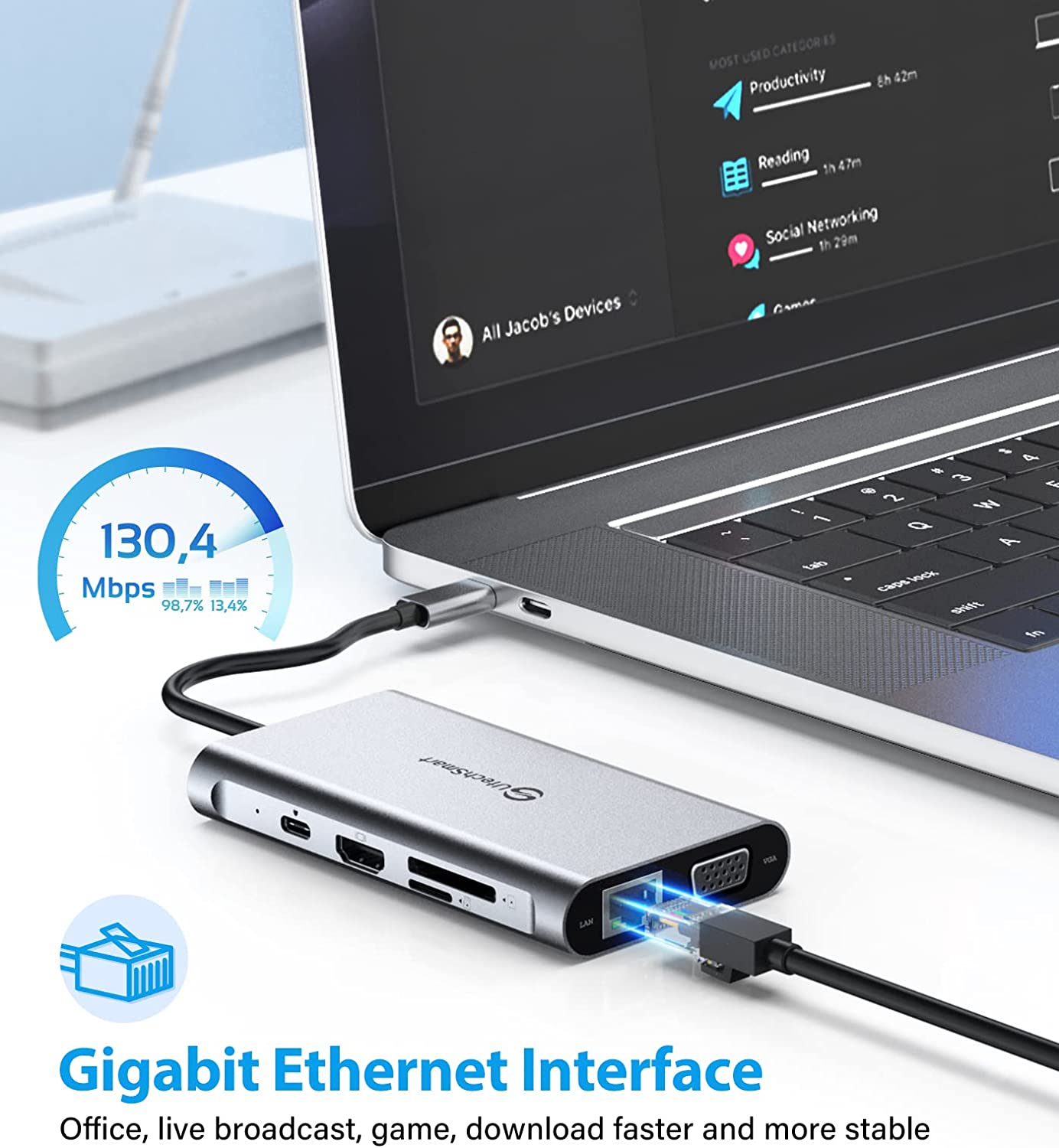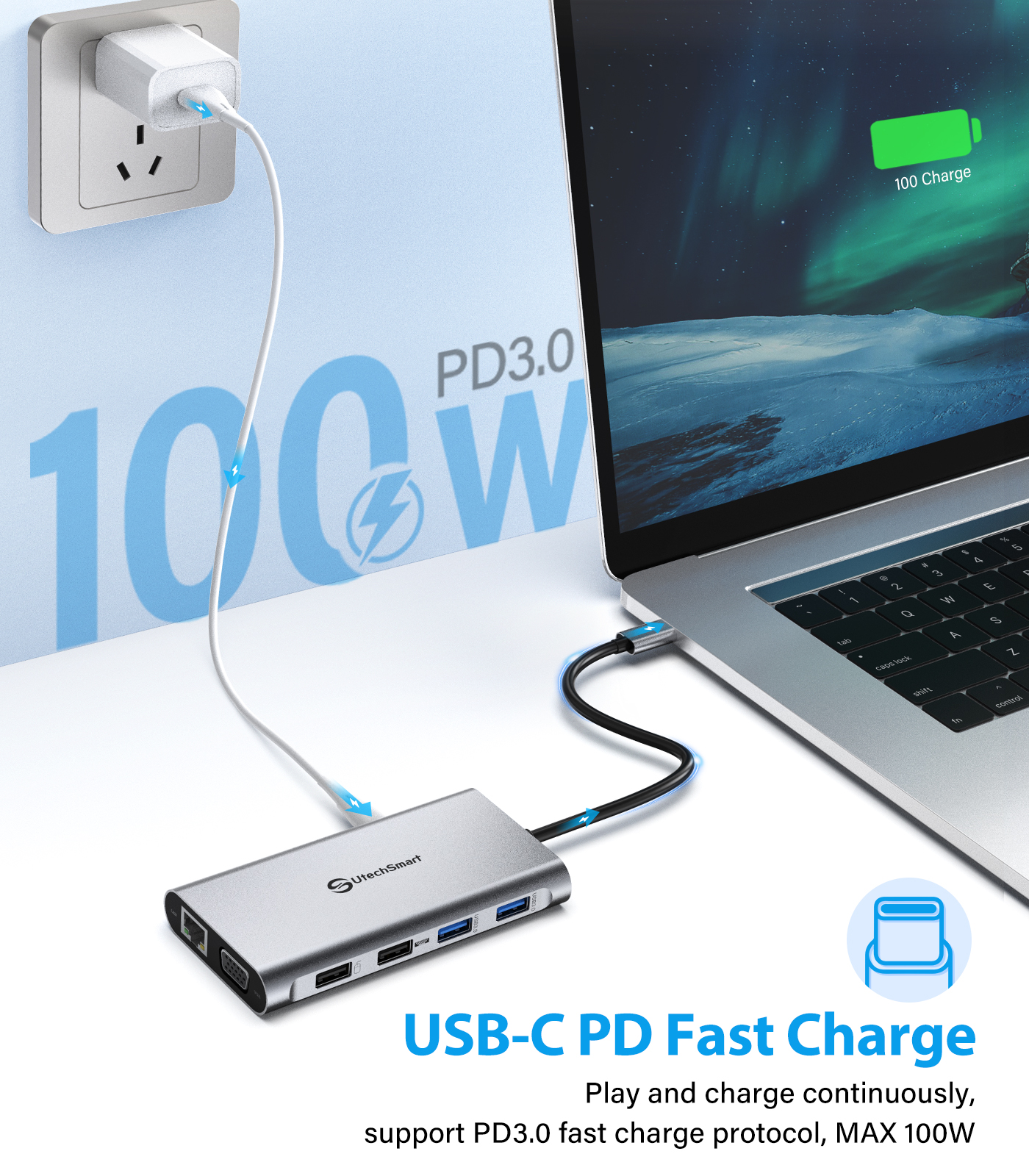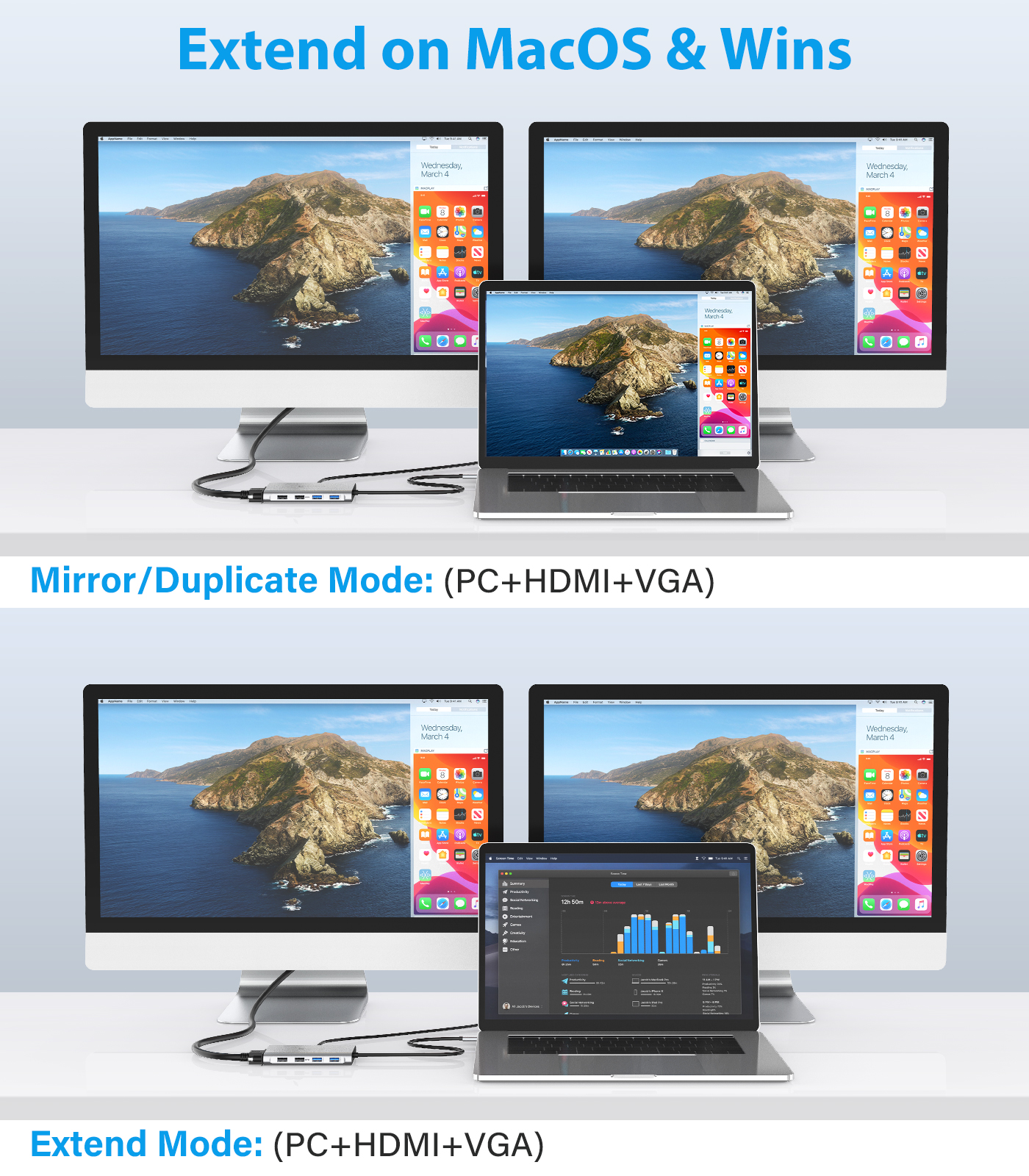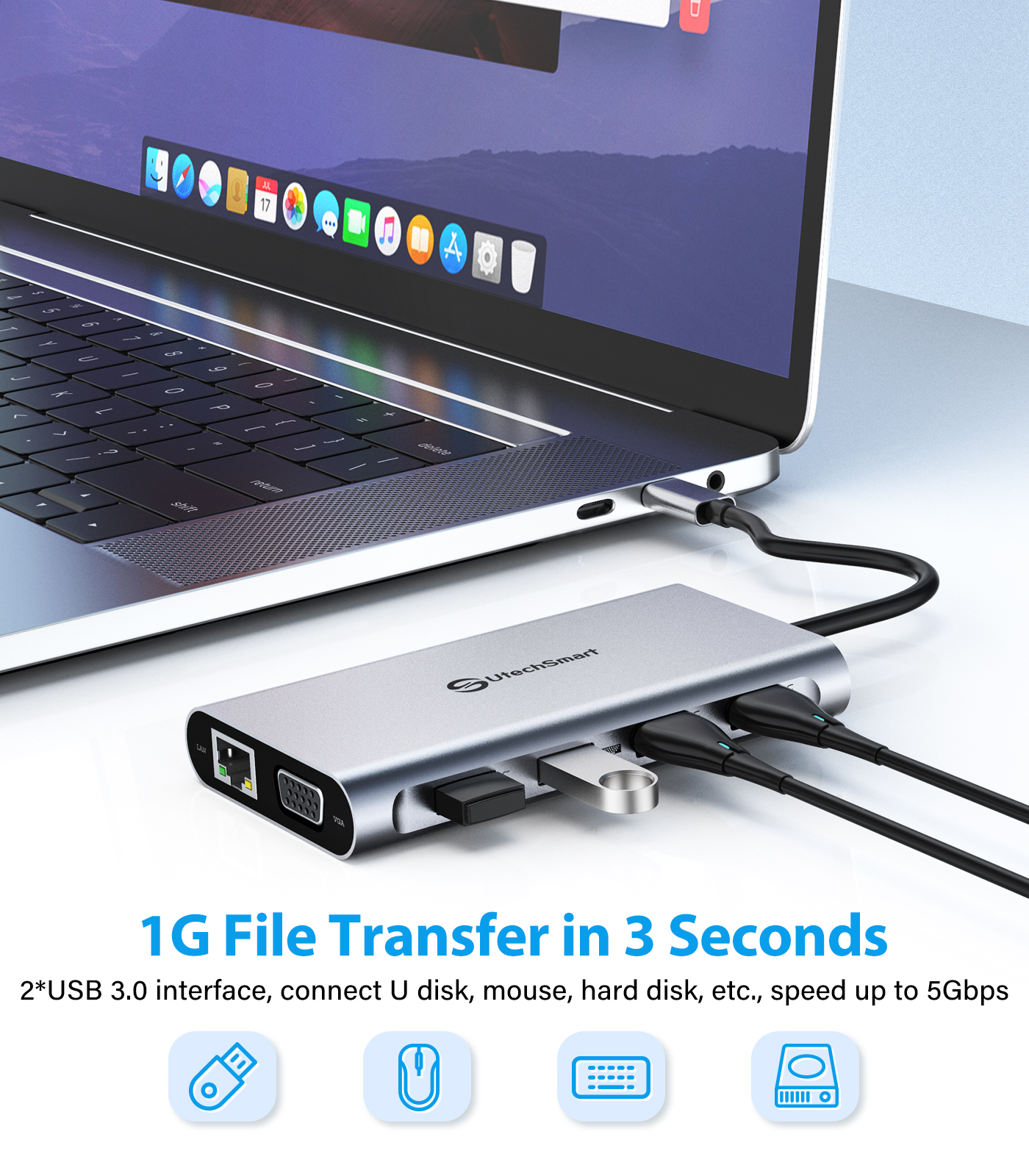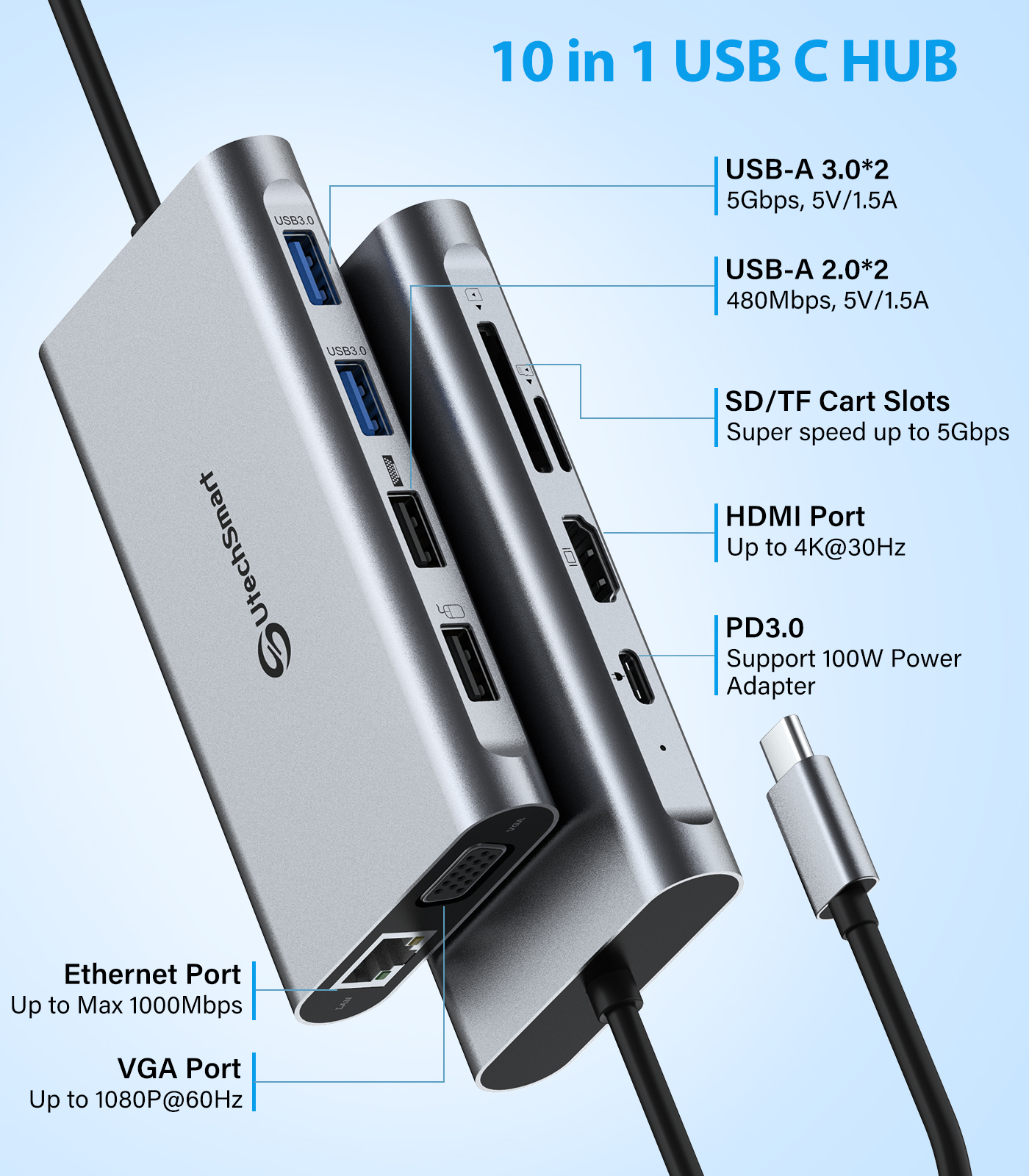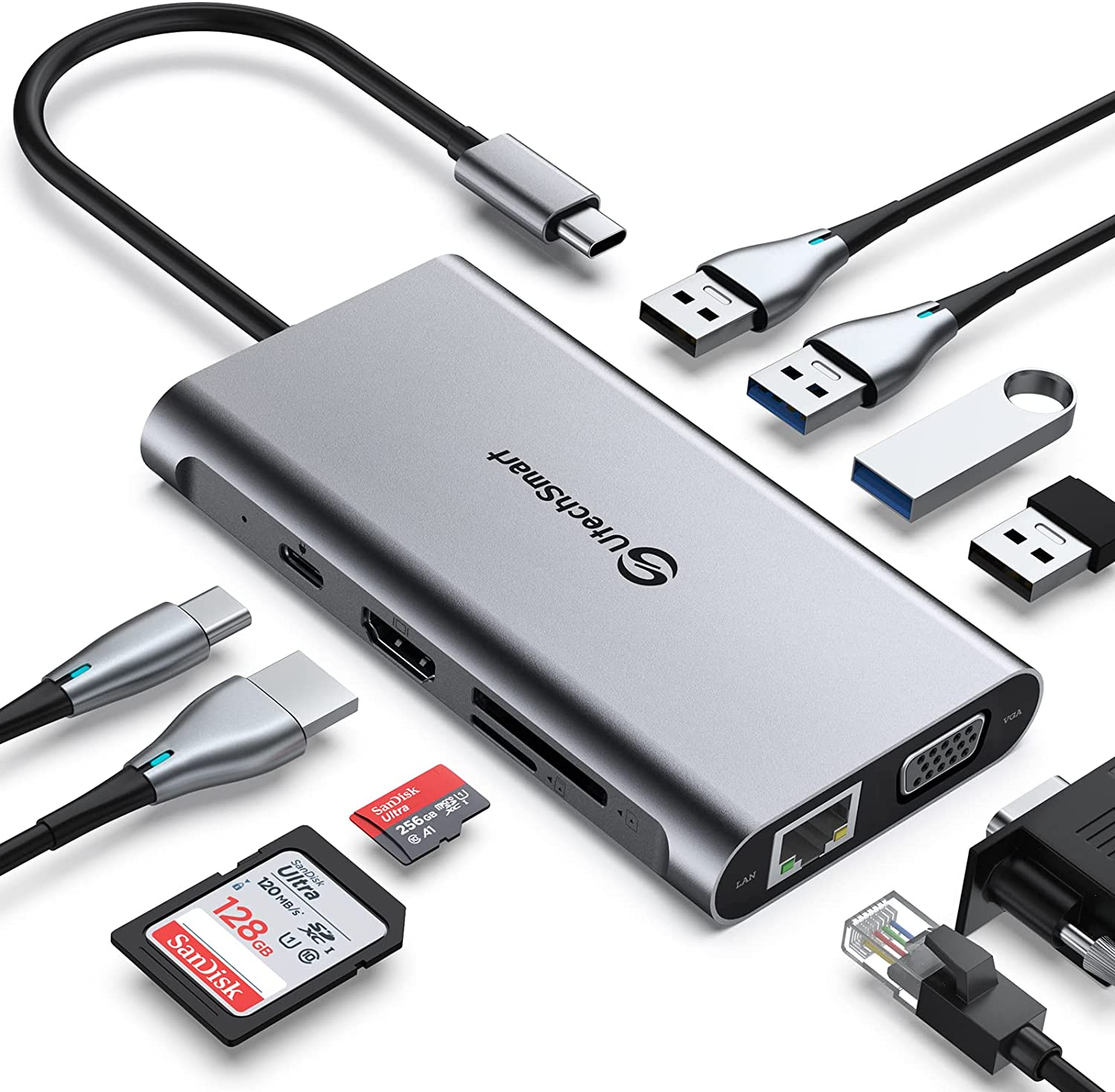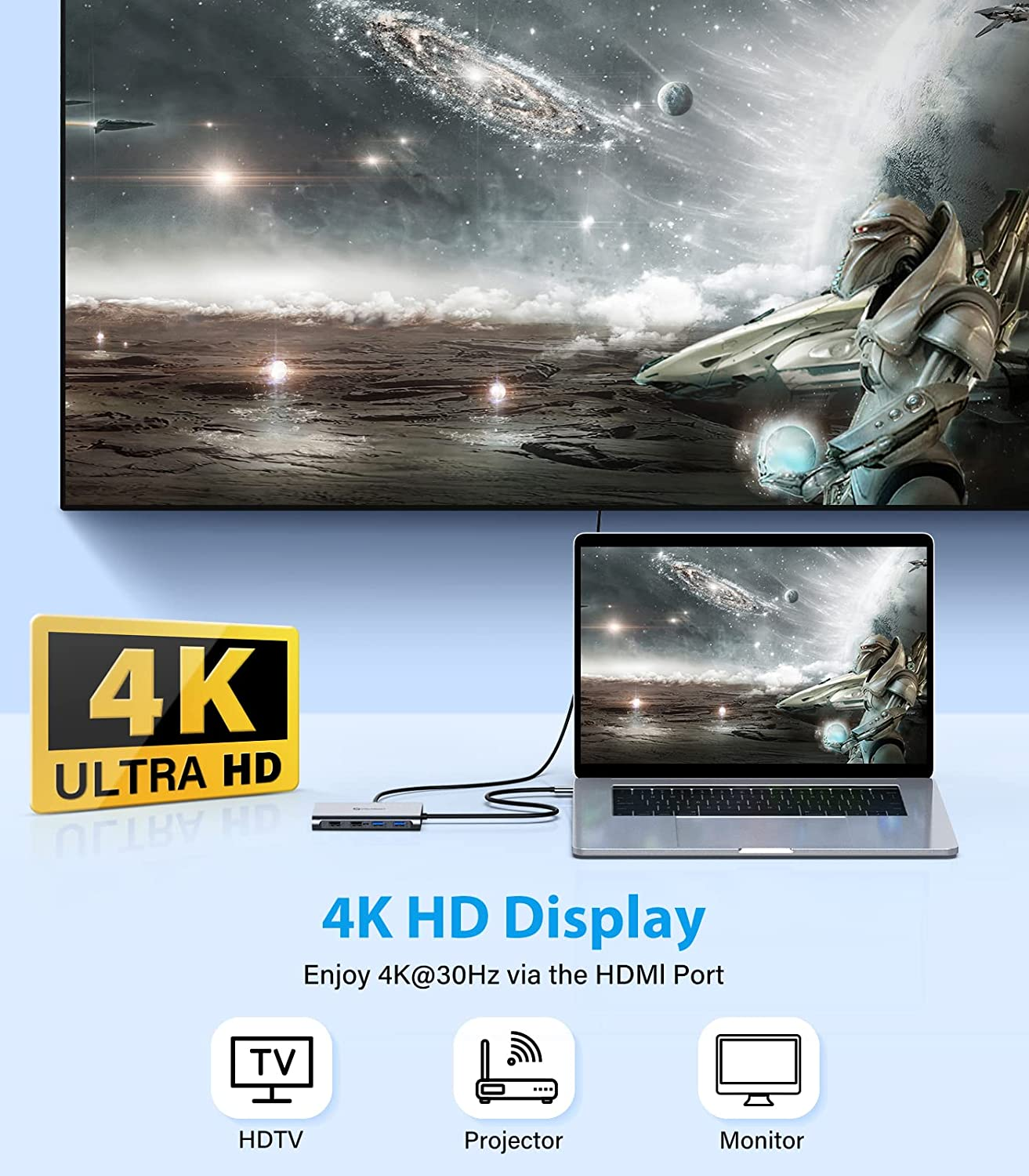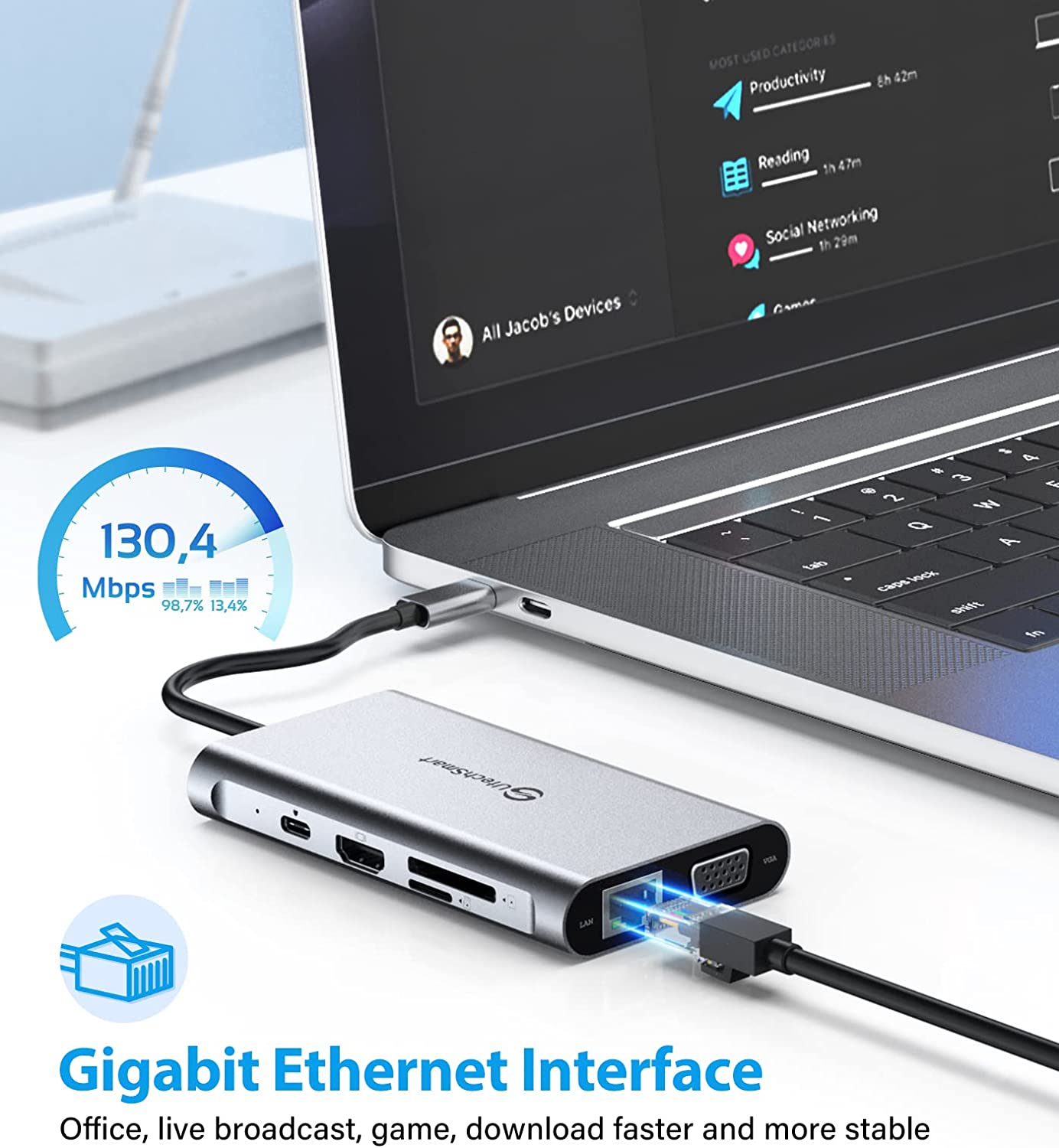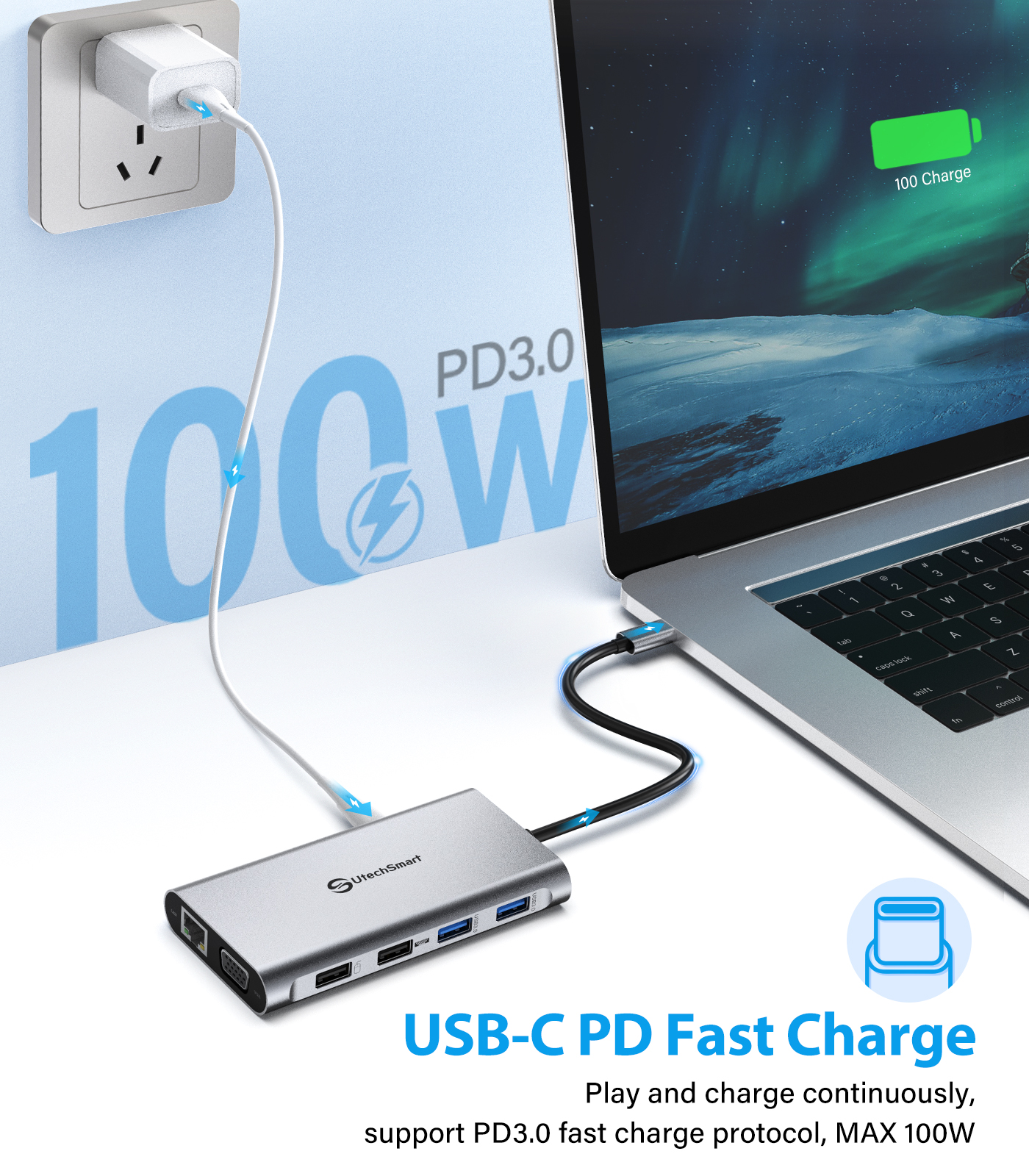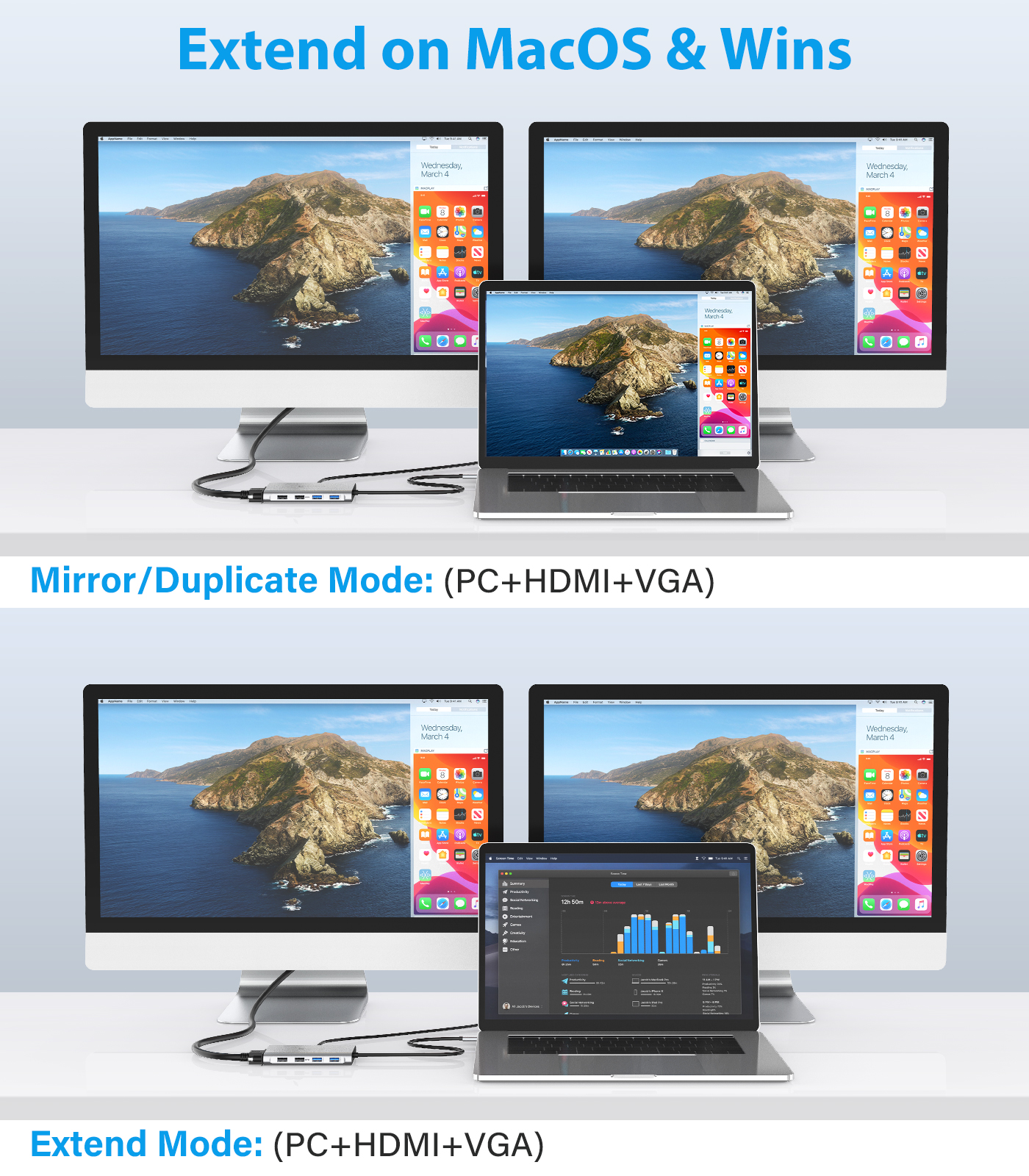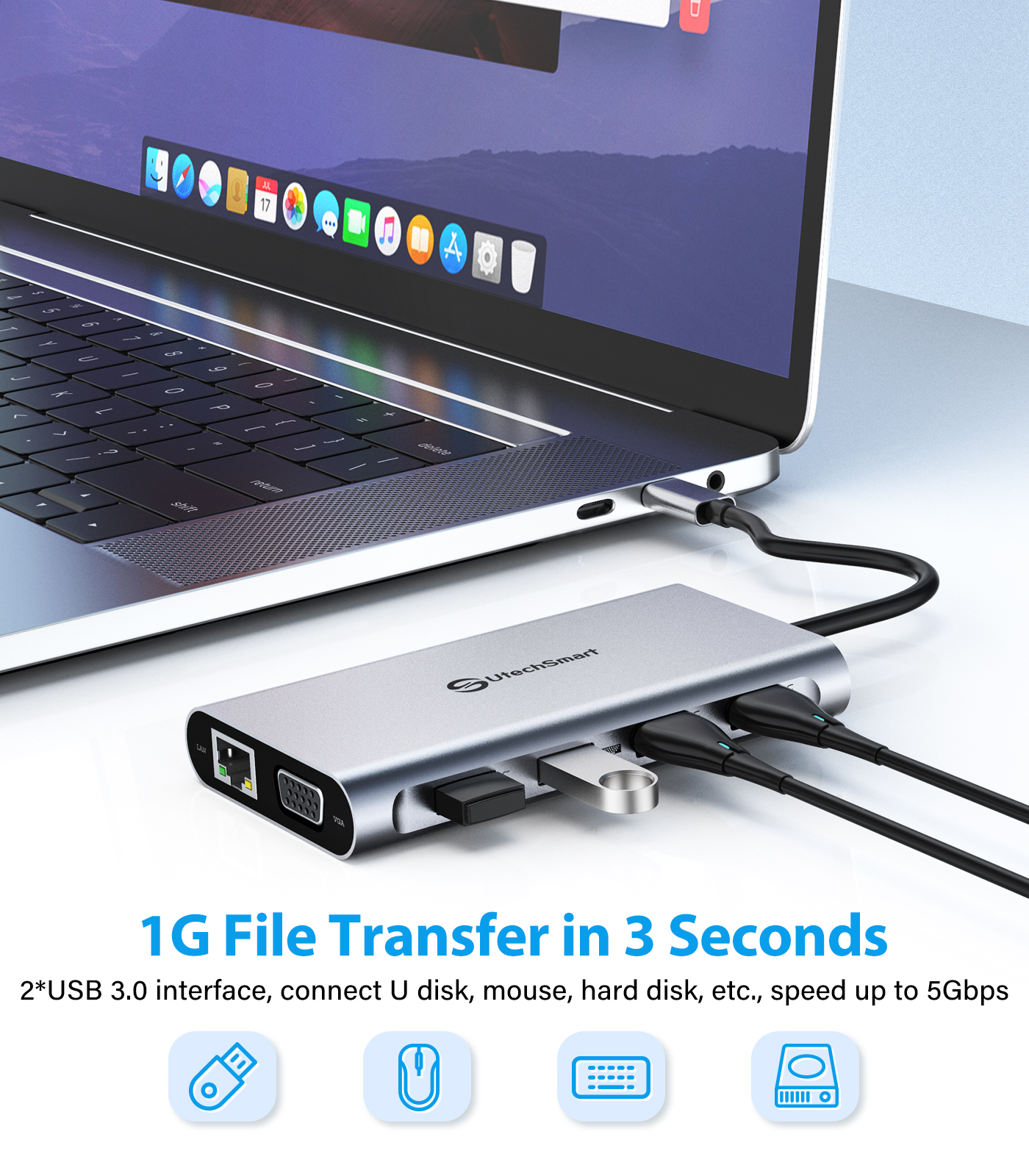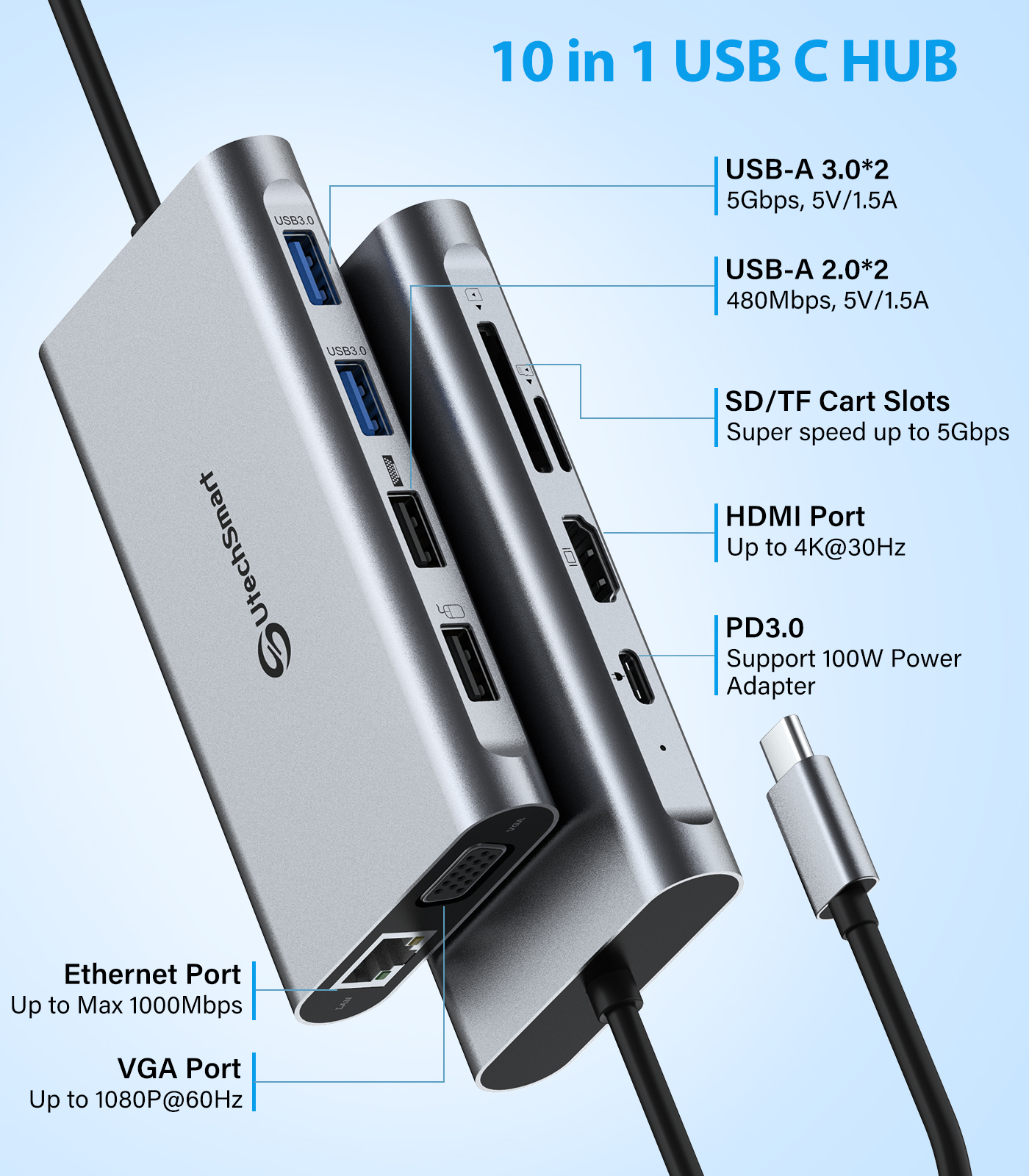 USB C Travel Dock UCN3612 (10 in 1)
All-in-one USB C Hub: Connect to the latest MacBook Pro or USB-C devices with the multiport USB-C hub featuring an Ethernet port, a USB C charging port with power delivery, a 4K HDMI port, SD/TF card reader and a VGA port, 2 USB 3.0 Ports and 2 USB 2.0 Ports, allowing you to connect a keyboard, mouse, USB driver, or external Disk to MacBook Pro.

Stable Video Signal Transfer: HDMI and VGA port support up to 3840*2160 @30Hz and 1920*1080p @60Hz resolution respectively. You could enjoy the vivid 3D effect video in high resolution from your USB-C computer to an external monitor. HDMI port supports a large screen LCD TV or display compatible with 4K Max output. Give you vivid 3D effect video Sync.

Super Fast Power Delivery: USB Type C Hub charges your MacBook Pro or other Type-C devices while connecting 100W power delivery port. Now more and more devices and the newest Mac Pro support PD. With Power Delivery, a single USB-C port can give you Blazing-fast charging speed experience. Perfectly match with your devices.

RJ45 1000M Ethernet Port & Stable Data Transfer: Supports 1000Mbps Gigabit RJ45 Ethernet port, backward compatible with 100Mbps/10Mbps RJ45 LAN. 2 USB 3.0 Ports with 5Gbps data transfer rate and 4.5W (5V/900mA) Power output. 2 USB 2.0 Ports are better for mouse, keyboard or other low rate devices.

UtechSmart Technology Offer 2 Year Warranty: Offer 24-Months Refund/Replacement Warranty, 1 Travel Pouch and Friendly Customer Service. Premium temperature controlling technology chip to keep your Device operating temperature always below 50 Degree.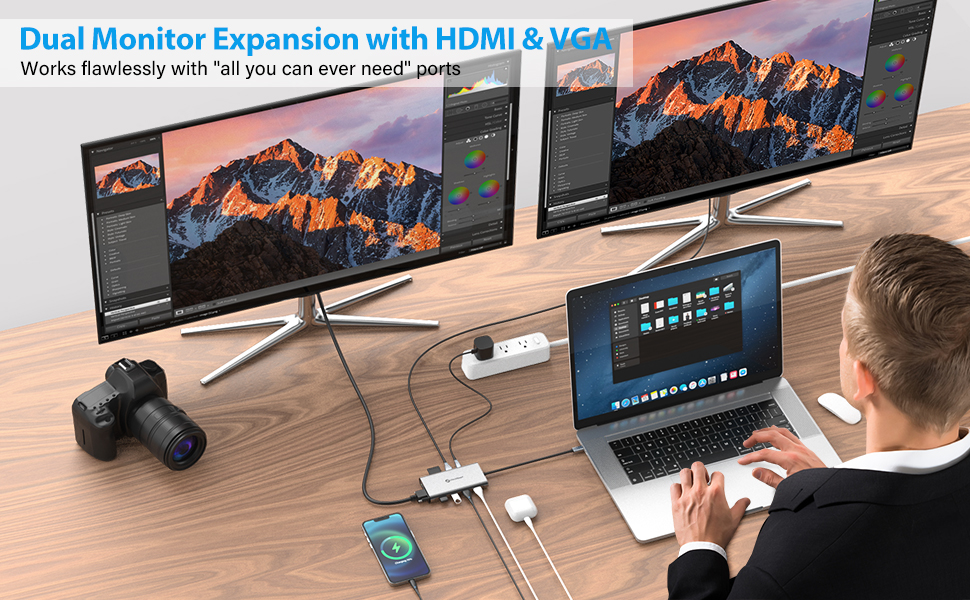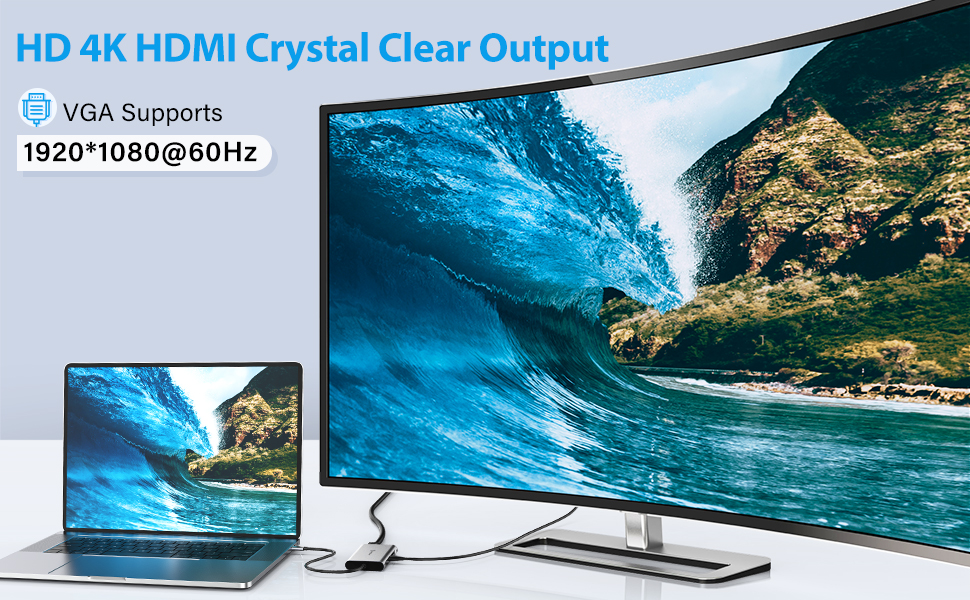 Specs
Product Dimensions

4.53 x 2.46 x 0.67 inches
Manufacturer

UtechSmart Technology















Compatible Devices




USB-C 3.1 Gen 2, Thunderbolt3/4




USB-C 3.1 Gen 2, Thunderbolt3/4




USB-C 3.1 Gen 2, Thunderbolt3/4




USB-C 3.1, Thunderbolt3/4,




USB-A




USB-C 3.1, Thunderbolt3/4,




USB-A




USB-C 3.1, Thunderbolt3/4,




USB-A




Video Output Mode




DisplayPort Alt Mode




DisplayPort Alt Mode




DisplayPort Alt Mode




DisplayPort Mode & DisplayLink




DisplayPort Mode & DisplayLink




DisplayPort Mode & DisplayLink




Resolution




Single 4K@30Hz




Single 4K@30Hz,




Triple 1080p




Single 8K@30Hz, Dual 4K@60Hz




Single 4K@30Hz,




Triple 1080p




Single 4K@30Hz,




Triple 1080p




Single 8K@30Hz,




Quintuple 4K@60Hz




Number of Display Outputs



1*HDMI

, 1*VGA




2*HDMI, 1*VGA




3*Thunderbolt 4




2*HDMI, 1*VGA




2*HDMI,




1*DisplayPort




3*Thunderbolt 4,




1*HDMI, 1*DisplayPort




Gigabit Ethernet Port




√




√




#N/A




√




√




√




Max Transfer Rate




5Gbps




5Gbps




40Gbps




5Gbps




5Gbps




40Gbps




Power Demand




92W (Use 100W PD adapter)




92W (Use 100W PD adapter)




120W DC Adapter Included




92W (Use 100W PD adapter)




87-96W(use 100W PD charger)




120W DC Adapter Included




Other Ports




USB3.0,




USB-C PD Charging




USB3.0/2.0,




SD/TF,




USB-C PD Port




USB 3.1,




DC in




USB3.0/2.0,




SD/TF,




USB-C PD Port




SSD,




USB3.0/2.0,




SD/TF,

USB-C PD




USB3.0/2.0,




SD/TF,




USB-C PD Port




Connection Method




USB-C to HOST




USB-C to HOST




USB-C to HOST




USB-C to USB-C/USB-A




USB-C to USB-C/USB-A




USB-C to USB-C/USB-A




Number of Ports




10

11

6

12

15

16

Product Model




UCN3612

UCN3270

T4803

UCN3270-2

UCN3524-2

T4802

Other top rated product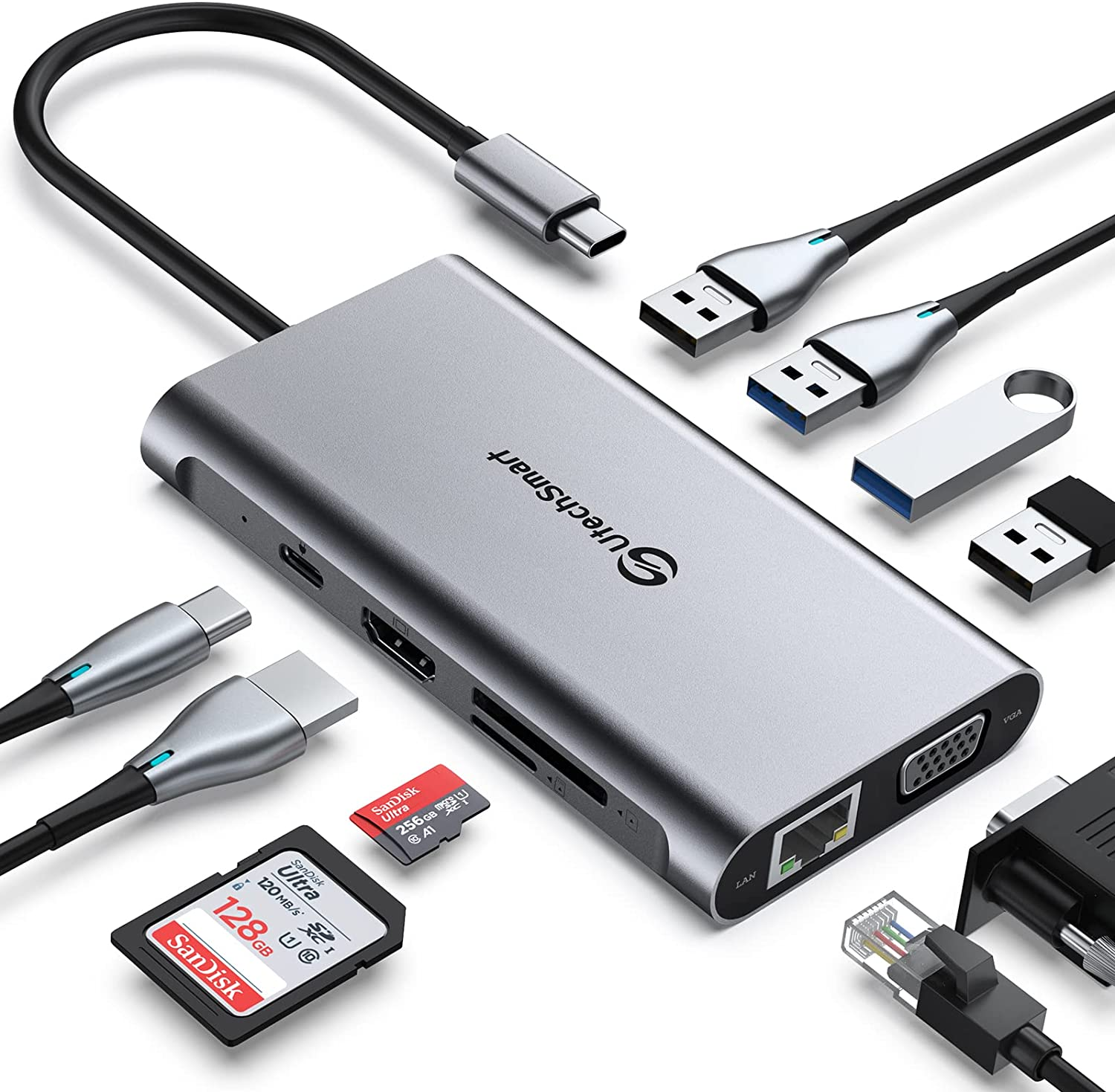 ---
---
0 Reviews
Sorry,there is no data on the page you visited!