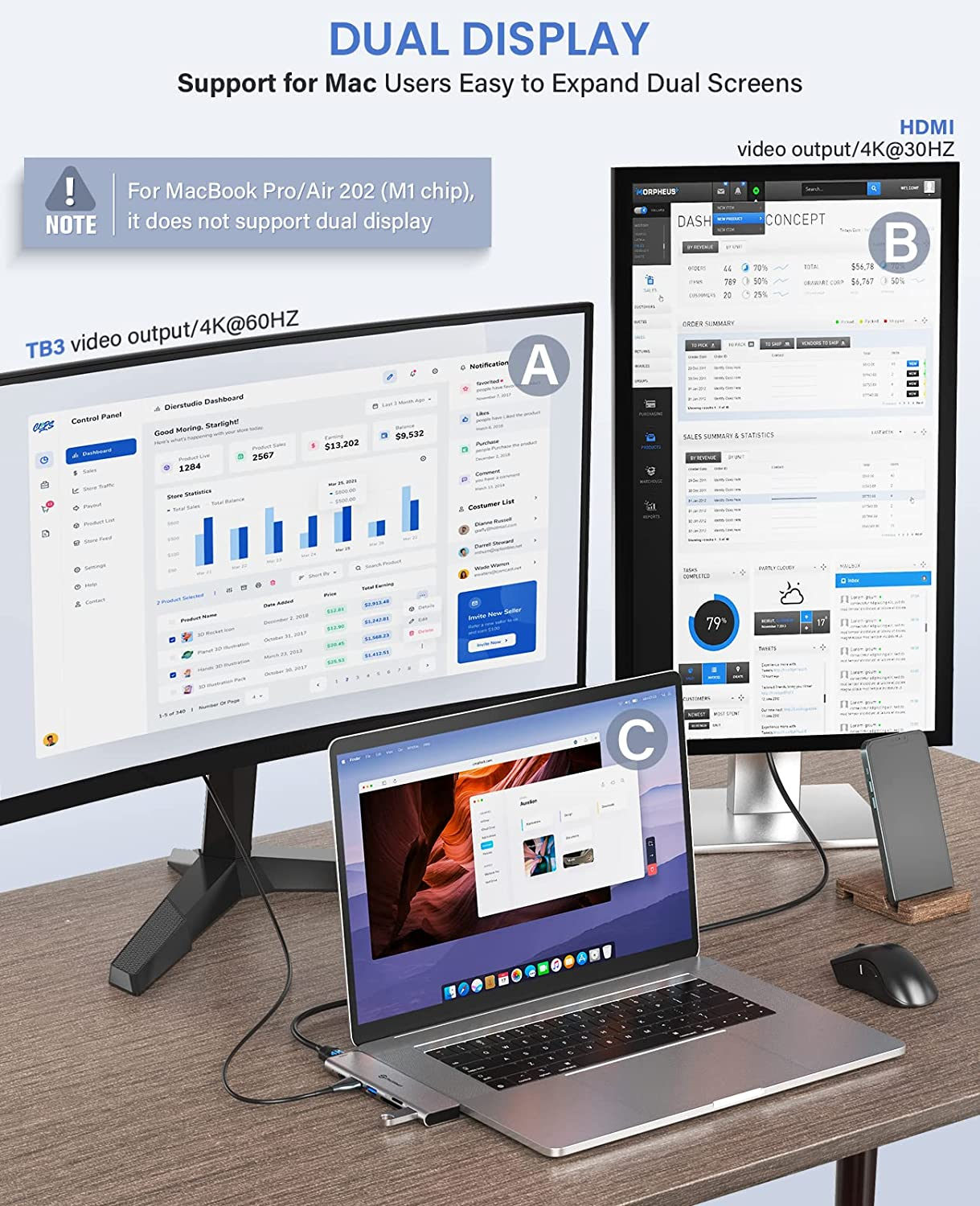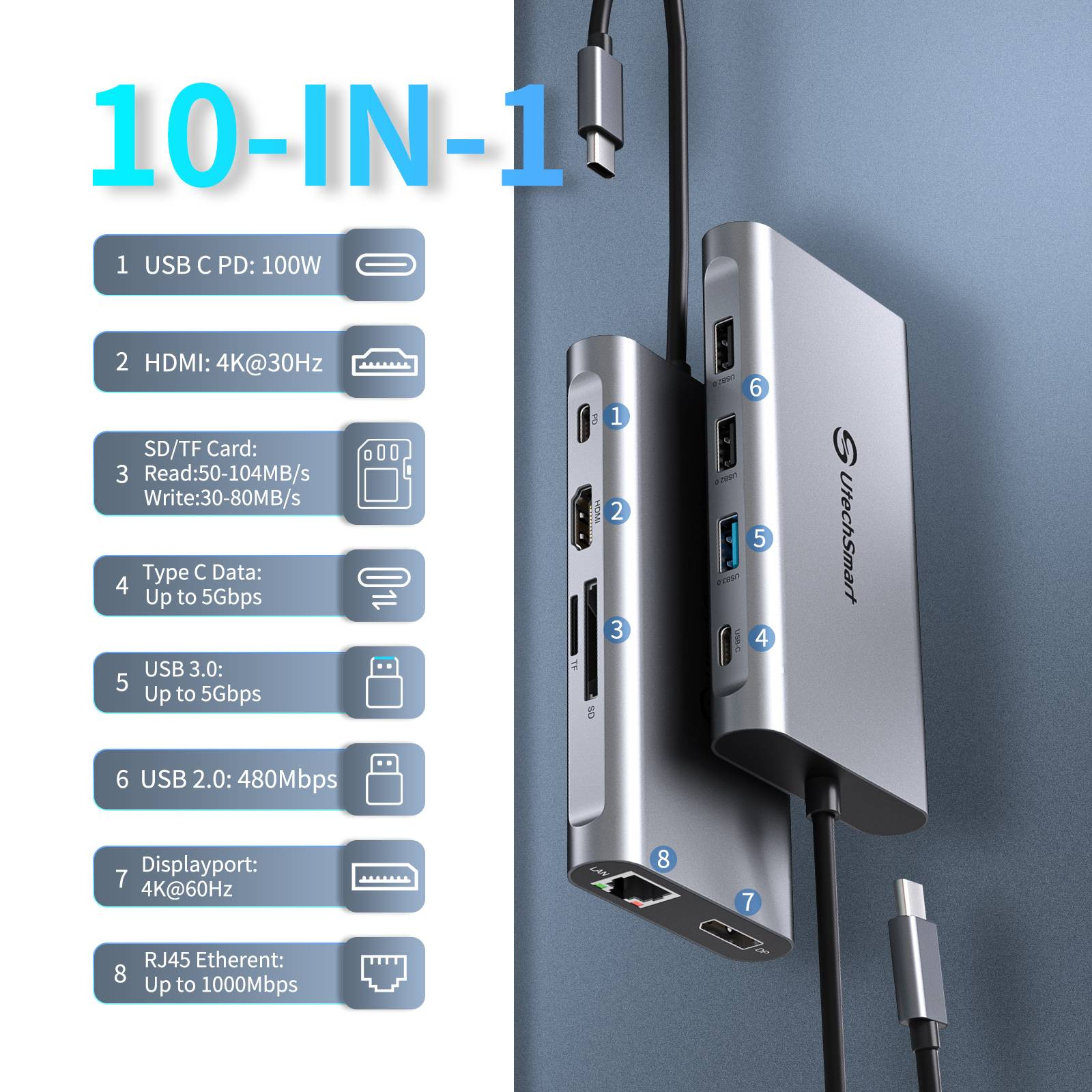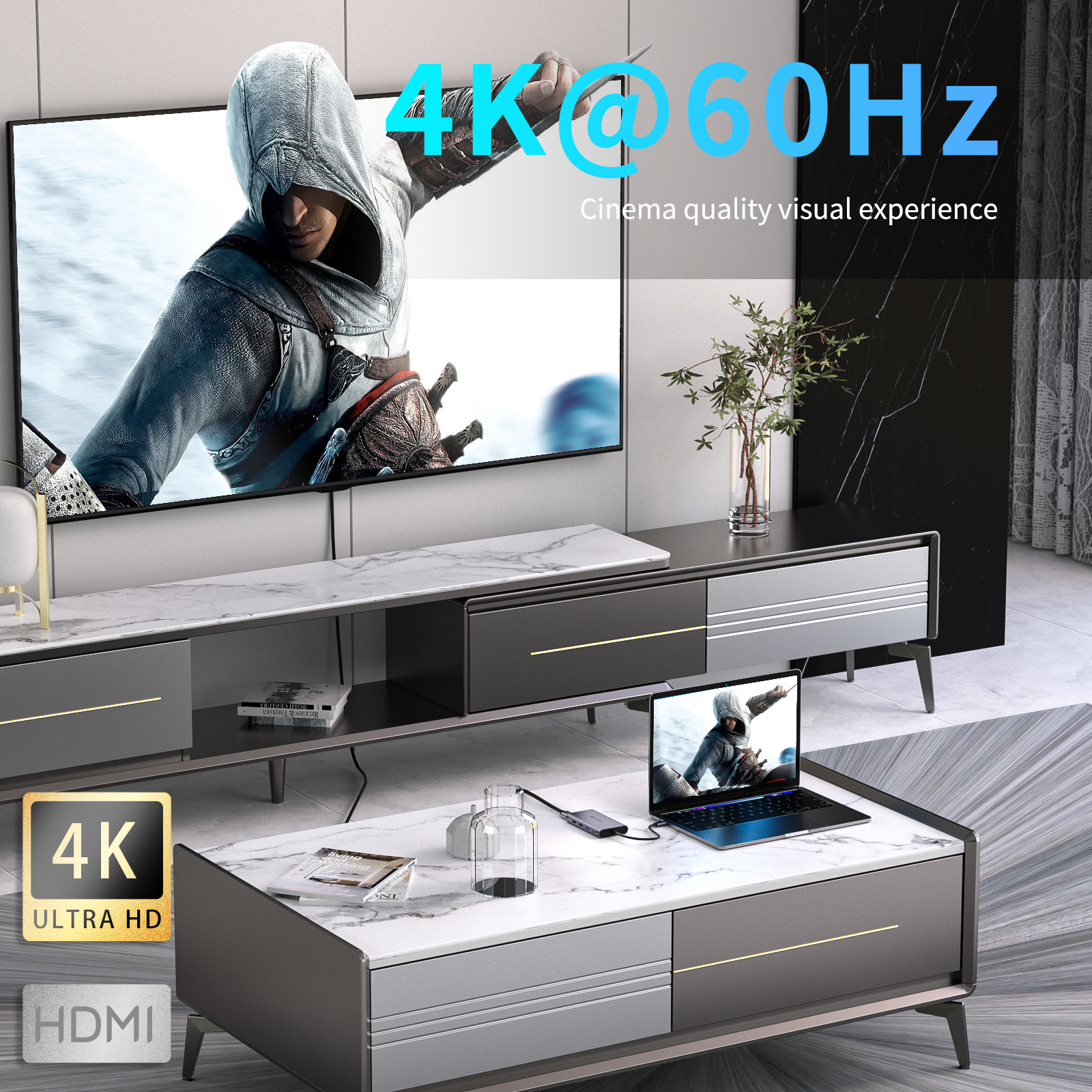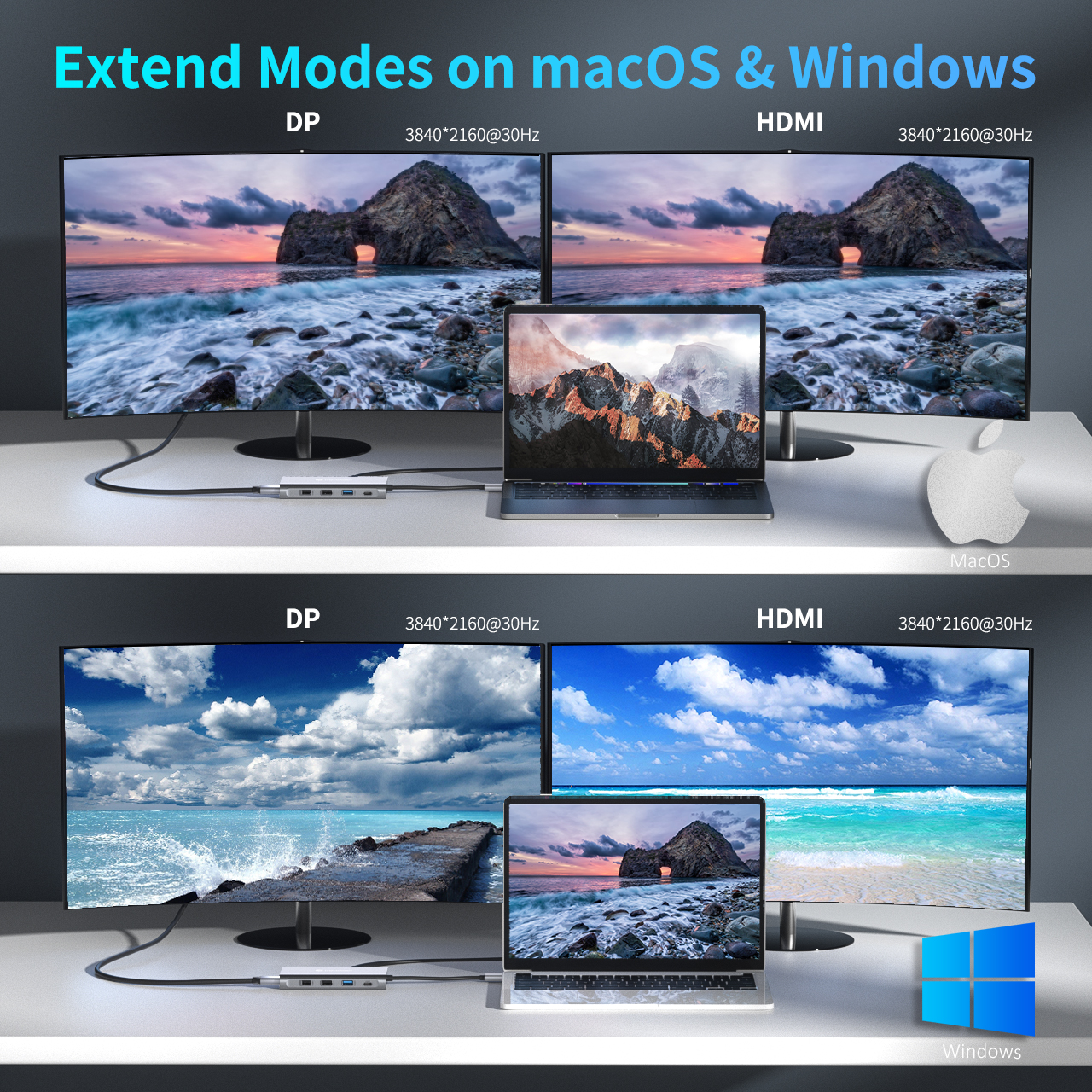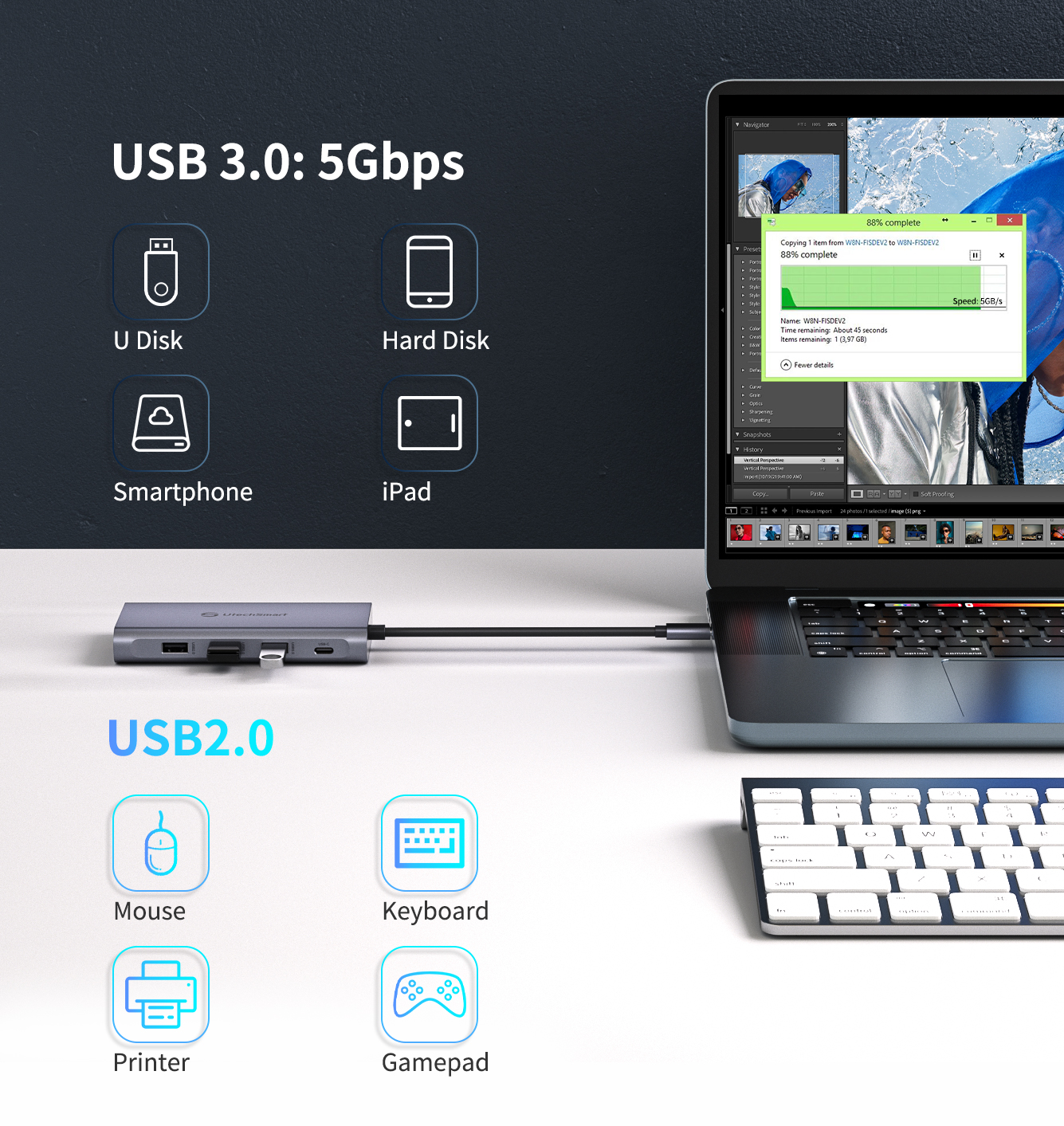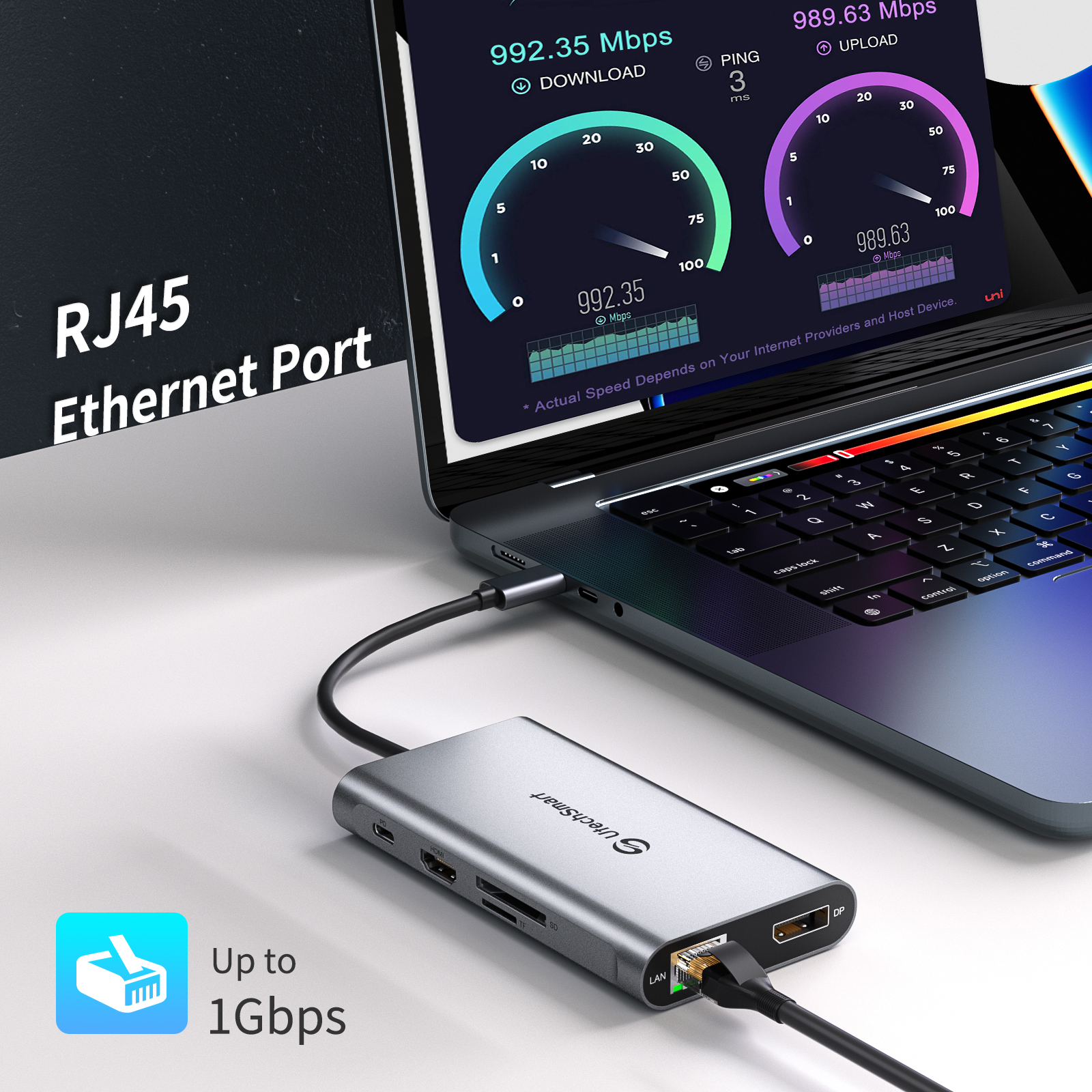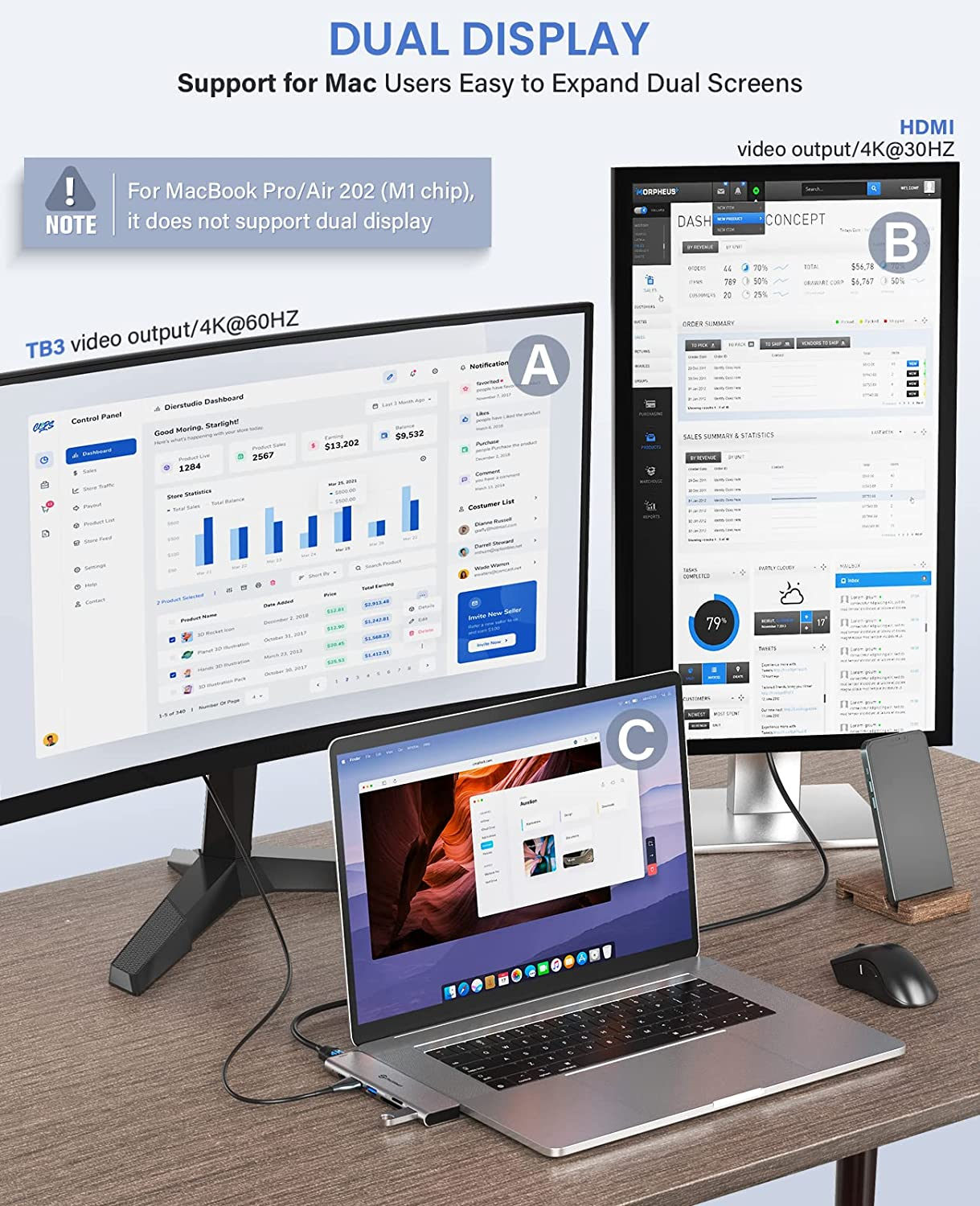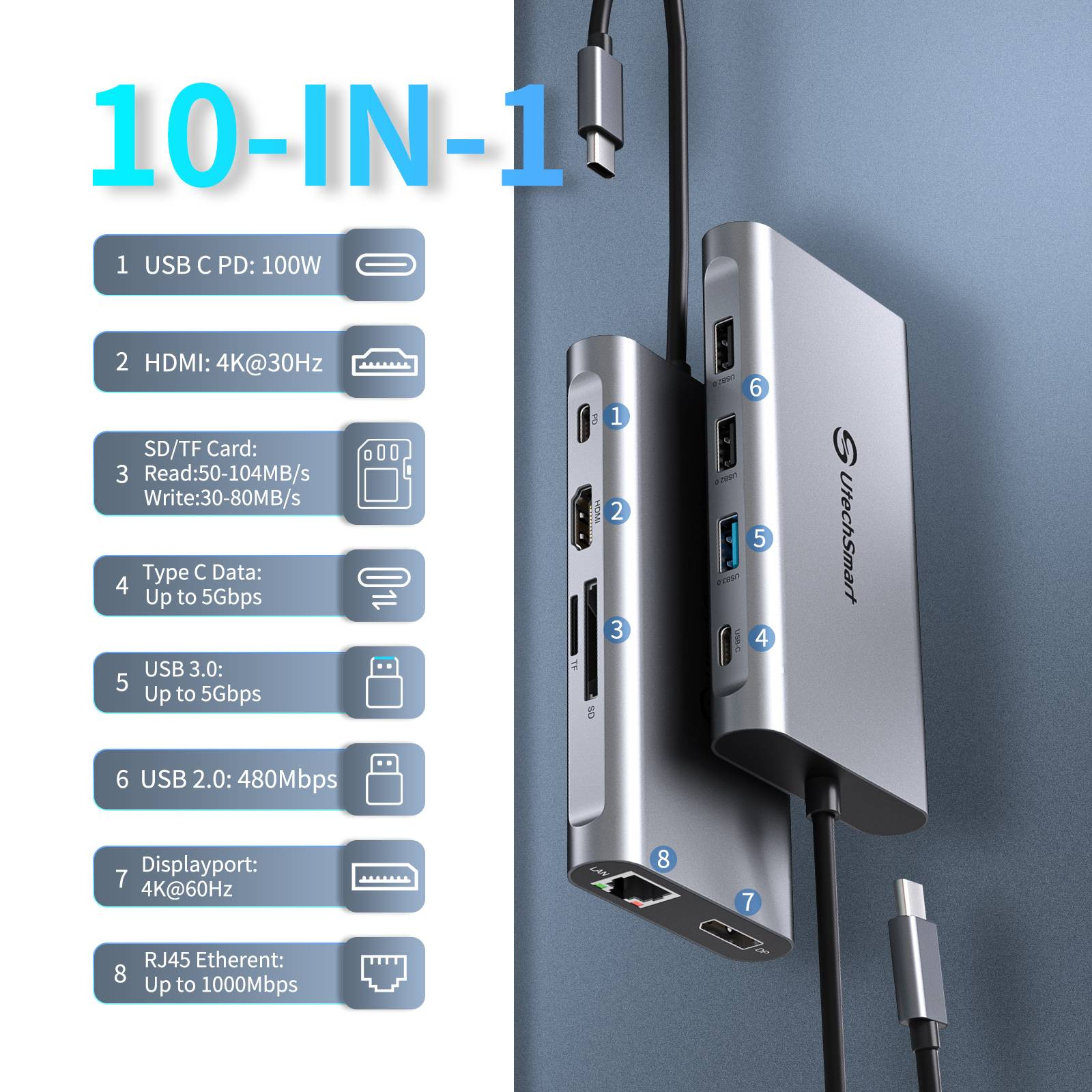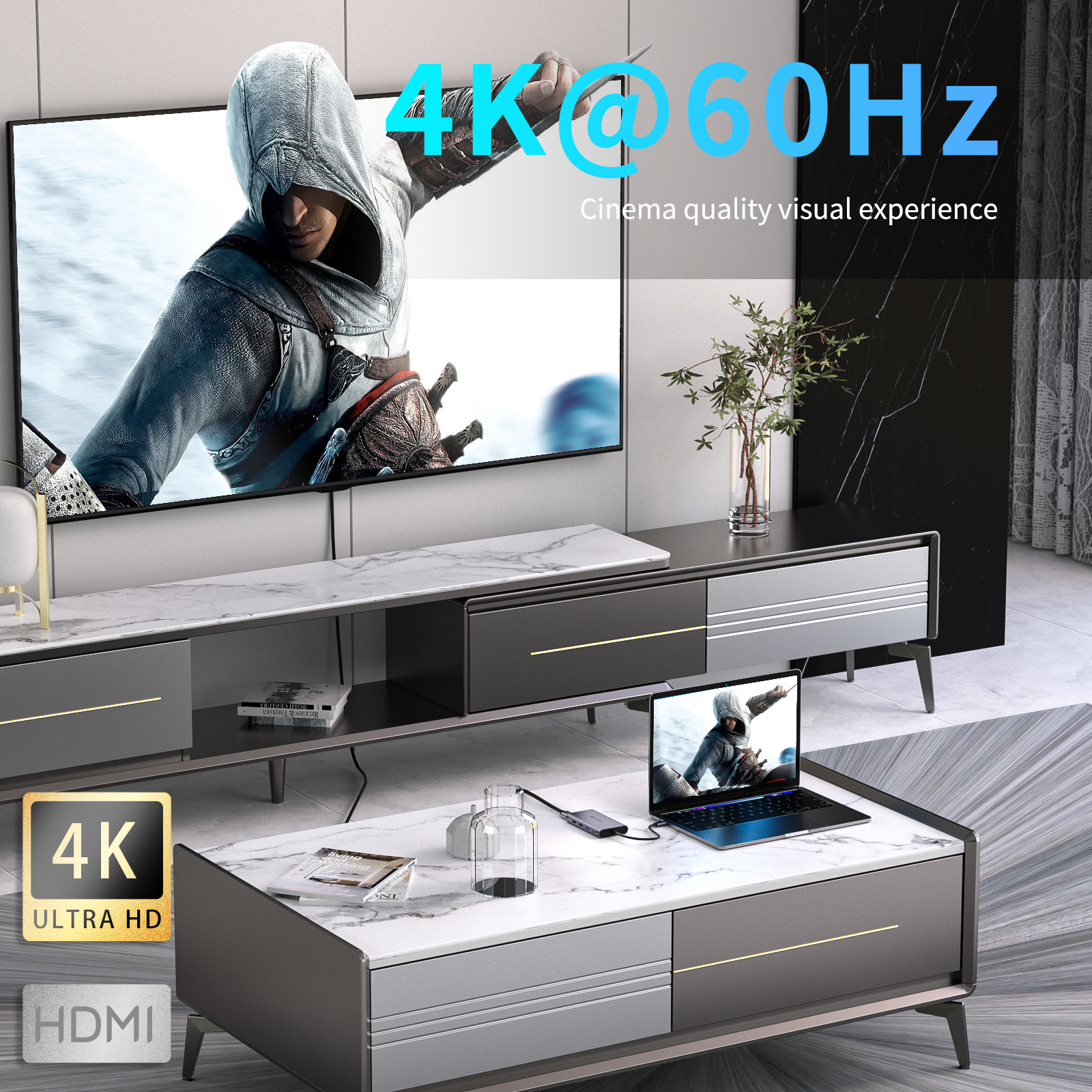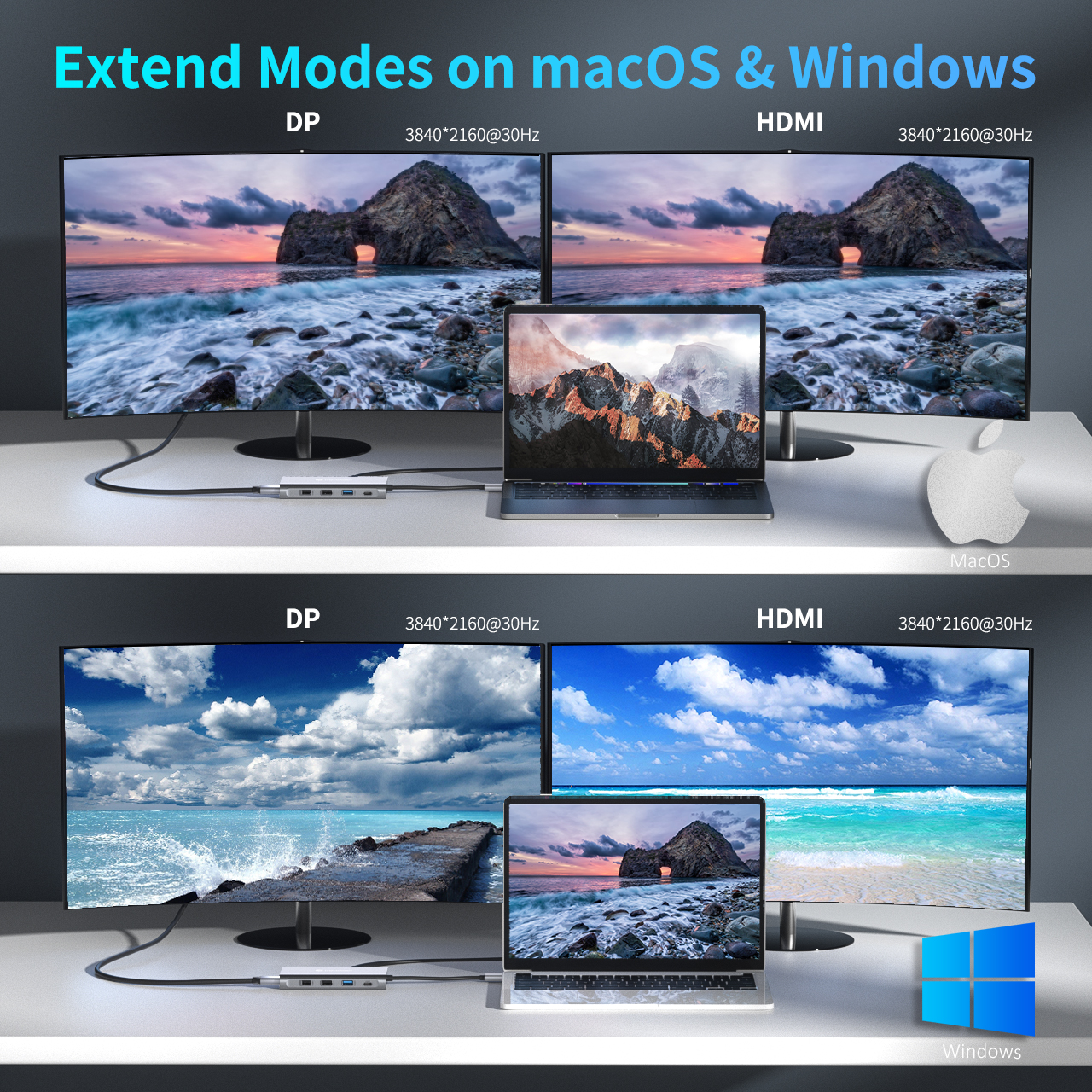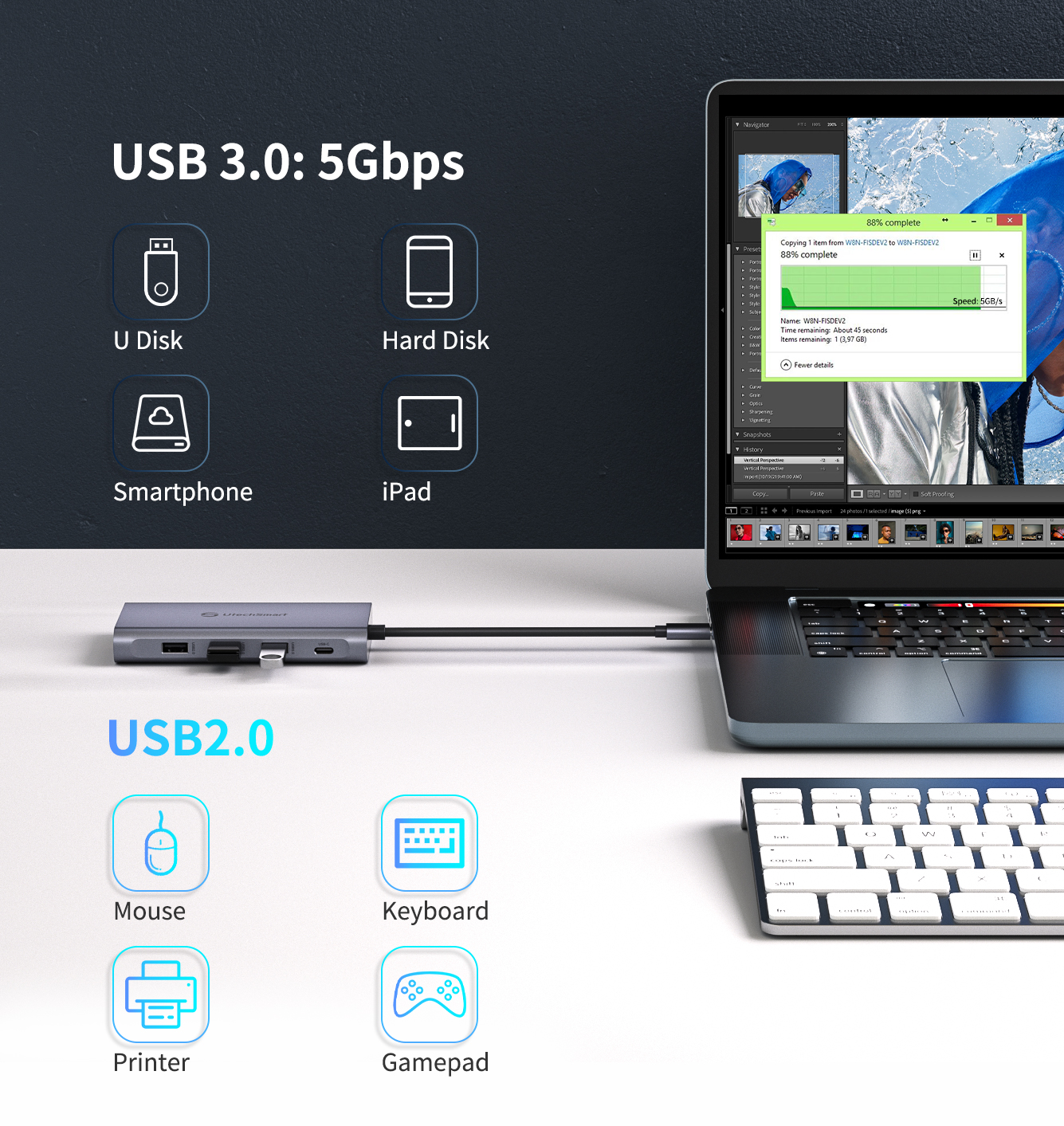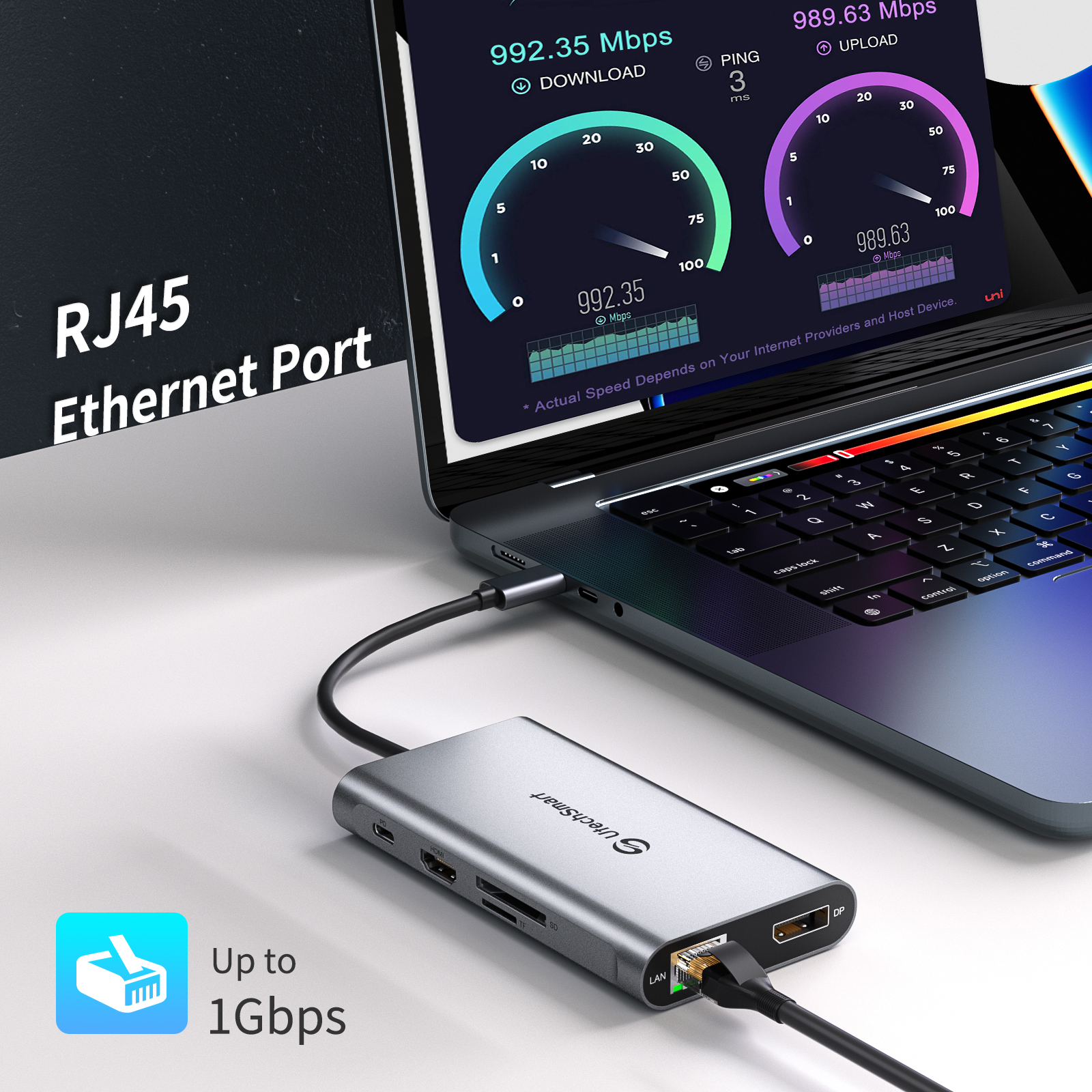 USB C DisplayPort Dock UCN3645 (10 in 1)
Versatile Docking Station Meets ALL Your Need: This UtechSmart 10 in 1 docking station allows you to have 4K dual diplays(HDMI Port and DisplayPort Port) and extra needed ports (1 x USB-C 100W Power Delivery charging port, 1 x USB-C data port, 2 x USB-A 3.0 ports, 1 x USB-A 2.0 port, 1 x 1Gbps Ethernet port, 1 x microSD/TF card slot). It also allows you to be mobile with your laptop without the tons of daily fuss and wrestling of cables!

4k@60hz High-definition Dual Display: HDMI and DP resolution up to 3840*2160@60hz. The docking station is the ideal gadget for 4k HD video editing and high-quality photography rendering. SST and MST modes are supported. Allow you to acheive 4K@60Hz dual display on Mac and Windows Laptop. (Note: On Mac devices, It only supports duplicate dual displays for external monitors due to Mac OS limitations.)

Show Real 1000Mbps Ethernet & 100W PD Power Delivery: Equipped with 1000Mbps Gigabit RJ45 Ethernet port, this USB c hub can download 1G movies in minutes. Use the PD port to quickly charge your Type-C devices and achieve a high-efficiency 100W charging mode, without worrying about using other ports typically when there is no power. Please note: Type C PD charging port is only suitable for devices that support PD protocol.

Blazing Faster Data Transmission: Plug and play to grasp the rhythm of life and work easily. The computer docking station has a built-in USB 3.0 and Type-c port that supports transfer rates up to 5 Gbps for easy access to files from common SD and Micro SD memory cards, and quick viewing of photos or videos. 2 USB 2.0 ports are best for your mouse, keyboard and other devices.

Multiple Compatibility: Our USB C docking station is widely used for laptops with Windows 10/11, Mac OS, iPad OS, Chrome OS, Dell XPS 13/15, XP, Linux, Chromecast etc. Please check if your laptop has USB 3.1 Gen 2/Thunderbolt 3/4 port and supports DisplayPort alternative mode. If you do not know how to recognise it, please contact us a message in the background, we will test or make correct forecasts for you.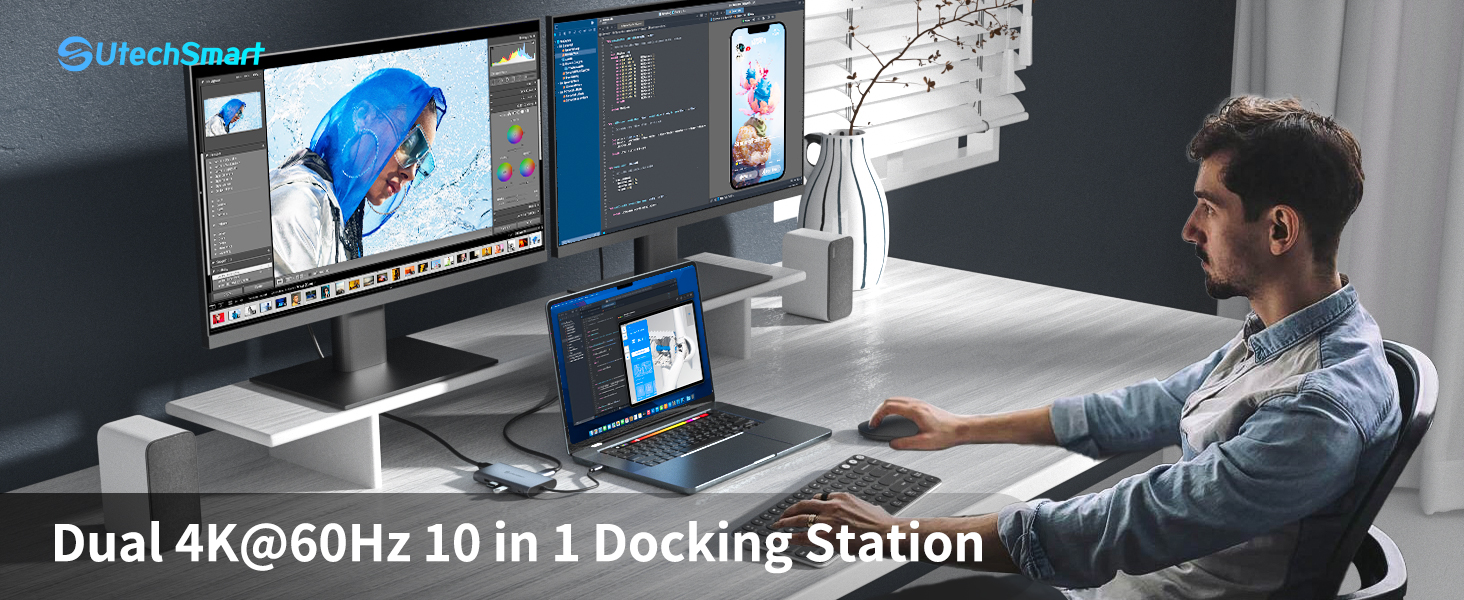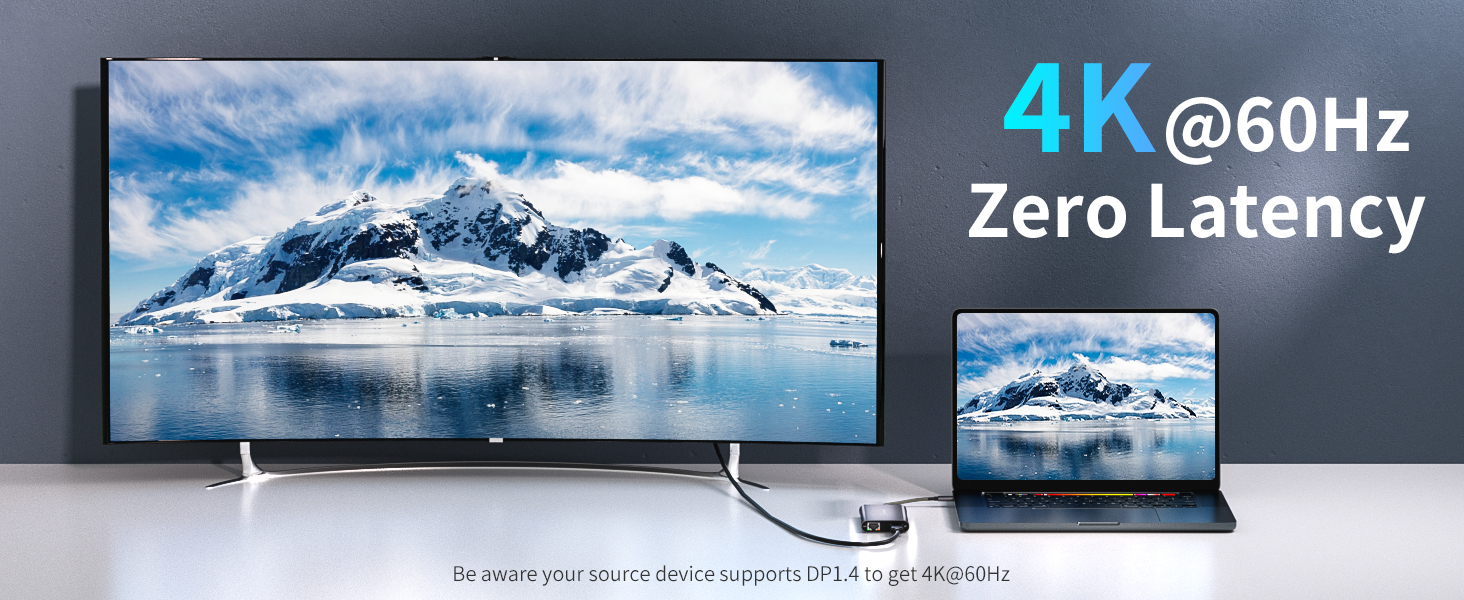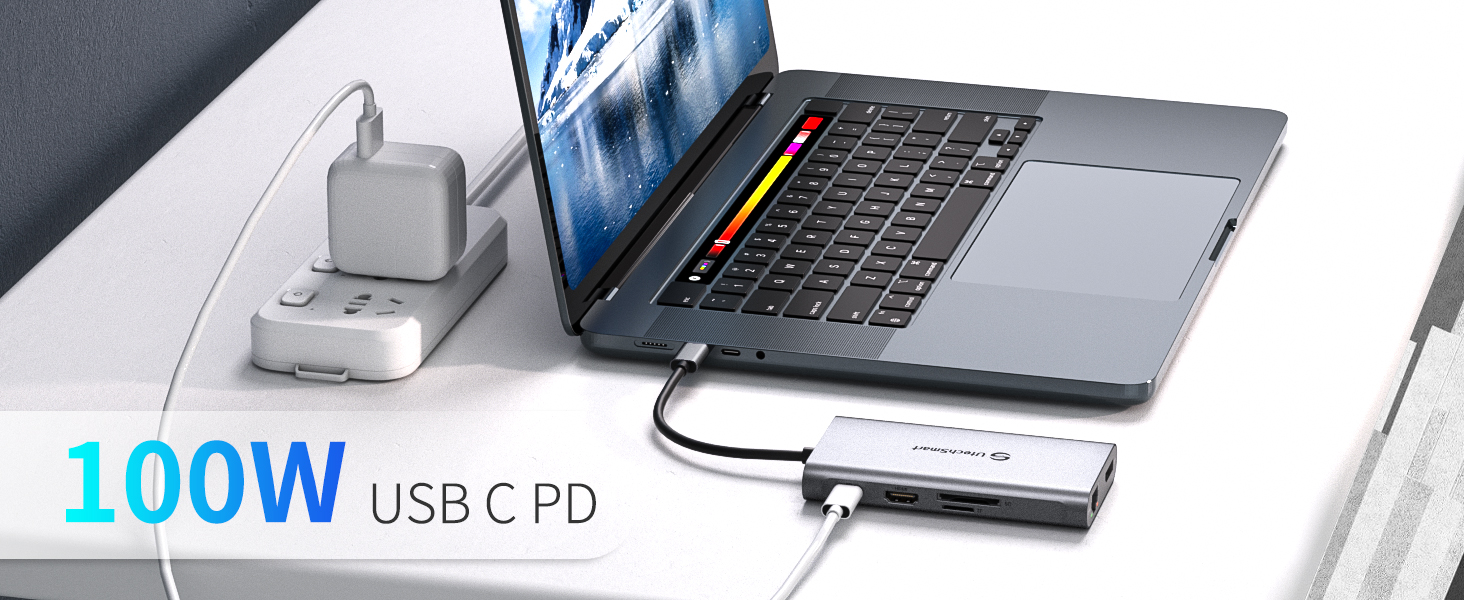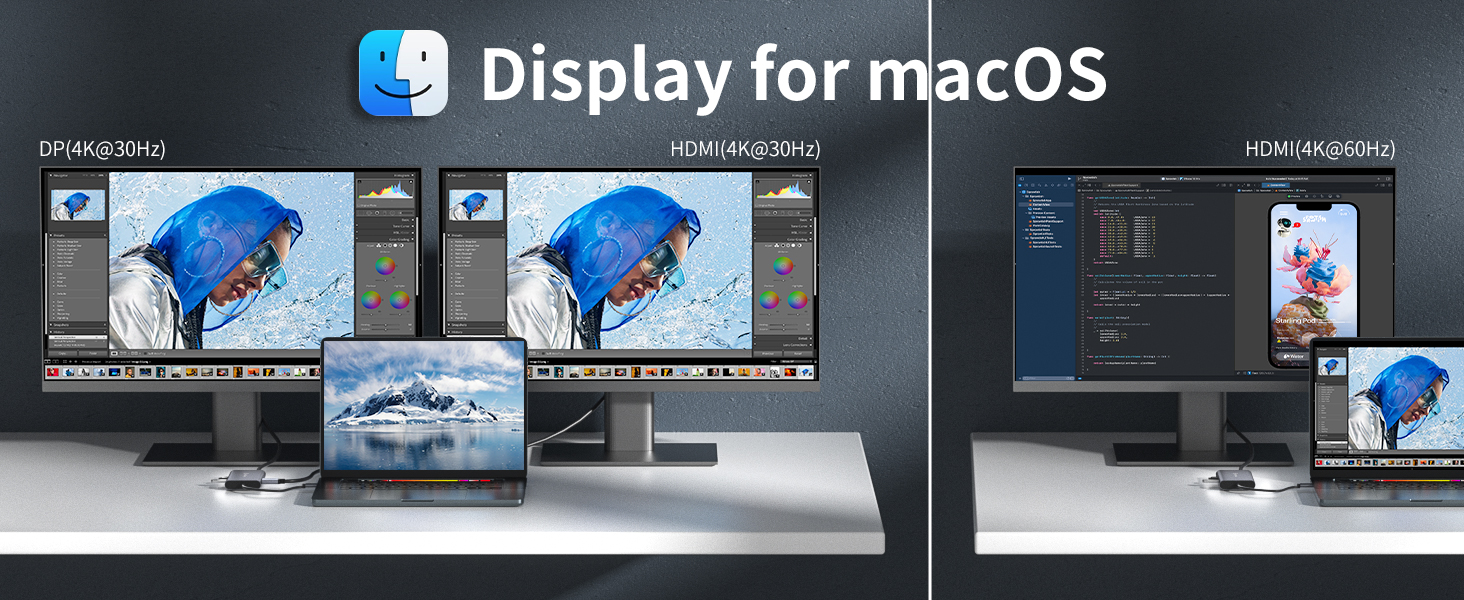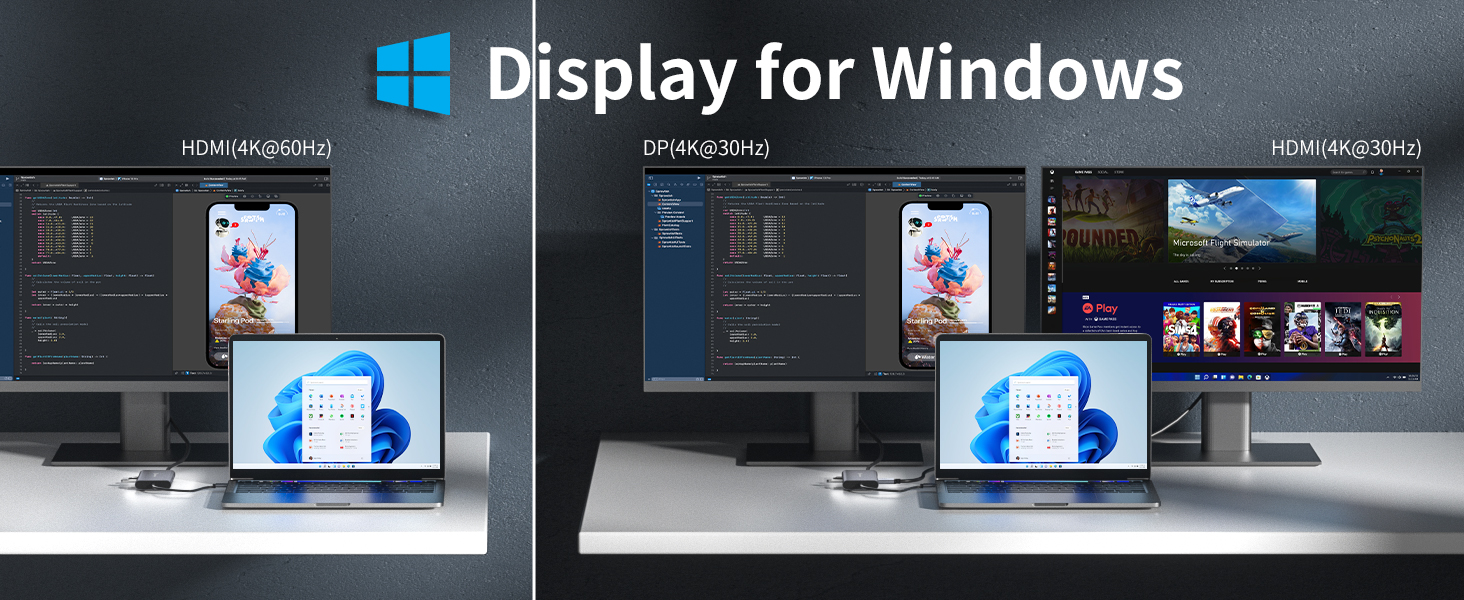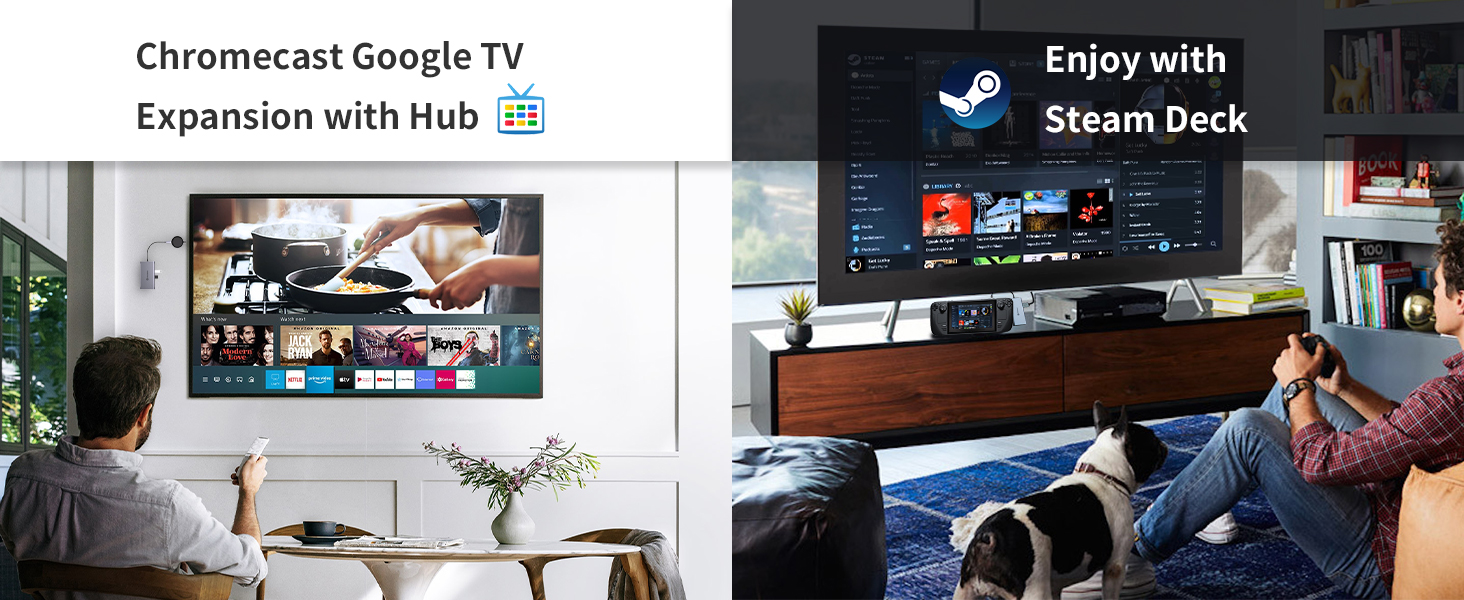 Specs
Product Dimensions

4.72 x 2.36 x 0.67 inches
Manufacturer

UtechSmart Technology















Compatible Devices




USB-C 3.1 Gen 2, Thunderbolt3/4




USB-C 3.1 Gen 2, Thunderbolt3/4




USB-C 3.1 Gen 2, Thunderbolt3/4




USB-C 3.1, Thunderbolt3/4,




USB-A




USB-C 3.1, Thunderbolt3/4,




USB-A




USB-C 3.1, Thunderbolt3/4,




USB-A




Video Output Mode




DisplayPort Alt Mode




DisplayPort Alt Mode




DisplayPort Alt Mode




DisplayPort Mode & DisplayLink




DisplayPort Mode & DisplayLink




DisplayPort Mode & DisplayLink




Resolution




Single 4K@30Hz




Single 4K@30Hz,




Triple 1080p




Single 8K@30Hz, Dual 4K@60Hz




Single 4K@30Hz,




Triple 1080p




Single 4K@30Hz,




Triple 1080p




Single 8K@30Hz,




Quintuple 4K@60Hz




Number of Display Outputs




1*HDMI




2*HDMI, 1*VGA




3*Thunderbolt 4




2*HDMI, 1*VGA




2*HDMI,




1*DisplayPort




3*Thunderbolt 4,




1*HDMI, 1*DisplayPort




Gigabit Ethernet Port




√




√




#N/A




√




√




√




Max Transfer Rate




5Gbps




5Gbps




40Gbps




5Gbps




5Gbps




40Gbps




Power Demand




92W (Use 100W PD adapter)




92W (Use 100W PD adapter)




120W DC Adapter Included




92W (Use 100W PD adapter)




87-96W(use 100W PD charger)




120W DC Adapter Included




Other Ports




USB3.0,




USB-C PD Charging




USB3.0/2.0,




SD/TF,




USB-C PD Port




USB 3.1,




DC in




USB3.0/2.0,




SD/TF,




USB-C PD Port




SSD,




USB3.0/2.0,




SD/TF,

USB-C PD




USB3.0/2.0,




SD/TF,




USB-C PD Port




Connection Method




USB-C to HOST




USB-C to HOST




USB-C to HOST




USB-C to USB-C/USB-A




USB-C to USB-C/USB-A




USB-C to USB-C/USB-A




Number of Ports




6

11

6

12

15

16

Product Model




UCN3273

UCN3270

T4803

UCN3270-2

UCN3524-2

T4802

Other top rated product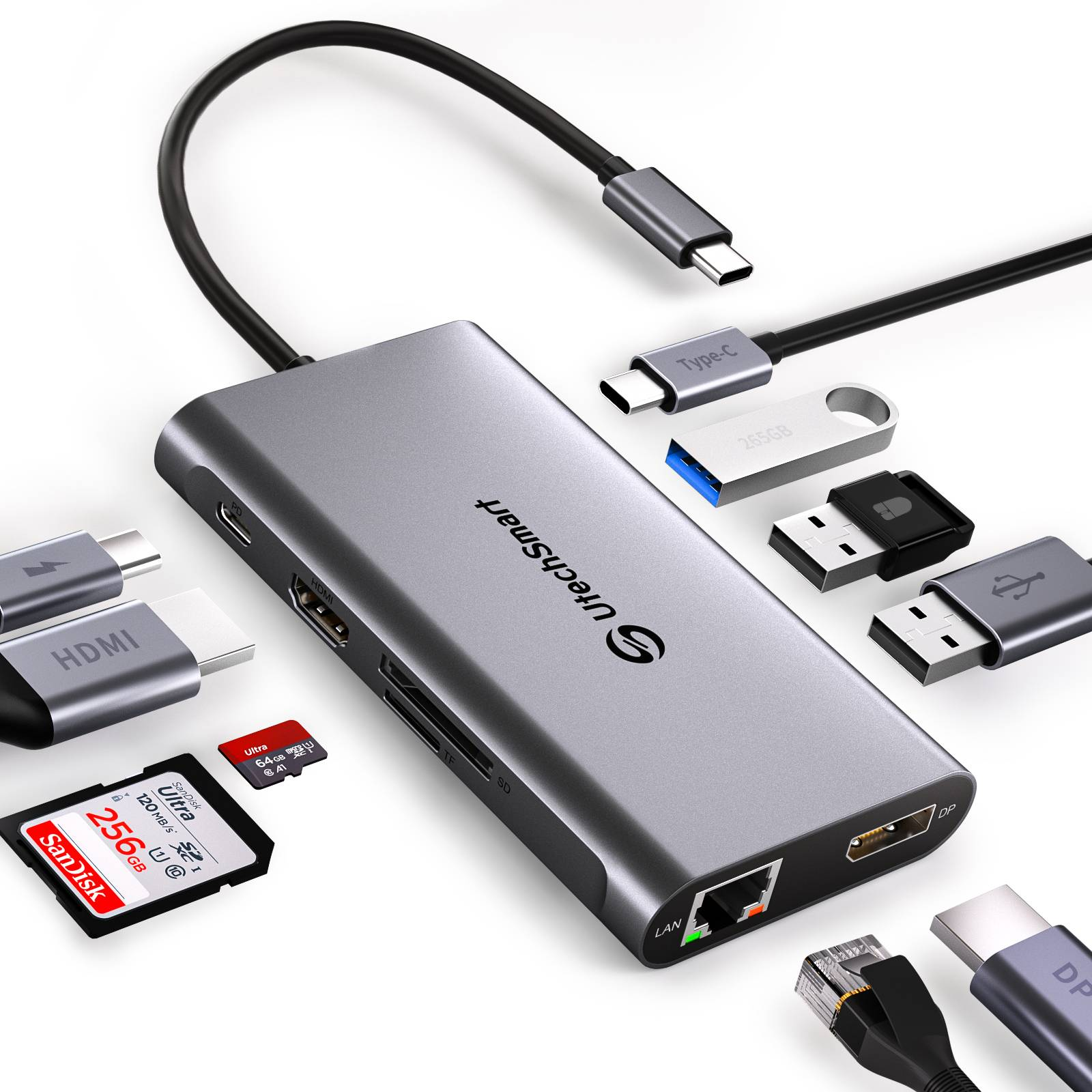 ---
---
0 Reviews
Sorry,there is no data on the page you visited!