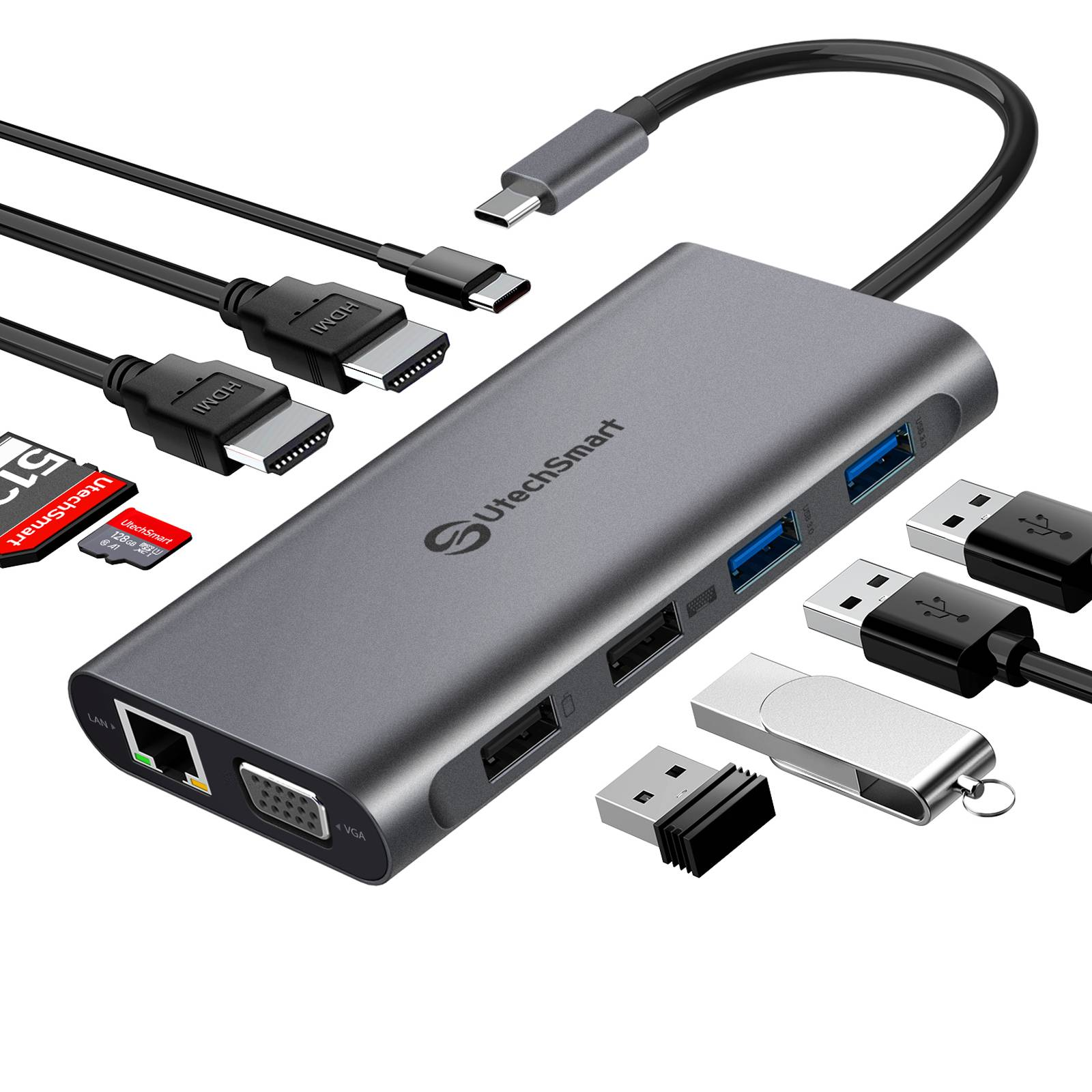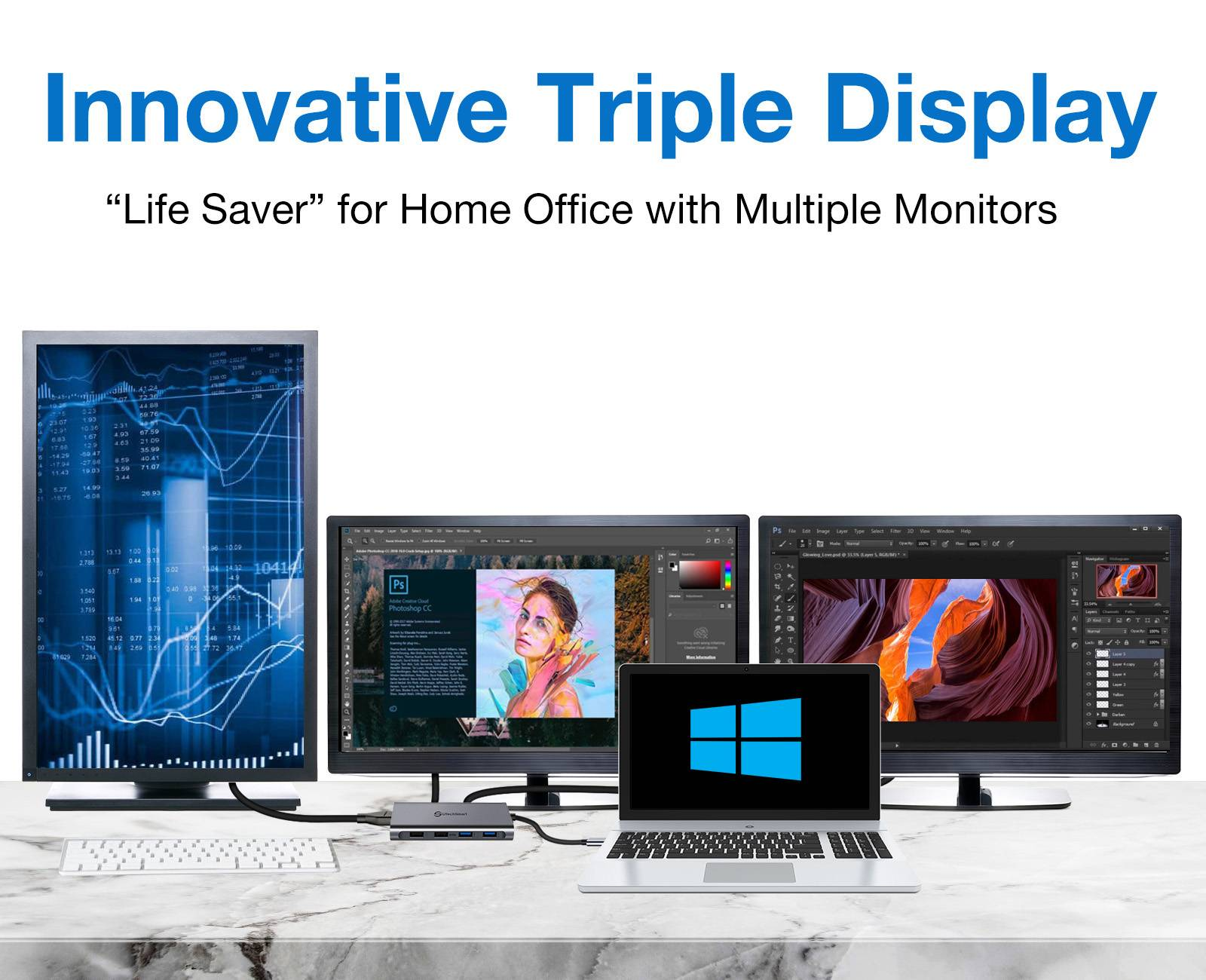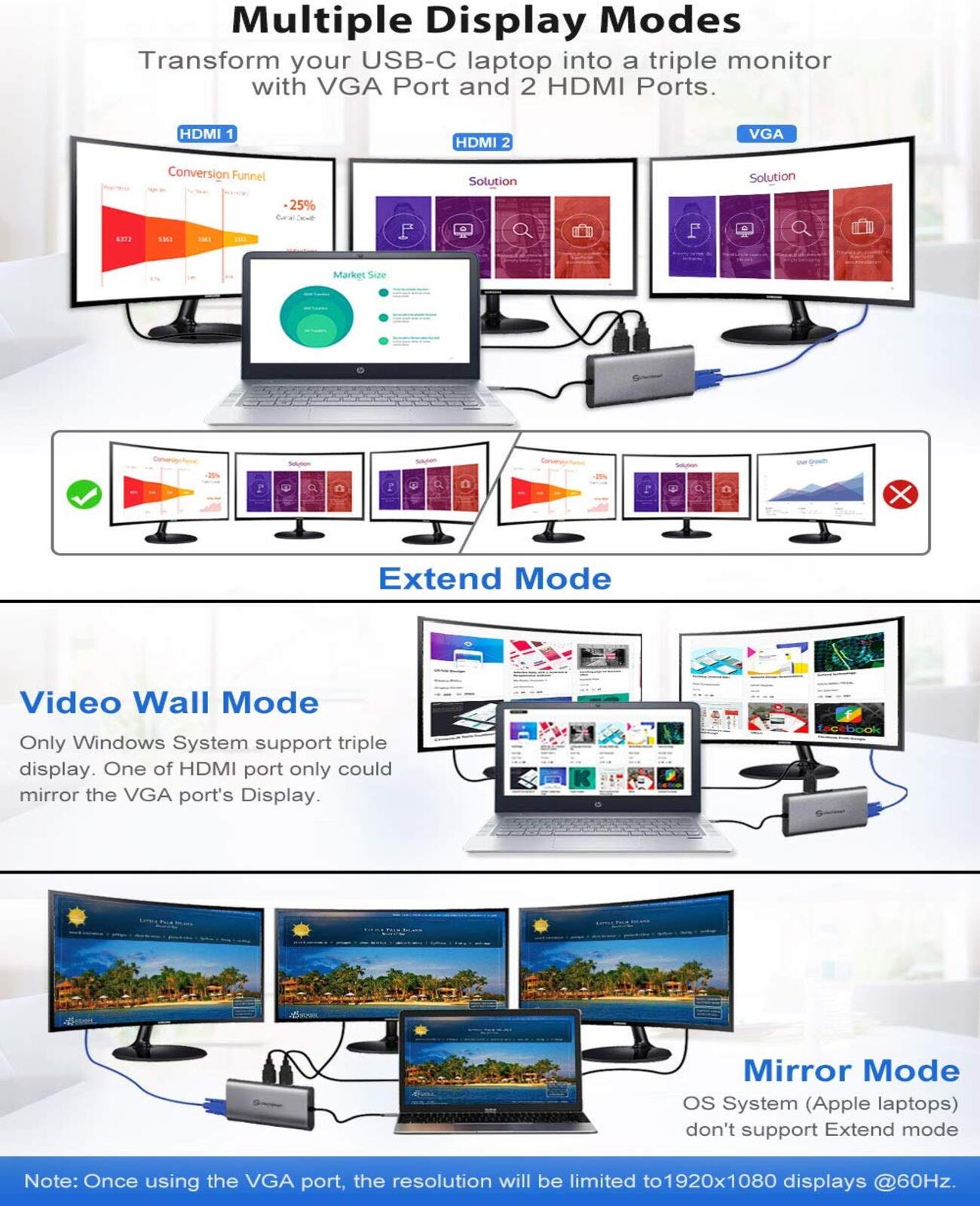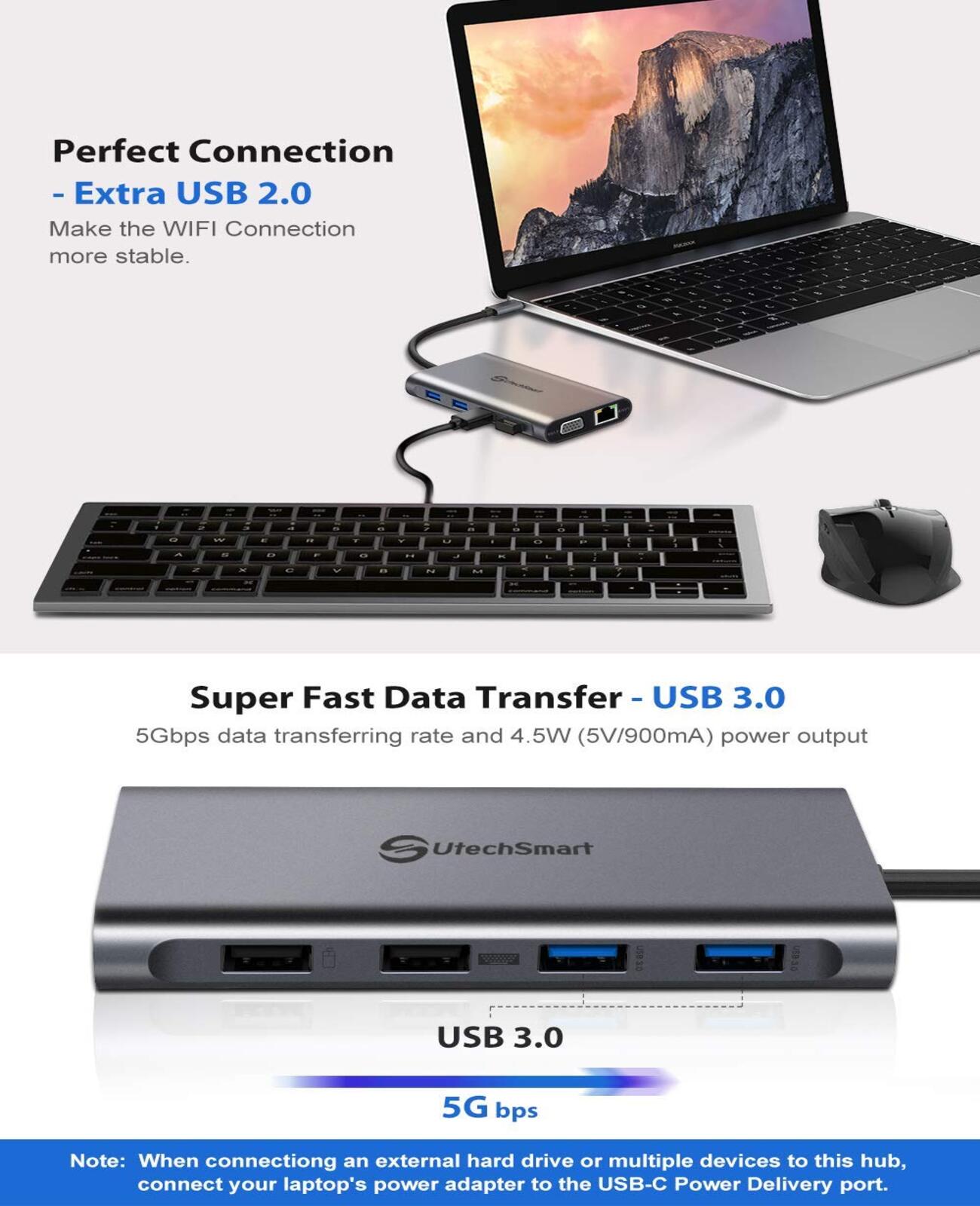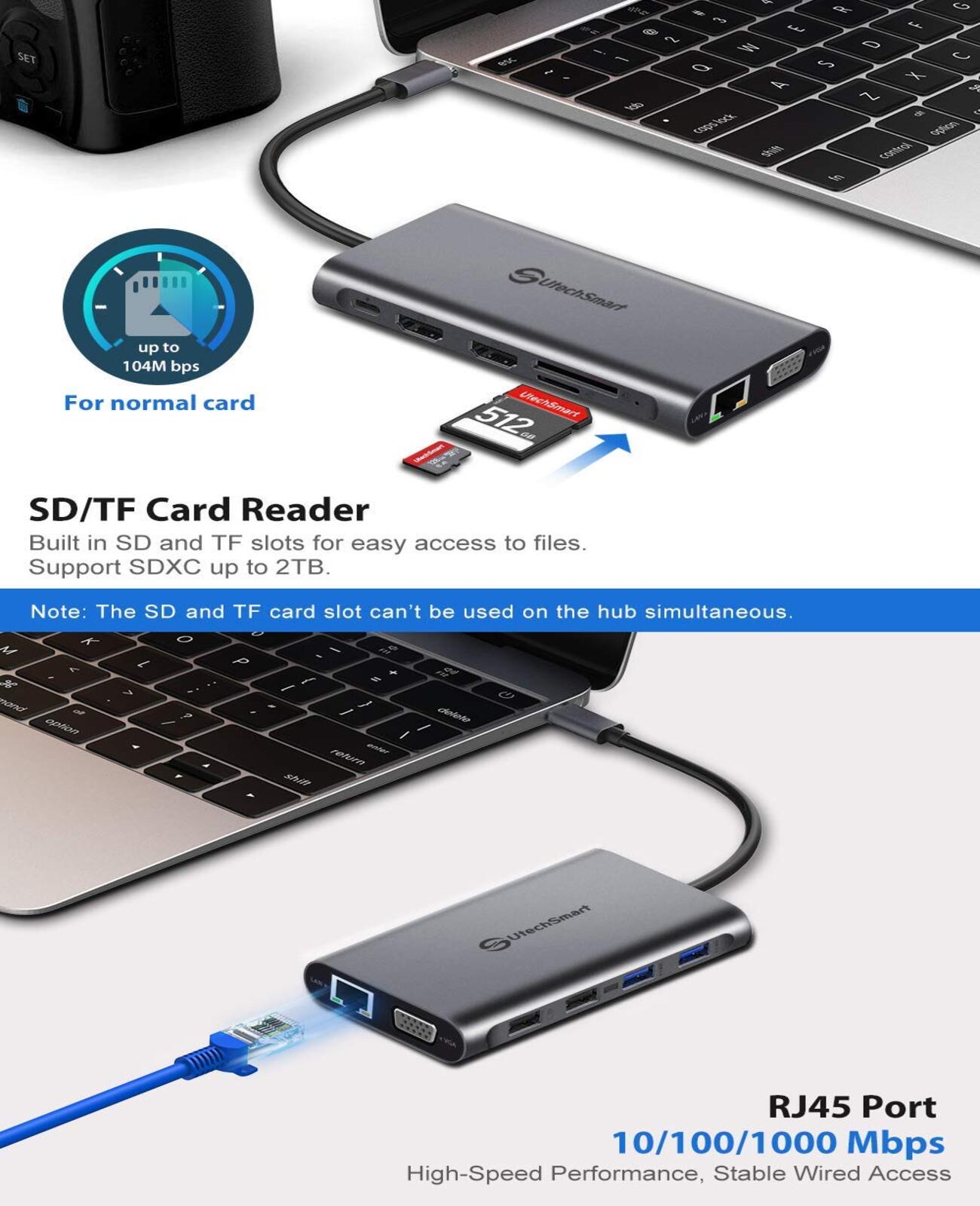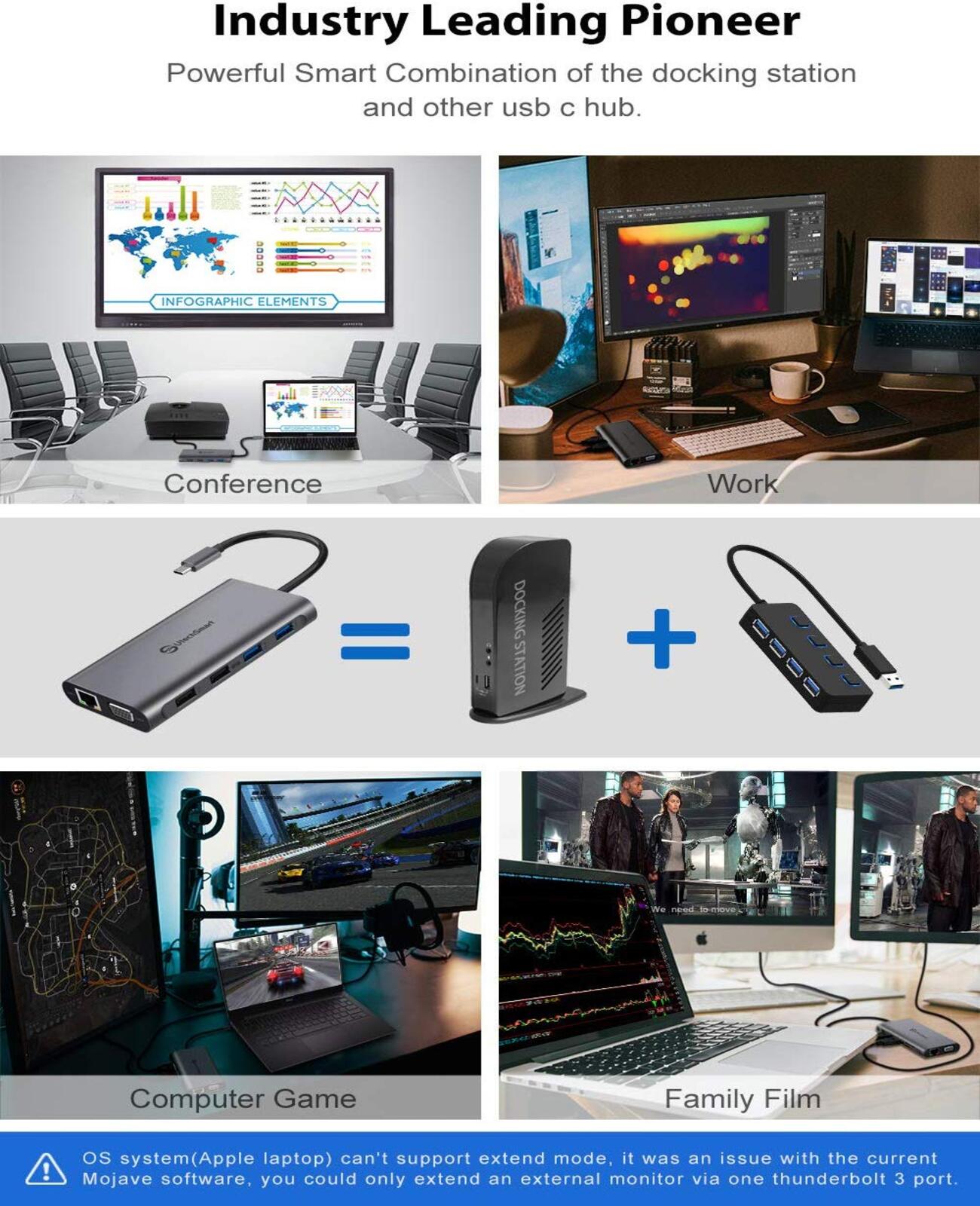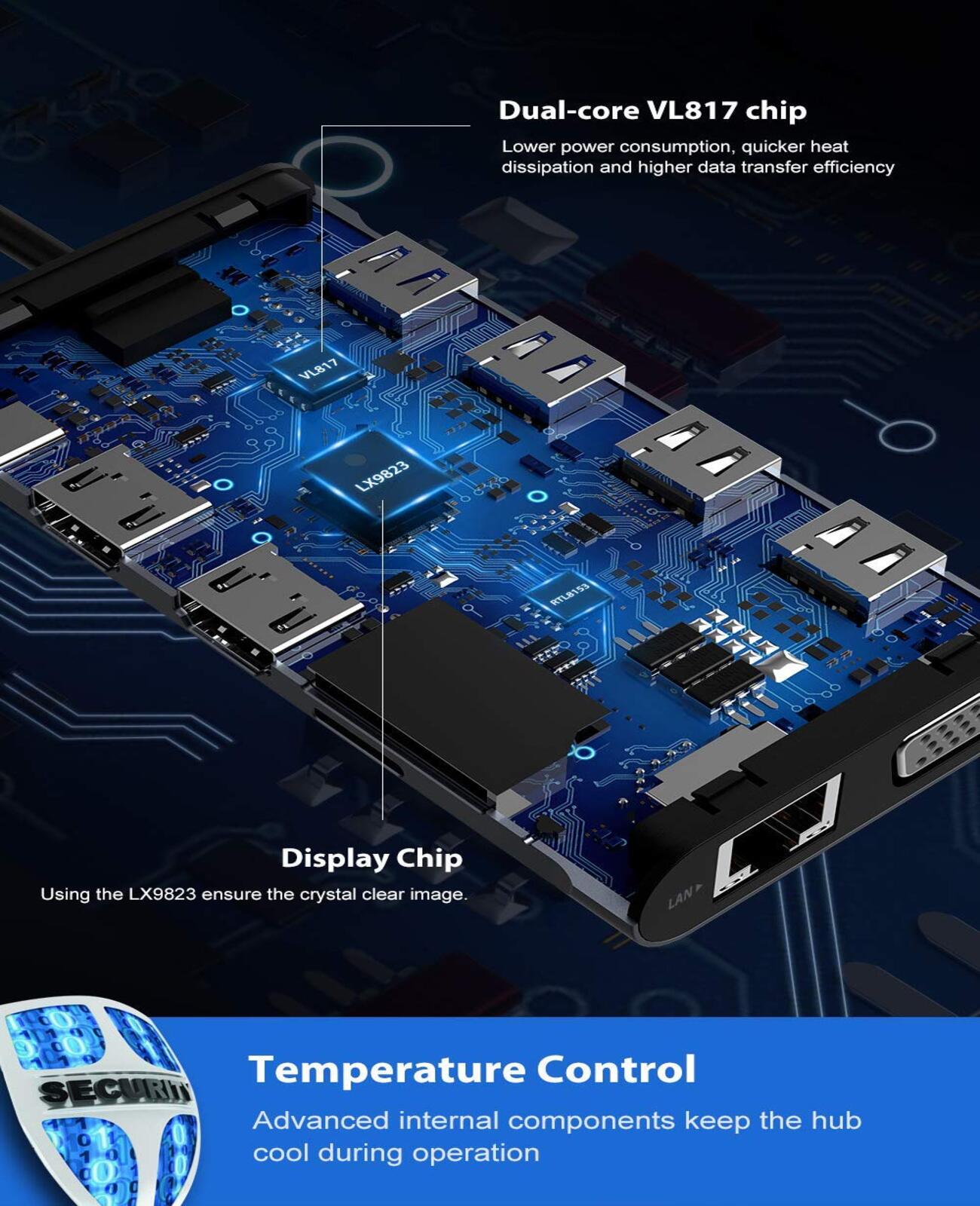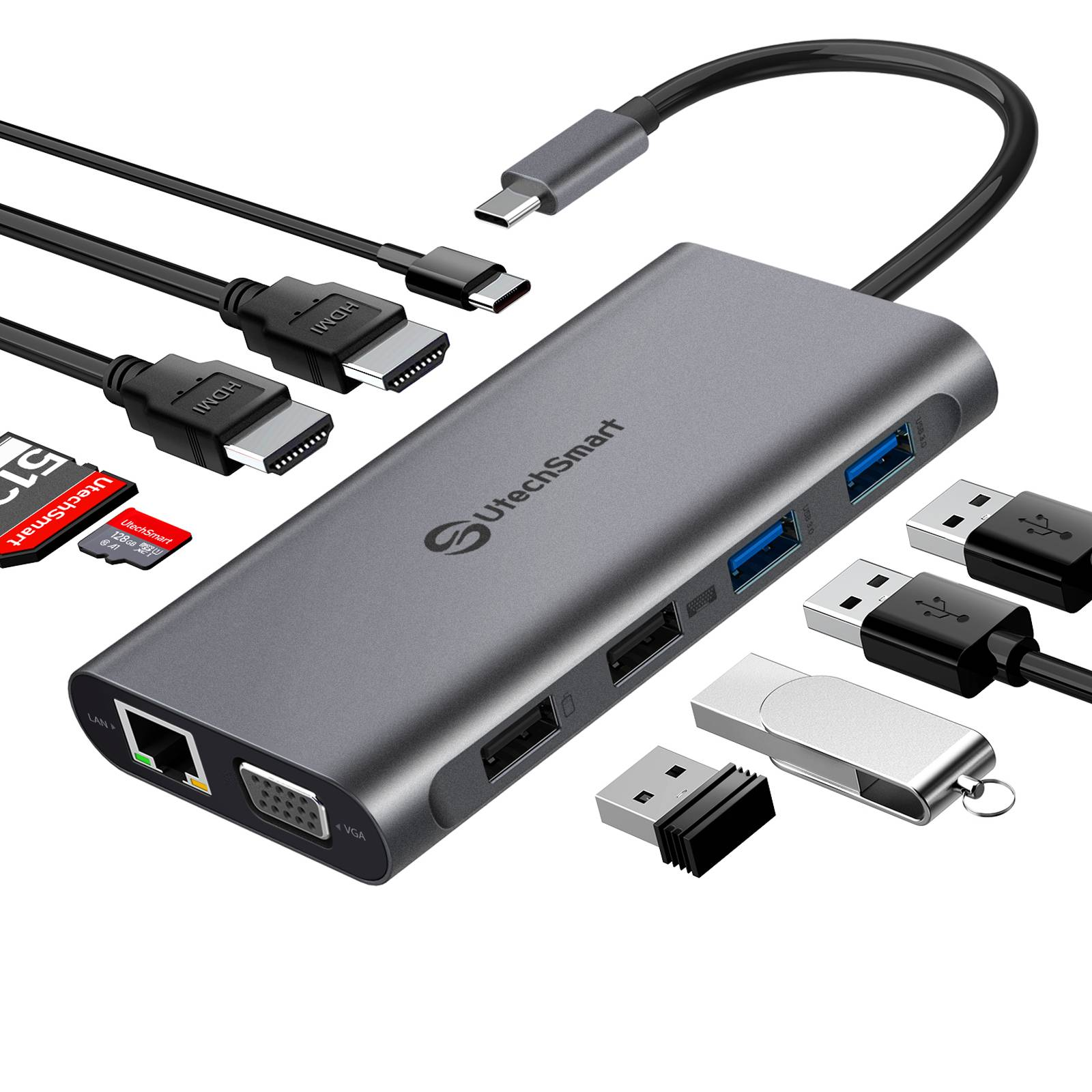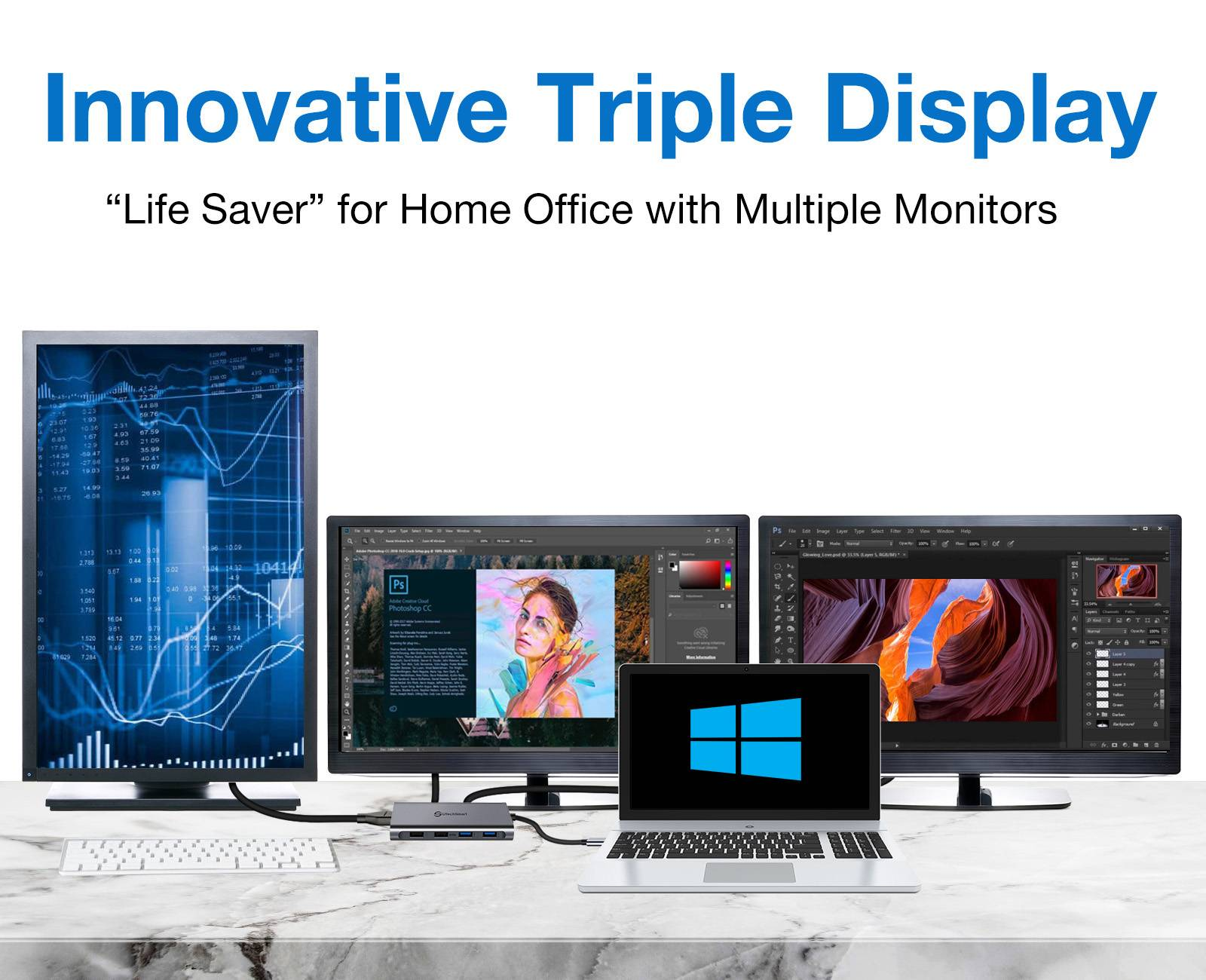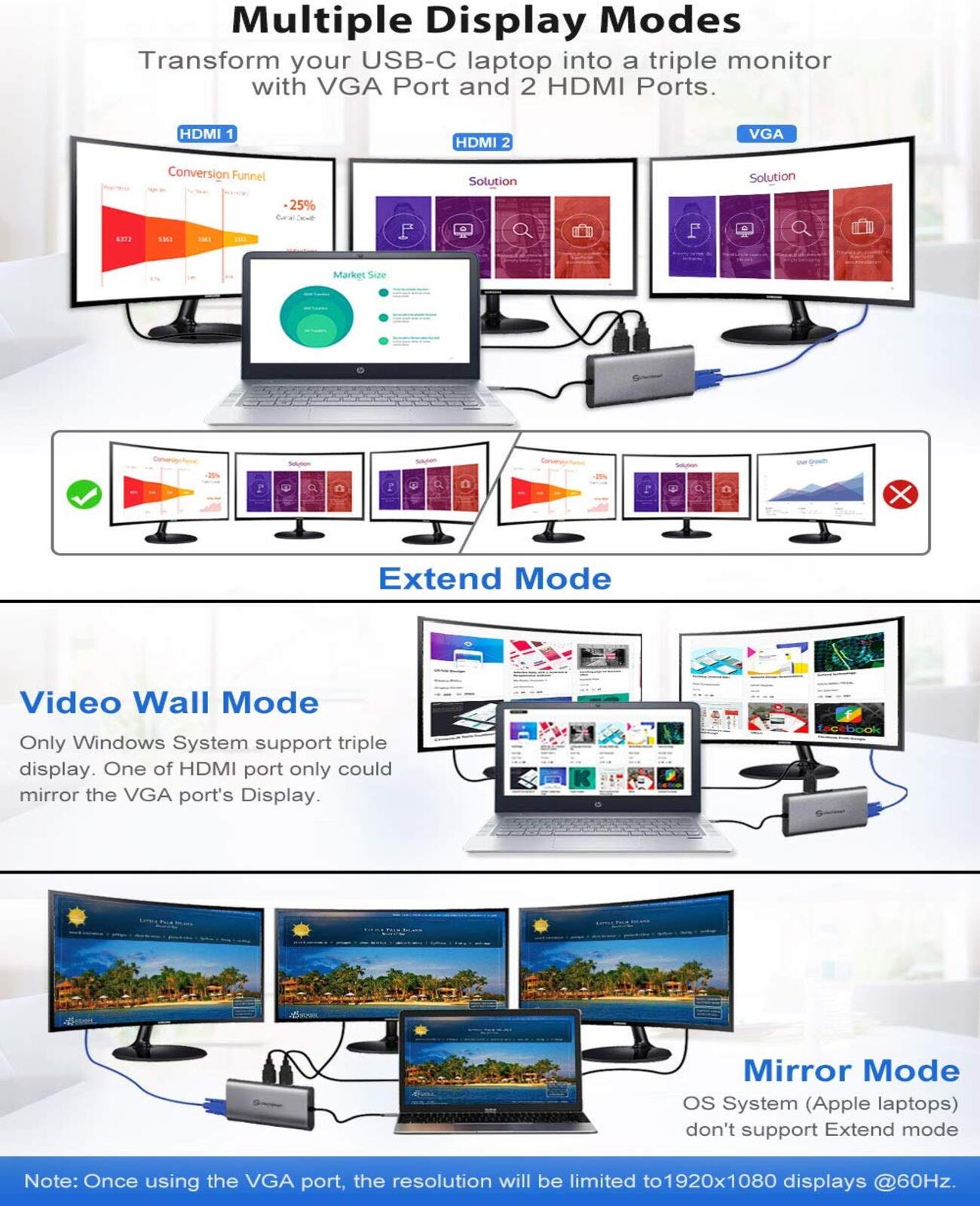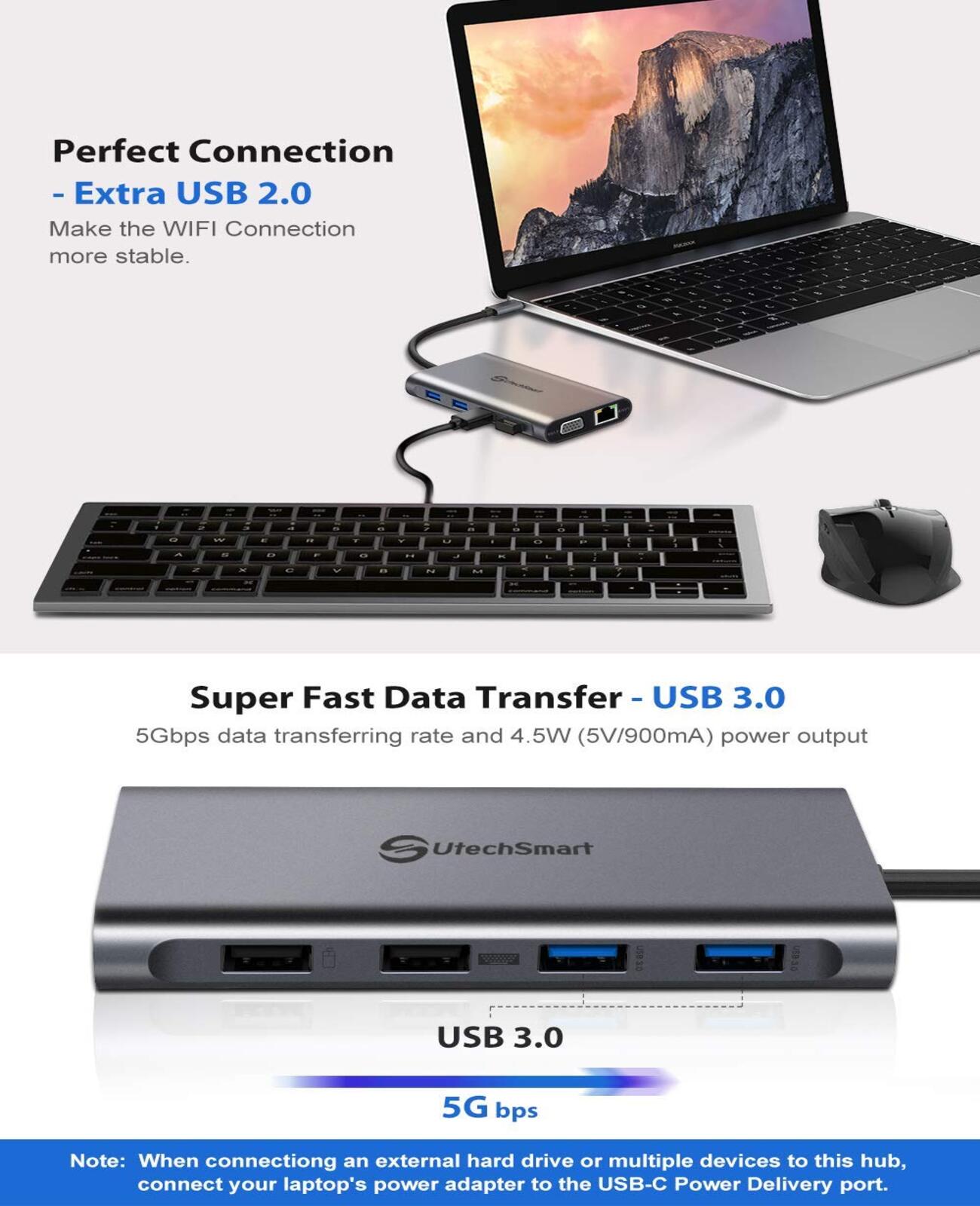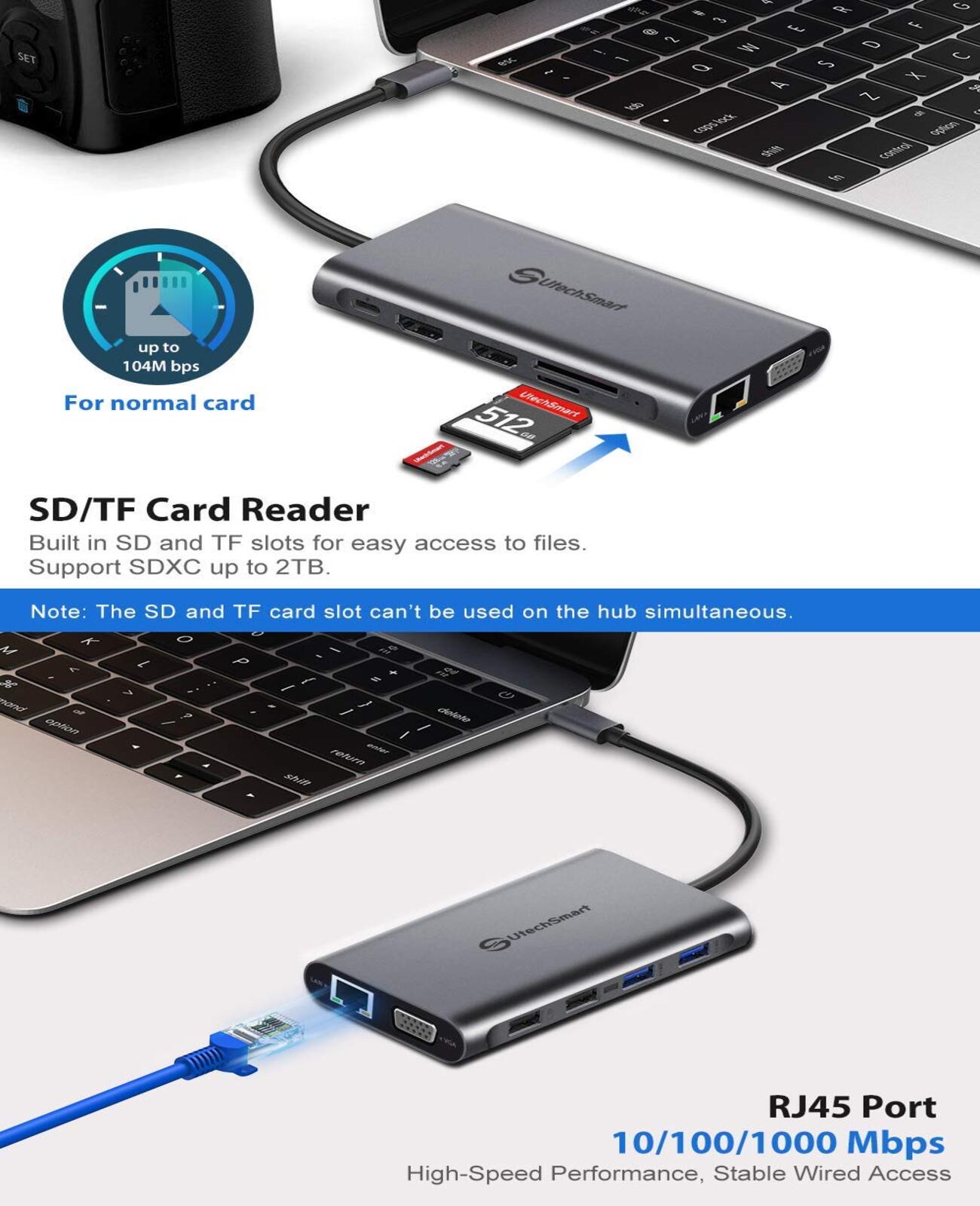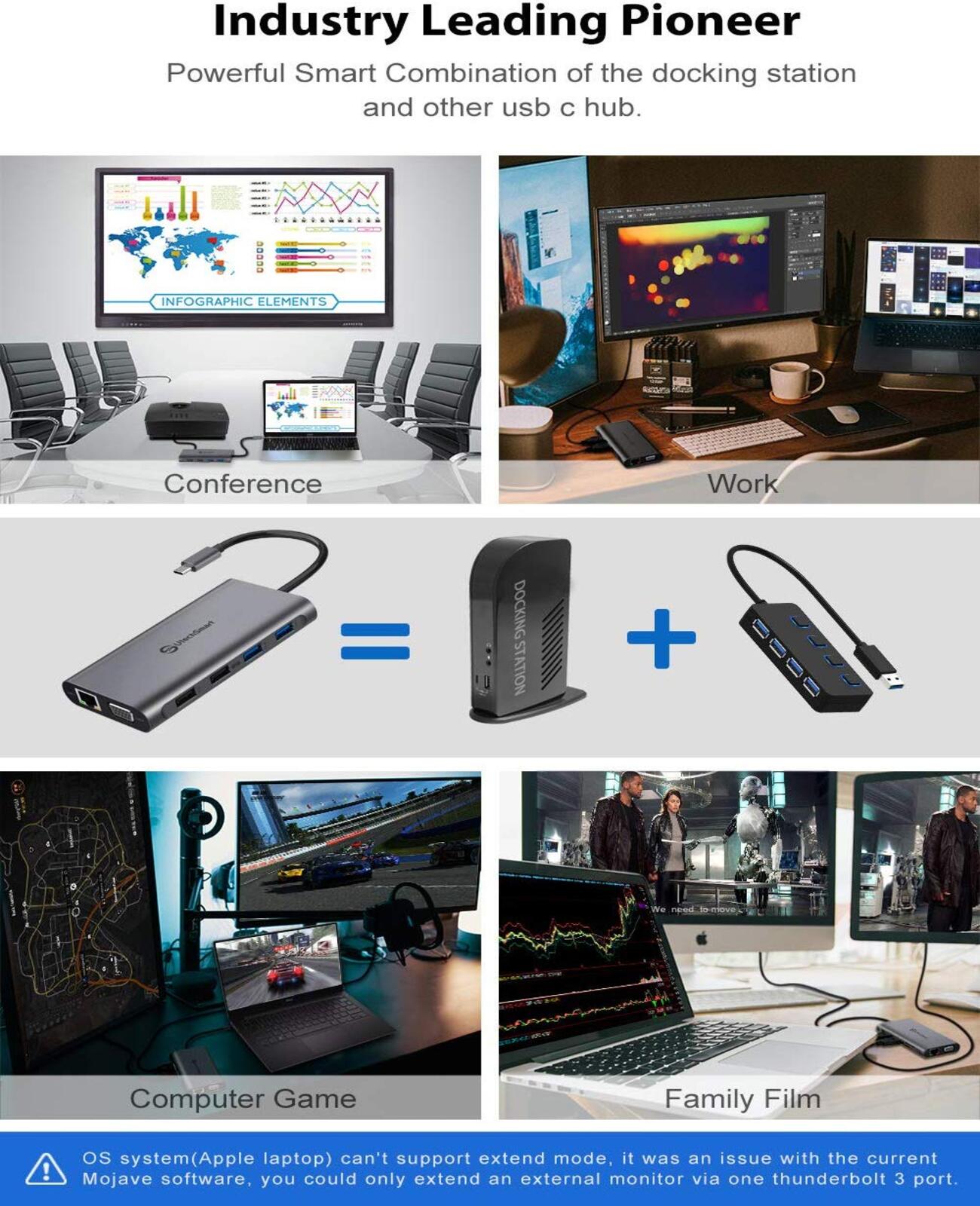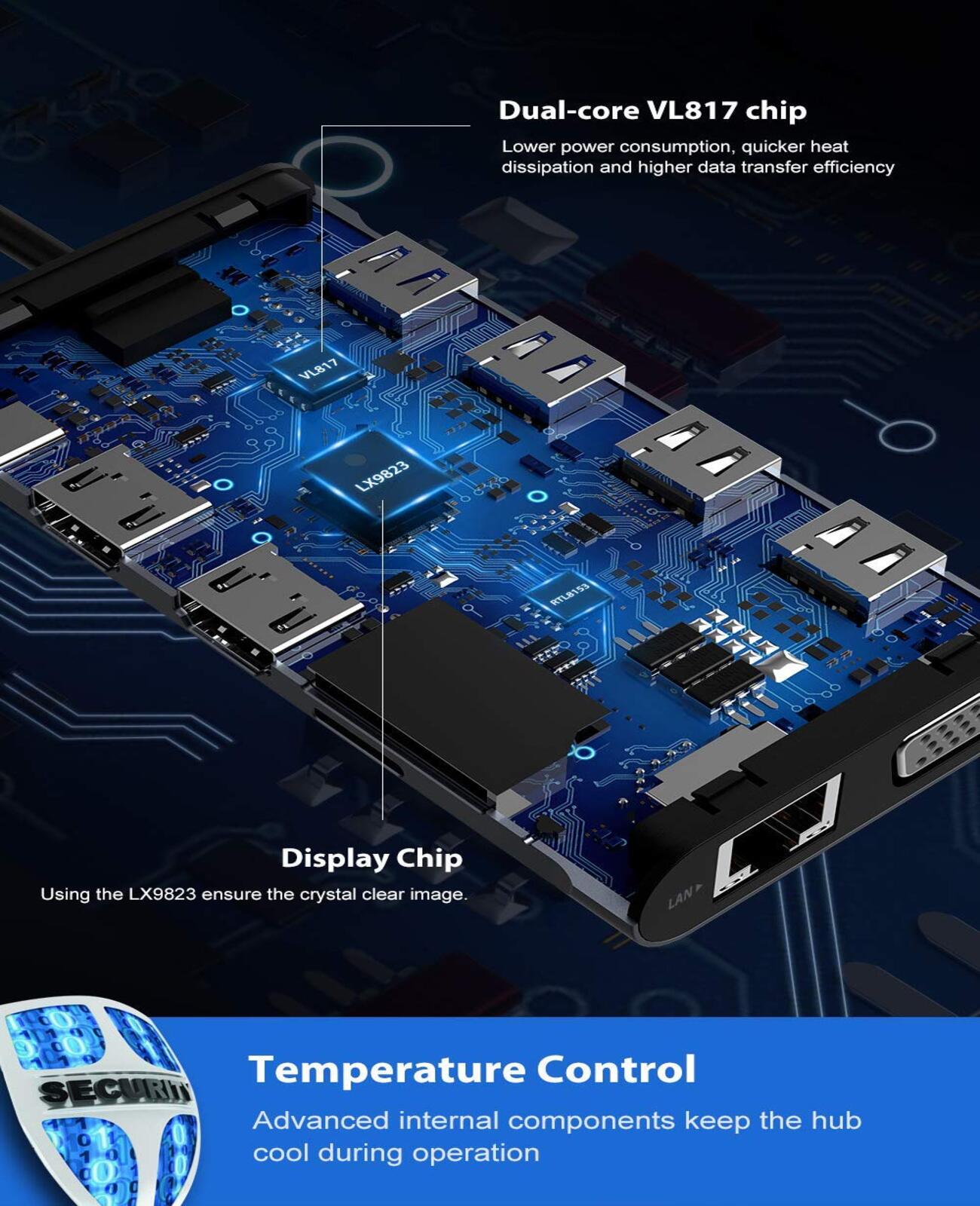 USB C Triple Display Dock UCN3270 (11 in 1)
Industry-leading pioneers with the worldwide patent: This is the first Triple display capable USB C Docking Station available on the market today. Designed from rolled aluminum to be durable yet lightweight making this an ideal portable docking station. Multi-display has been a major challenging technical issue in the USB C hub industry, UtechSmart conquers this technical barrier and provides more interface options to expand your MONITORS.

Triple display flexibility: Triple display modes Boost your efficiency 3 times. UtechSmart triple display docking station supports dual HDMI displays up to 3840x2160@30Hzz. Two display mode options available (mirror mode, extend mode). Attention: It doesn't support extend mode for Mac OS & Chrome OS.

Ultra-portable & discreet powerful workstation: Lighten your load and ditch the extra cable adapters! The slim portable dock equips with Thunderbolt 3 port (supports PD charging), Gigabit RJ45 port, two 4K capable HDMI ports, VGA port, SD/TF card slot, 2x USB 3. 0 Ports and 2x USB 2. 0 Ports. With a simple plug and play connectivity, this universal docking station turns any USB C capable PC laptop into a mobile workstation!

D 3. 0 (power delivery) technology & smart safety: The UtechSmart laptop docking station is rated at 87W and supports power Delivery 3. 0 technology which allows significantly shortened charging times when compared to a non-pad charger. Equipped with our next generation intelligent microchip which provides a slew of safety features including: internal overload protection, over-volt protection, short circuit protection, voltage regulation, temperature protection, and over-current protection.

Advanced networking & blazing-fast data transfers: Both power users and gamer will appreciate the plug and play instant access to the blazing fast 1000M Ethernet port. Download movies quicker, transfer files faster, reduce latency in games. The UtechSmart USB C docking station is Ultra fast with speeds of 5Gbps for 2x USB 3. 0 Ports, one SD and one TF card slot, extra 2x USB 2. 0 Ports for your keyboard, mouse, or charging devices. Ensure the Wi-Fi connection more stable.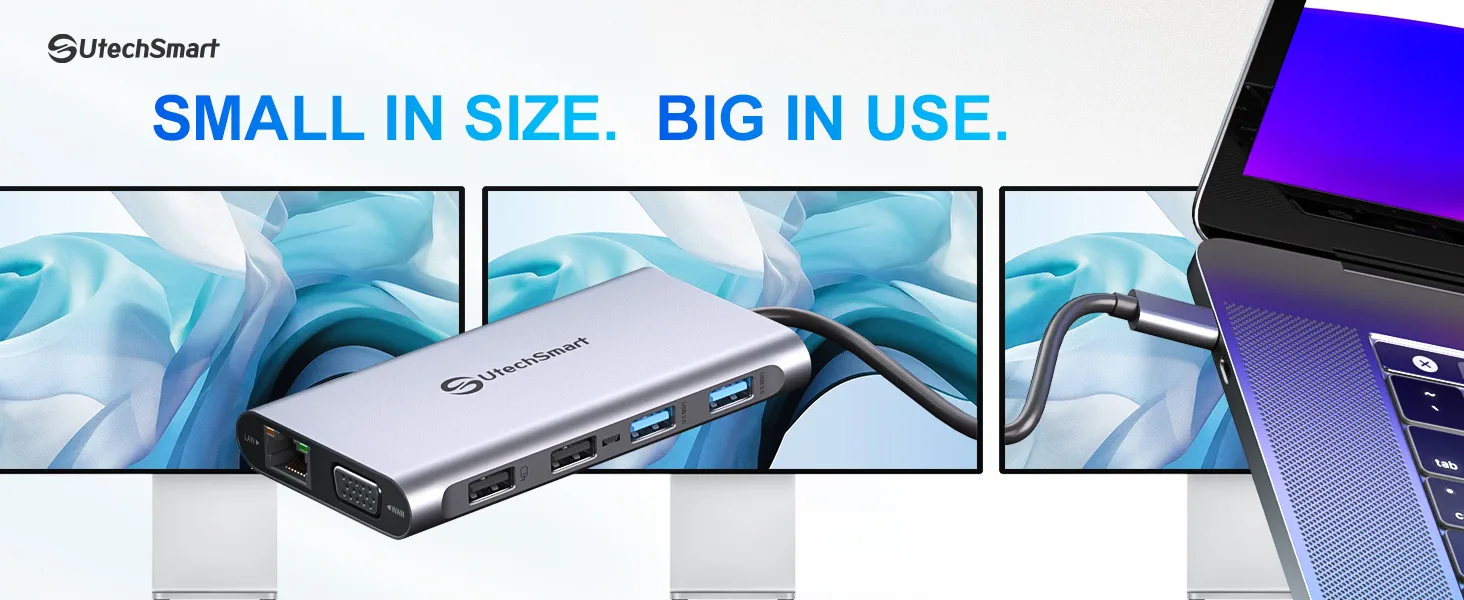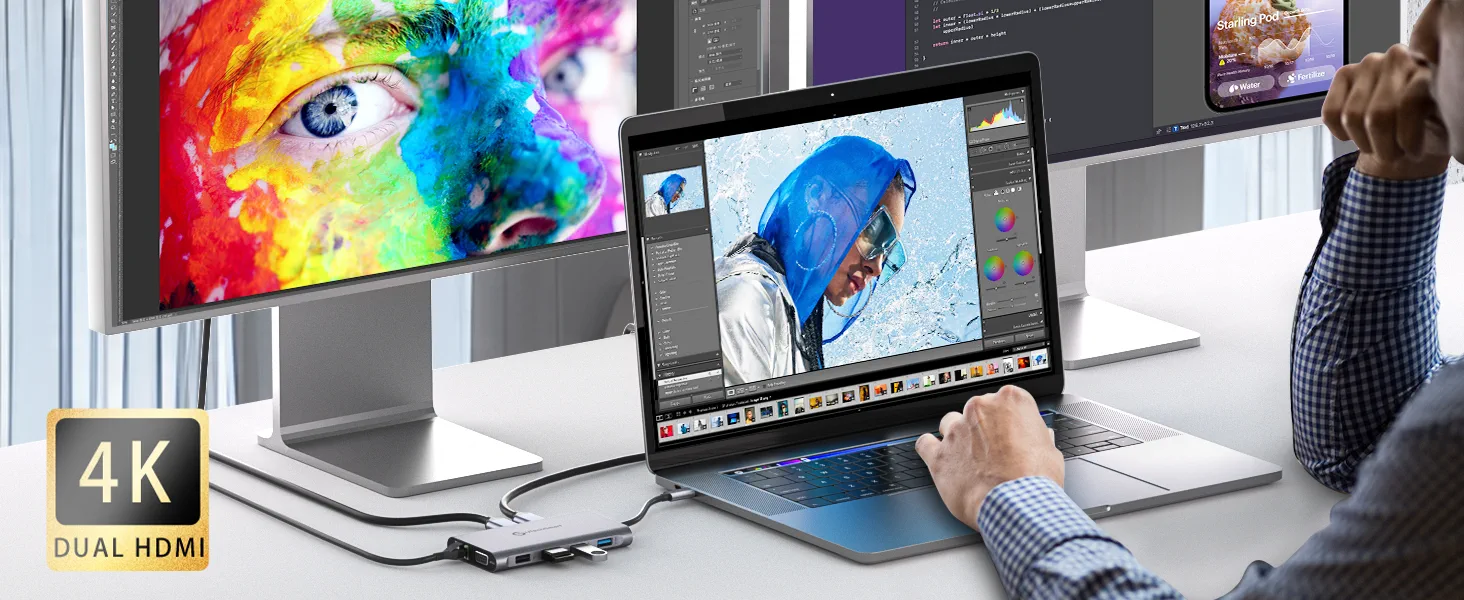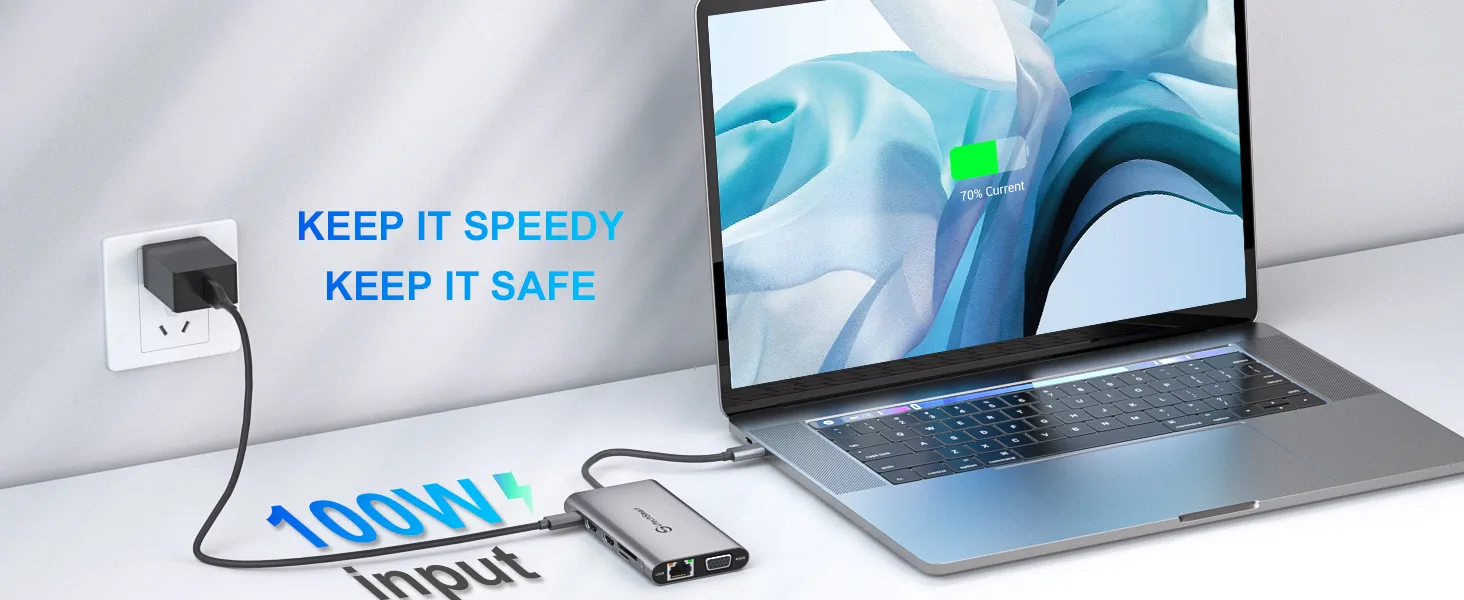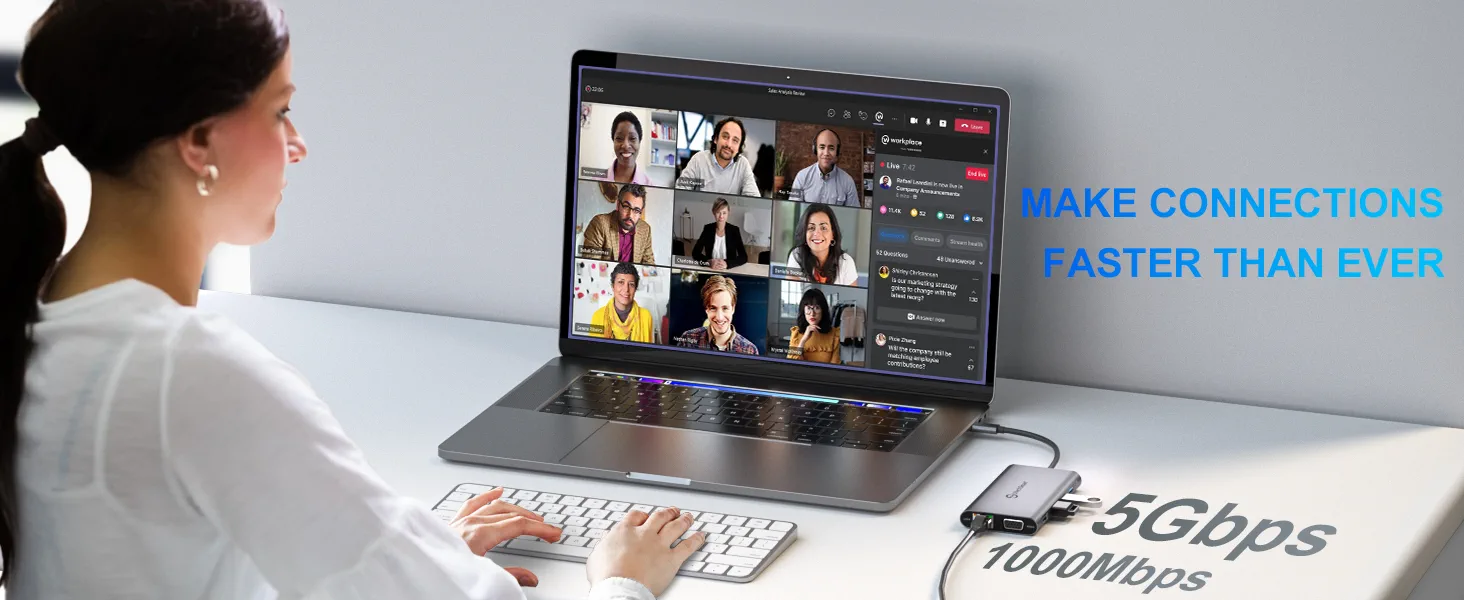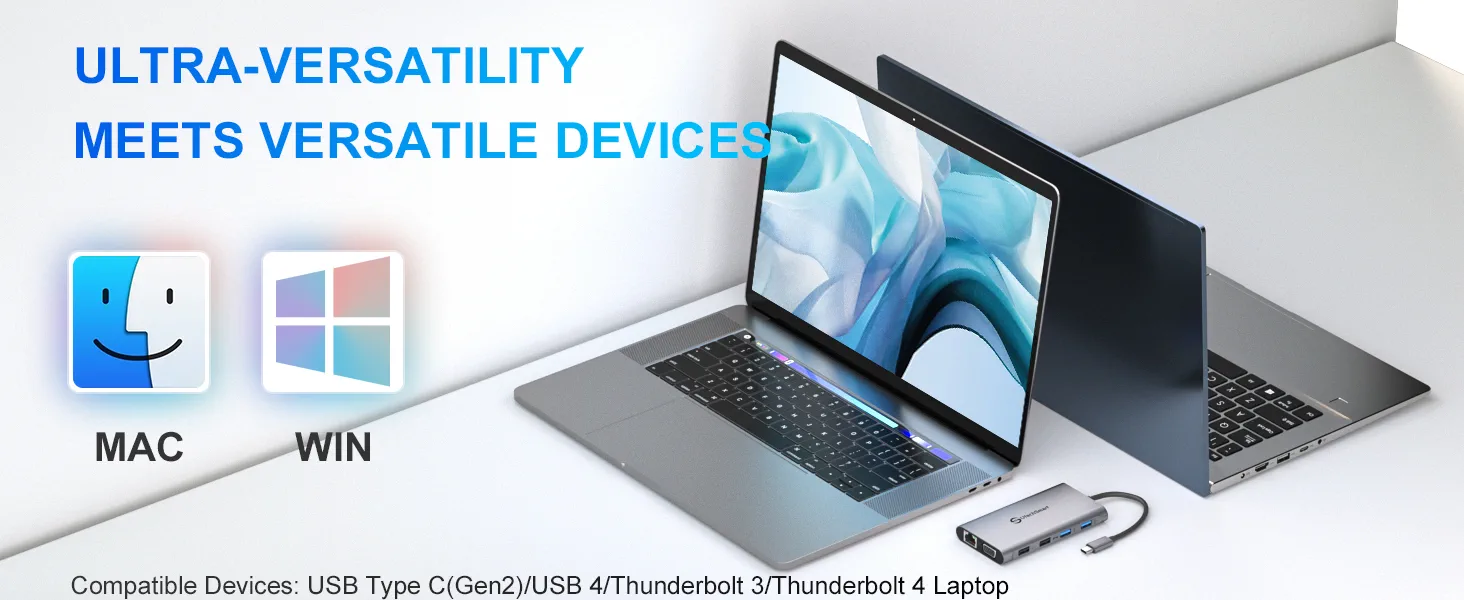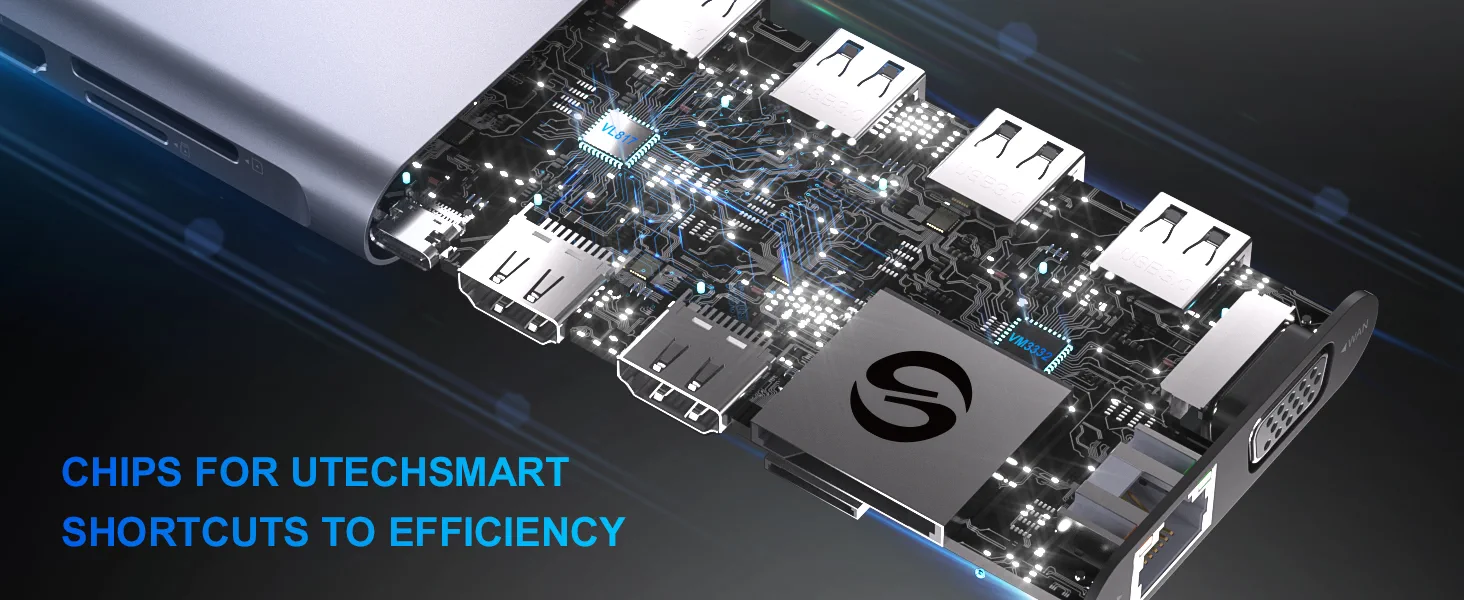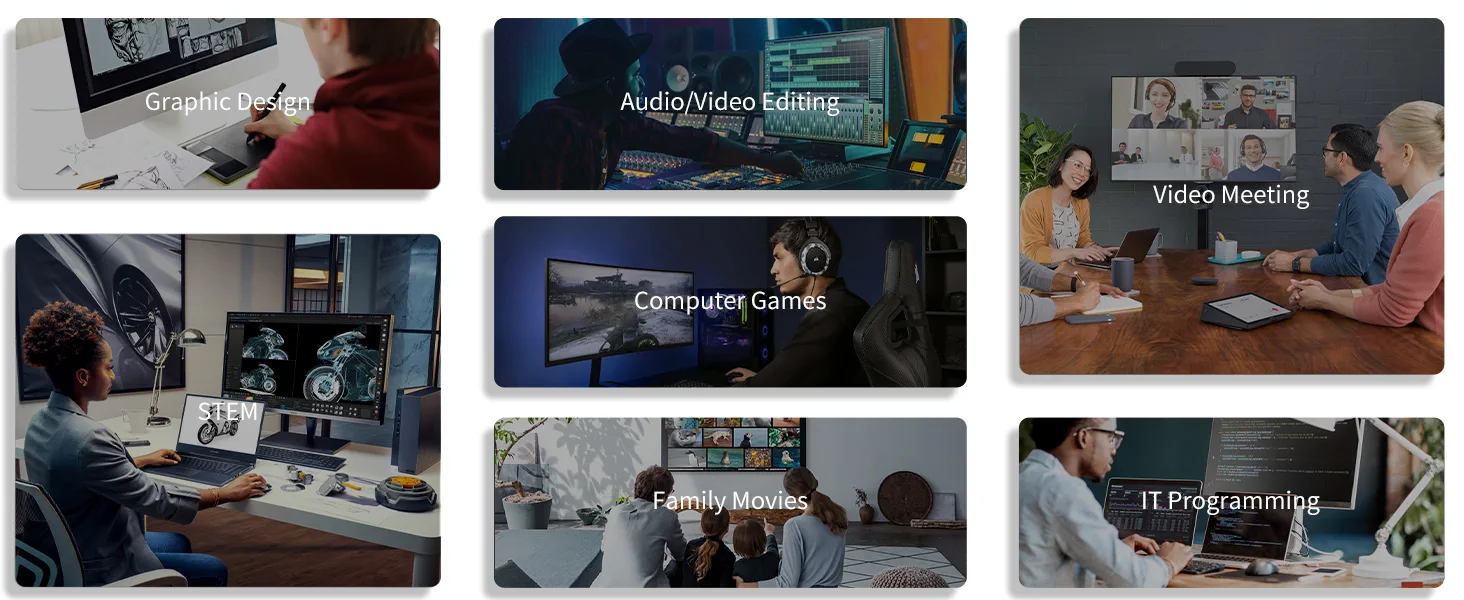 Specs
Product Dimensions

6.7 x 3.7 x 1 inches
Manufacturer

UtechSmart Technology
FAQ
Due to the process of EDID (Extended Display Identification Data) communication, once you plug the monitors, it might blackout screen for a few seconds. The recovery time depends on the and monitor (1 minute at max).
1. Plugin the original laptop's power adapter directly to connect the laptop before connecting peripheral devices to the docking station.
2. If the USB C port on your laptop supports PD charging, please connect a USB C charger about 100W.















Compatible Devices




USB-C 3.1 Gen 2, Thunderbolt3/4




USB-C 3.1 Gen 2, Thunderbolt3/4




USB-C 3.1 Gen 2, Thunderbolt3/4




USB-C 3.1, Thunderbolt3/4,




USB-A




USB-C 3.1, Thunderbolt3/4,




USB-A




USB-C 3.1, Thunderbolt3/4,




USB-A




Video Output Mode




DisplayPort Alt Mode




DisplayPort Alt Mode




DisplayPort Alt Mode




DisplayPort Mode & DisplayLink




DisplayPort Mode & DisplayLink




DisplayPort Mode & DisplayLink




Resolution




Single 4K@30Hz,




Triple 1080p




Single 4K@30Hz




Single 8K@30Hz, Dual 4K@60Hz




Single 4K@30Hz,




Triple 1080p




Single 4K@30Hz,




Triple 1080p




Single 8K@30Hz,




Quintuple 4K@60Hz




Number of Display Outputs




2*HDMI, 1*VGA




1*HDMI




3*Thunderbolt 4




2*HDMI, 1*VGA




2*HDMI,




1*DisplayPort




3*Thunderbolt 4,




1*HDMI, 1*DisplayPort




Gigabit Ethernet Port




√




√




#N/A




√




√




√




Max Transfer Rate




5Gbps




5Gbps




40Gbps




5Gbps




5Gbps




40Gbps




Power Demand




92W (Use 100W PD adapter)




92W (Use 100W PD adapter)




120W DC Adapter Included




92W (Use 100W PD adapter)




87-96W(use 100W PD charger)




120W DC Adapter Included




Other Ports




USB3.0/2.0,




SD/TF,




USB-C PD Port




USB3.0,




USB-C PD Charging




USB 3.1,




DC in




USB3.0/2.0,




SD/TF,




USB-C PD Port




SSD,




USB3.0/2.0,




SD/TF,

USB-C PD




USB3.0/2.0,




SD/TF,




USB-C PD Port




Connection Method




USB-C to HOST




USB-C to HOST




USB-C to HOST




USB-C to USB-C/USB-A




USB-C to USB-C/USB-A




USB-C to USB-C/USB-A




Number of Ports



11

6


6

12

15

16

Product Model




UCN3270

UCN3273

T4803

UCN3270-2

UCN3524-2

T4802

Other top rated product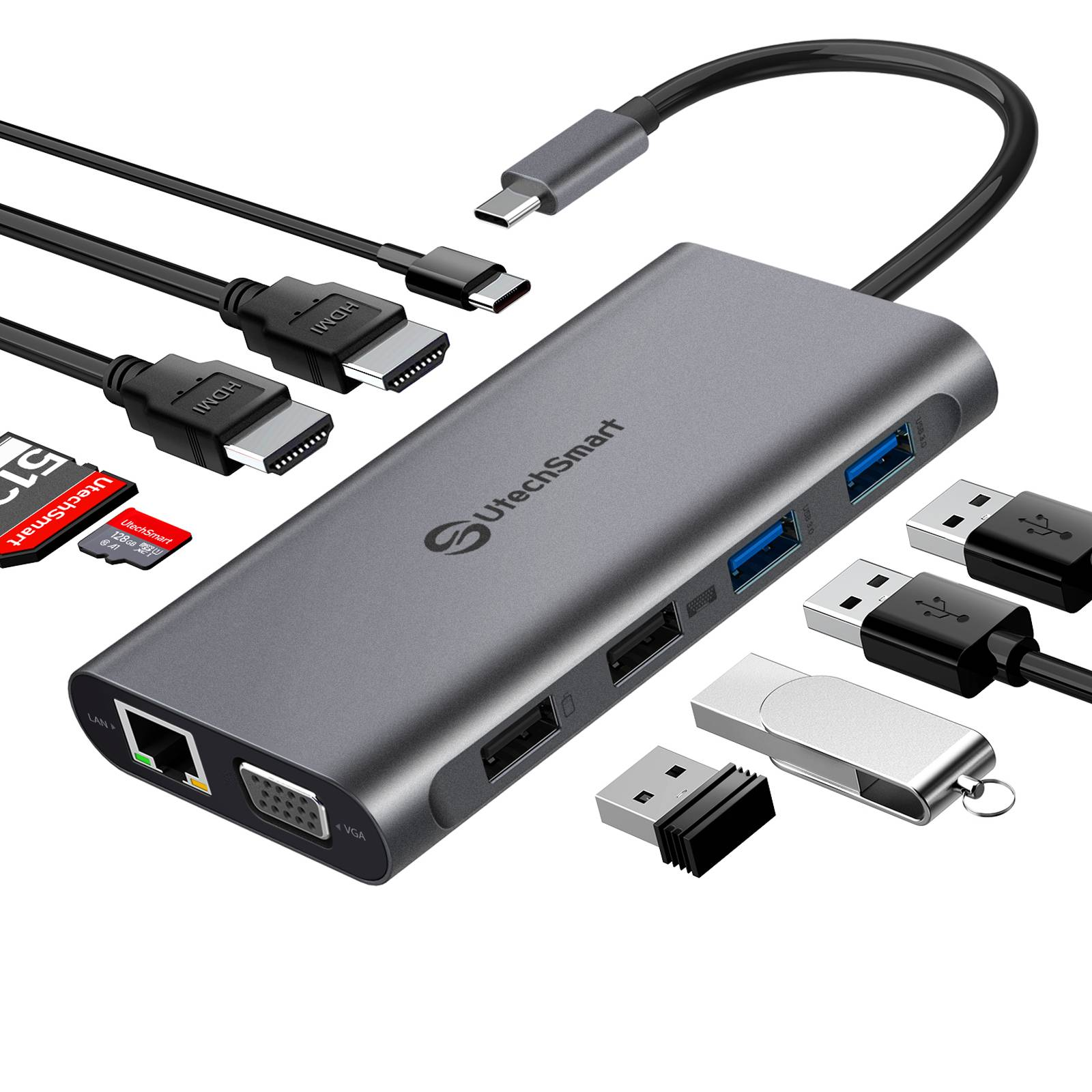 ---
---
0 Reviews
Sorry,there is no data on the page you visited!