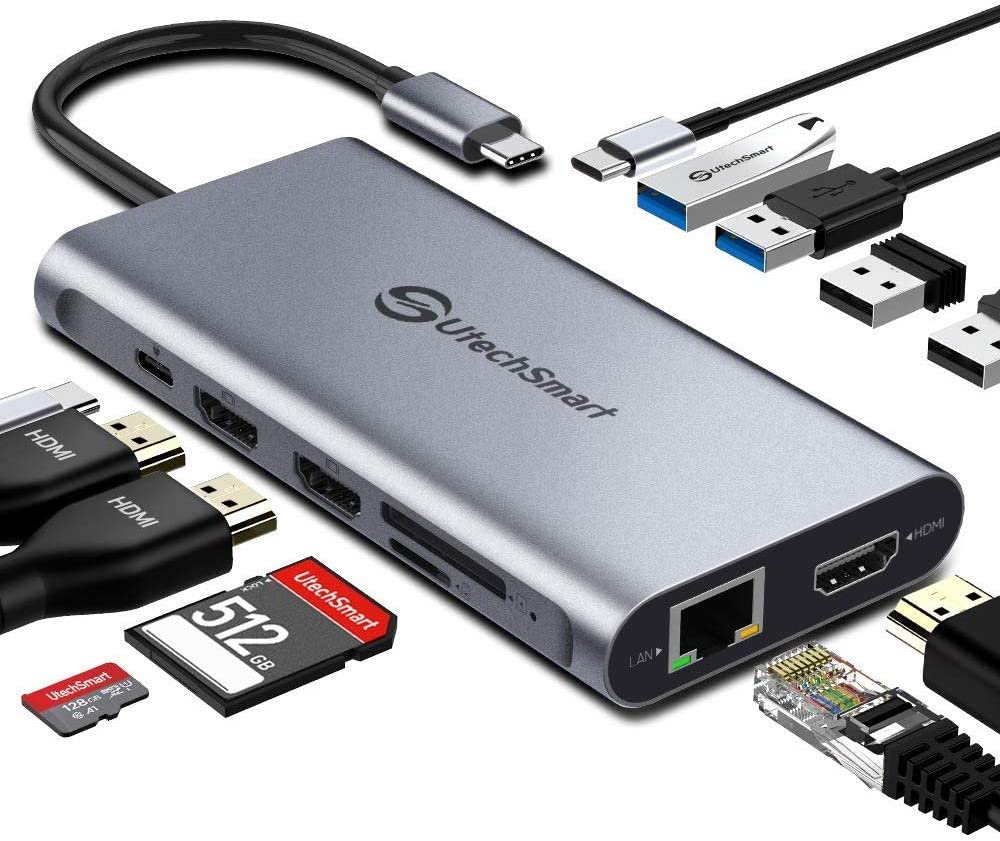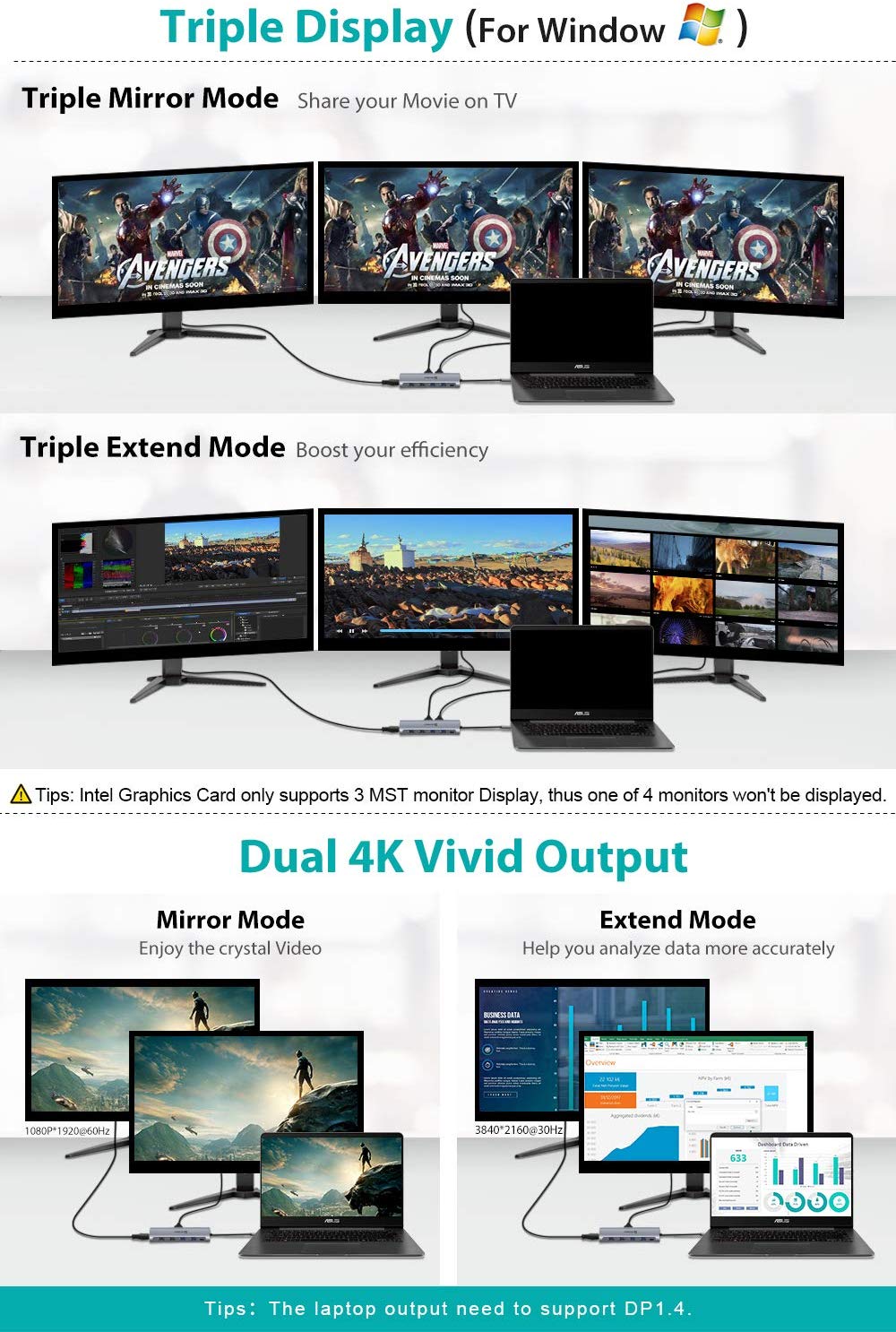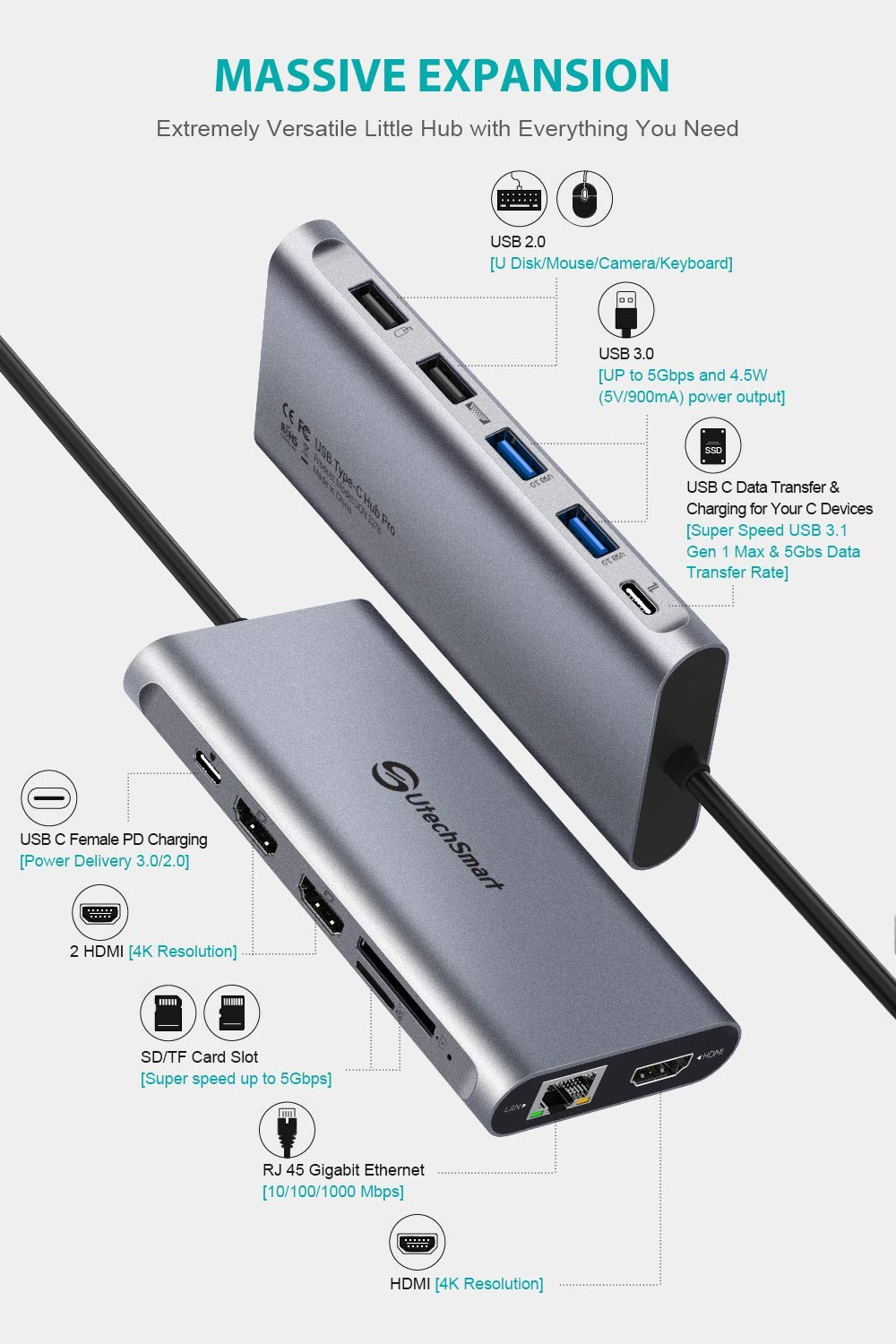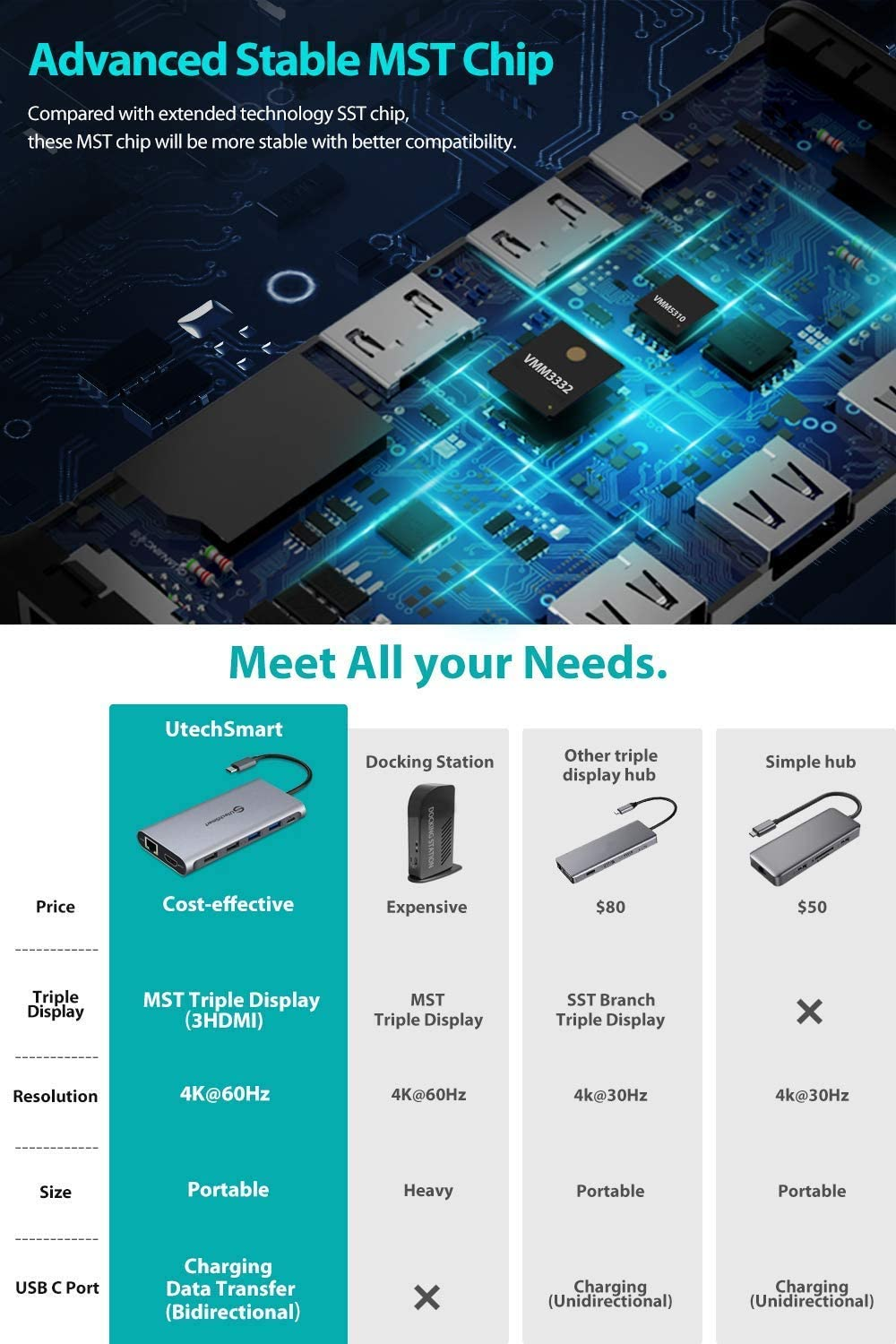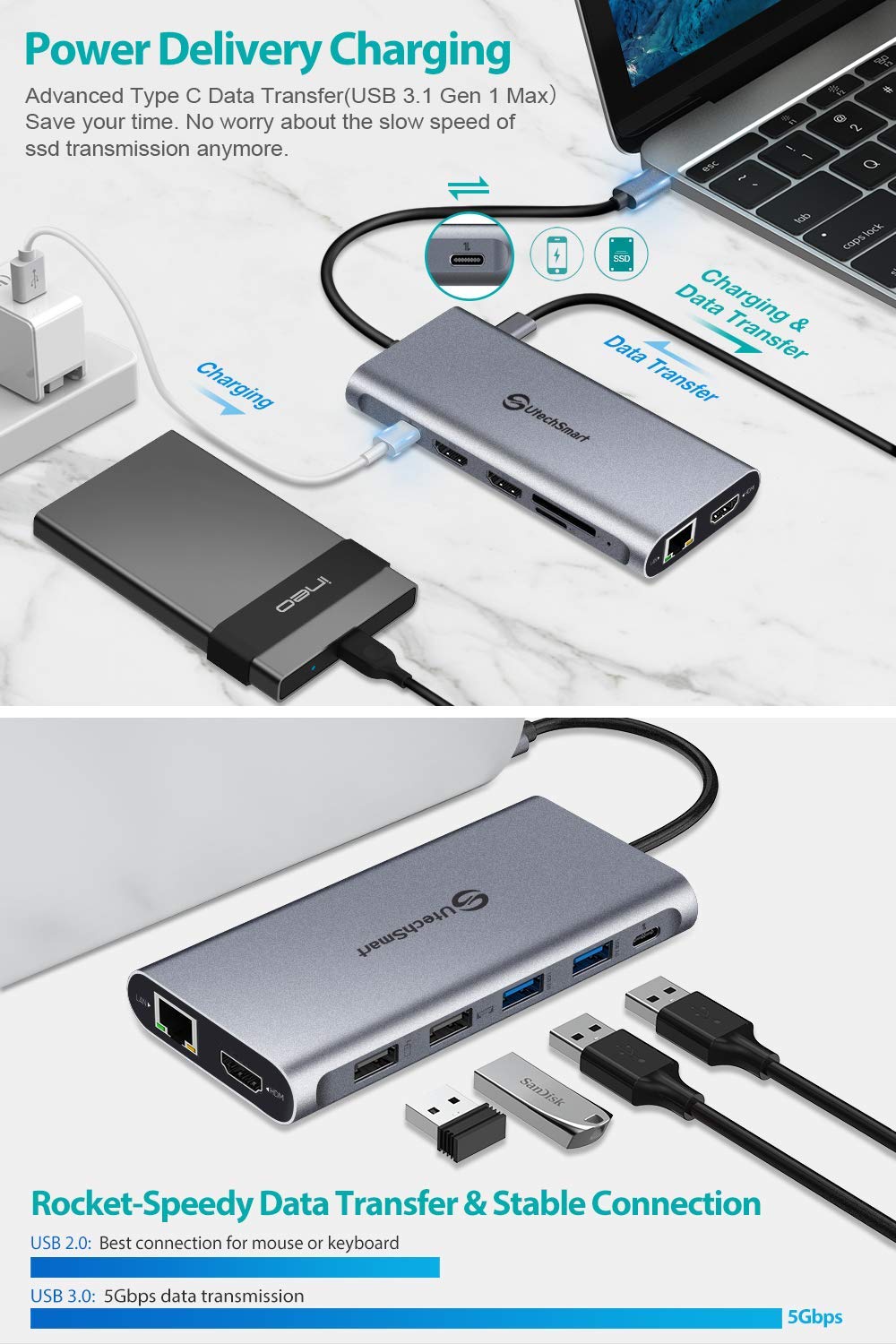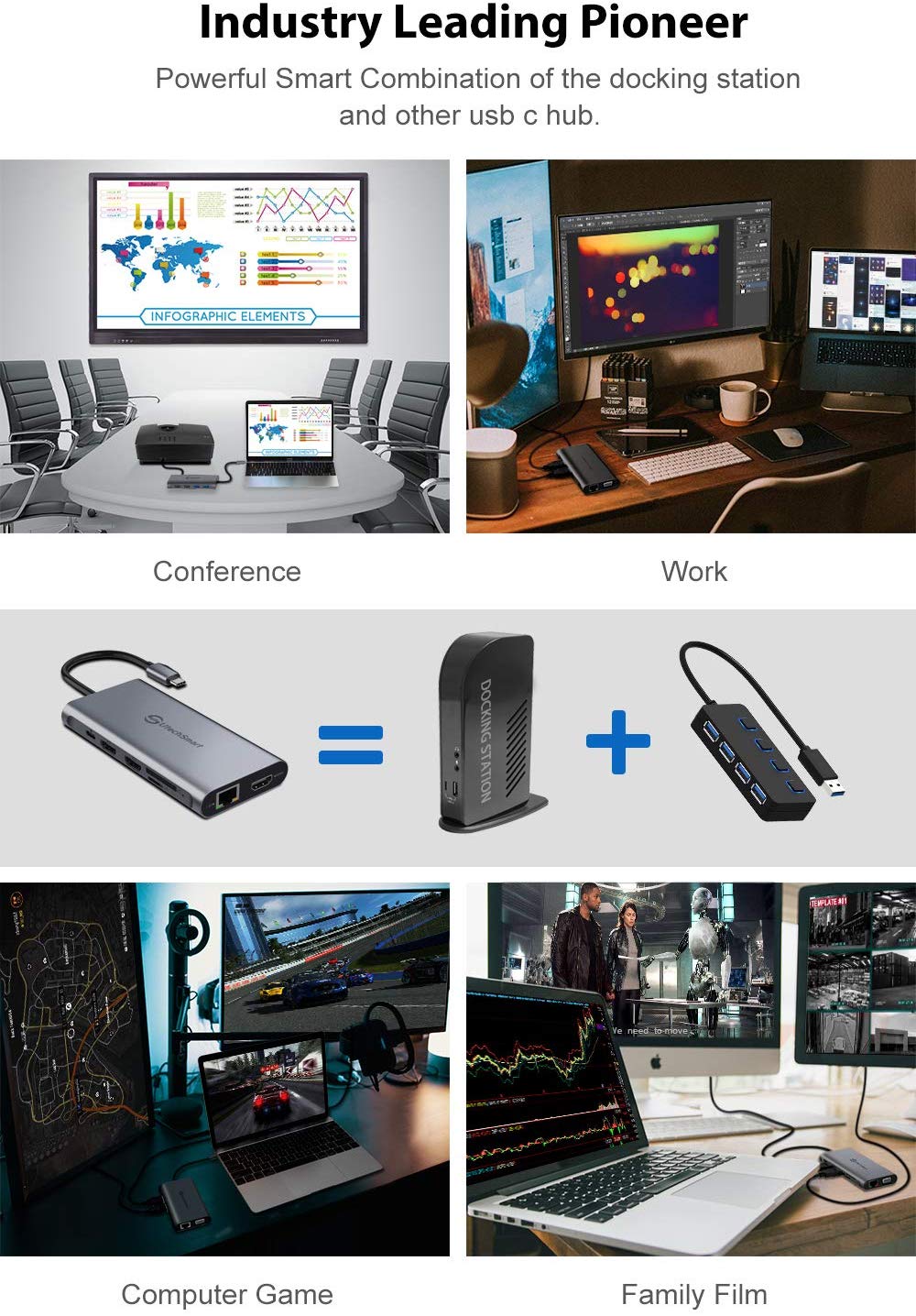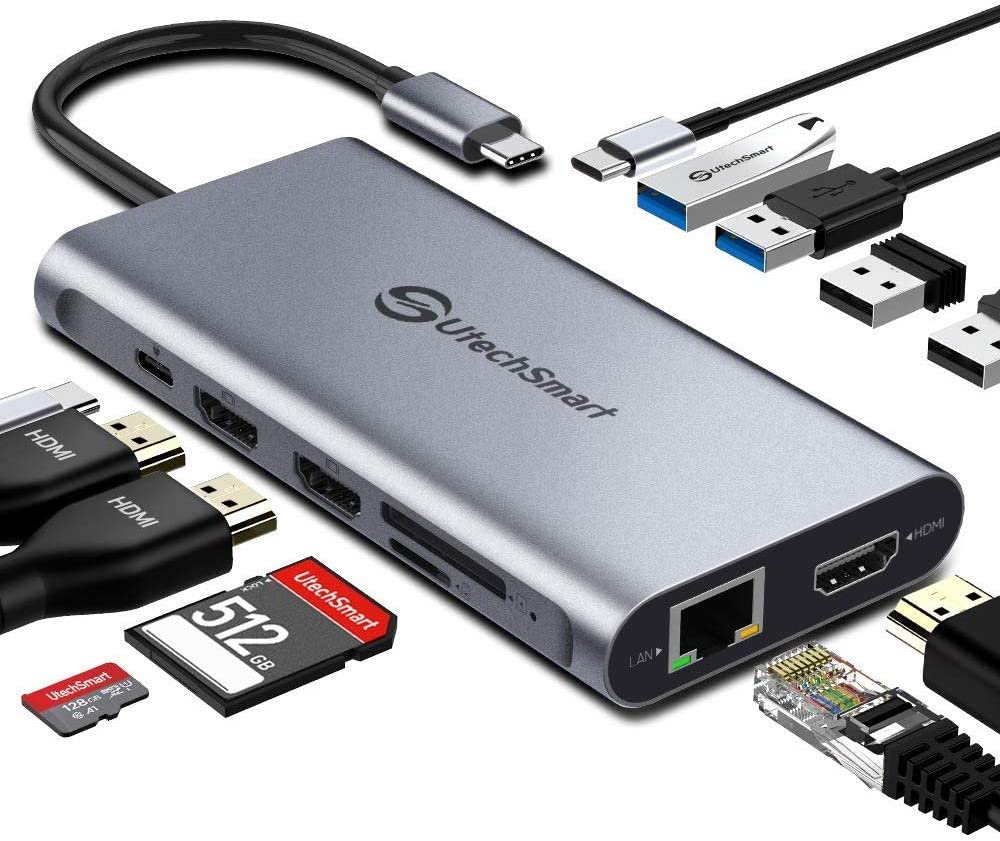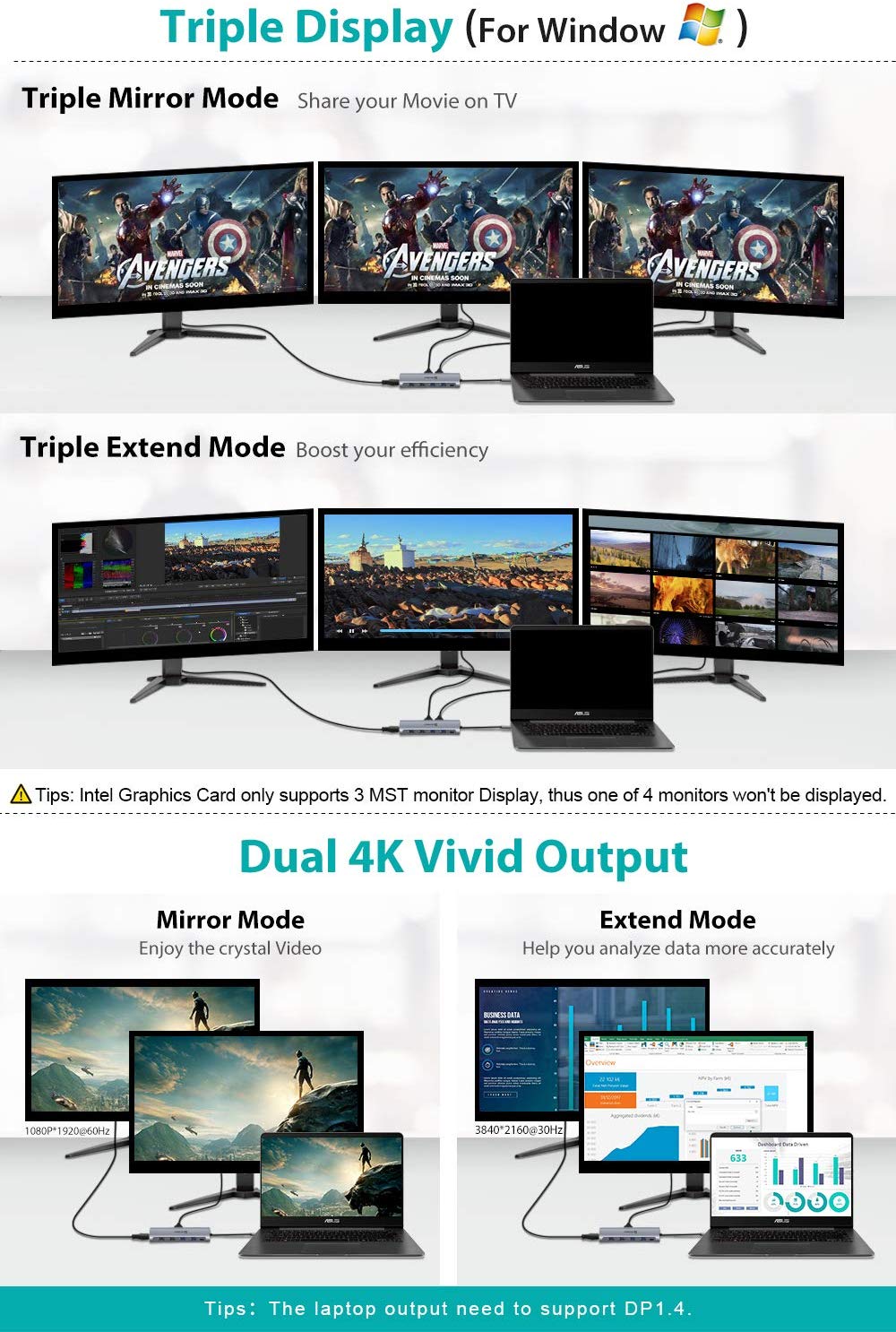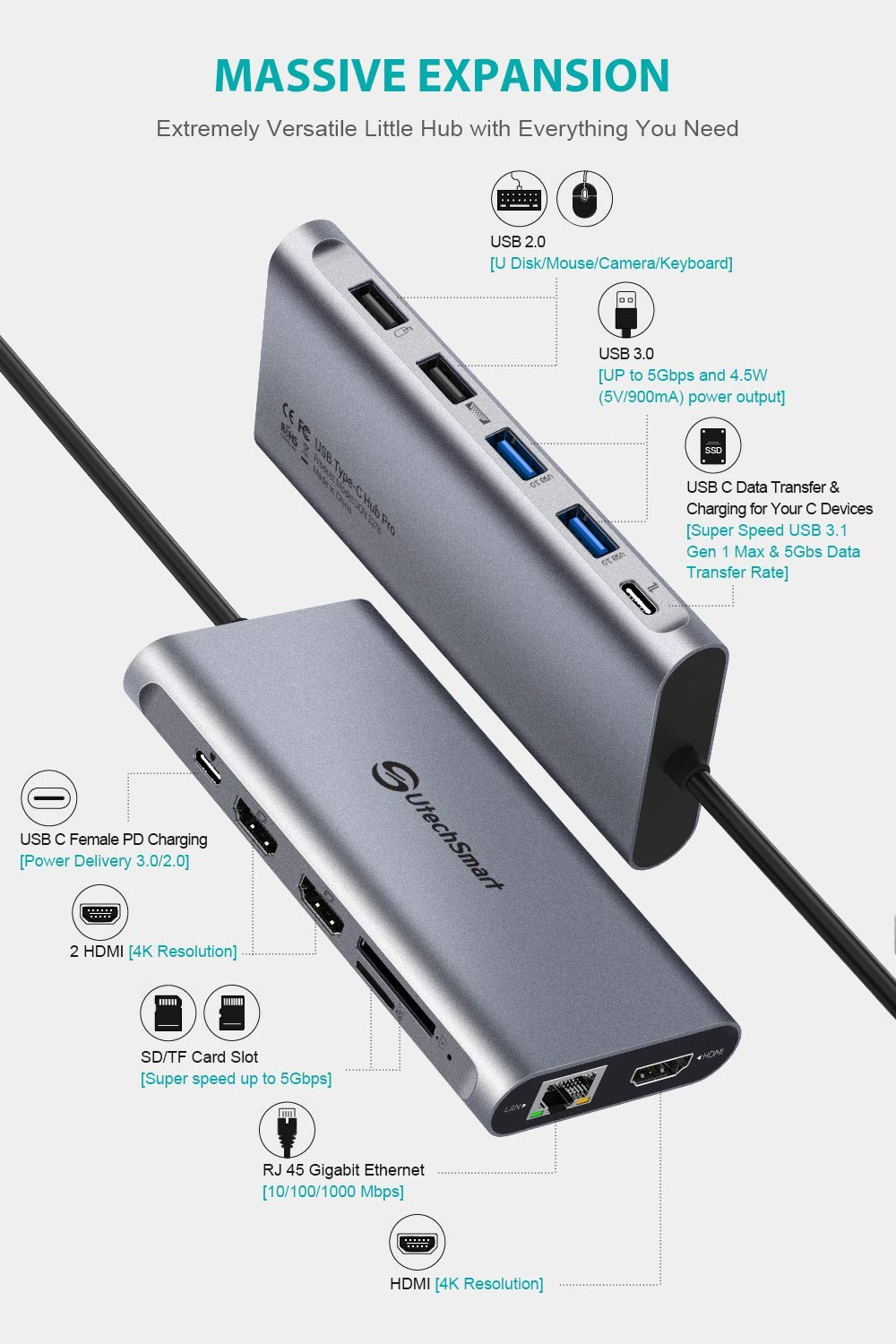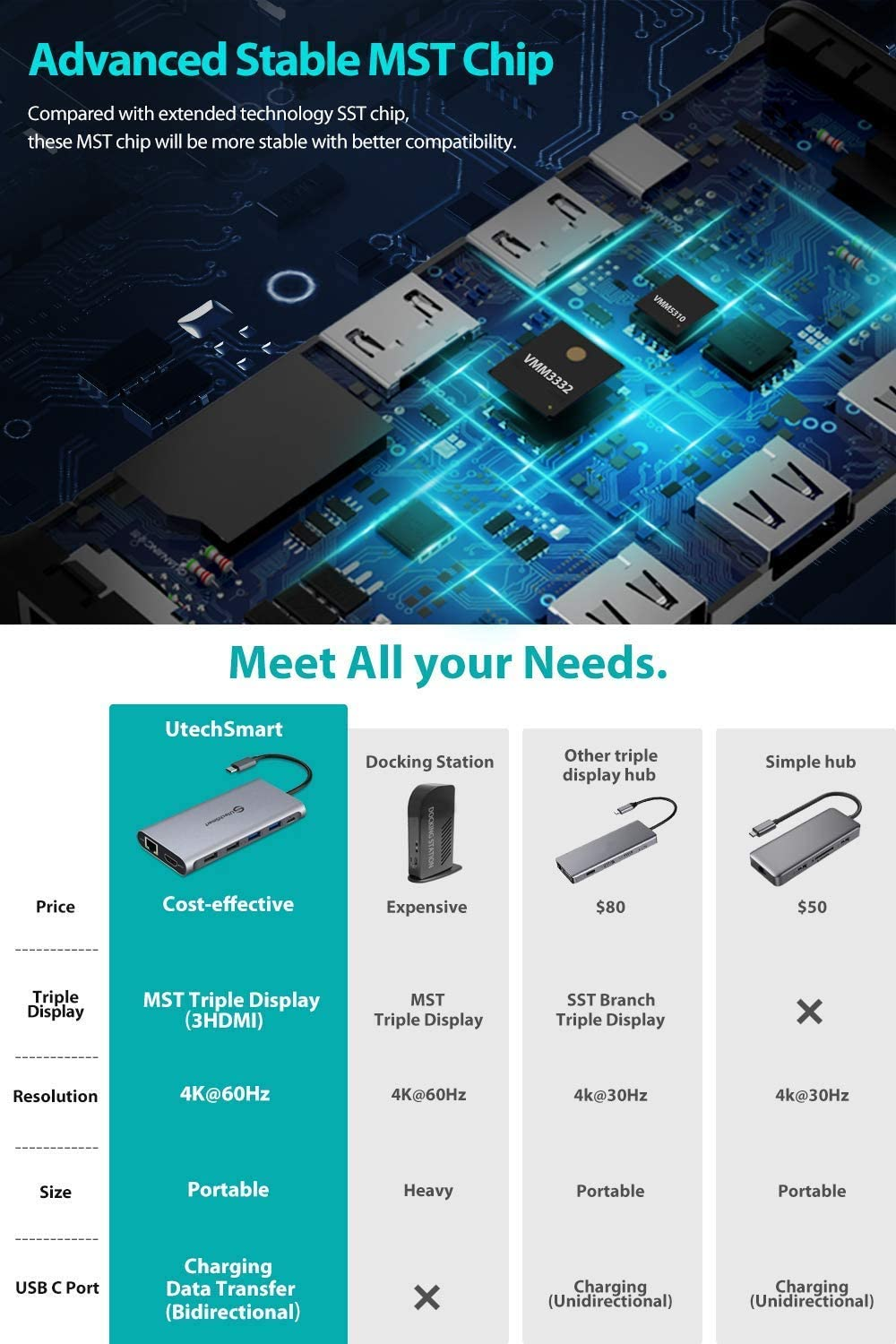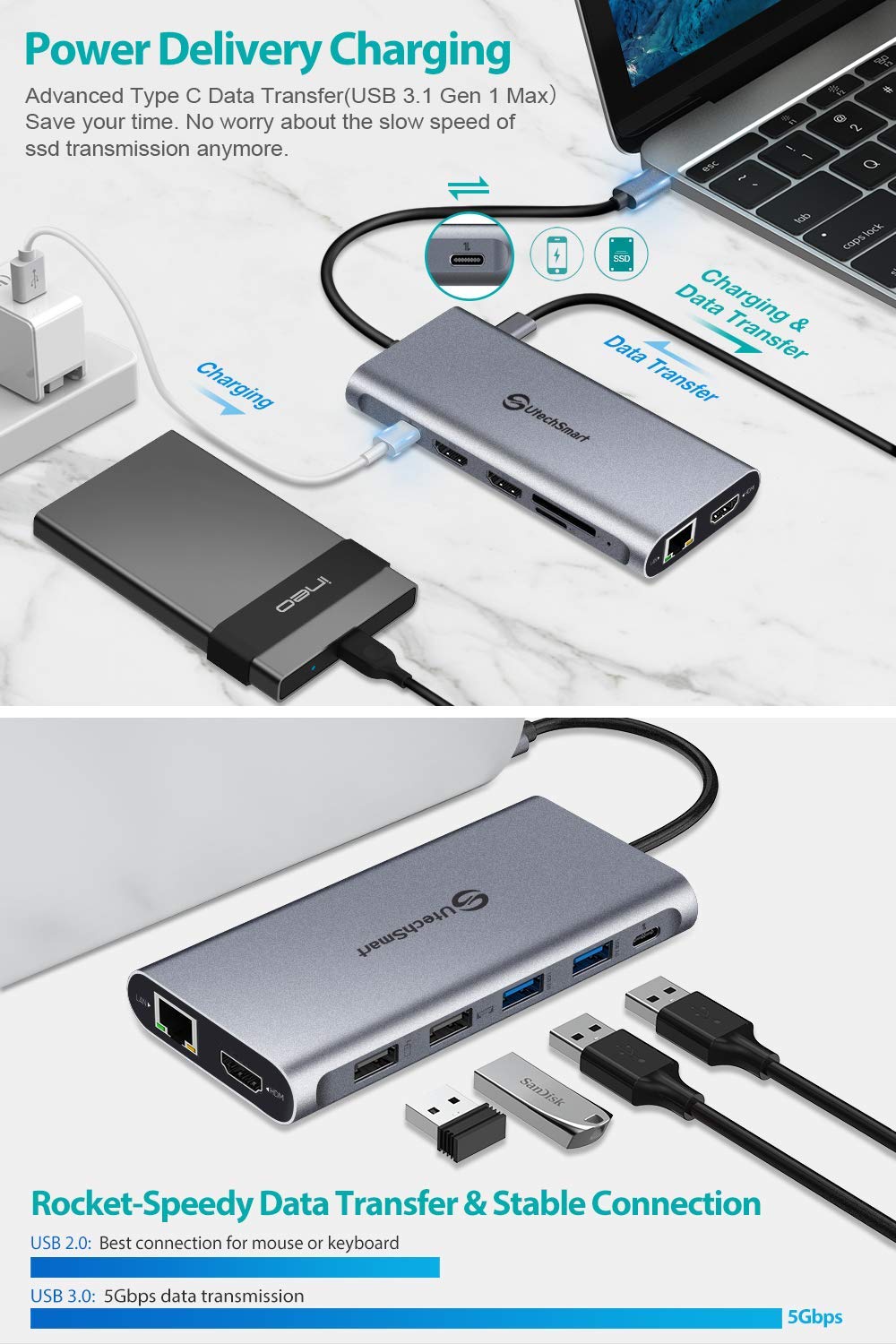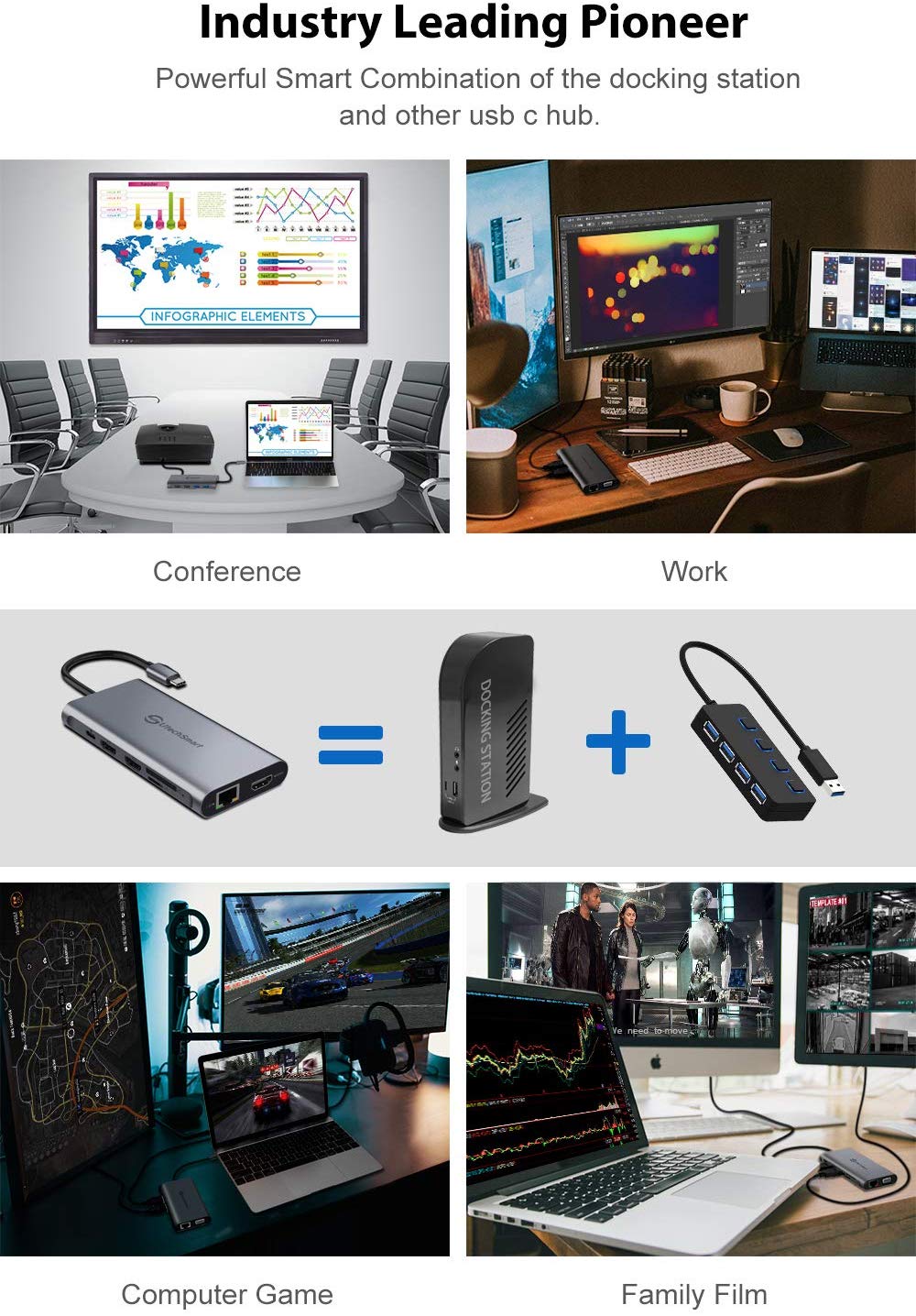 USB C 3HDMI Dock UCN3278 (12 in 1)
Extraordinary extensive capability: UtechSmart 12 in 1 Type C hub adapter contains 1* Ethernet/RJ-45 1000 Mbps LAN, 1* USB 3. 0 Type C port, 1* Type C PD charging port, 2* USB 3. 0 Ports, 2* USB 2. 0 Ports, 3* 4K HDMI vivid video output, 1* Micro SD/SD and 1* TF card reader. Total 12 extensive ports offer incredible convenient for you to connect mufti-monitors, extra memory device or extra USB devices.

Triple 4K HDMI Output: UtechSmart Contains 3 HDMI ports which could help mirror or extend your screen. All of 3 HDMI ports can directly stream 4K @ 30Hz or full HD 1080P video to HDTV, monitor or projector. The highest support 4K(3840*2160@60Hz) resolution monitor. Multiple 4K display Boost your working efficiency by reducing devices occupy space and extend or mirror your screen to external monitors. Attention: OS system doesn't support Extend mode.

Premium Multifunctional Hub: Two 3. 0 USB ports support transmission speed up to 5 Gbps and Two 2. 0 USB ports support transmission speed up to 480 Mbps which connect to your smart phone, tablet, hard drive or other USB peripheral. 1000 Mbps Ethernet port support more stable and faster wired network connection. USB-C PD charging port support 100W(20V/5A) charging power which helps you to charge your laptop and other connected devices. Each SD and TF card reader provide high speed data transfer.

Product and safety technology applying & 18 months support: UtechSmart USB-C hub provide the full cover 18 months which means no matter what problems you had, contact our customer service and get our all round services. Premium temperature controlling technology chip to keep your Device operating temperature always below 50 Degrees.

Outstanding capability: The size of USB-C as big as iPhone 5 Se but lighter than it at least 2G. It is perfect for business trip, travel, data gathering or design project to help you save your language space and easy to use. Perfect for you to connect external monitor or screen to presentation. Compatible with laptops, smart phones, tablets or any device which contain Type C port. For laptops compatible with MacBook Pro, Microsoft Surface Book 2, Samsung Galaxy Tab Pro S and more USB-C devices.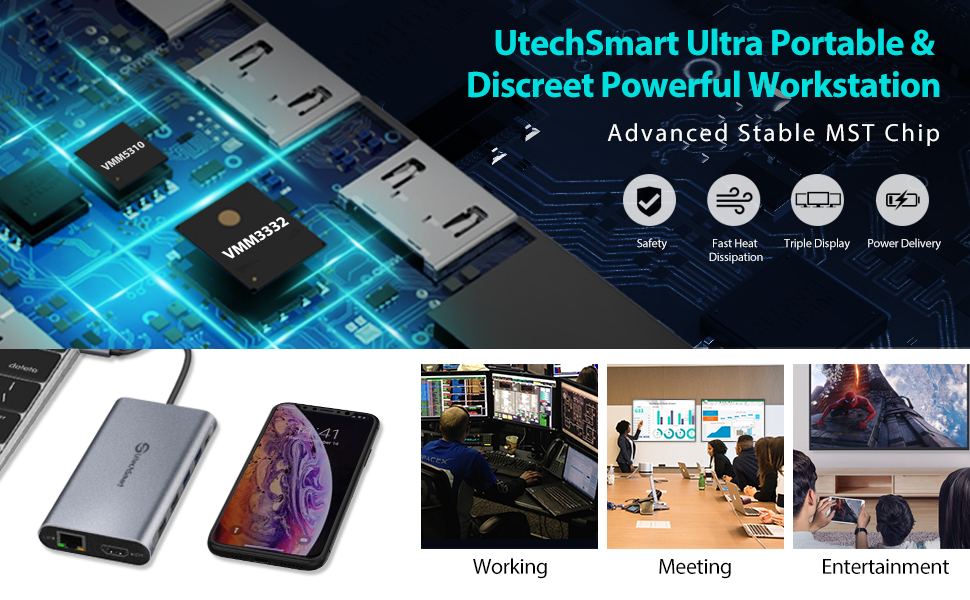 Specs
Product Dimensions

5 x 2 x 1 inches
Manufacturer

UtechSmart Technology















Compatible Devices




USB-C 3.1 Gen 2, Thunderbolt3/4




USB-C 3.1 Gen 2, Thunderbolt3/4




USB-C 3.1 Gen 2, Thunderbolt3/4




USB-C 3.1, Thunderbolt3/4,




USB-A




USB-C 3.1, Thunderbolt3/4,




USB-A




USB-C 3.1, Thunderbolt3/4,




USB-A




Video Output Mode




DisplayPort Alt Mode




DisplayPort Alt Mode




DisplayPort Alt Mode




DisplayPort Mode & DisplayLink




DisplayPort Mode & DisplayLink




DisplayPort Mode & DisplayLink




Resolution




Single 4K@30Hz,




Triple 1080p




Single 4K@30Hz,




Triple 1080p




Single 8K@30Hz, Dual 4K@60Hz




Single 4K@30Hz,




Triple 1080p




Single 4K@30Hz,




Triple 1080p




Single 8K@30Hz,




Quintuple 4K@60Hz




Number of Display Outputs




3*HDMI




2*HDMI, 1*VGA




3*Thunderbolt 4




2*HDMI, 1*VGA




2*HDMI,




1*DisplayPort




3*Thunderbolt 4,




1*HDMI, 1*DisplayPort




Gigabit Ethernet Port




√




√




#N/A




√




√




√




Max Transfer Rate




5Gbps




5Gbps




40Gbps




5Gbps




5Gbps




40Gbps




Power Demand




92W (Use 100W PD adapter)




92W (Use 100W PD adapter)




120W DC Adapter Included




92W (Use 100W PD adapter)




87-96W(use 100W PD charger)




120W DC Adapter Included




Other Ports




USB3.0,




USB-C PD Charging




USB3.0/2.0,




SD/TF,




USB-C PD Port




USB 3.1,




DC in




USB3.0/2.0,




SD/TF,




USB-C PD Port




SSD,




USB3.0/2.0,




SD/TF,

USB-C PD




USB3.0/2.0,




SD/TF,




USB-C PD Port




Connection Method




USB-C to HOST




USB-C to HOST




USB-C to HOST




USB-C to USB-C/USB-A




USB-C to USB-C/USB-A




USB-C to USB-C/USB-A




Number of Ports



12


11

6

12

15

16

Product Model




UCN3278

UCN3270

T4803

UCN3270-2

UCN3524-2

T4802

Other top rated product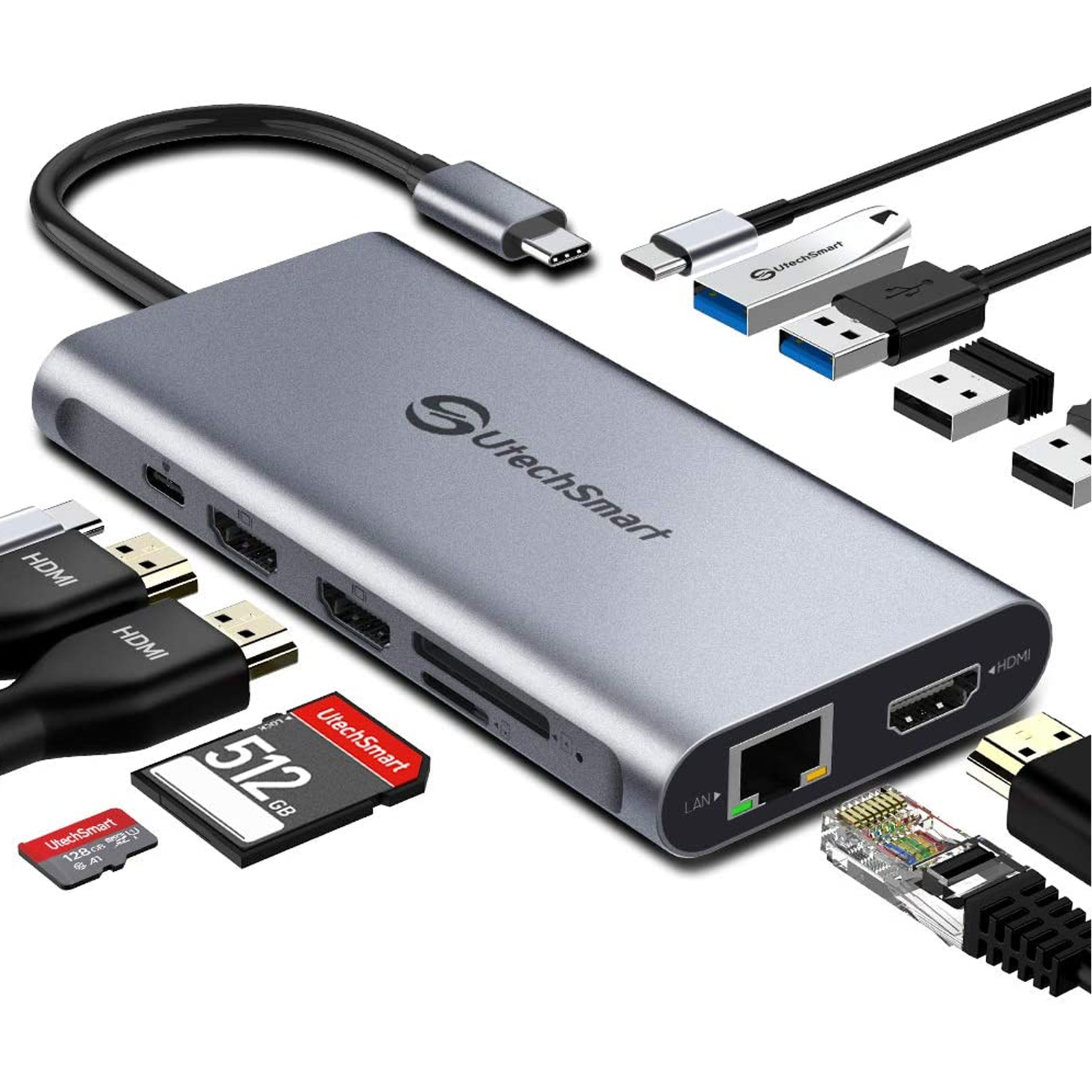 ---
---
0 Reviews
Sorry,there is no data on the page you visited!