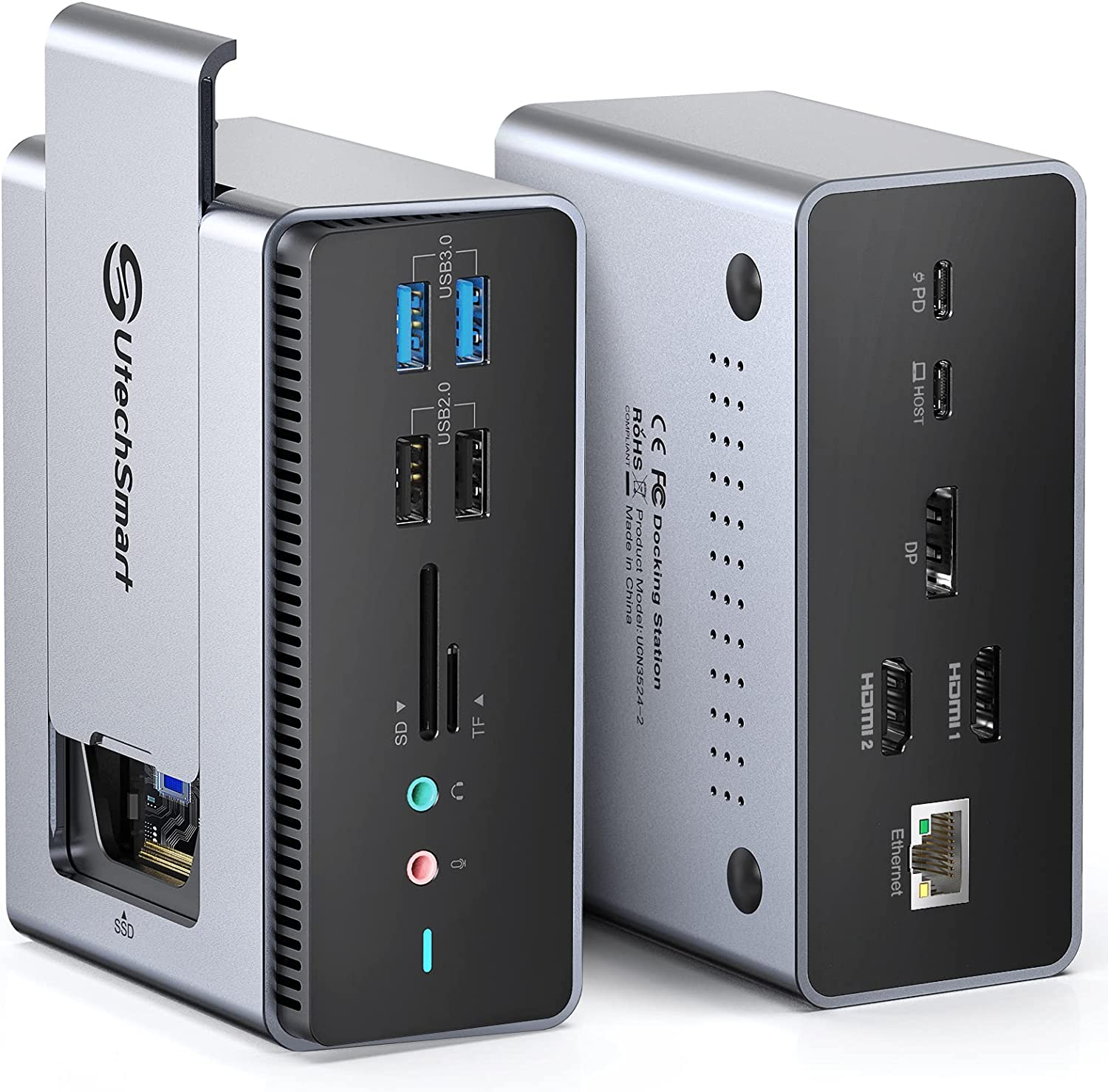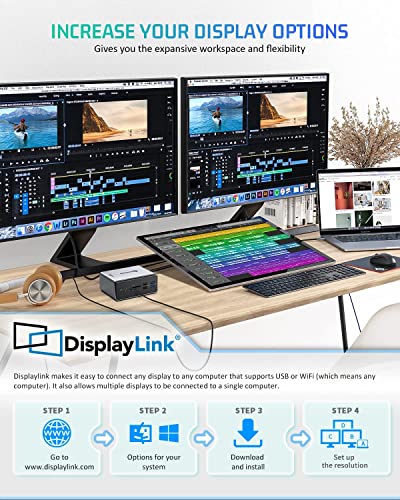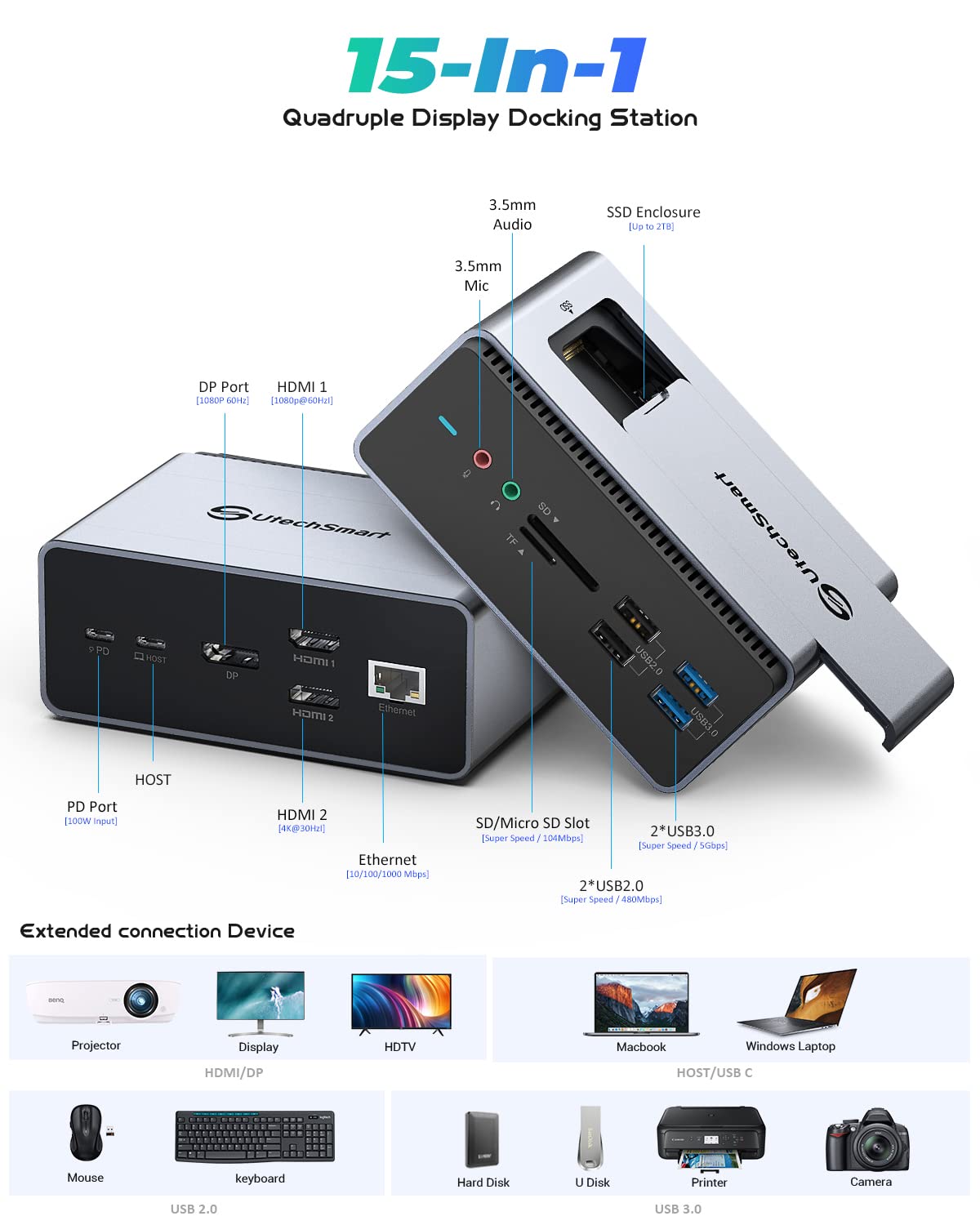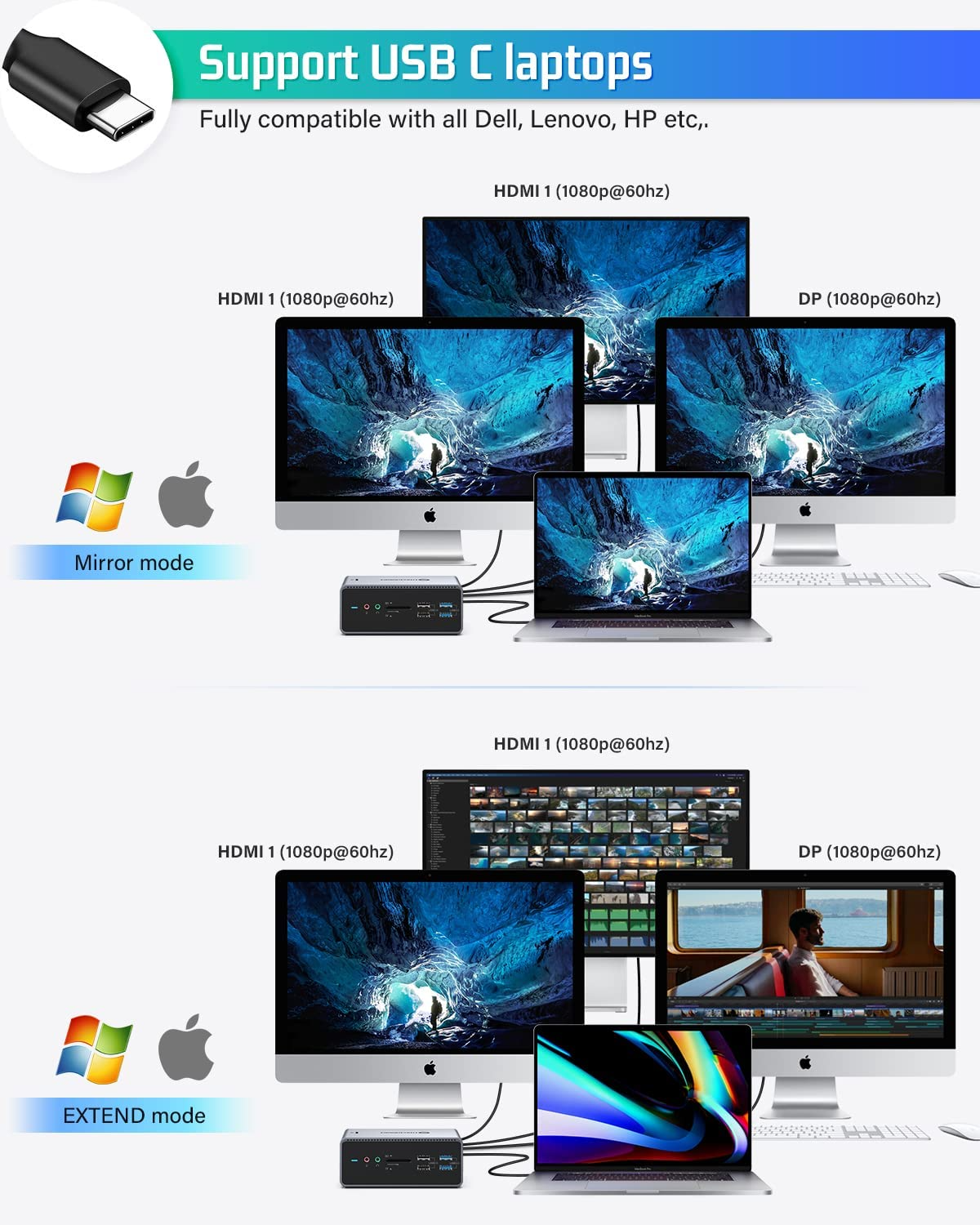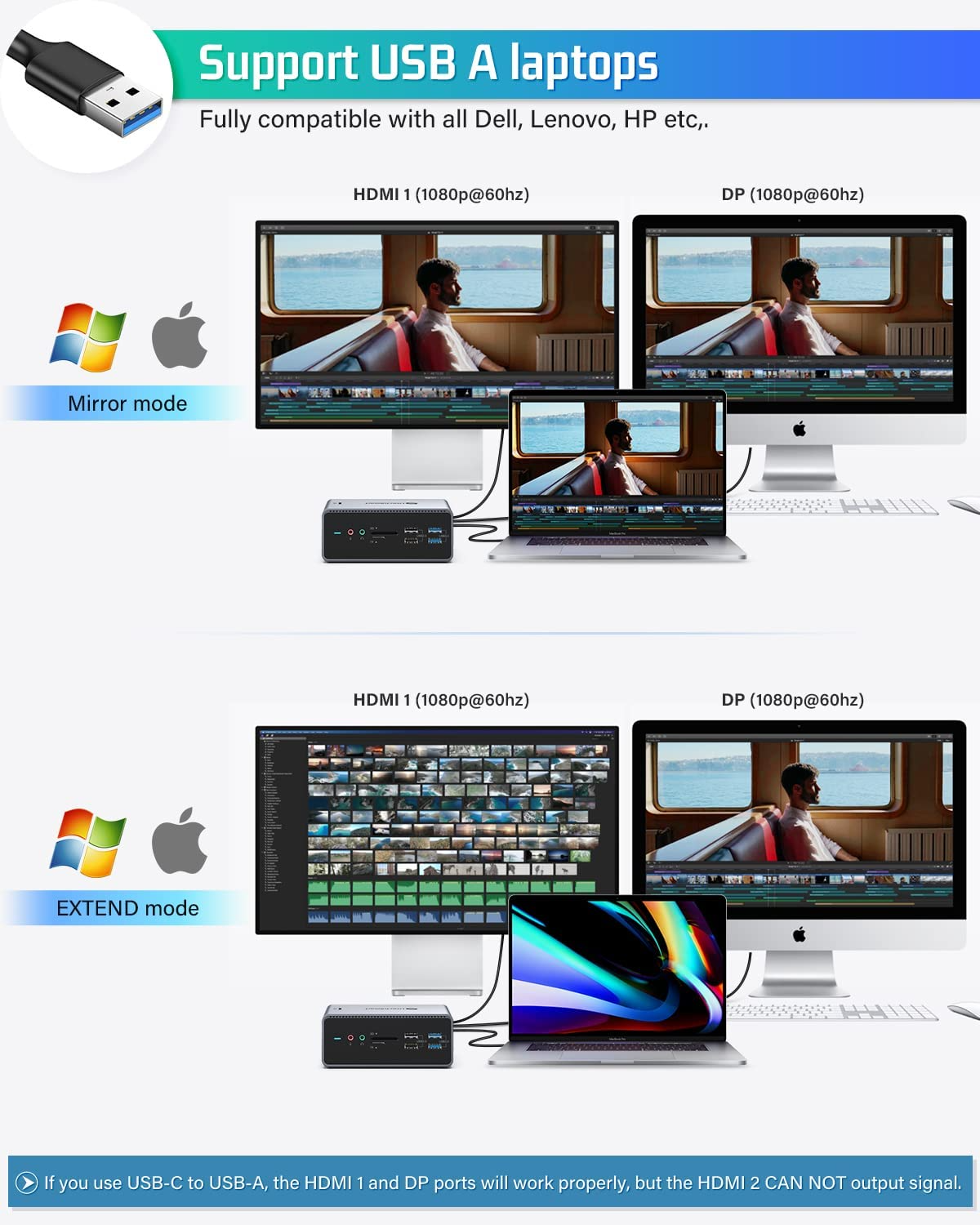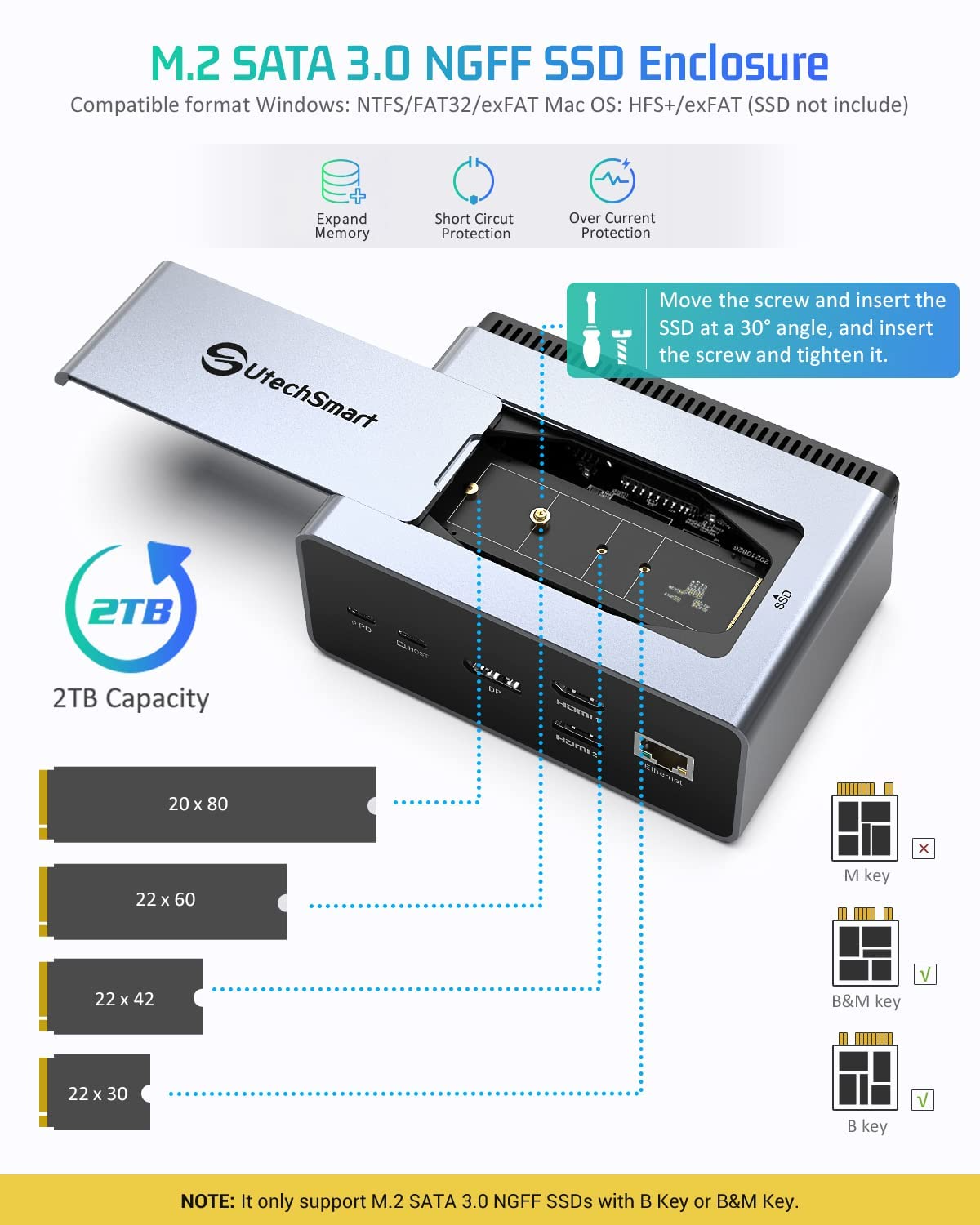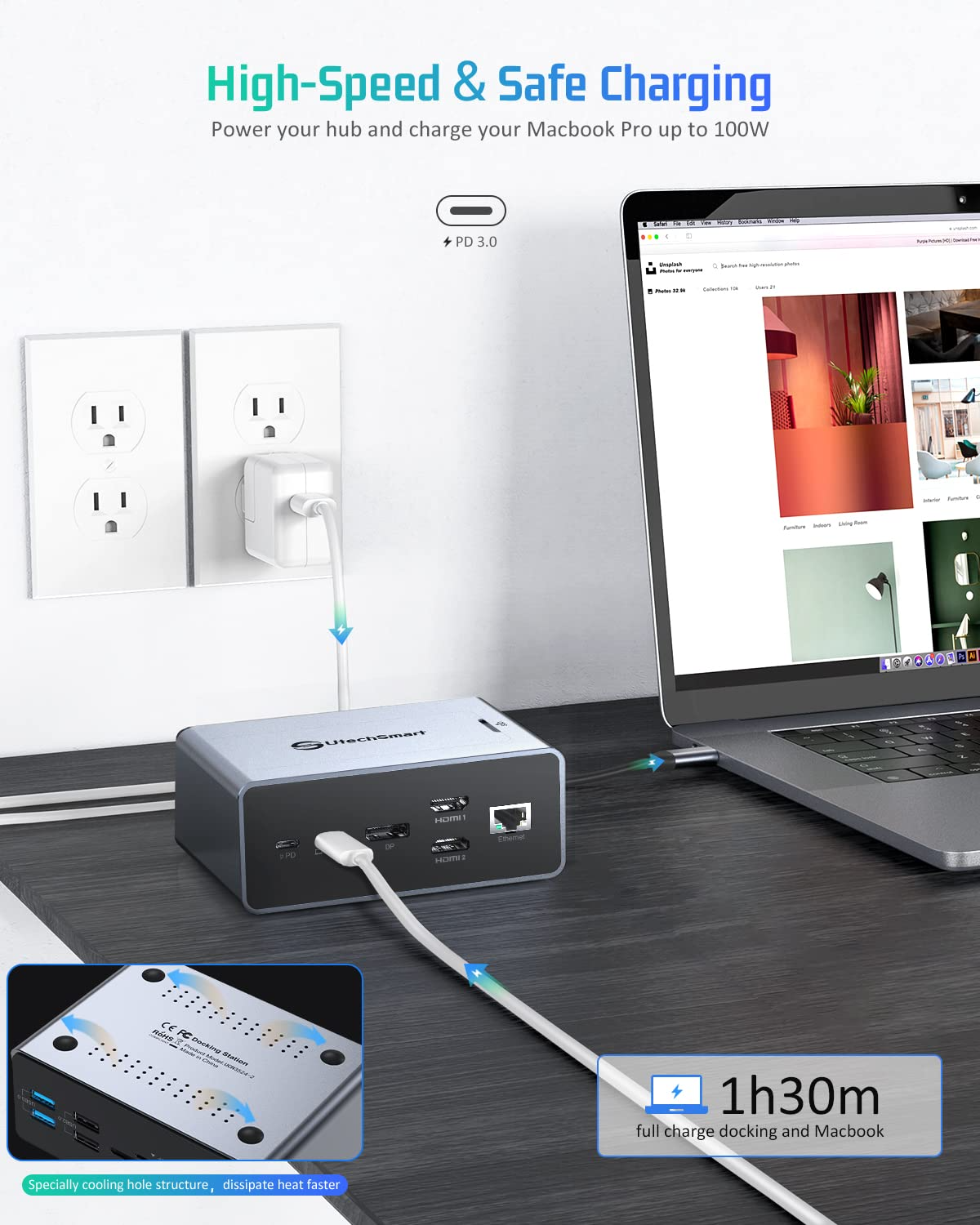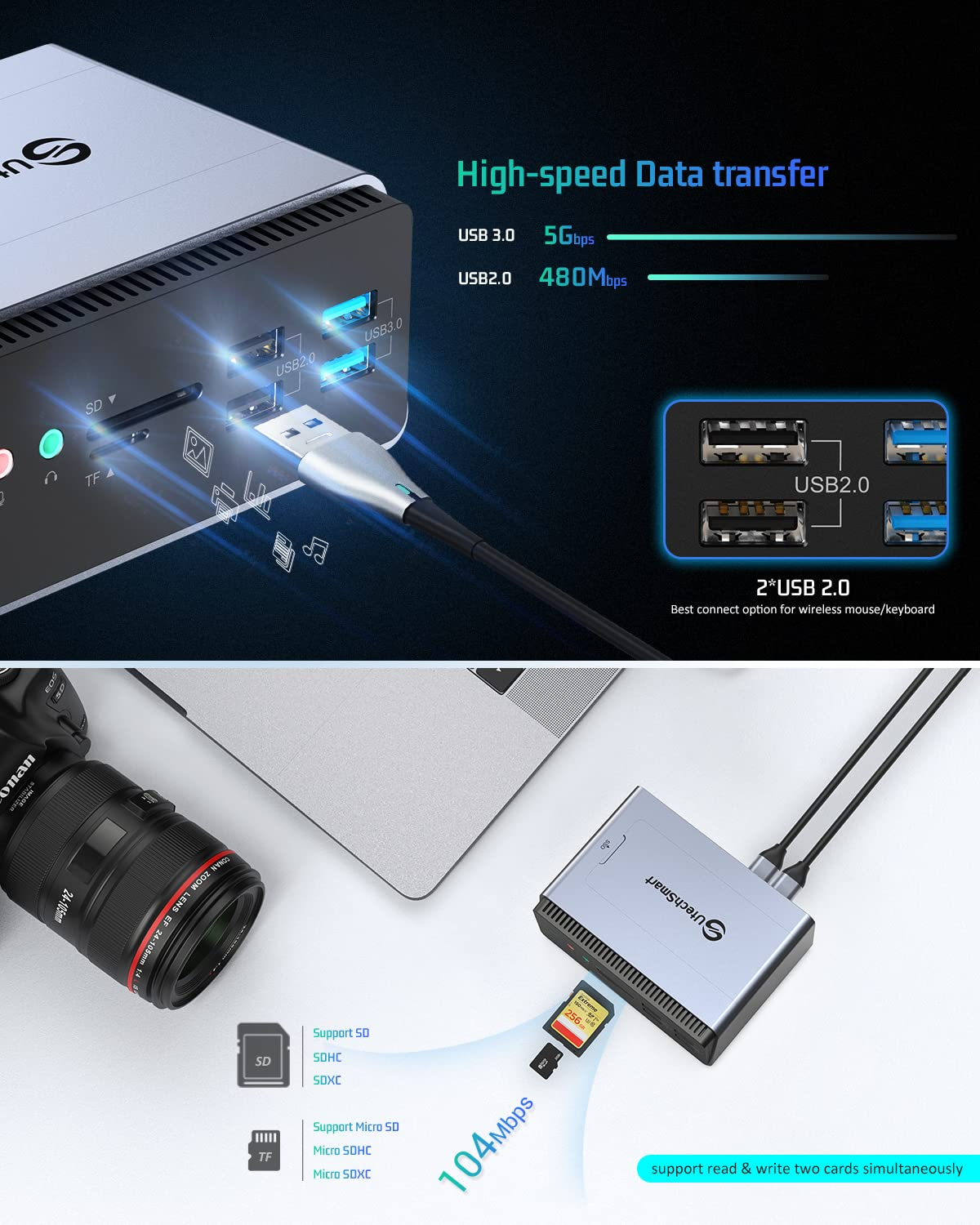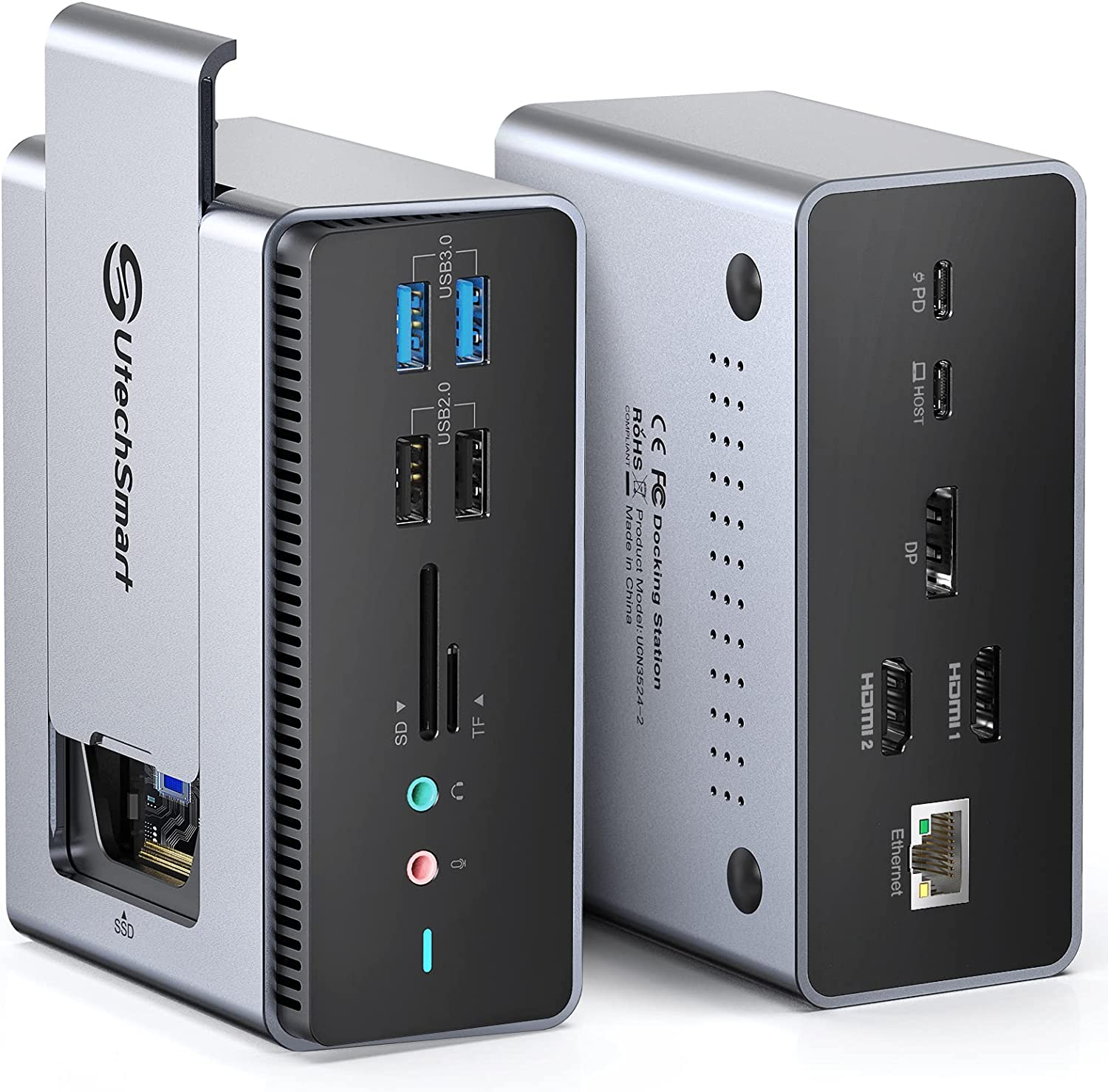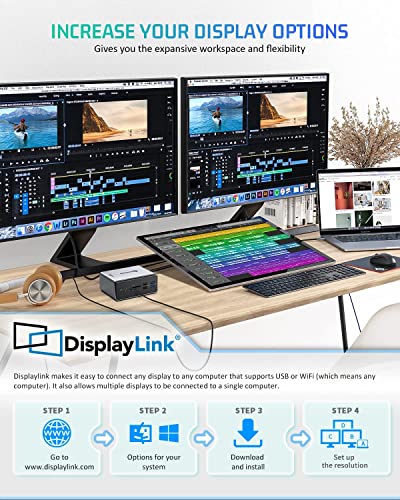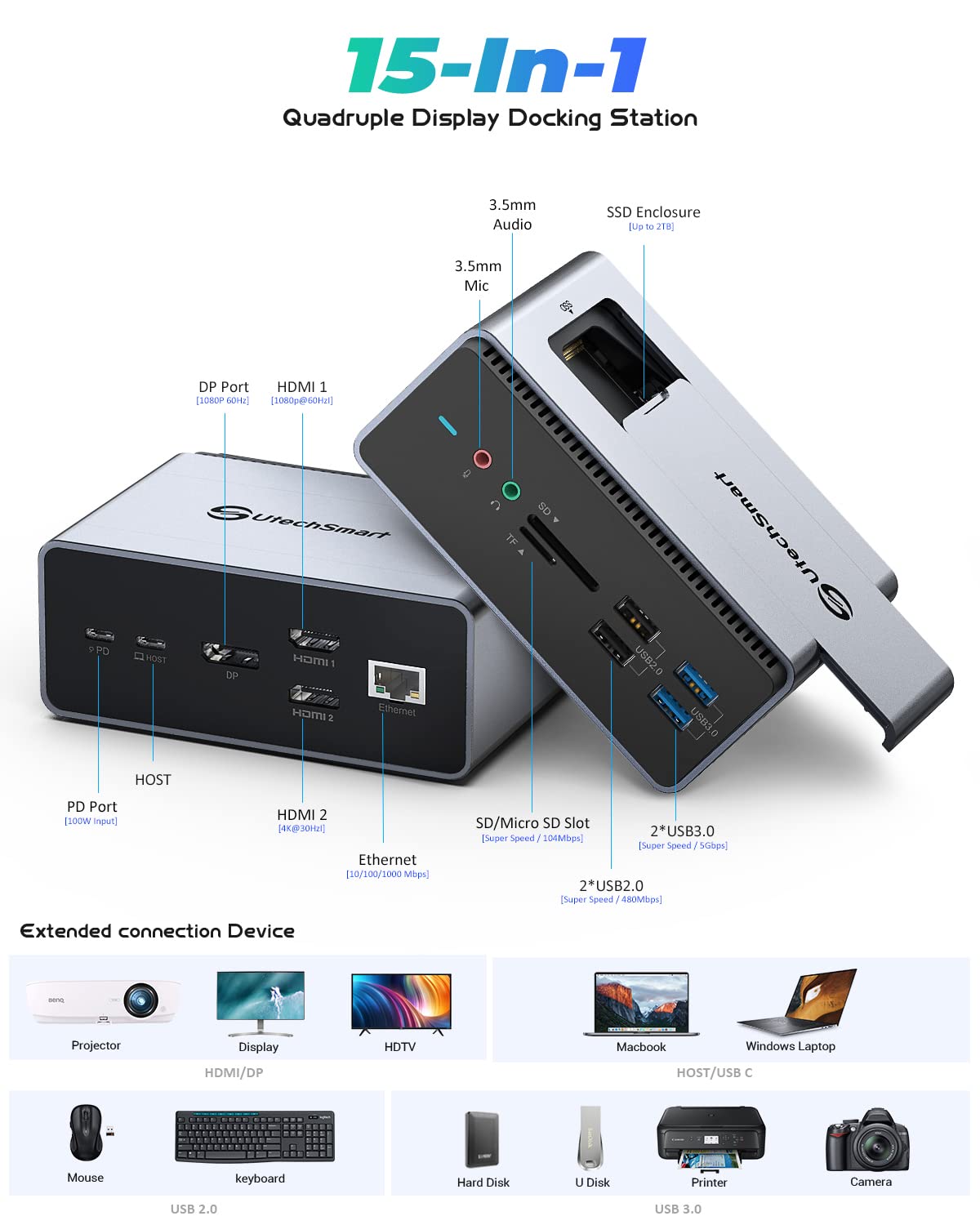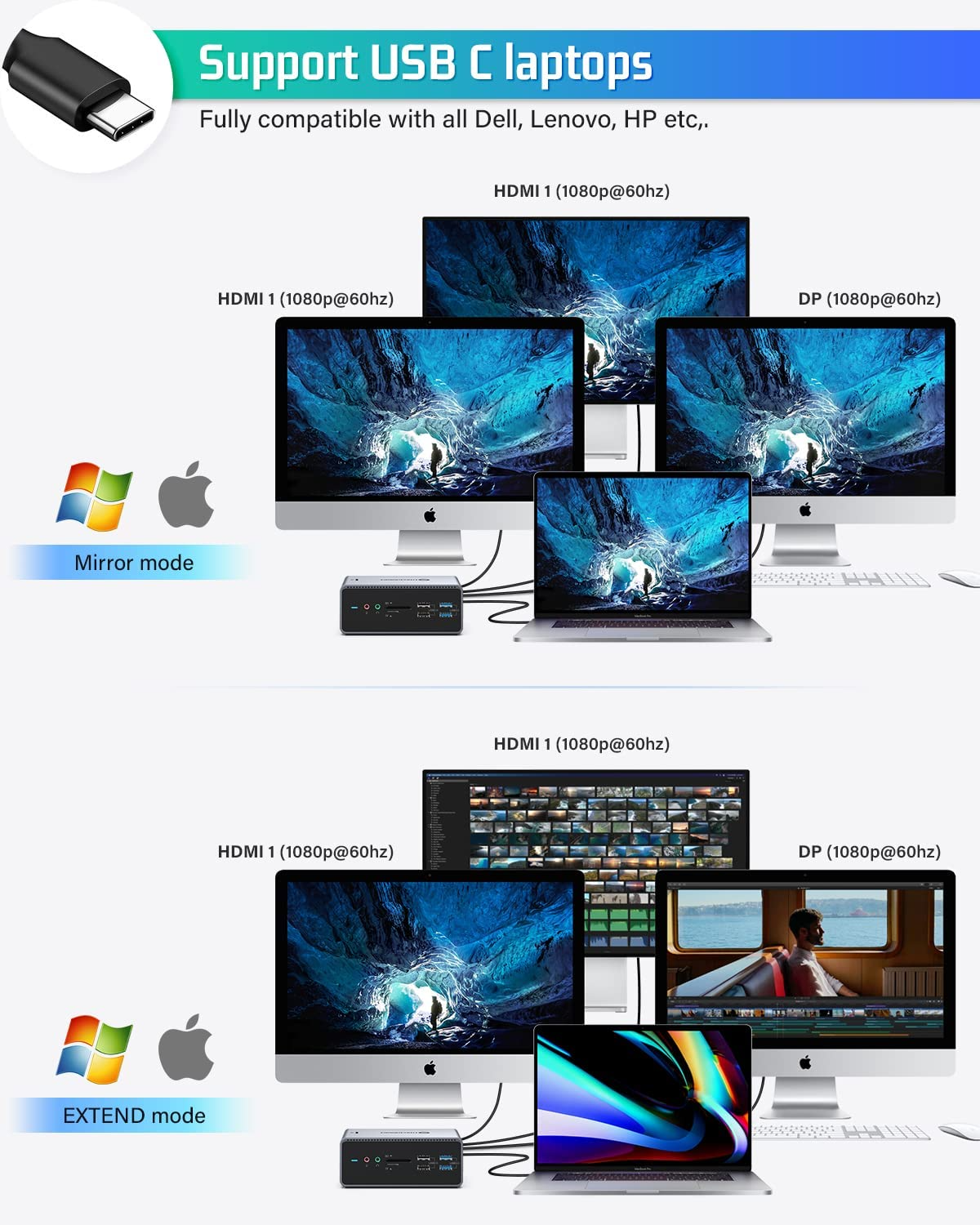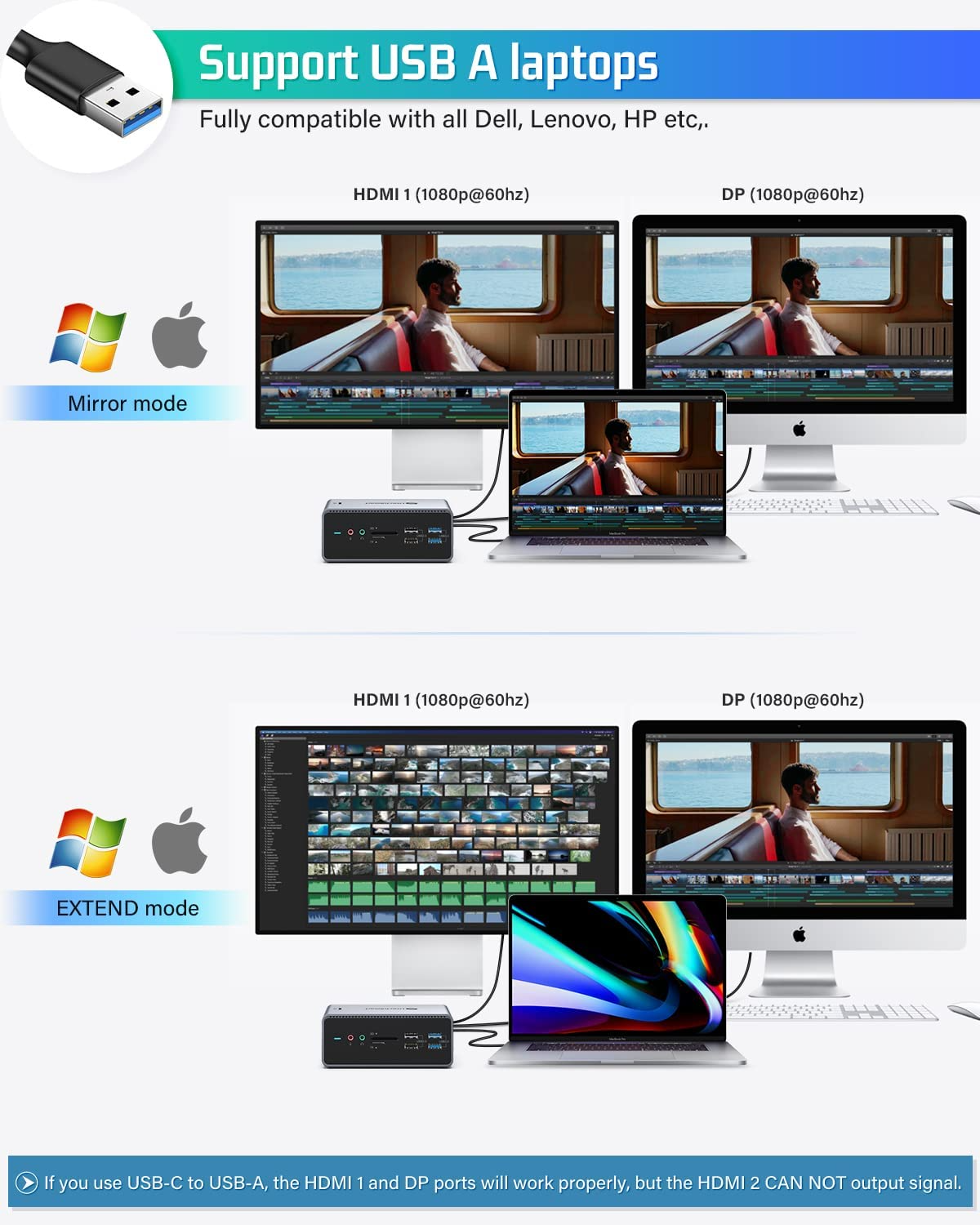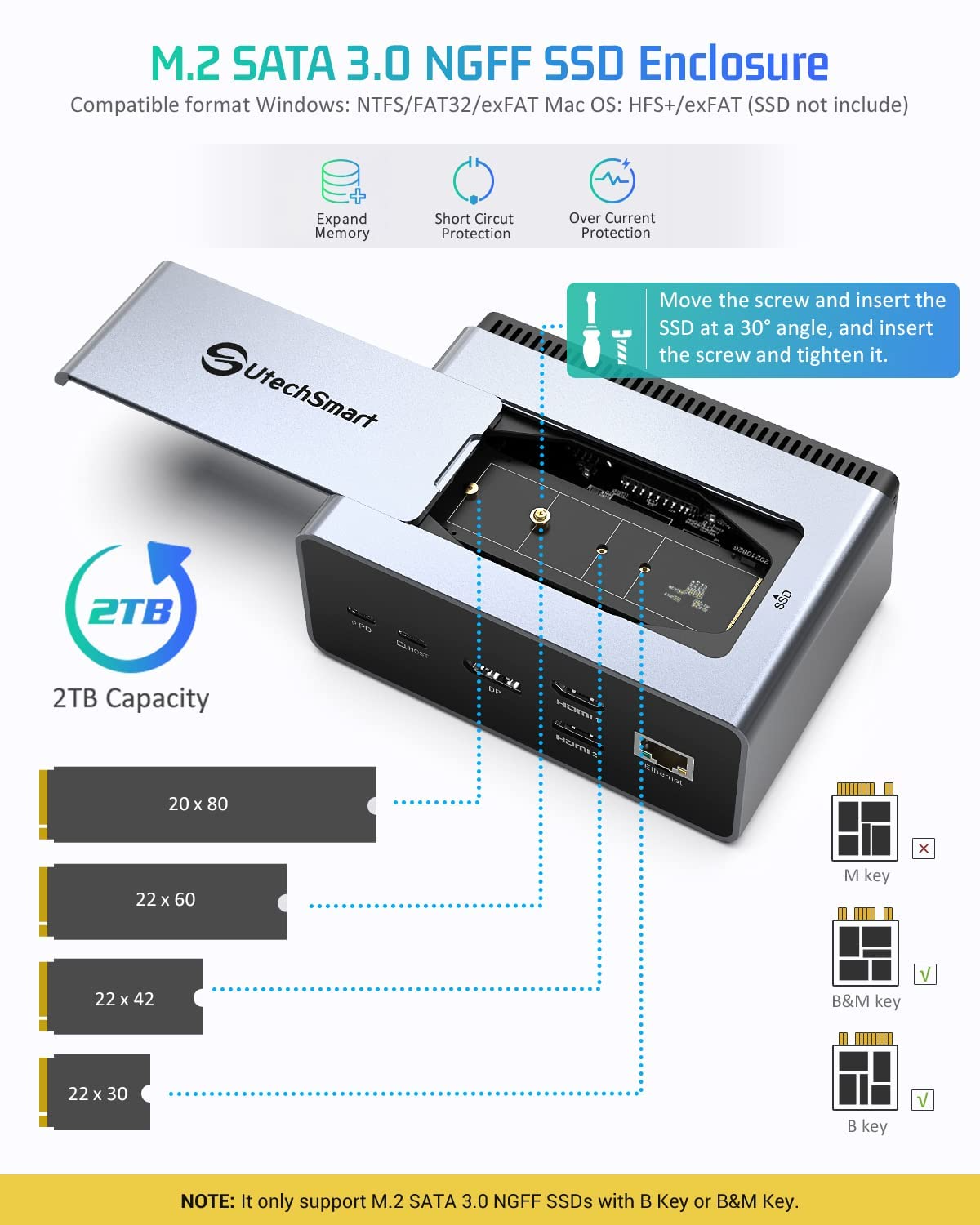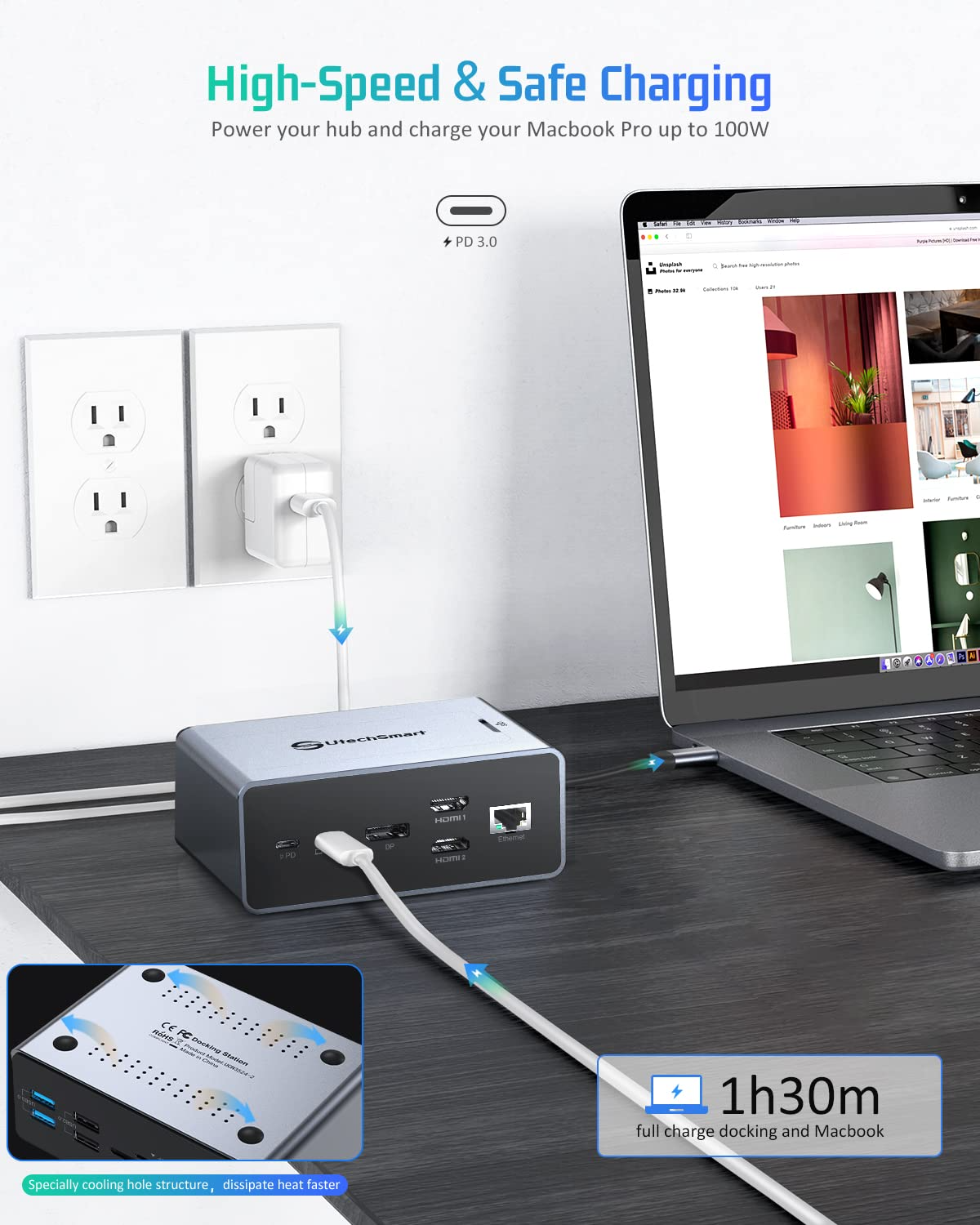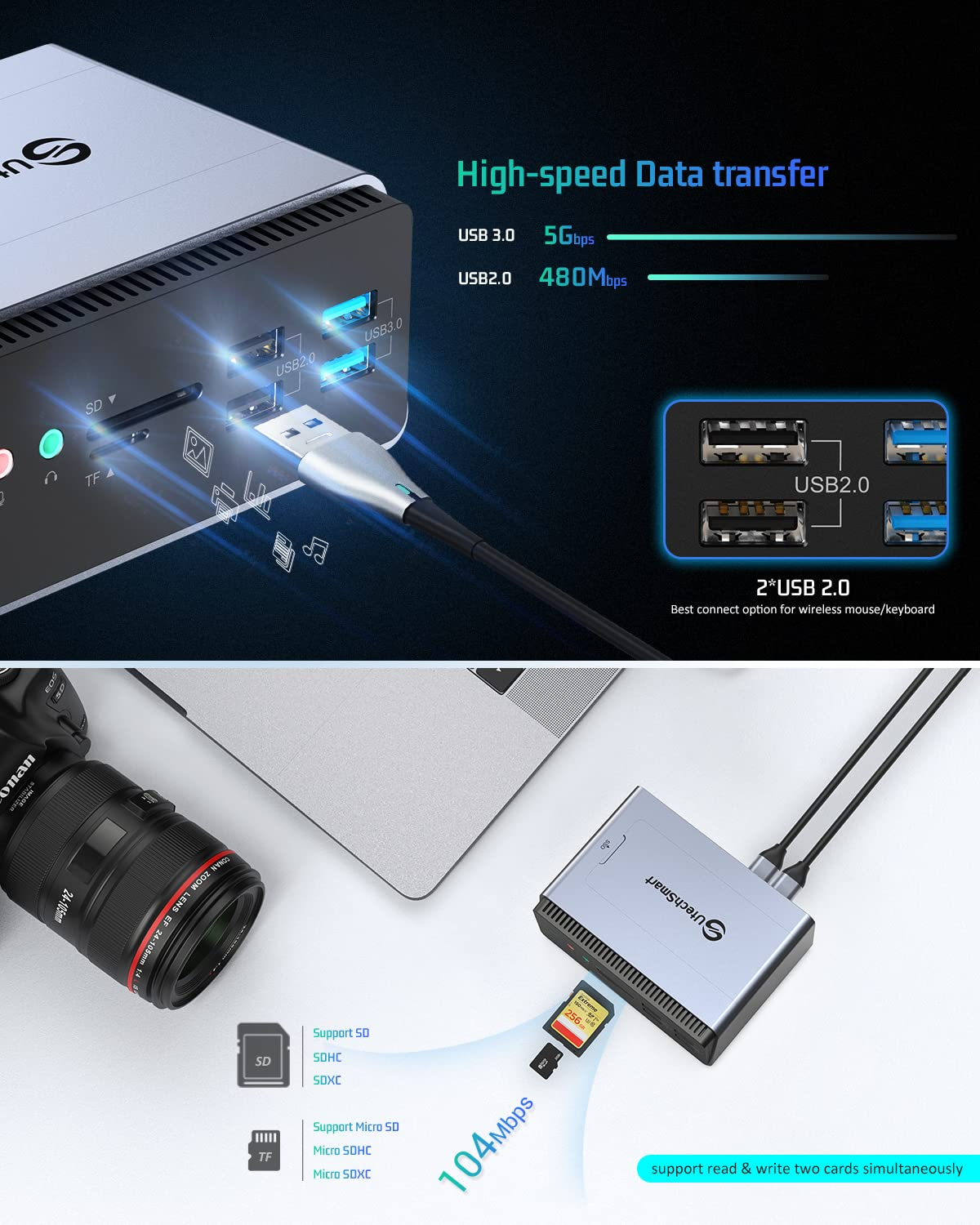 Docking Station SSD UCN3524-2 (15 in 1)
Significant Breakthrough in Device Compatibility: Differing from previous designs, this time UtechSmart is launching a Docking Station that supports both USB Type C and USB A connections. This docking station is suitable for all kinds of laptops or computers, and it allows both macOS & Windows laptops to have quadruple display outputs. It is also equipped with an M.2 SATA SSD enclosure which makes it a great companion to simplify your work-from-home setup.

Increase Your Display Options: With additional workspaces, your productivity will be greatly enhanced. This docking station is equipped with both a USB C TO USB C cord and a USB A TO USB C cord for your device in order to support Full Quad display on a wide range of macOS & Windows laptops. Incredibly, it can bypass the single display output limit of macOS and is even compatible with laptops that only have USB A ports. It can solve the common problem of one black screen or no MST function.

Unique Human-centered Design: The UtechSmart 15-in-1 docking station is tailored specifically for designers, engineers, and data analysts who need more workspaces. Let it set your work free! Its base is designed with 4 non-slip pads to resist sliding and a double row of cooling holes to dissipate heat. Using the top-mounted SSD enclosure, you can add up to 2TB of additional storage (SSD is not included).

Unparalleled Charging & Data Transfer: The PD port on the docking station accepts up to 100W to effectively power and quickly recharge your laptop, significantly shortening charging times. You will no longer need to worry about your battery charge level! 2 USB 3.0 (5Gbps, transfer large files in seconds) & 2 USB 2.0 Ports designed to not add signal interference to wireless devices. It also has built-in SD/TF slots for photographers to easily access files from SD and TF cards simultaneously.

Why You Choose This UtechSmart Docking Station: The UtechSmart universal docking station could work easily for these laptops or devices: MacBook Pro, MacBook Air, Dell XPS 13/15, HP Spectre x360/ZBook, Lenovo ThinkPad X1 Carbon/ X1 Extreme, and MSI ! UtechSmart is committed to providing the highest quality products, service, and support. We strive to exceed our customer's expectations and guarantee a faster response, so please don't hesitate to let us know if you have any problems.

Specs
Product Dimensions

4.92 x 3.54 x 1.96 inches
Manufacturer

UtechSmart Technology















Compatible Devices




USB-C 3.1, Thunderbolt3/4,




USB-A




USB-C 3.1 Gen 2, Thunderbolt3/4




USB-C 3.1 Gen 2, Thunderbolt3/4




USB-C 3.1, Thunderbolt3/4,




USB-A




USB-C 3.1 Gen 2, Thunderbolt3/4




USB-C 3.1, Thunderbolt3/4,




USB-A




Video Output Mode




DisplayPort Mode & DisplayLink




DisplayPort Alt Mode




DisplayPort Alt Mode




DisplayPort Mode & DisplayLink




DisplayPort Alt Mode




DisplayPort Mode & DisplayLink




Resolution




Single 4K@30Hz,




Triple 1080p




Single 4K@30Hz,




Triple 1080p




Single 8K@30Hz, Dual 4K@60Hz




Single 4K@30Hz,




Triple 1080p




Single 4K@30Hz,




Triple 1080p




Single 8K@30Hz,




Quintuple 4K@60Hz




Number of Display Outputs




2*HDMI,




1*DisplayPort




2*HDMI, 1*VGA




3*Thunderbolt 4




2*HDMI, 1*VGA




3*HDMI




3*Thunderbolt 4,




1*HDMI, 1*DisplayPort




Gigabit Ethernet Port




√




√




#N/A




√




√




√




Max Transfer Rate




5Gbps




5Gbps




40Gbps




5Gbps




5Gbps




40Gbps




Power Demand




87-96W (use 100W PD charger)




92W (Use 100W PD adapter)




120W DC Adapter Included




92W (Use 100W PD adapter)




92W (Use 100W PD adapter)




120W DC Adapter Included




Other Ports




SSD,




USB3.0/2.0,




SD/TF,

USB-C PD




USB3.0/2.0,




SD/TF,




USB-C PD Port




USB 3.1,




DC in




USB3.0/2.0,




SD/TF,




USB-C PD Port




USB3.0/2.0,




SD/TF,




USB-C PD Port




USB3.0/2.0,




SD/TF,




USB-C PD Port




Connection Method




USB-C to USB-C/USB-A




USB-C to HOST




USB-C to HOST




USB-C to USB-C/USB-A




USB-C to HOST




USB-C to USB-C/USB-A




Number of Ports




15




11

6

12

12




16

Product Model




UCN3524-2

UCN3270

T4803

UCN3270-2

UCN3278



T4802

Other top rated product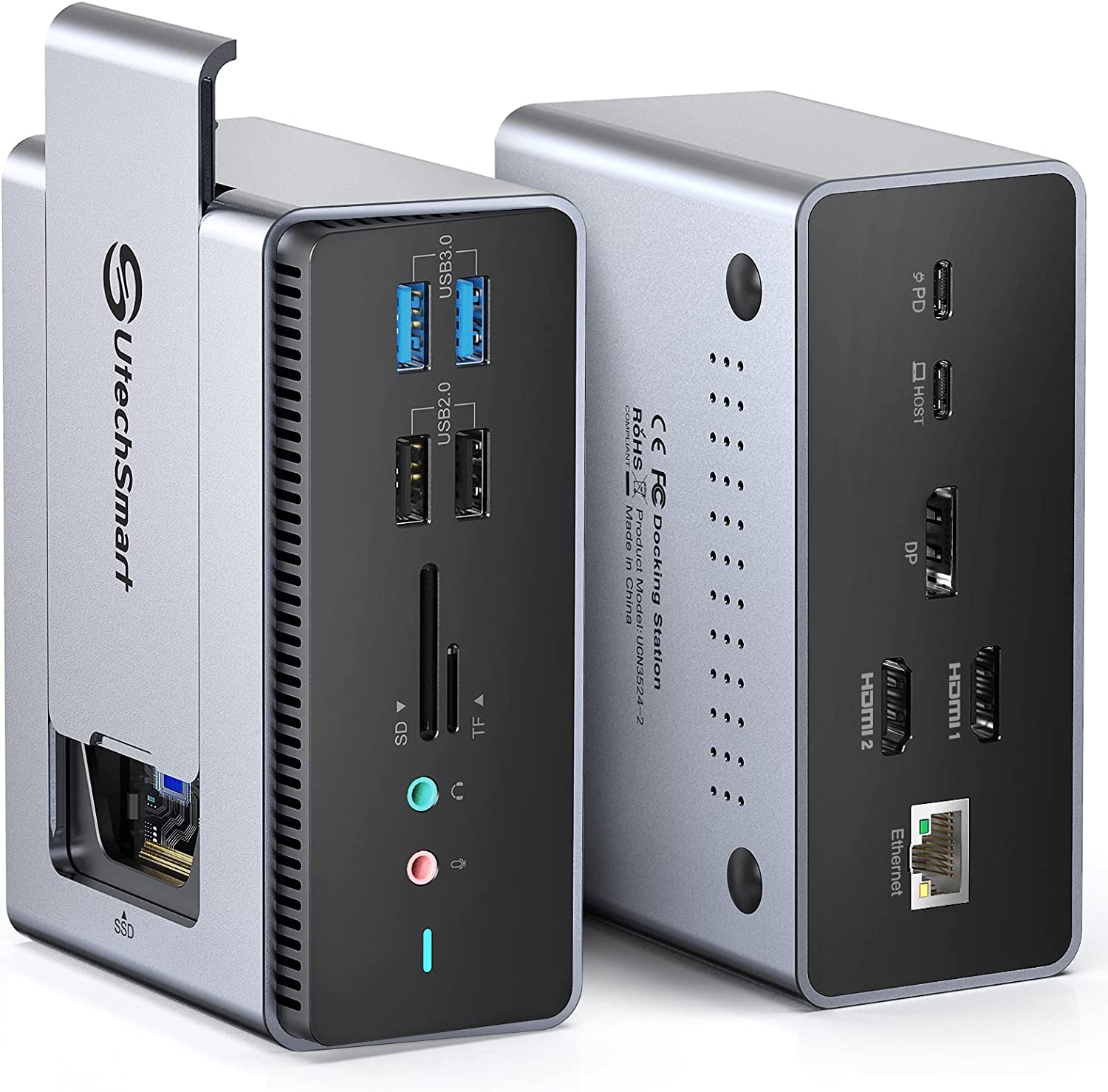 ---
---
0 Reviews
Sorry,there is no data on the page you visited!