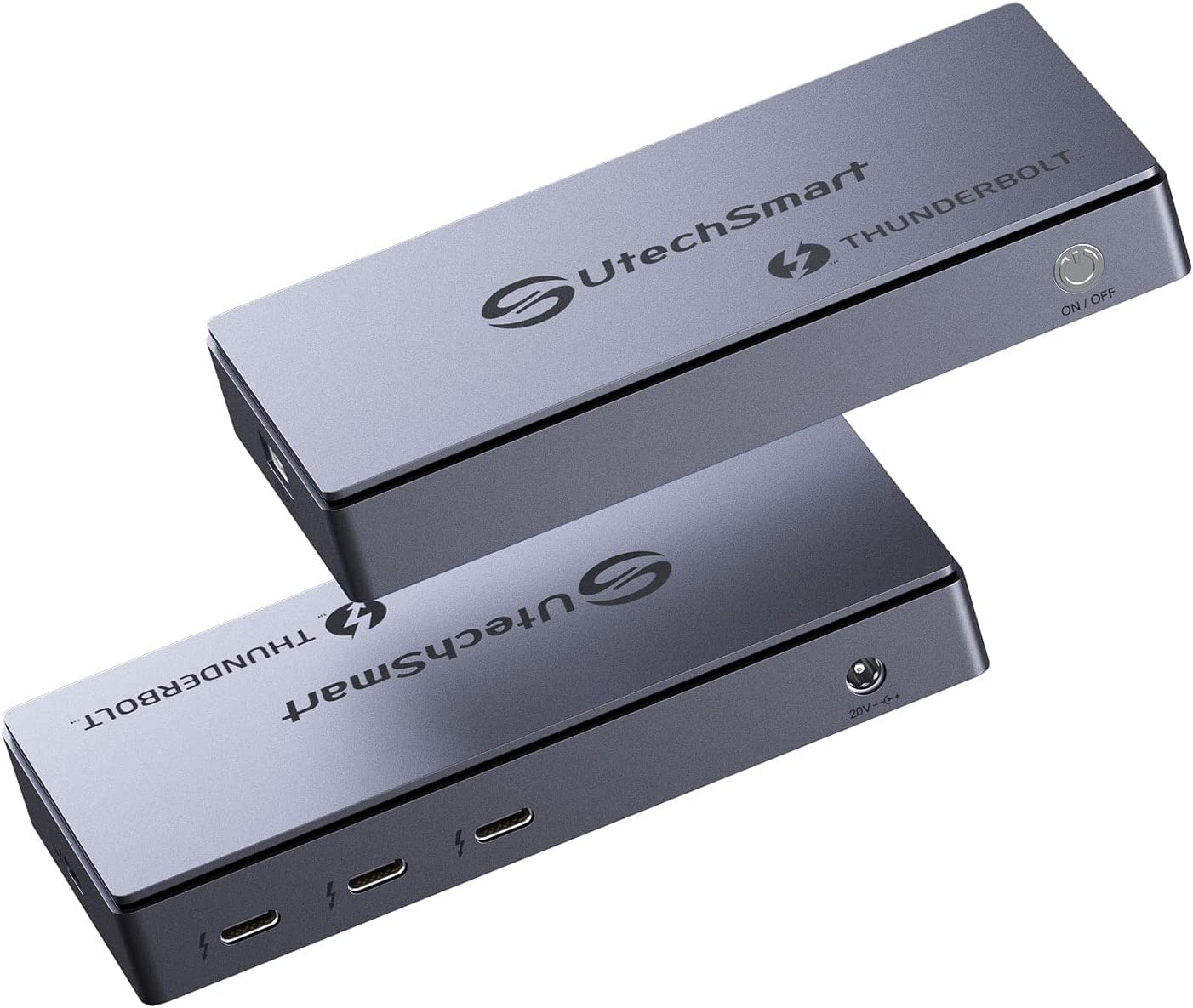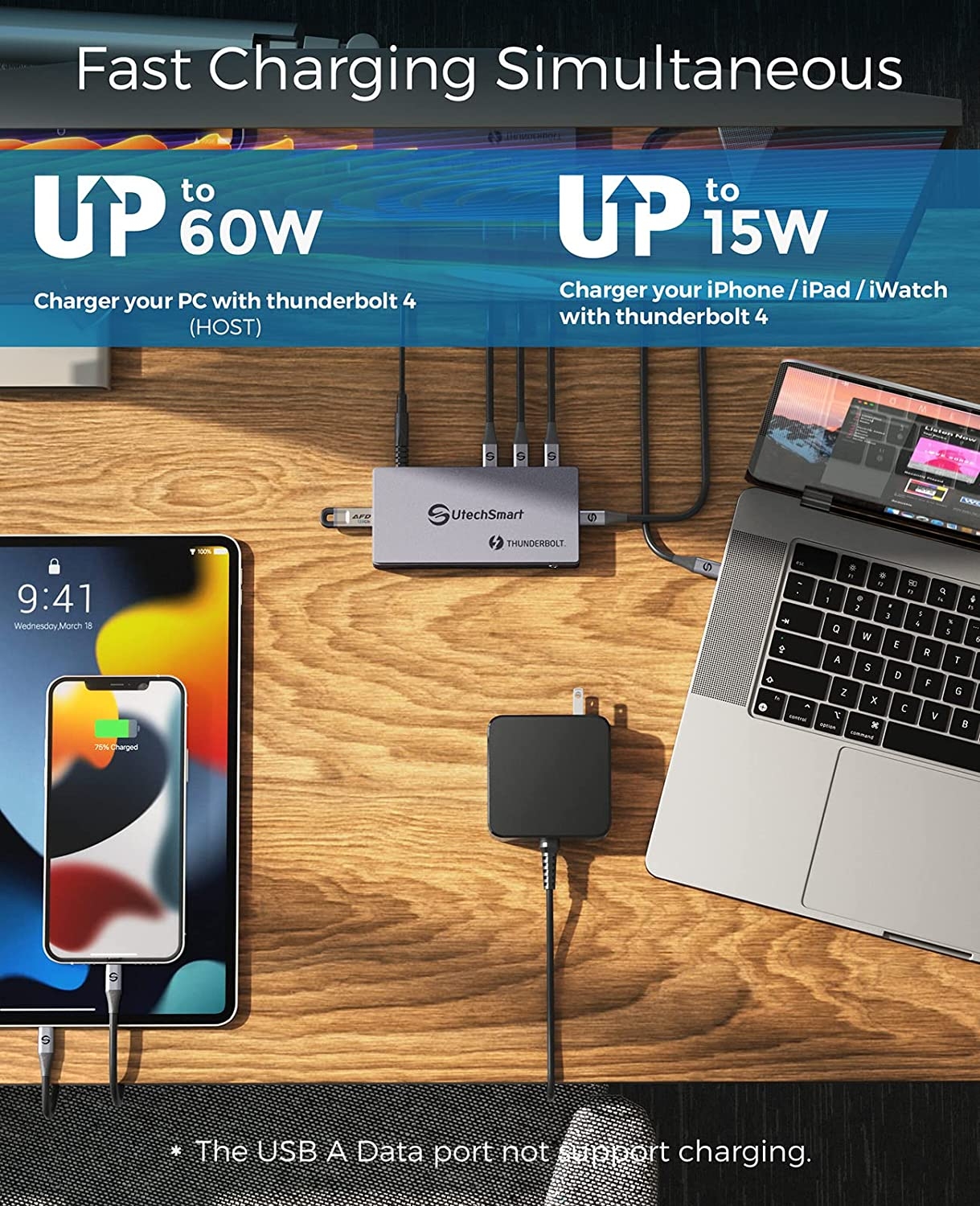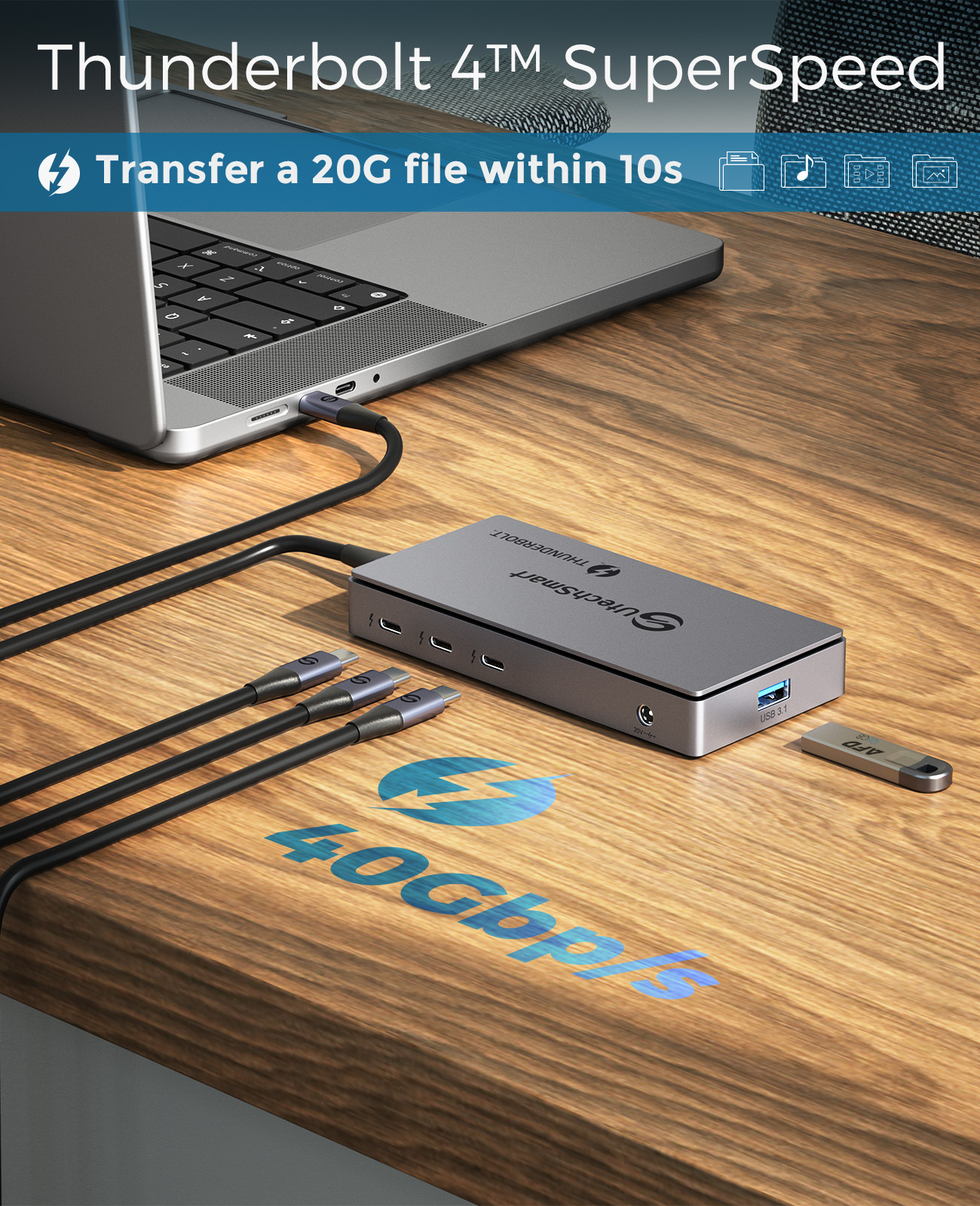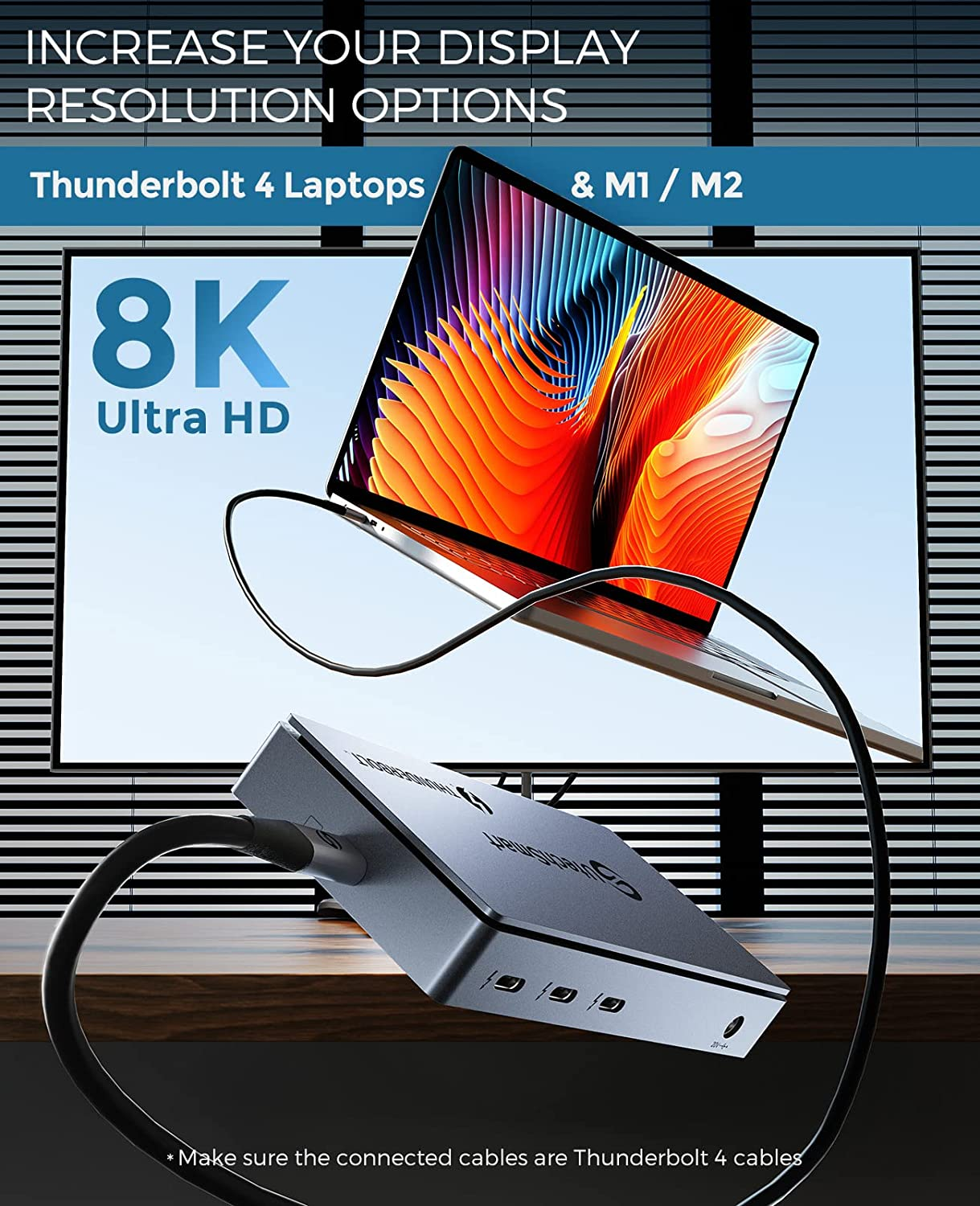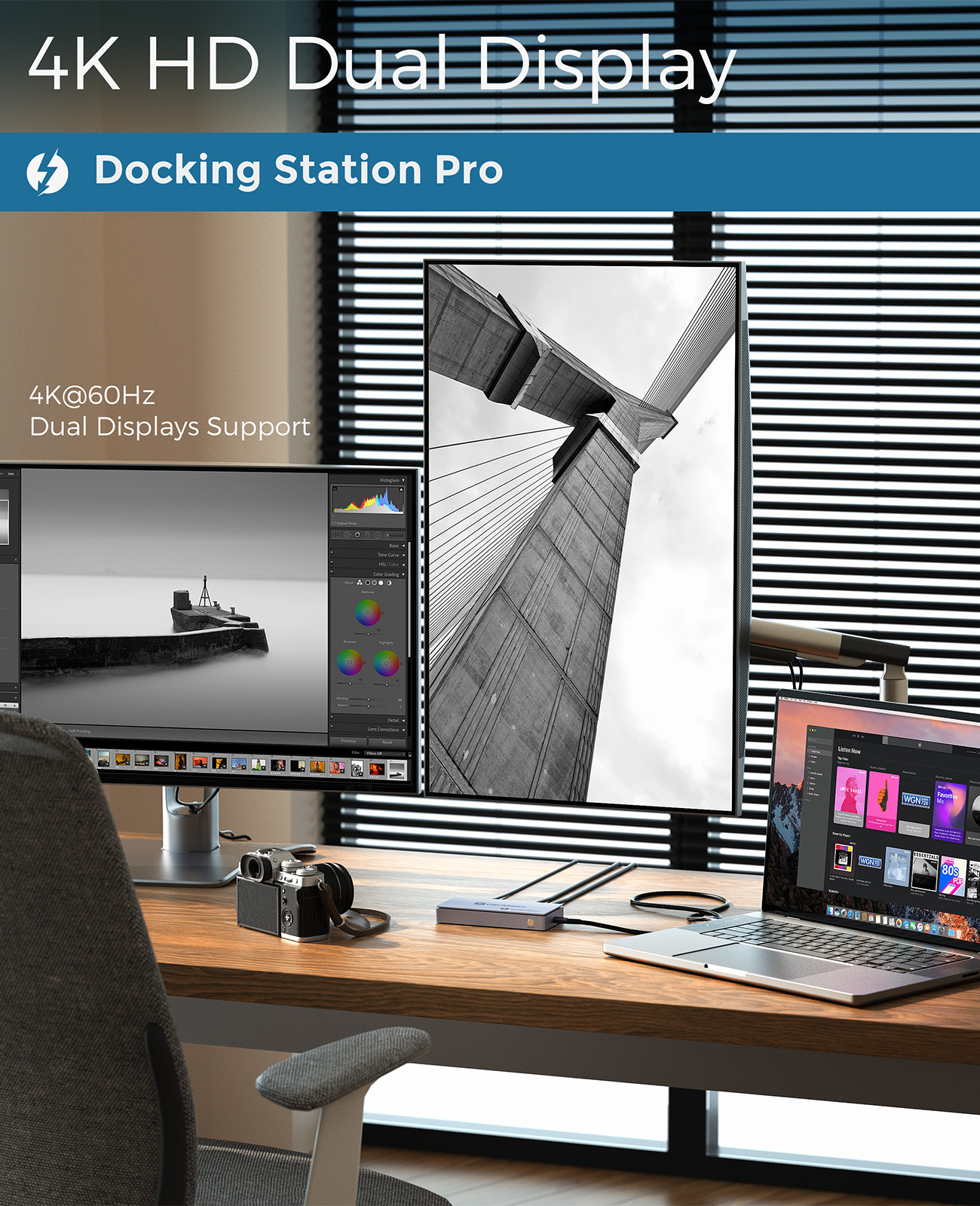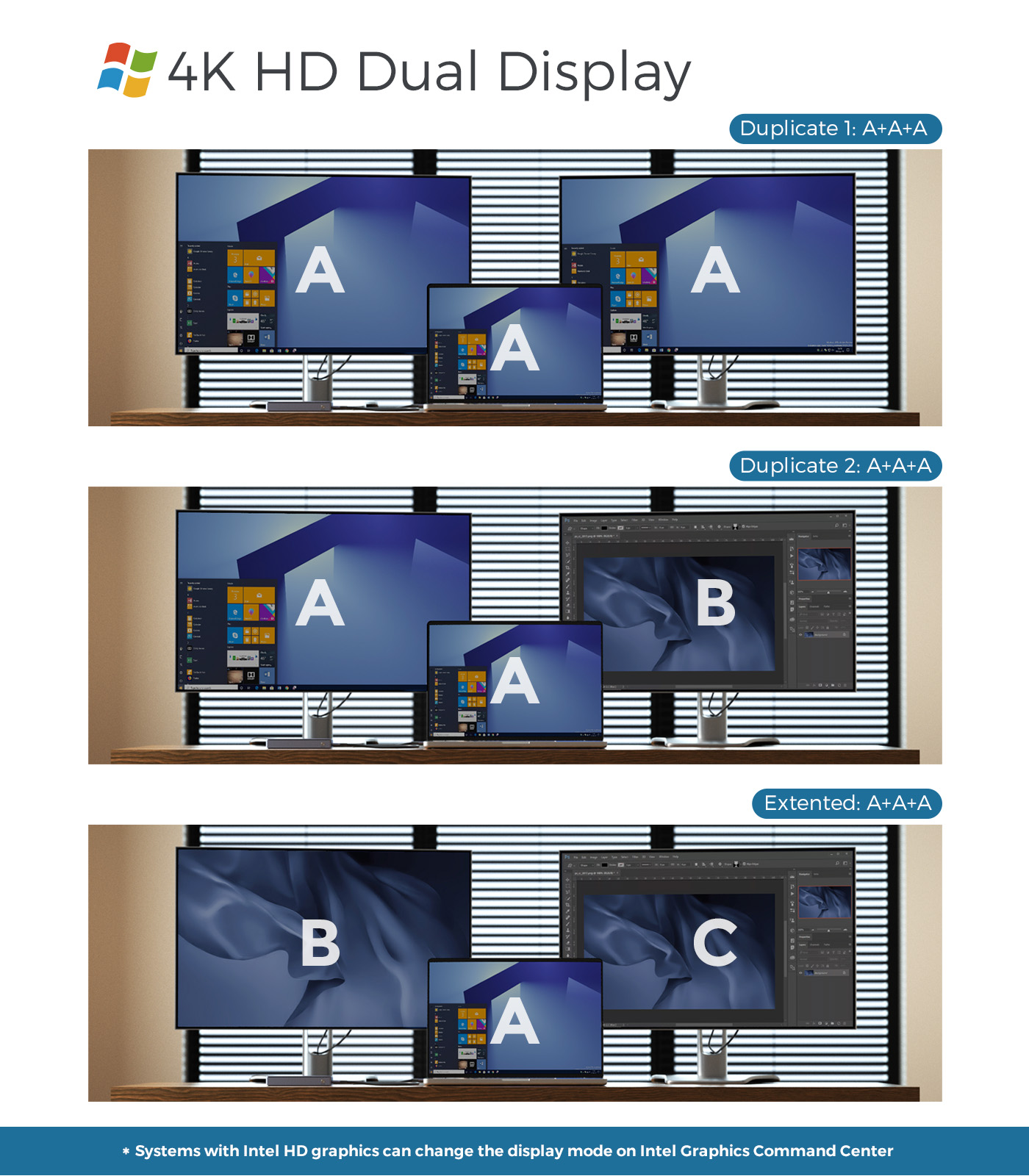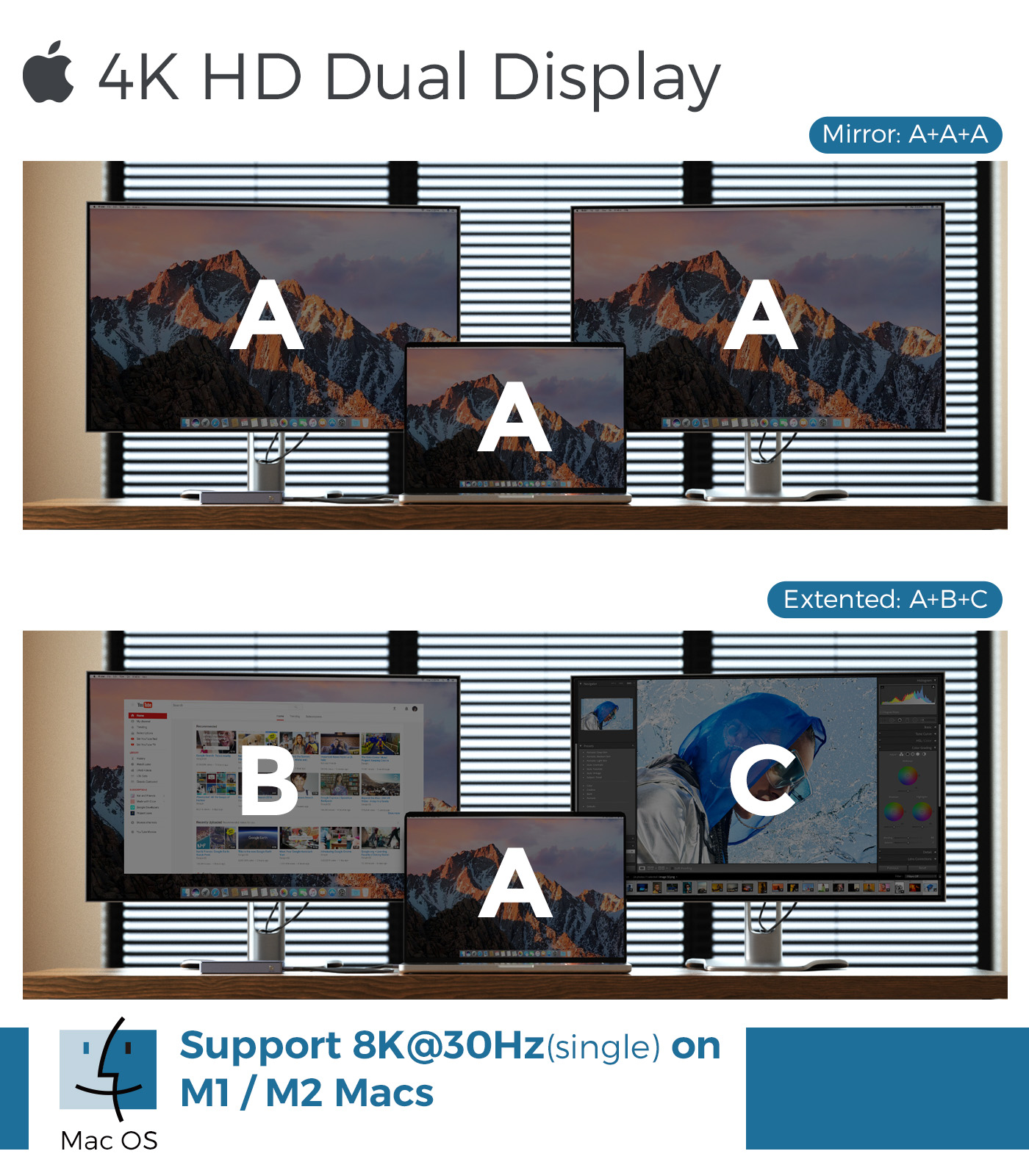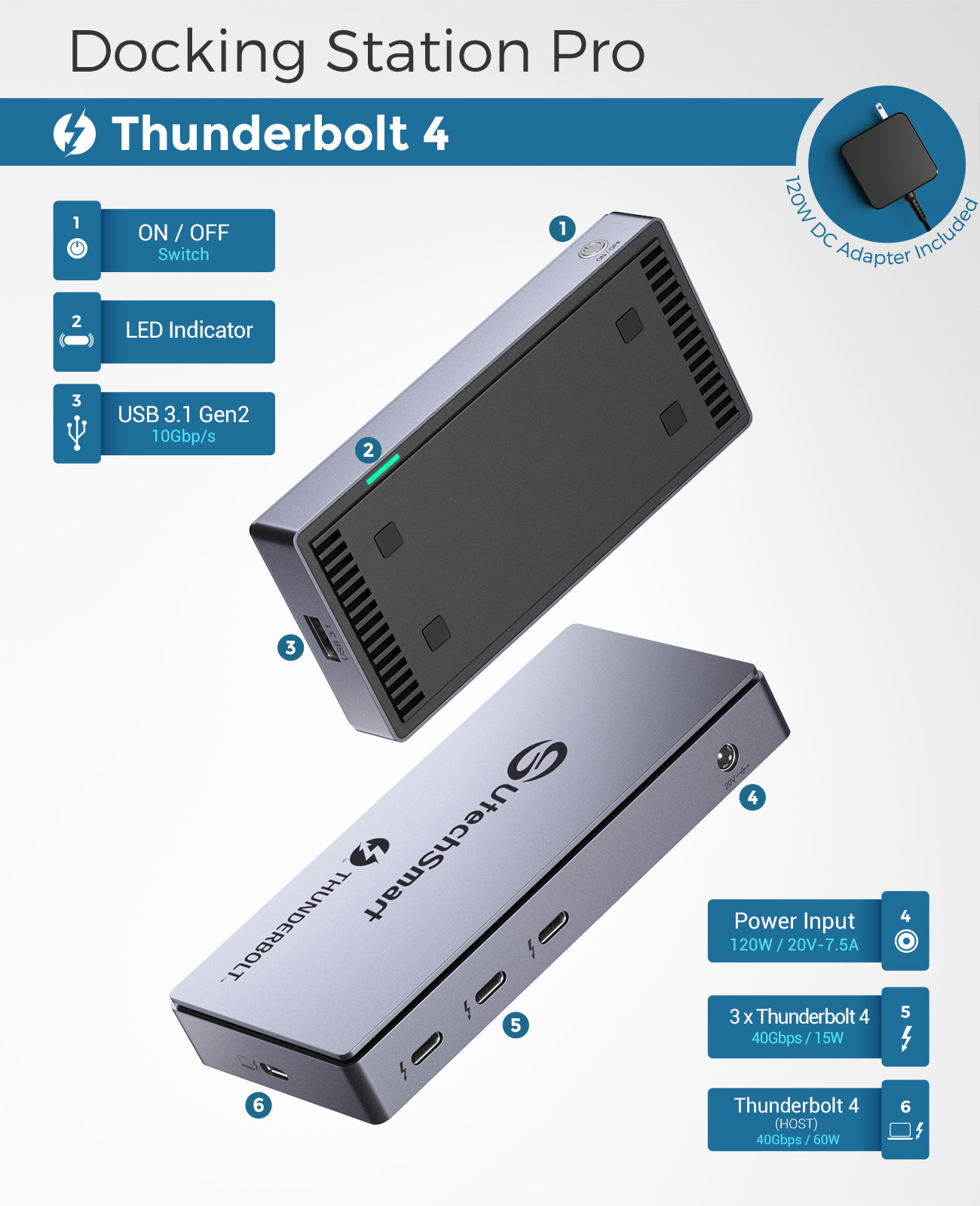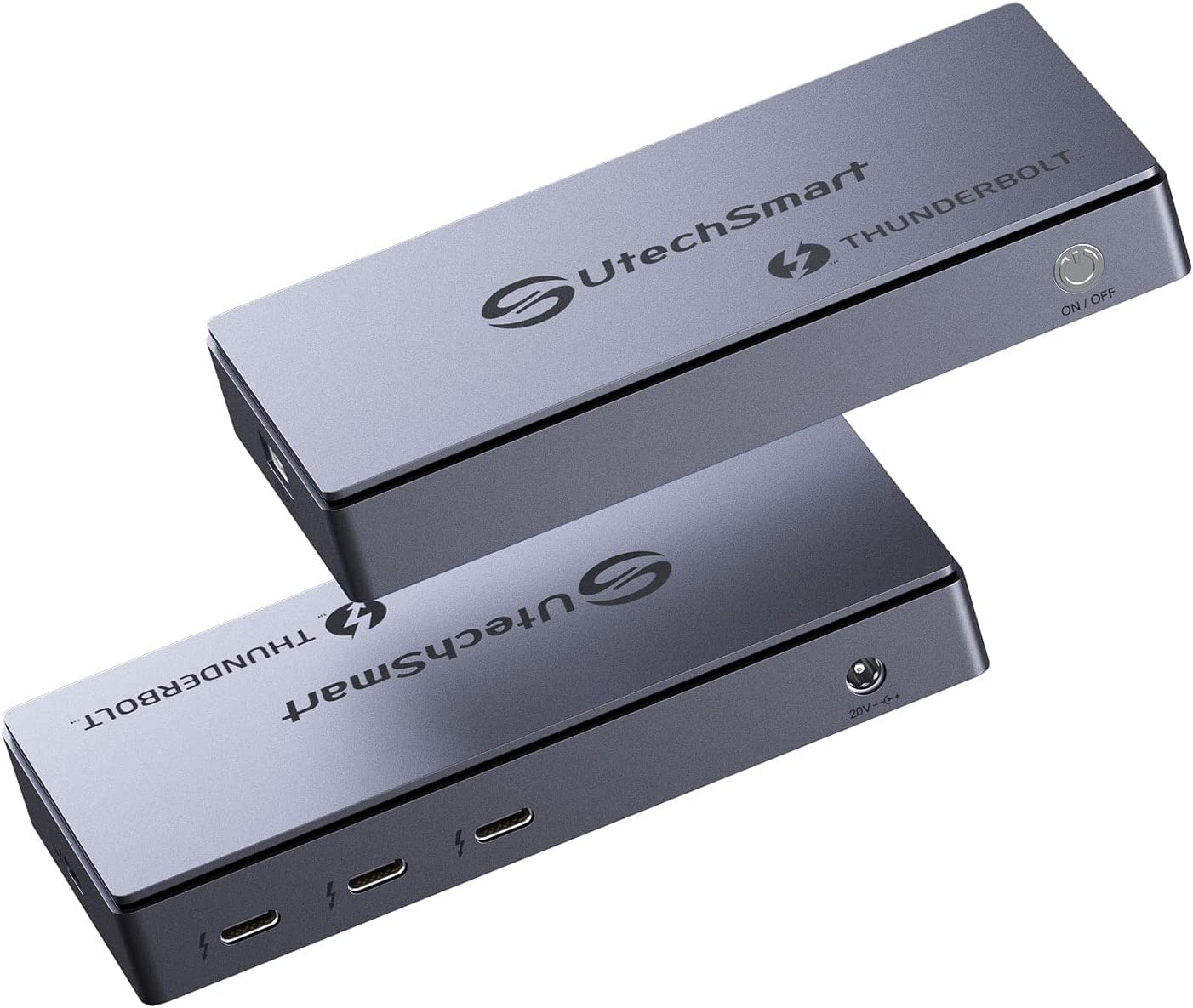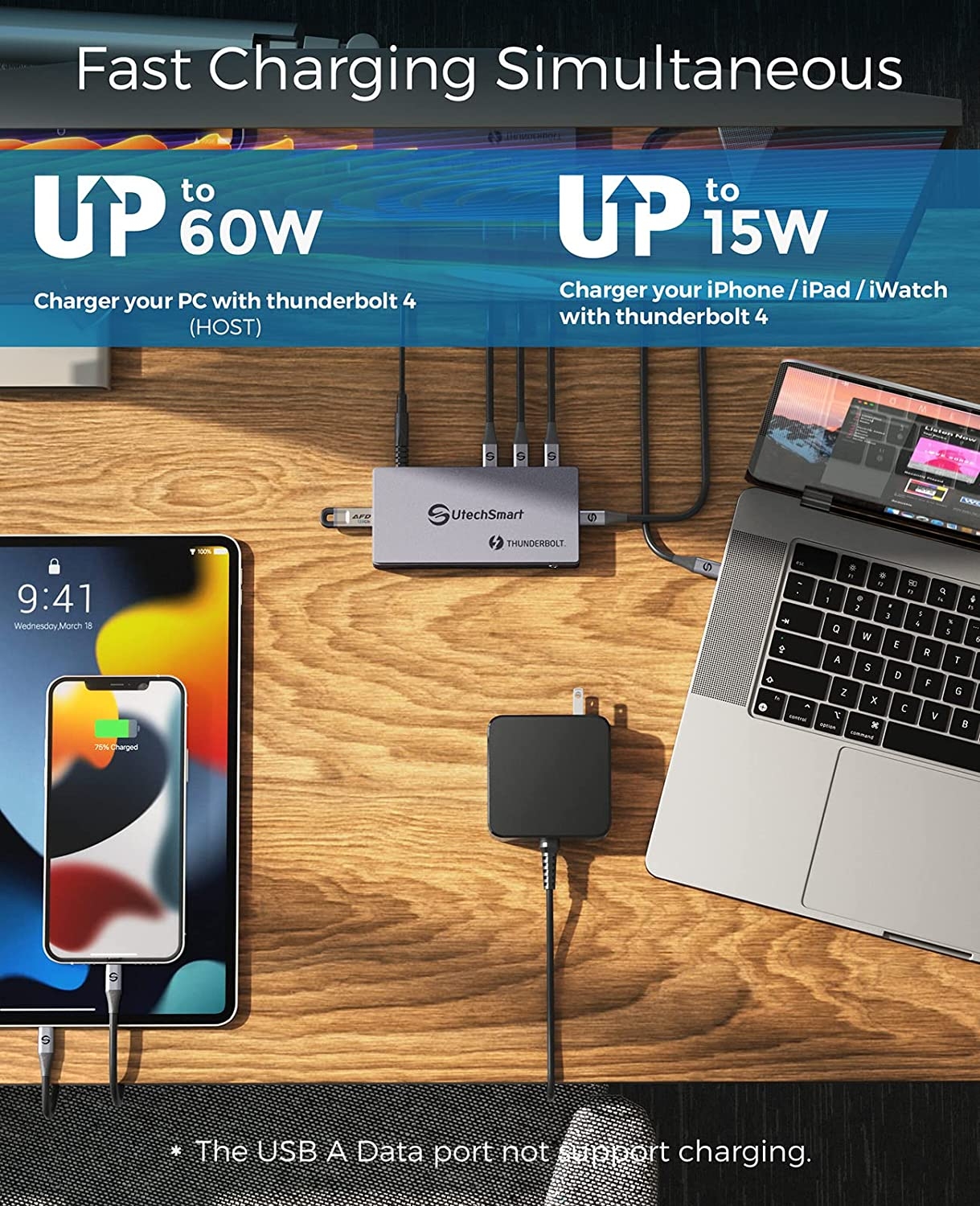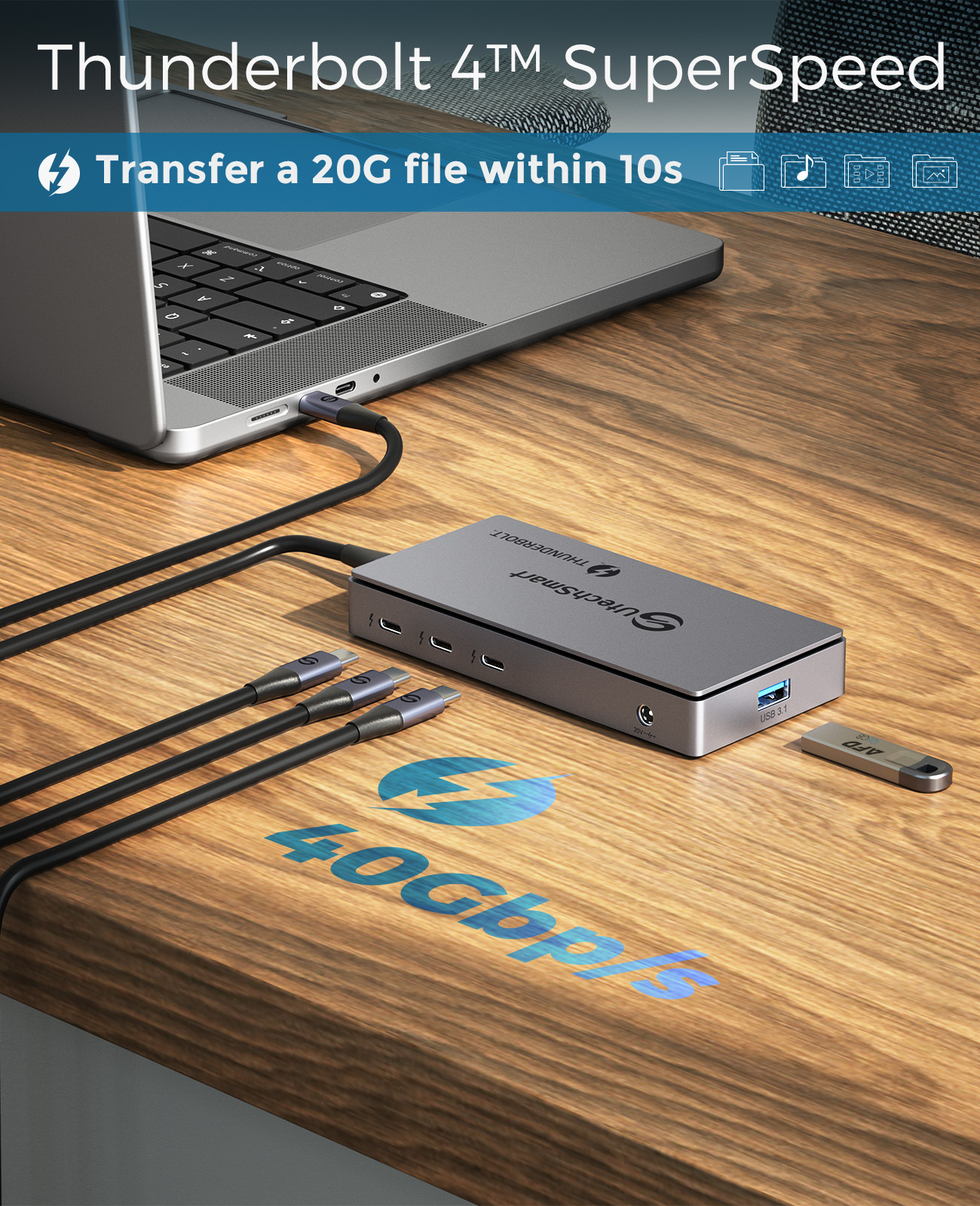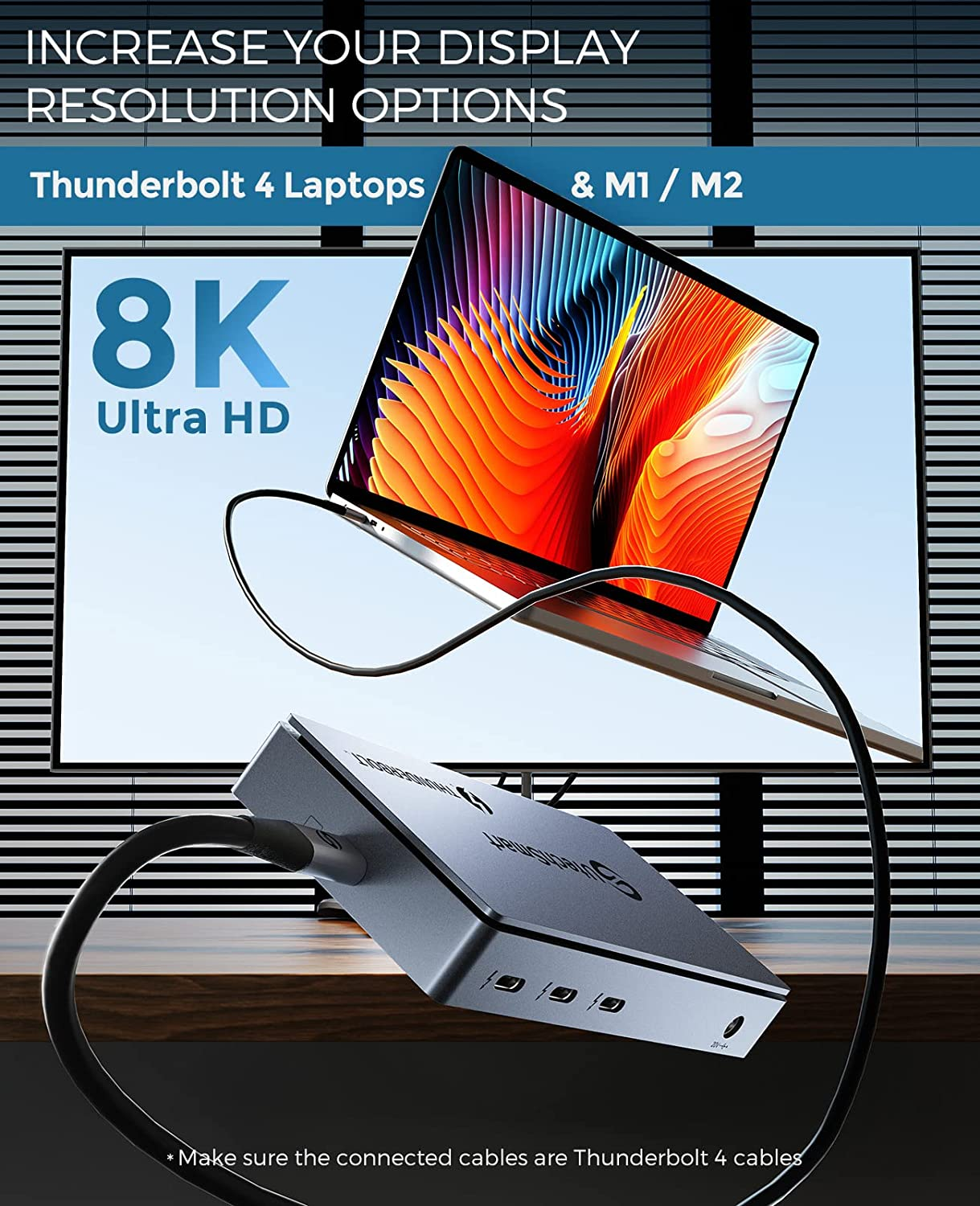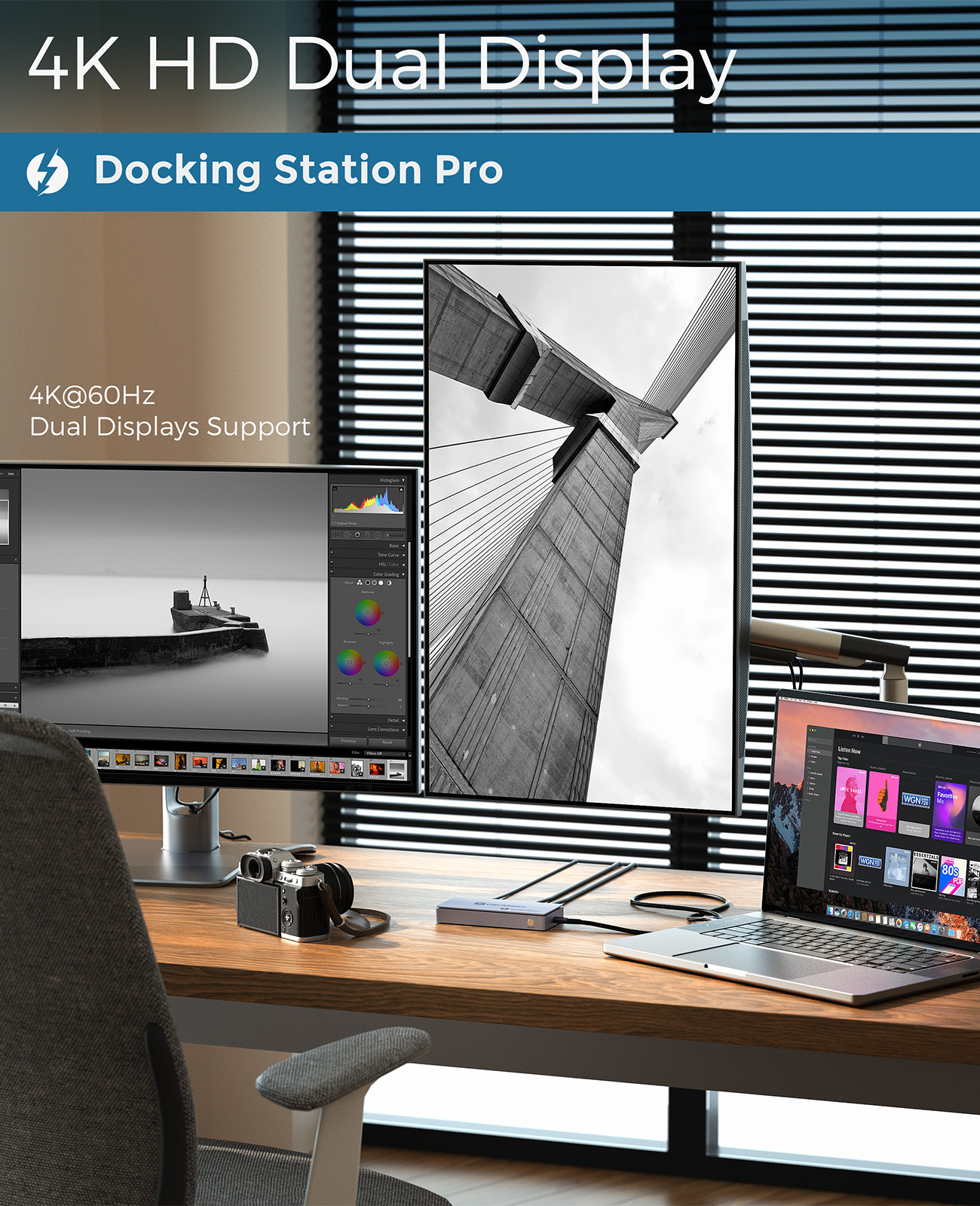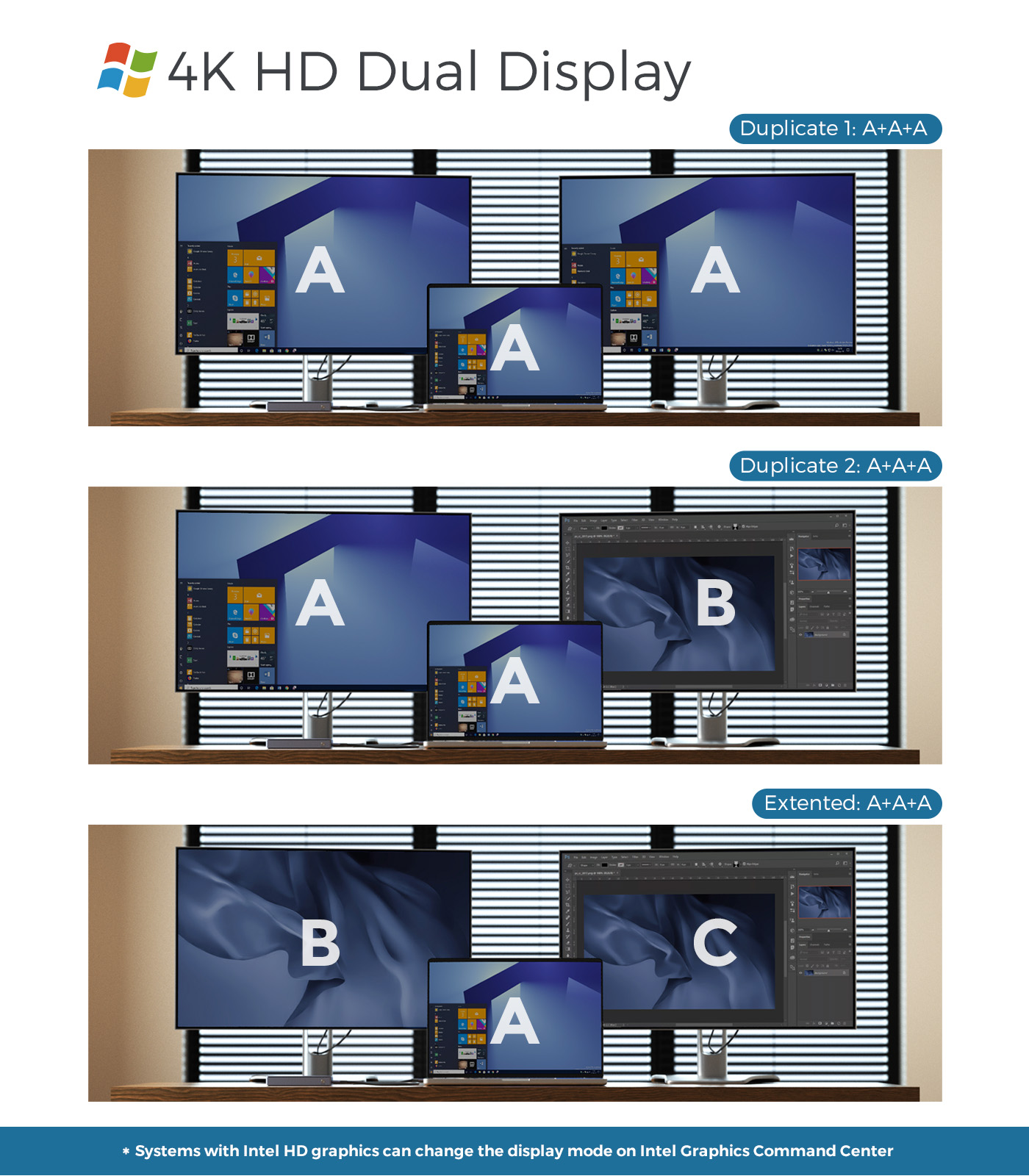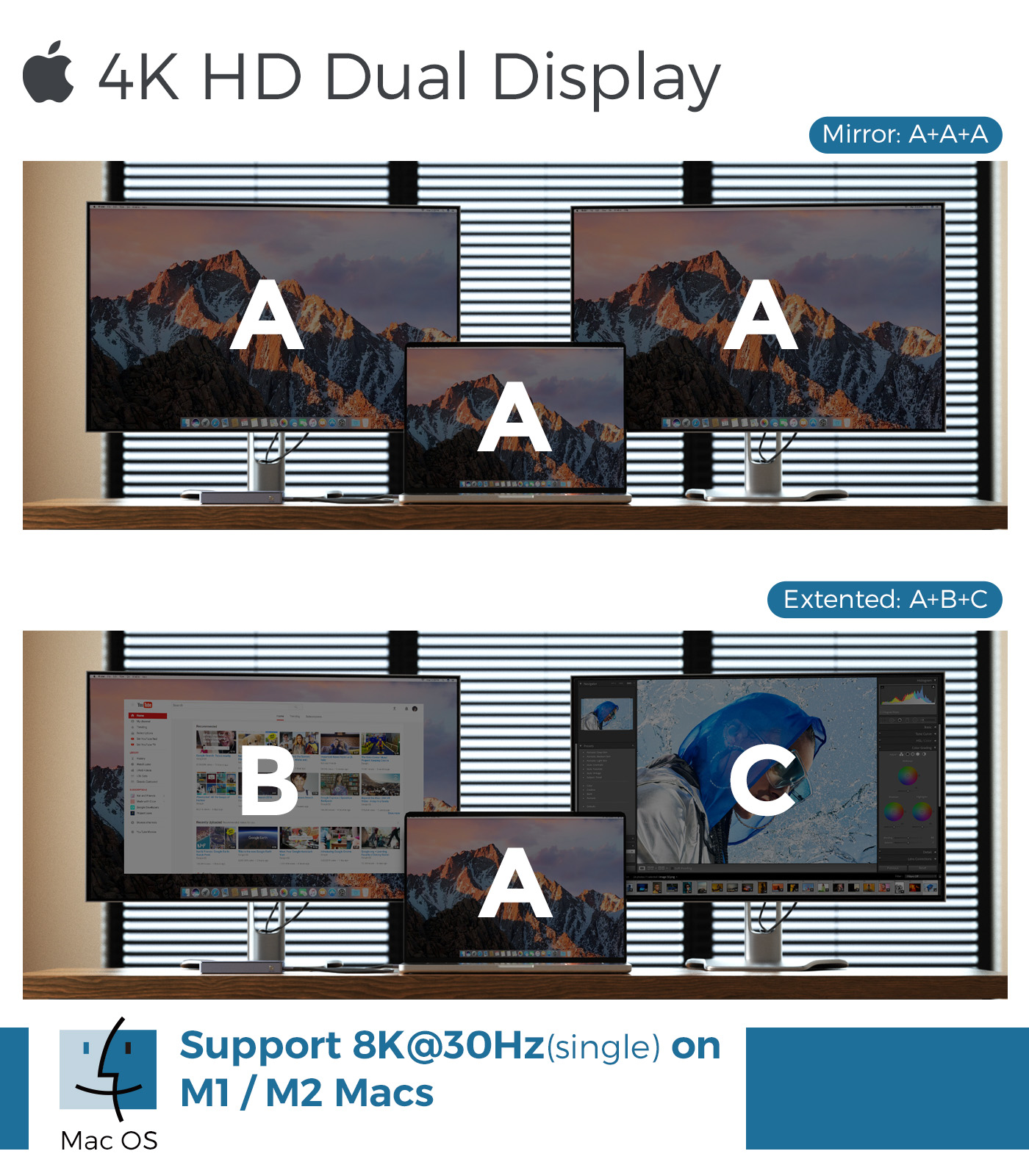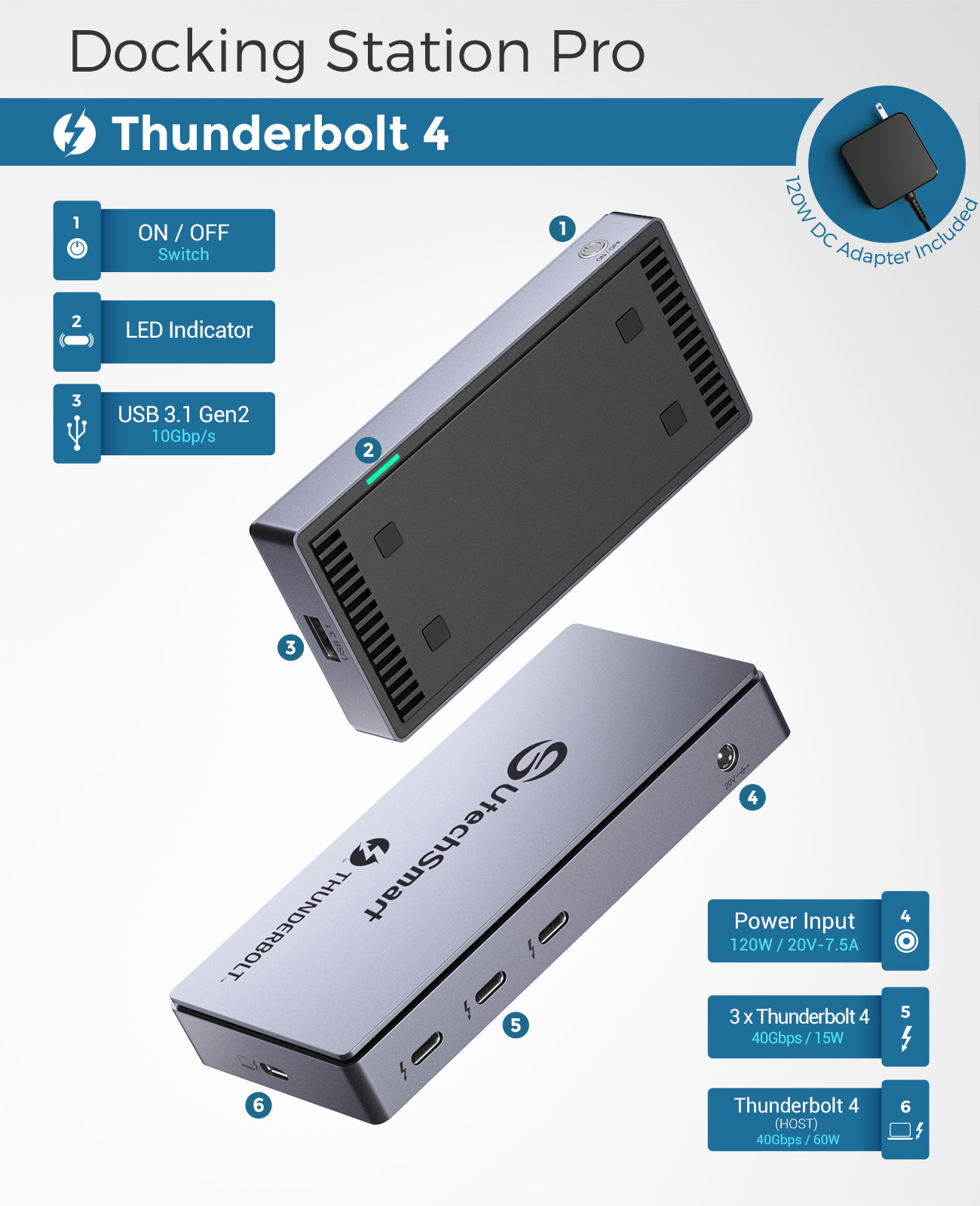 Thunderbolt 4 Dock Mini T4803 (6 in 1)
Significant Breakthrough in Thunderbolt 4 Technology: The newly UtechSmart Thunderbolt 4 Docking Station, combines unparalleled simplicity, the highest performance, and the most reliable connectivity, to achieve ultimate compatibility on Windows and macOS without any driver. Perfectly compatible with Thunderbolt 4/3, USB 4, and USB-C Gen 2 devices.

Single 8K or Dual 4K Extended Displays: This UtechSmart Thunderbolt 4 Dock Mini can easily extend or mirror the screen to a single monitor in up to single 8K@30Hz(7680x4320) on Windows, single 4K@144Hz(4096x2160) on macOS, or to dual monitors in up to 4K@60Hz(4096x2160) to all.

Super-speed Data Transfer: Connect your USB-C devices to the Thunderbolt 4 upstream port for 40 Gbps data transfer, and 1 USB 3.1 port for up to10Gbps, fast transfer your big files in seconds, especially suitable for occasions with large data communication volume. A reliable laptop docking station makes it unstoppable for entertainment and business, with no lag, and no interference.

Unexpected Surprising Hidden Features: Powered by the included 120W DC Adapter, this Thunderbolt 4 Dock charges your laptop devices, macbook, iPad, iWatch, AirPod, iPhone or any other Type-C device at the same time. Thunderbolt 4 Host port is for laptop devices charged with 60W, and the other 3 thunderbolt 4 standard port is charged with fixed 15W, provides the best experience charging for your device.

Unique Human-centered Design: The UtechSmart Thunderbolt 4 hub was specifically designed for technology-focused professionals. Its base is designed with 4 non-slip pads to resist sliding and a double row of cooling holes to dissipate heat. We thoughtfully attach a 1* 2.39ft Thunderbolt 4 cable for customers who choose this dock, so that customers can get a faster and better 8K experience. User Manual, 18-month warranty, and friendly customer service.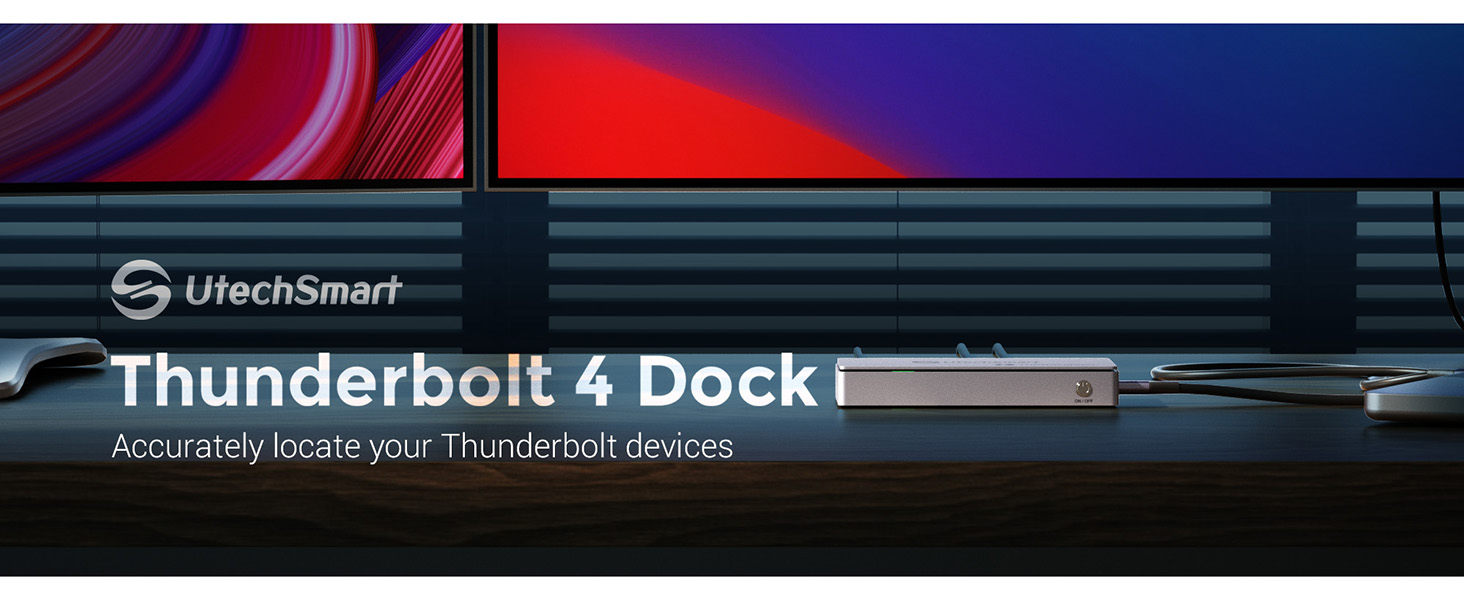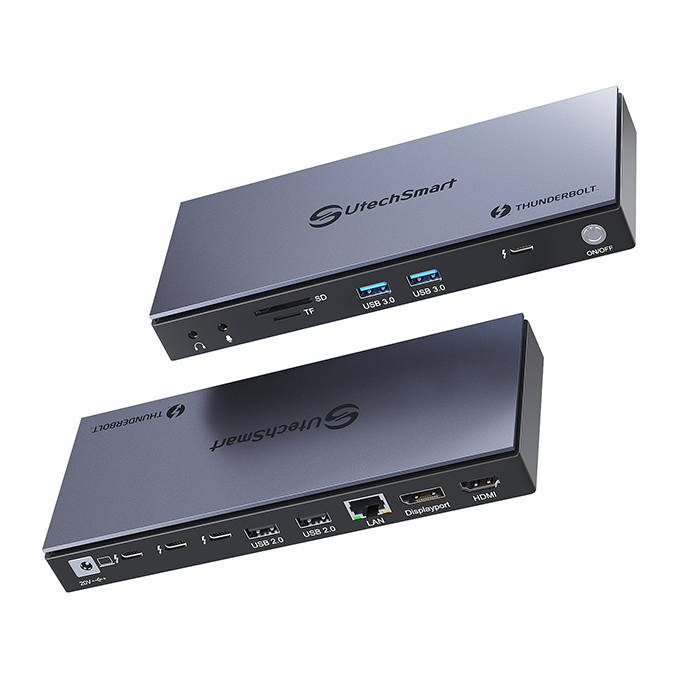 All in One Design
Connect virtually any device or peripheral you can imagine than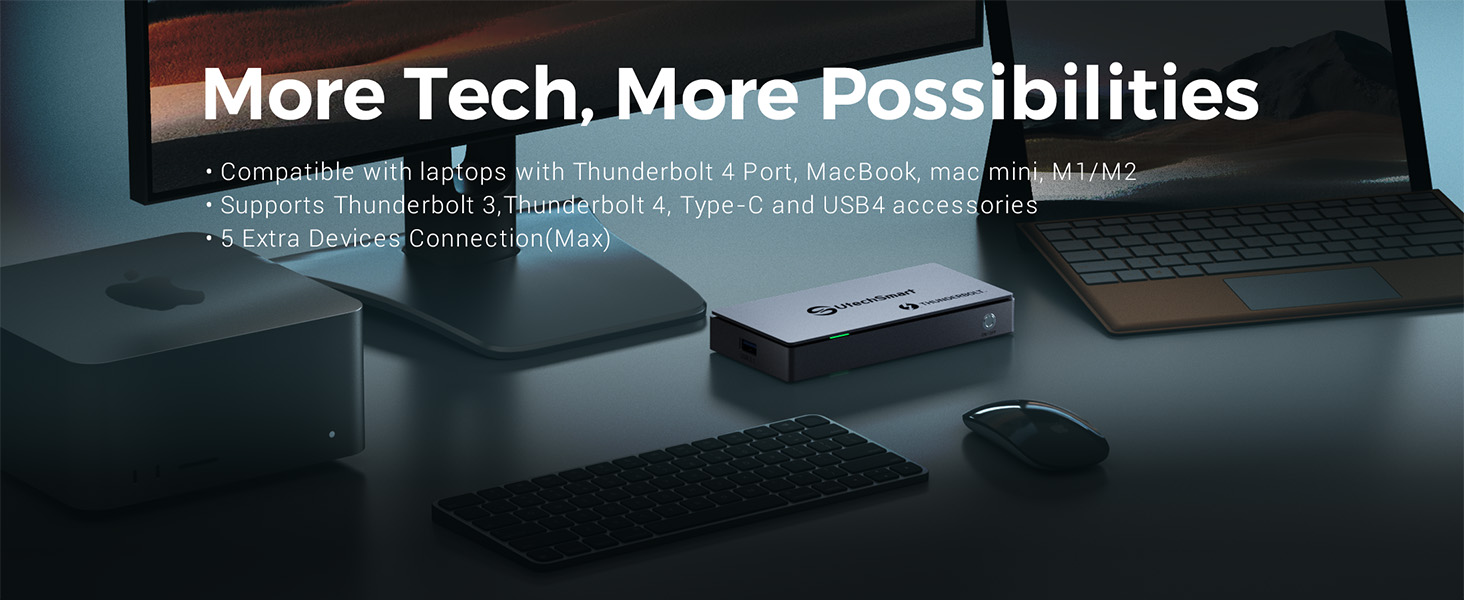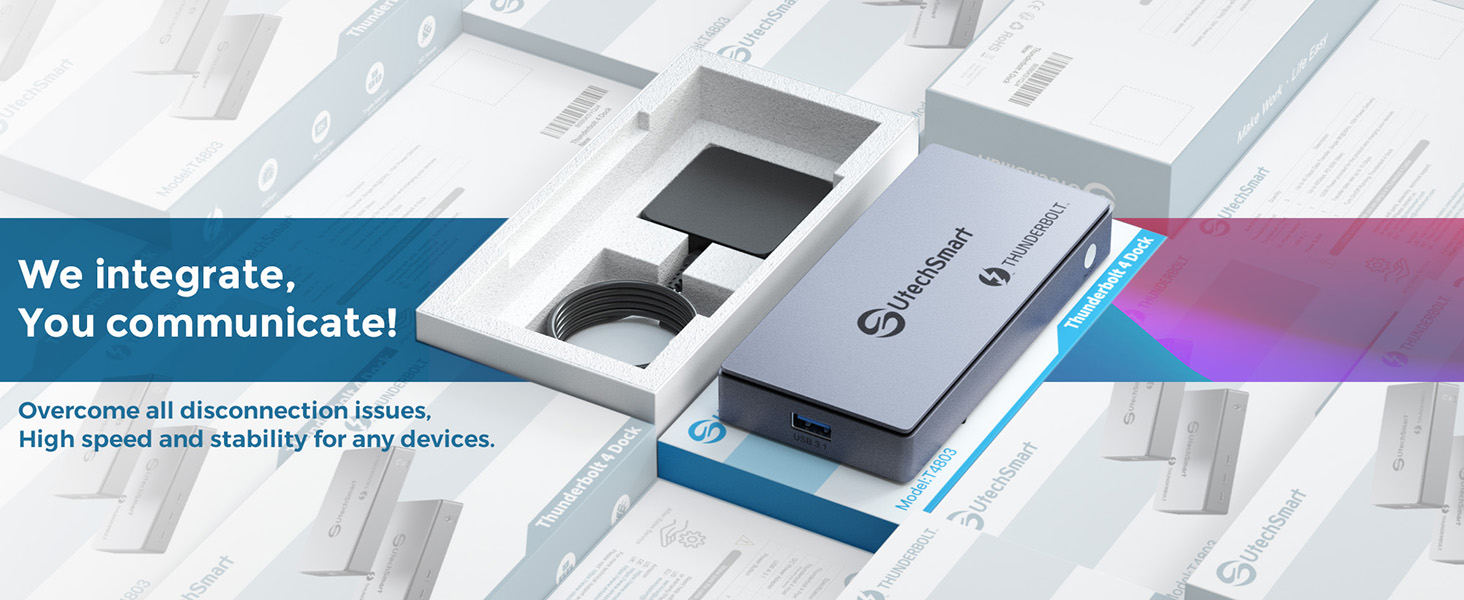 Our Goal
Listen to you, develop excellent products,and provide professional service.
Which product is better for you
Come and see their specifications and compare
Check——》


Specs
Product Dimensions

5.24 x 2.52 x 0.78 inches
Manufacturer

UtechSmart Technology















Compatible Devices




USB-C 3.1 Gen 2, Thunderbolt3/4




USB-C 3.1 Gen 2, Thunderbolt3/4




USB-C 3.1 Gen 2, Thunderbolt3/4




USB-C 3.1, Thunderbolt3/4,




USB-A




USB-C 3.1, Thunderbolt3/4,




USB-A




USB-C 3.1, Thunderbolt3/4,




USB-A




Video Output Mode




DisplayPort Alt Mode




DisplayPort Alt Mode




DisplayPort Alt Mode




DisplayPort Mode & DisplayLink




DisplayPort Mode & DisplayLink




DisplayPort Mode & DisplayLink




Resolution




Single 8K@30Hz, Dual 4K@60Hz




Single 4K@30Hz,




Triple 1080p




Single 4K@30Hz




Single 4K@30Hz,




Triple 1080p




Single 4K@30Hz,




Triple 1080p




Single 8K@30Hz,




Quintuple 4K@60Hz




Number of Display Outputs




3*Thunderbolt 4




2*HDMI, 1*VGA




1*HDMI




2*HDMI, 1*VGA




2*HDMI,




1*DisplayPort




3*Thunderbolt 4,




1*HDMI, 1*DisplayPort




Gigabit Ethernet Port




#N/A




√




√




√




√




√




Max Transfer Rate




40Gbps




5Gbps




5Gbps




5Gbps




5Gbps




40Gbps




Power Demand




120W DC Adapter Included




92W (Use 100W PD adapter)




92W (Use 100W PD adapter)




92W (Use 100W PD adapter)




87-96W(use 100W PD charger)




120W DC Adapter Included




Other Ports




USB 3.1,




DC in




USB3.0/2.0,




SD/TF,




USB-C PD Port




USB3.0,




USB-C PD Charging




USB3.0/2.0,




SD/TF,




USB-C PD Port




SSD,




USB3.0/2.0,




SD/TF,

USB-C PD




USB3.0/2.0,




SD/TF,




USB-C PD Port




Connection Method




USB-C to HOST




USB-C to HOST




USB-C to HOST




USB-C to USB-C/USB-A




USB-C to USB-C/USB-A




USB-C to USB-C/USB-A




Number of Ports




6

11

6

12

15

16

Product Model




T4803

UCN3270

UCN3273

UCN3270-2

UCN3524-2

T4802

Other top rated product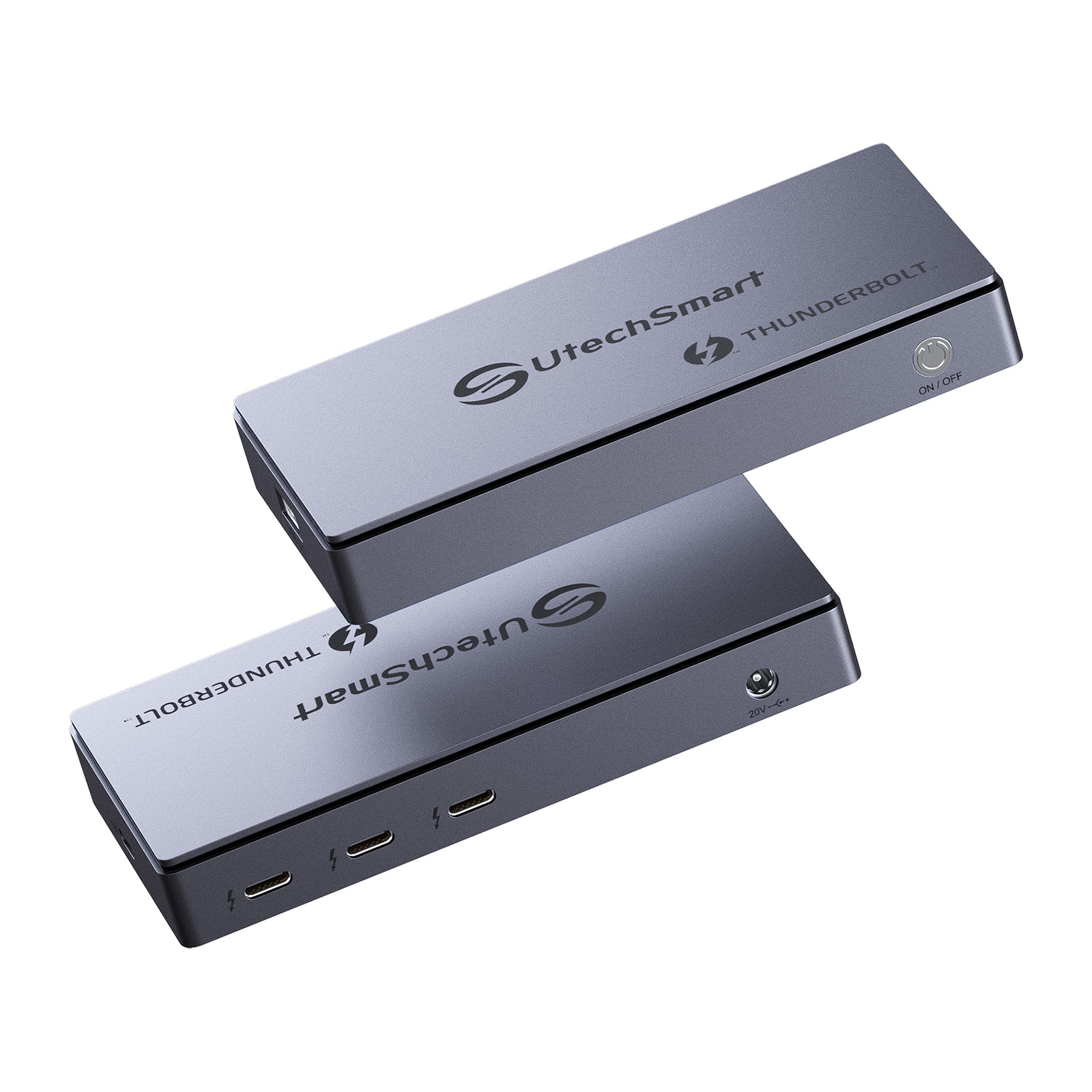 ---
---
0 Reviews
Sorry,there is no data on the page you visited!