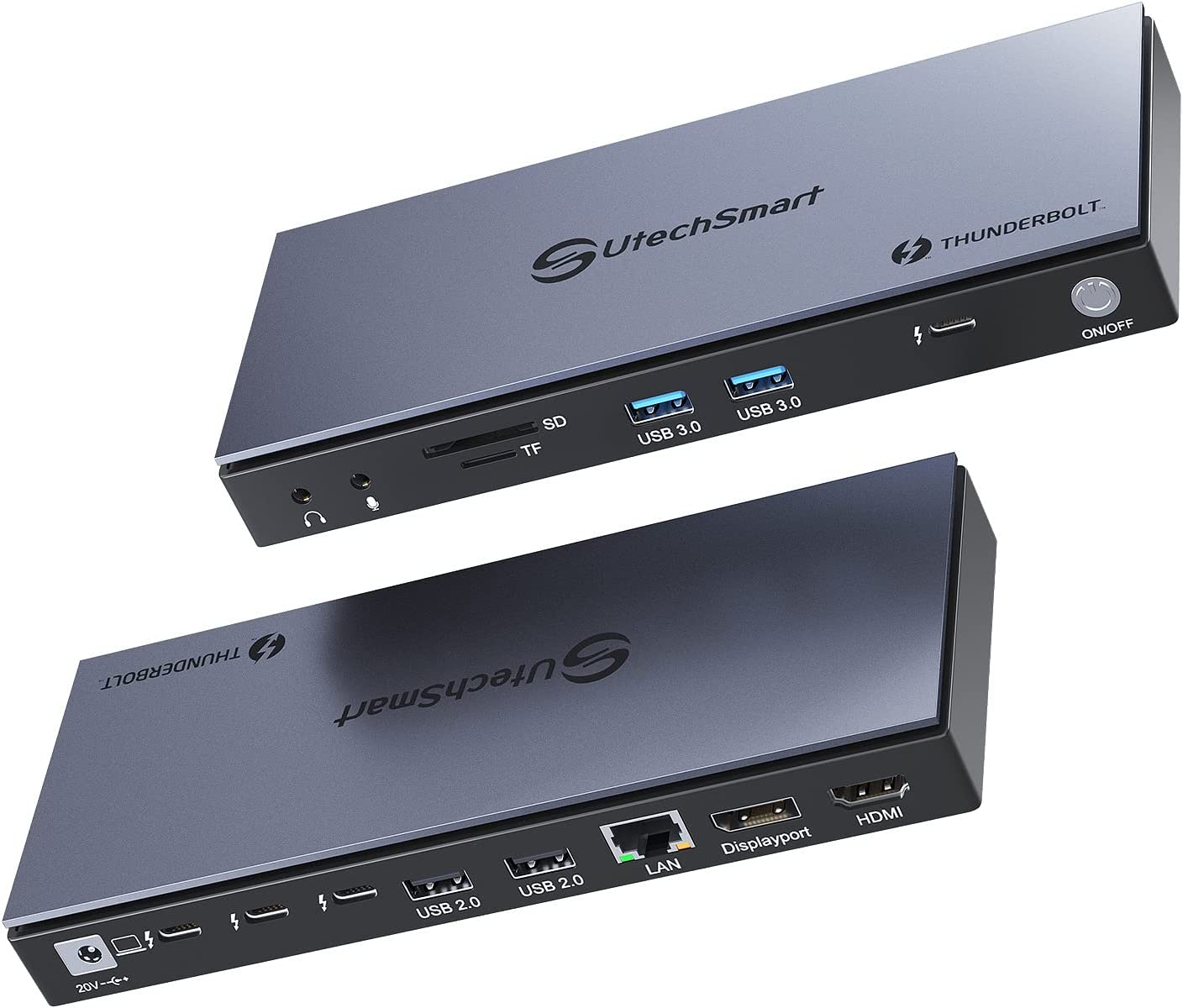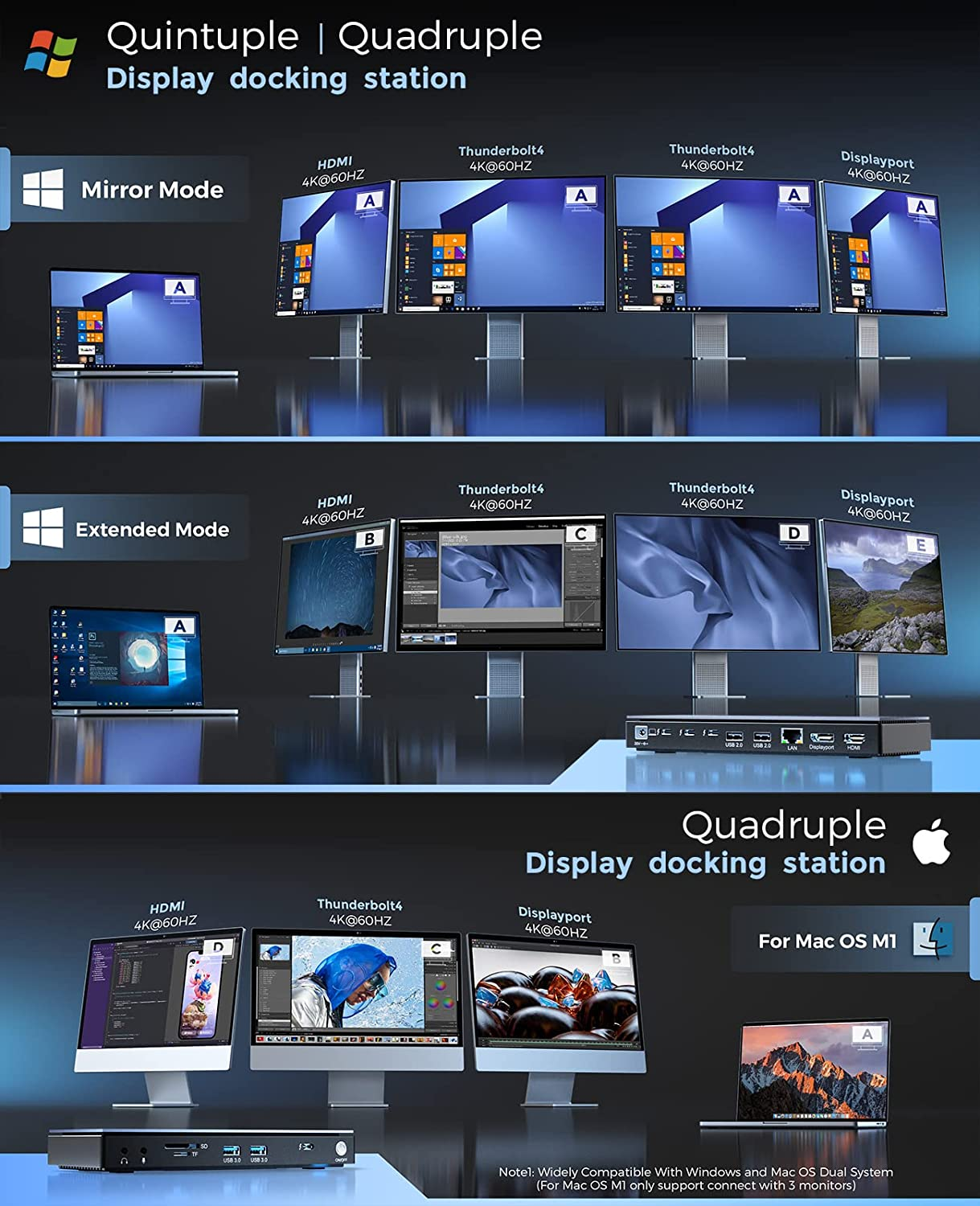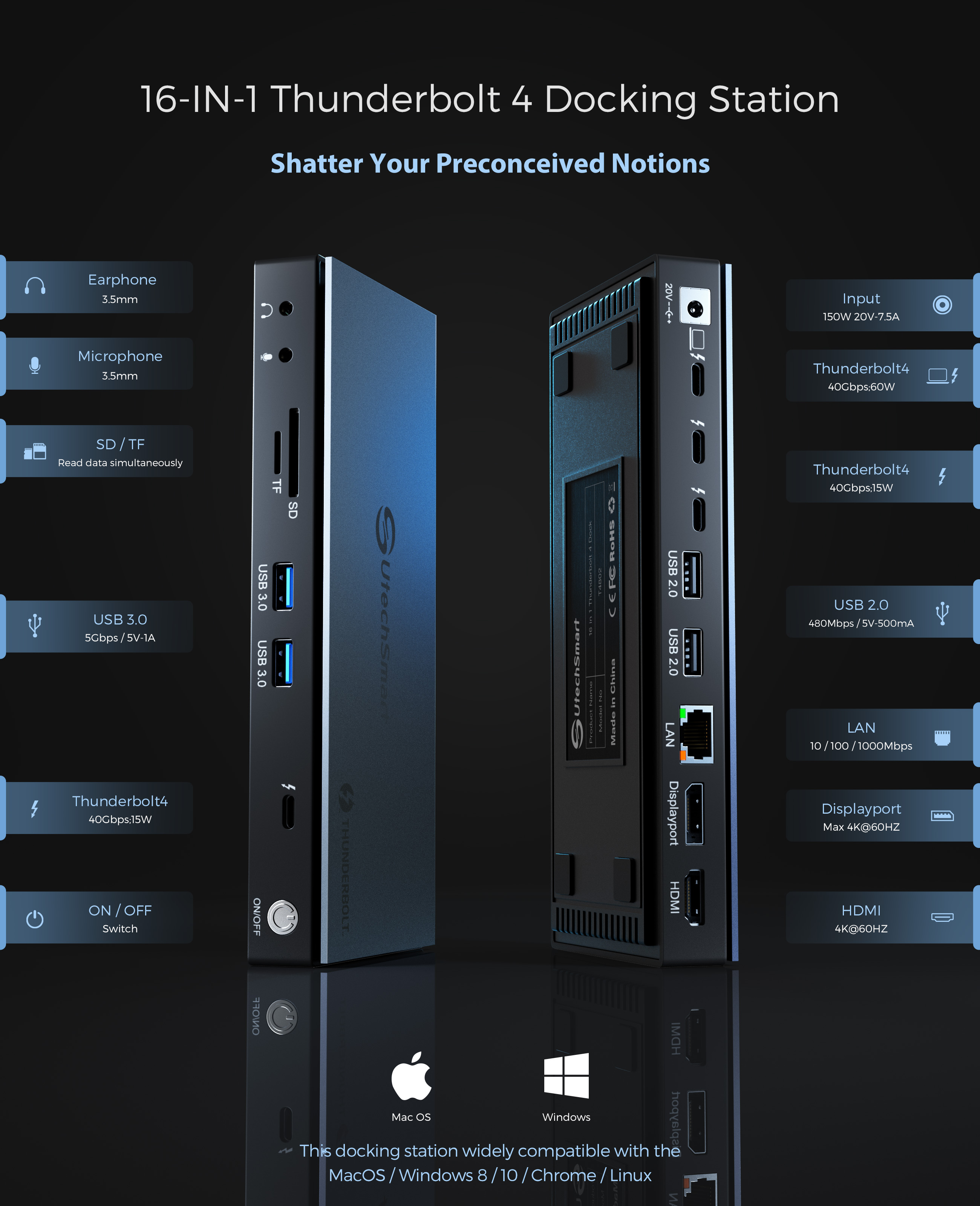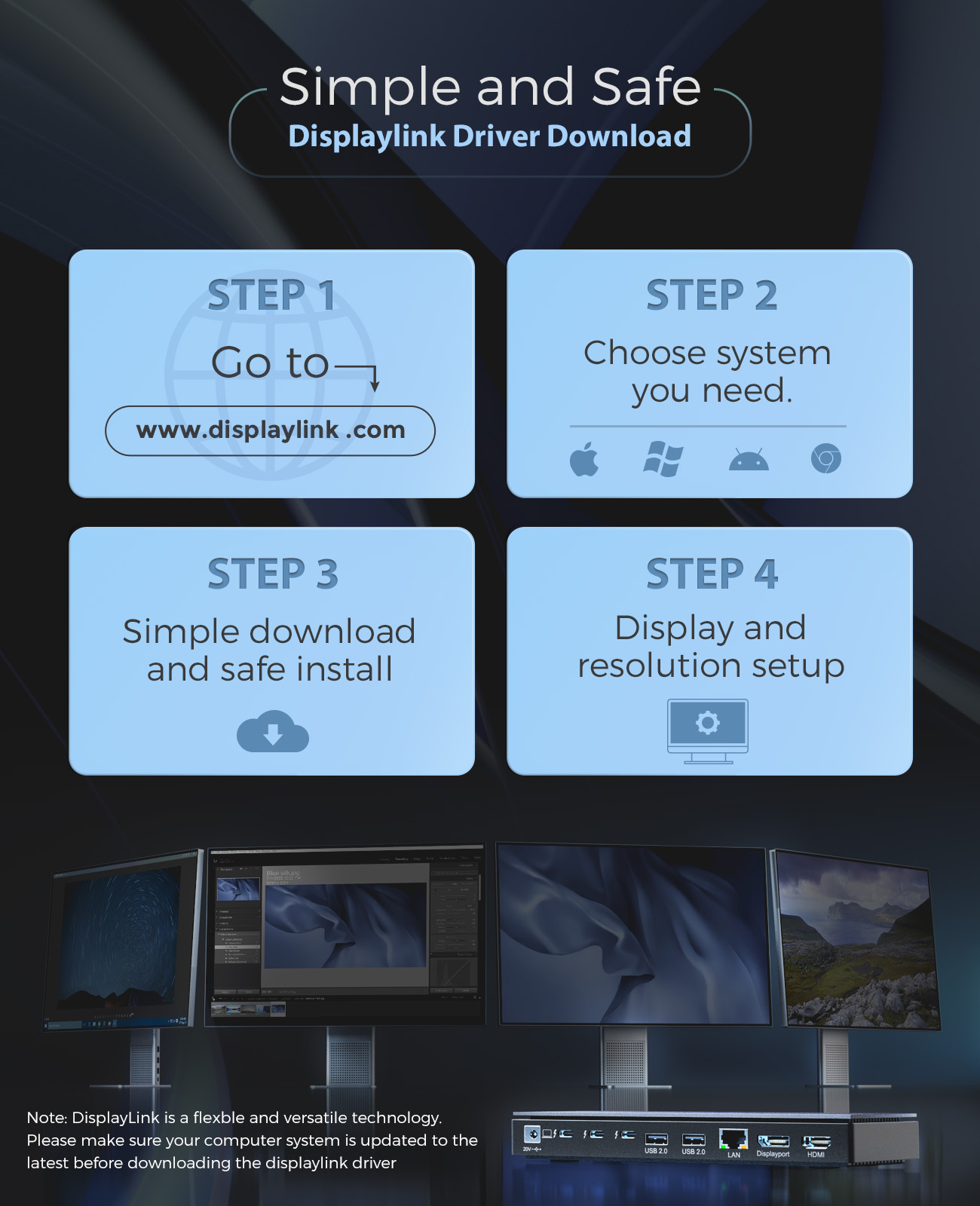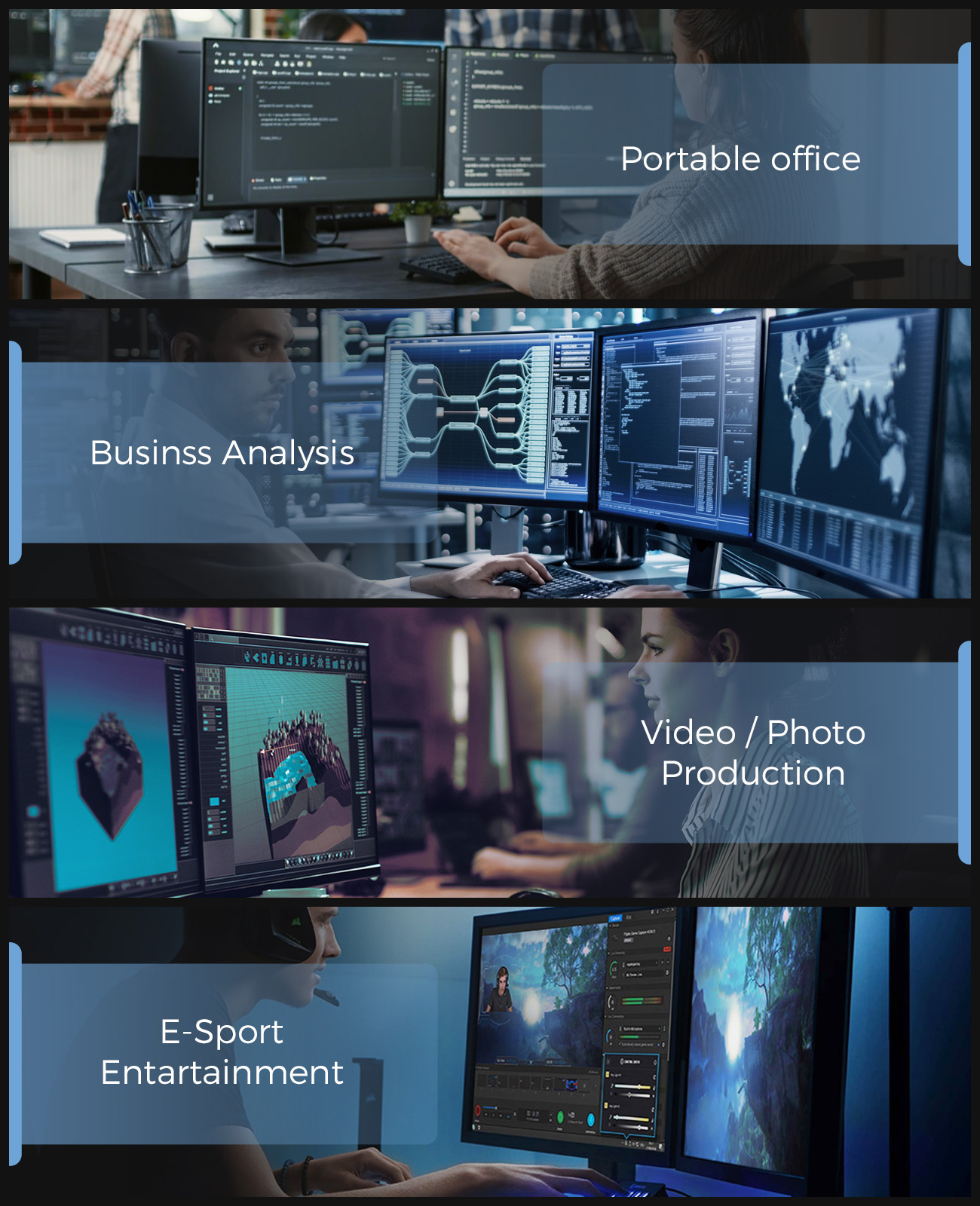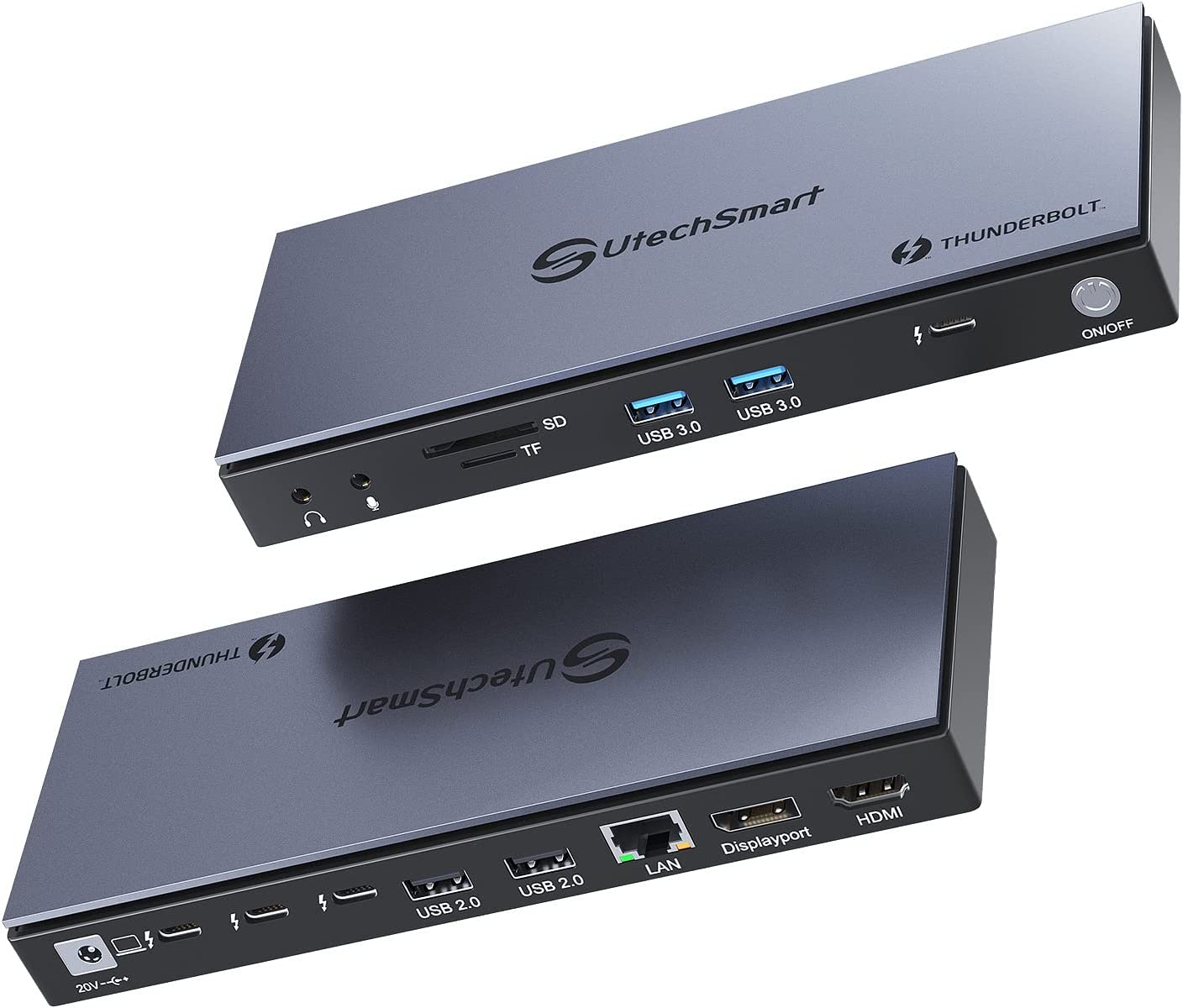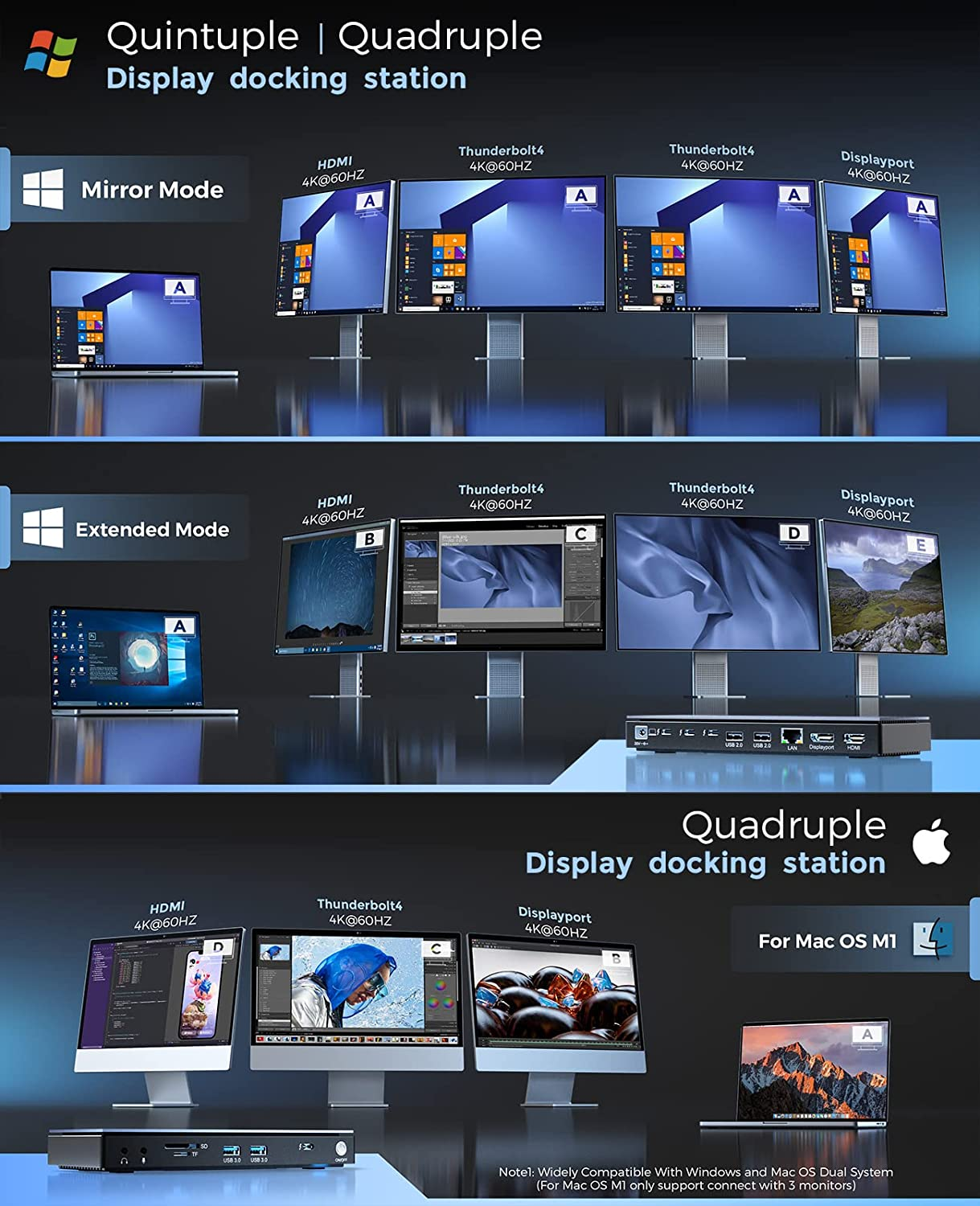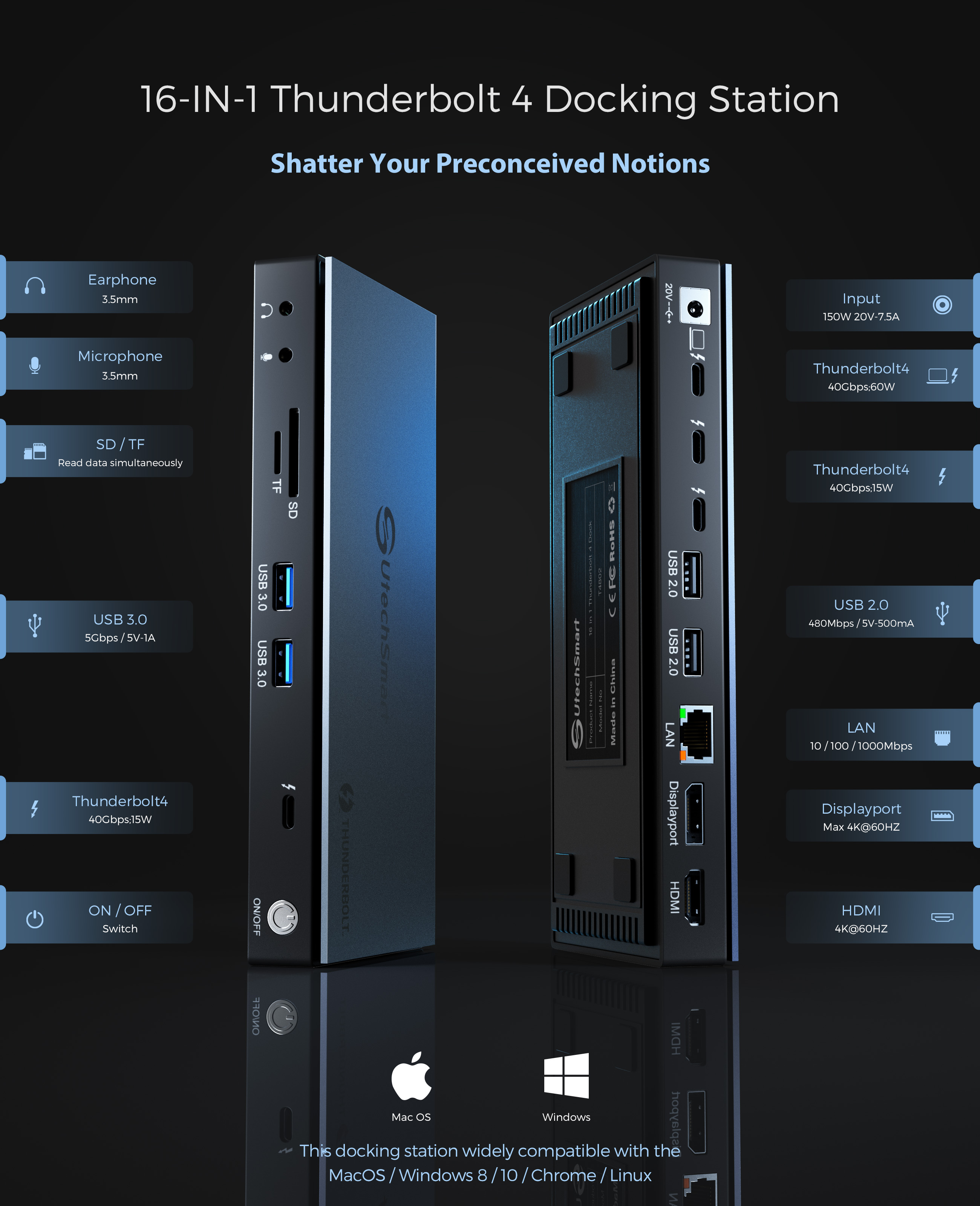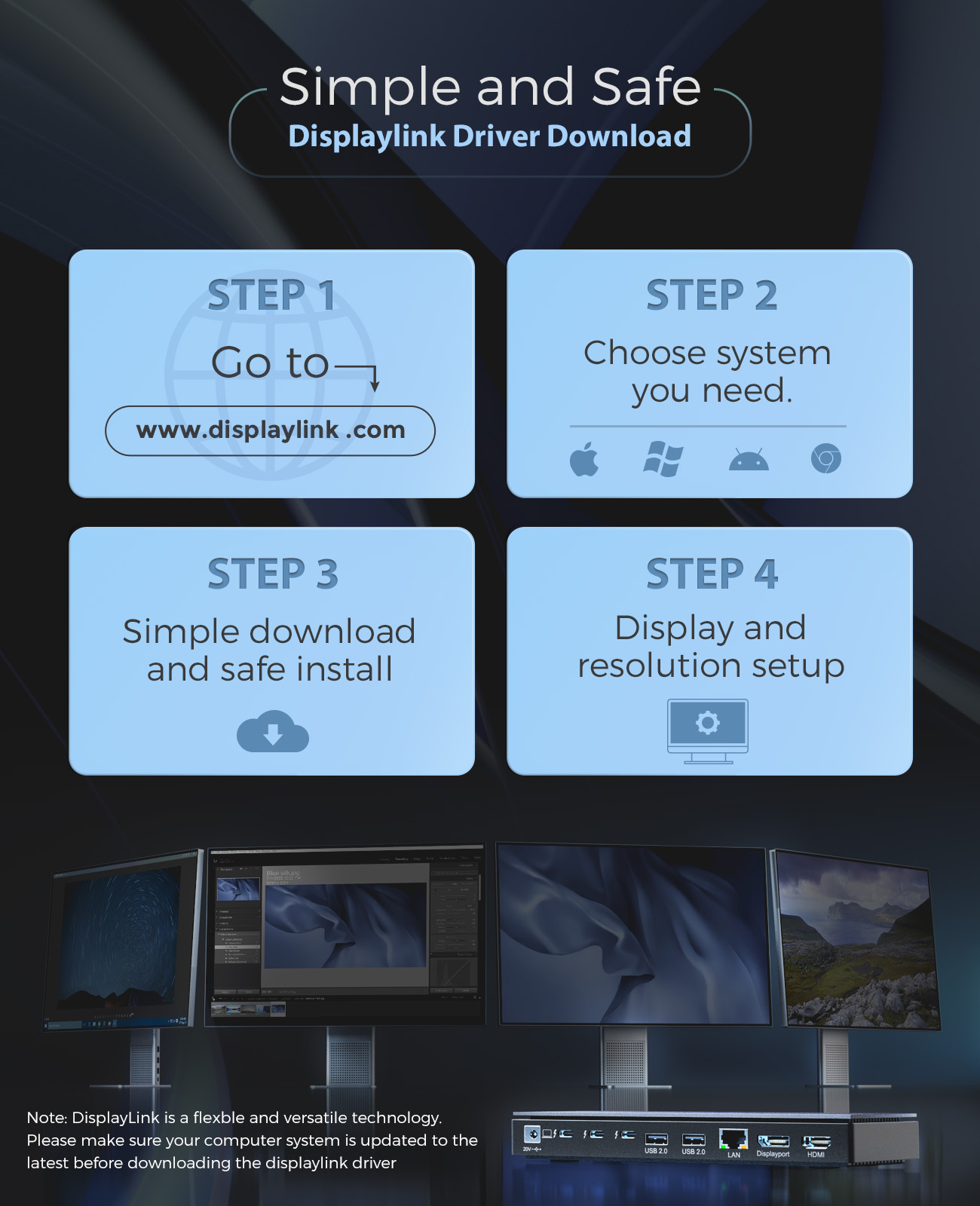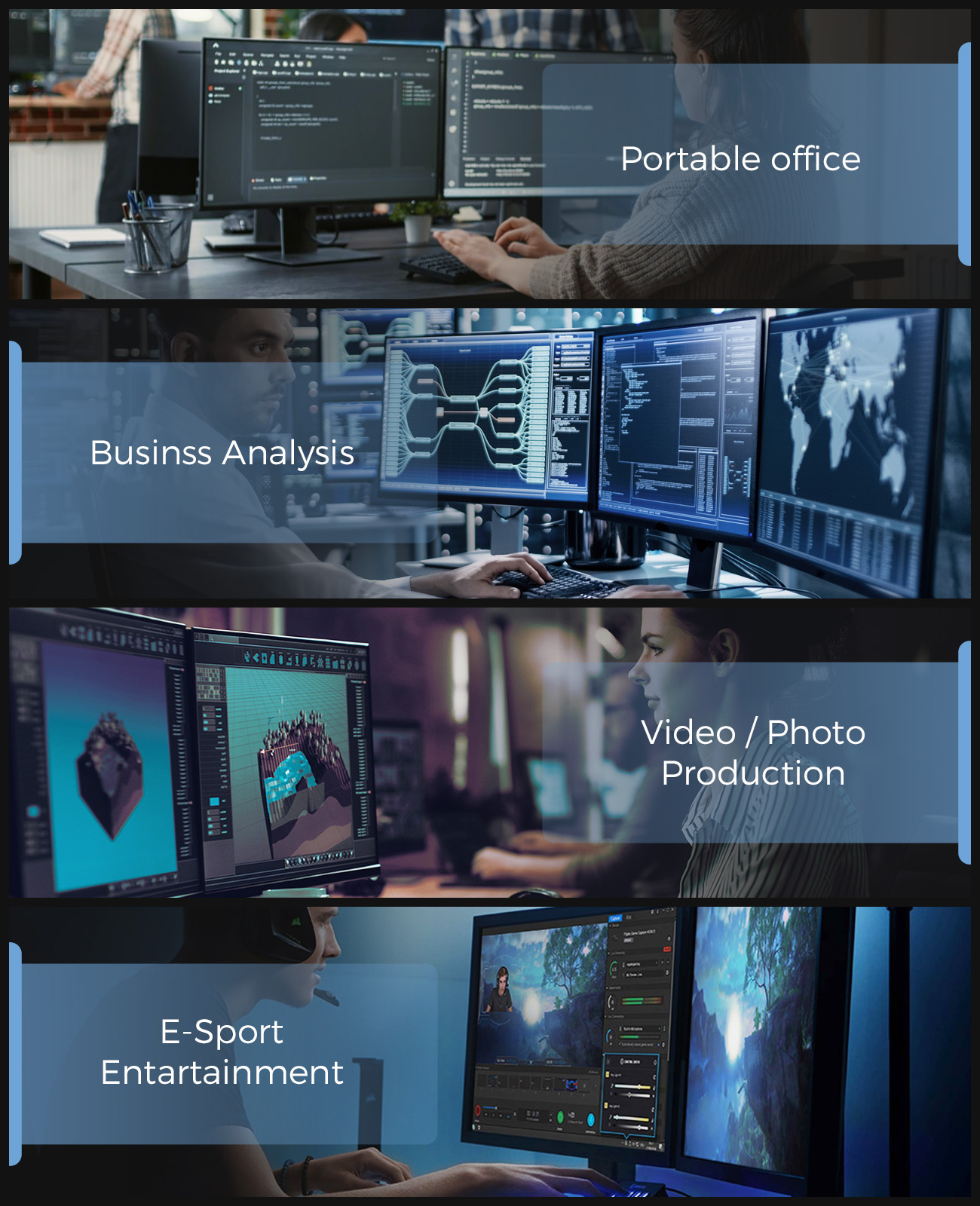 Thunderbolt 4 Docking Station T4802 (16 in 1)
Advanced Thunderbolt 4 Fields: This time UtechSmart technology involves in Thunderbolt 4 field, extends the benefits of low latency, pixel perfect, graphics to high resolution monitors. Totally achieve single 8K@30Hz, Single 4K@144Hz, or dual 4k@60Hz ultra-clear display. Perfectly compatible with Thunderbolt 4 /3 and USB 4 devices.

Future-Proof Docking Station: This UtechSmart thunderbolt 4 docking station comes with a DisplayLink DL-6950 chip, only a simple driver is required, it can support for dual 4K@60 displays over any interface, such as USB-A or USB-C, as well as other non-PC platforms such as Mac, Chrome OS, Ubuntu or Android.

Never Been This High: Get the maximum from your peripherals with a data transfer of 40 Gbps with Thunderbolt 4 port. Coupled with the SD/TF card slot, you can transfer data between devices at faster speeds. In addition, the usb c docking station offers 2* USB 2.0 ports to connect your bluetooth wireless keyboard and mouse without signal interference. Not to mention the network port that can reach 1000M super high-speed Ethernet port.

Comprehensive Coverage All You Need: UtechSmart thunderbolt 4 dock allows pros to do things they never could before. Content creators make something new with dual, triple, quadruple, and even quintuple displays. Gamers/Streamers revel in ultimate HD 8K visual impact while displaying Discord and Chat by enabling dual display support. The independent audio jack design makes the sound quality more lossless transmission.

UtechSmart Pro Service: 1* 120W DC adapter and 1* Thunderbolt 4 cable included, provides your USB-C devices to get a powerful charge of 60W through the Thunderbolt 4 host port, or connect mobile devices to the 3 other Thunderbolt 4 ports to get a 15W charge. Quick start guide to help setup, 24-Months Warranty, and one-to-one professional customer service.
---
Product Description
Significant Breakthrough Technology - UtechSmart Thunderbolt 4 Docking Station
All-in-One Design: Connect virtually any device or peripheral you can imagine thanks to a Thunderbolt 4 upstream port, 3*Thunderbolt 4 downstream port, HDMI port, DisplayPort port, an Ethernet port, SD/TF card slot, 3.5 mm headphone/microphone port, and 4 USB-A ports.
Fantastic Amazing Compatibility - Connected to Thunderbolt 4 / 3, full-featured USB-C port, or USB Type-A laptops, and Windows 10/11, or macOS 11+, this thunderbolt docking station lets you connect up to 2 monitors, even if your laptop only supports 1.
UHD 8K Resolution to Share the Visual Feast
The high definition resolution of this Thunderbolt 4 docking station as below:

Single Display 8K:

Thunderbolt 4: 8K@30Hz(7680x4320) or 4k@144Hz(4096x2160)

Quintuple Displays: PC+2*

Thunderbolt+1* HDMI+1* DisplayPort: 4k@60Hz(4096x2160)

Typc C support single 8K or dual 4k video resolution.
Speedy SD/TF Card Reader
Supports multiple types of TF and SD cards. Both are fast data transfer ports, you can transfer your camera photos in just a few seconds.

SD cards and TF (Micro SD) cards can work at the same time
More Stable & Fast Wired Network
1000/100/10Mbps Hyper Speed data transfer speed let you no longer suffer from loss or loading when playing games or watching HD videos.

Compared to a WIFI connection, the Wired network can provide a faster, more reliable network.It's also good for avoiding Wi-Fi interference and privacy issues.
Supply 60W to Host
Supply 60W PD for Laptop: This docking station's Upstream thunderbolt 4 port provide 60watts power,aboout 1.5 hour full charging the host pc

Supply 15W for external device: downstream thunderbolt 4 port provide 15watts power
Fast Data Transfer Speed of USB Port
It supports super faster data transfer up to 5Gbps, 10X faster than USB 2.0.

Standard USB 3.0 port not recommended for charging USB devices.

Expand more external devices,like hard driver,u-disk,printer,keyboard,mouse
3.5mm Microphone and Earphone
3.5mm Audio and Mic Port makes listening, talking, or recording a breeze.The hub jack standard is in compliance with the international standard

Clear Sound:

The music sound is clear and good without noise,for you to enjoy incomparable Musical Banquet all time.
Specs
Package Dimensions

9.13 x 4.96 x 2.52 inches
Manufacturer

UtechSmart Technology















Compatible Devices




USB-C 3.1, Thunderbolt3/4,




USB-A




USB-C 3.1 Gen 2, Thunderbolt3/4




USB-C 3.1 Gen 2, Thunderbolt3/4




USB-C 3.1, Thunderbolt3/4,




USB-A




USB-C 3.1, Thunderbolt3/4,




USB-A




USB-C 3.1 Gen 2, Thunderbolt3/4




Video Output Mode




DisplayPort Mode & DisplayLink




DisplayPort Alt Mode




DisplayPort Alt Mode




DisplayPort Mode & DisplayLink




DisplayPort Mode & DisplayLink




DisplayPort Alt Mode




Resolution




Single 8K@30Hz,




Quintuple 4K@60Hz




Single 4K@30Hz,




Triple 1080p




Single 8K@30Hz, Dual 4K@60Hz




Single 4K@30Hz,




Triple 1080p




Single 4K@30Hz,




Triple 1080p




Single 4K@30Hz




Number of Display Outputs




3*Thunderbolt 4,




1*HDMI, 1*DisplayPort




2*HDMI, 1*VGA




3*Thunderbolt 4




2*HDMI, 1*VGA




2*HDMI,




1*DisplayPort




1*HDMI




Gigabit Ethernet Port




√




√




#N/A




√




√




√




Max Transfer Rate




40Gbps




5Gbps




40Gbps




5Gbps




5Gbps




5Gbps




Power Demand




120W DC Adapter Included




92W (Use 100W PD adapter)




120W DC Adapter Included




92W (Use 100W PD adapter)




87-96W(use 100W PD charger)




92W (Use 100W PD adapter)




Other Ports




USB3.0/2.0,




SD/TF,




USB-C PD Port




USB3.0/2.0,




SD/TF,




USB-C PD Port




USB 3.1,




DC in




USB3.0/2.0,




SD/TF,




USB-C PD Port




SSD,




USB3.0/2.0,




SD/TF,

USB-C PD




USB3.0




USB-C PD Port




Connection Method




USB-C to USB-C/USB-A




USB-C to HOST




USB-C to HOST




USB-C to USB-C/USB-A




USB-C to USB-C/USB-A




USB-C to HOST




Number of Ports




16

11

6

12

15

6

Product Model




T4802

UCN3270

T4803

UCN3270-2

UCN3524-2

UCN3273

Other top rated product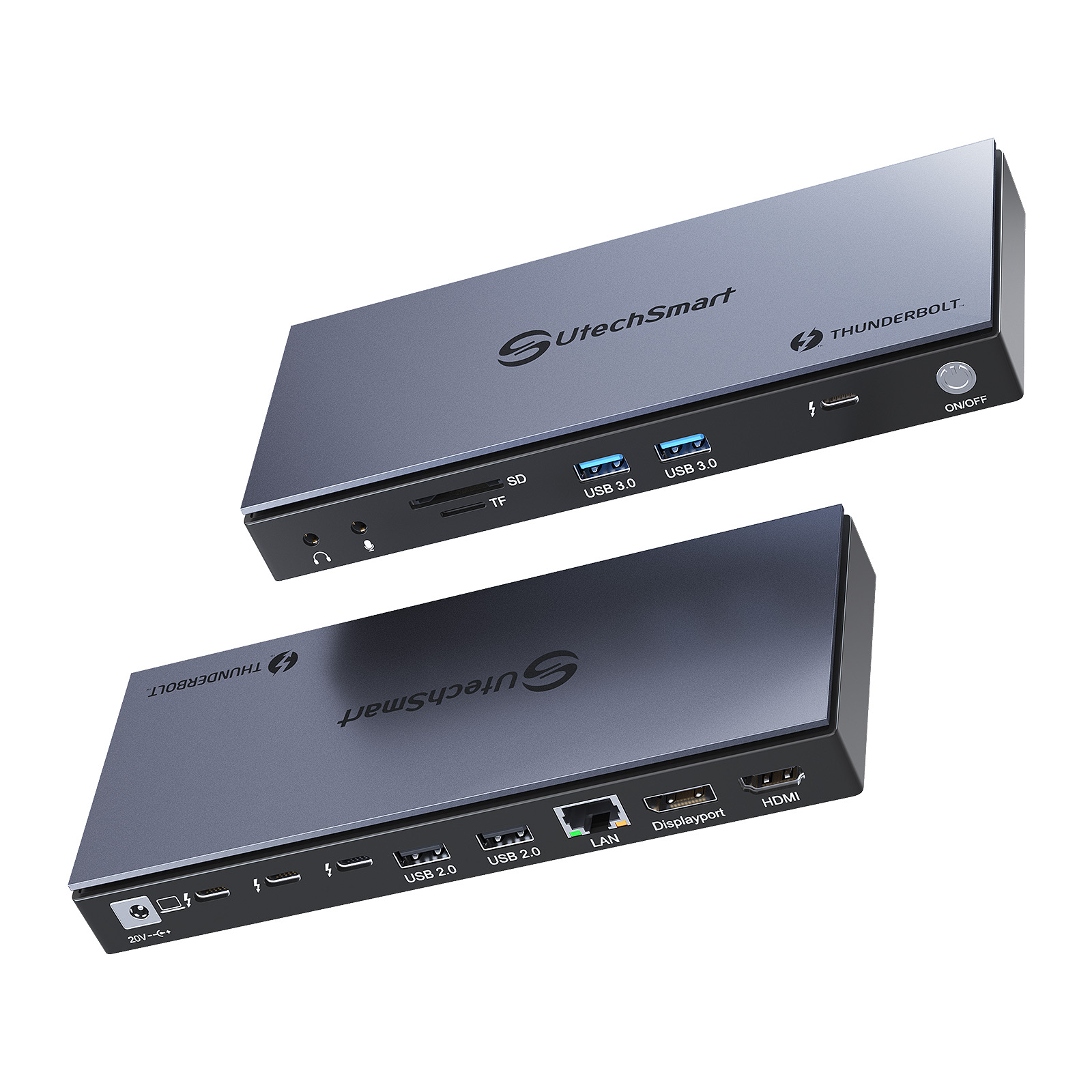 ---
---
0 Reviews
Sorry,there is no data on the page you visited!